Beach, beer and beauty. Beer always can reminds us of some pleasure and relaxing time…To enjoy beer more, people actually invent some interesting beer gadget, from various beer opener to beer carrier, and they even try to encourage you to grow your own beer. So, to give you some idea of those beer gadgets, we gathered here 17 Cool Beer Gadgets and Toys for beer lover.
We are a participant in the Amazon Services LLC Associates Program, an affiliate advertising program designed to provide a means for us to earn fees by linking to Amazon.com and affiliated sites.
1. The Wackiest Bikini has a bottle opener built in [link]
Bottle Betty suits have a built in bottle opener on the top and on the bottom that replace the usual swimwear accent pieces, but have the added benefit of opening a bottle. Popping tops will never be the same!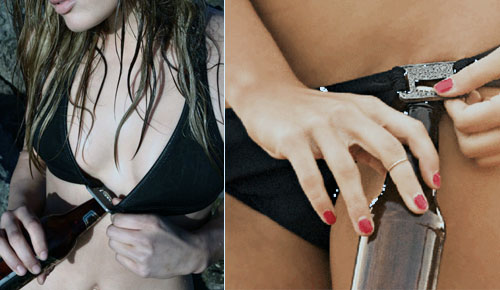 2. Bottle Opener Belt [buy on amazon]
Never be caught with your pants down or without a beverage opener when you wear the DAKINE Rail Belt. This nylon webbing belt has a bottle opener for a buckle. One size fits all, according to DAKINE.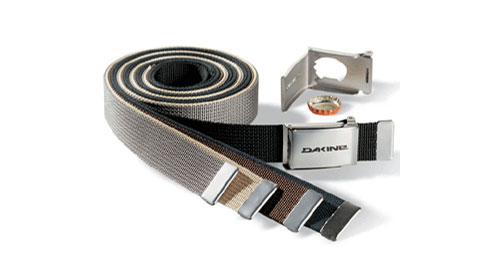 3. Bottle Opener – Fridge Magnet
[
buy on amazon
]
If you like when you open fridge get a beer, just open like the Pic? It's a fridge magnet cum bottle opener. It is simple and cool, I don't need look for the bottle opener everywhere. It also available in the SuckUK.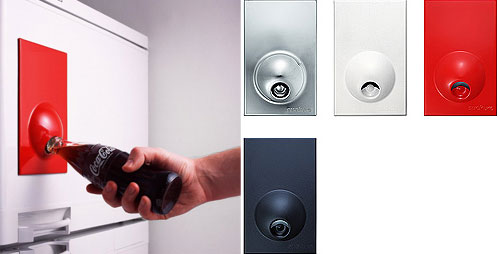 4. Green Guinness Bottle Opener Cap
[
buy on amazon
]
Adjustable green hat with Guinness and a pint. Arthur Guinness' signature and pint embroidered on the back. Bottle Opener on the bill.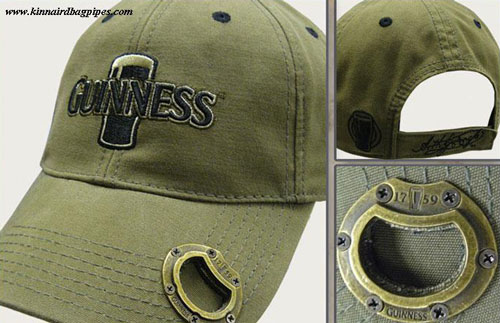 5. Sixpack – Beer Carrier
[
link
]
The Sixpack is a bottle carrier that can hold up to 6 beer, soft drink, or water bottles. It's perfect for those BYO dinner outings where a normal 6 pack gets destroyed after you rip out one beer.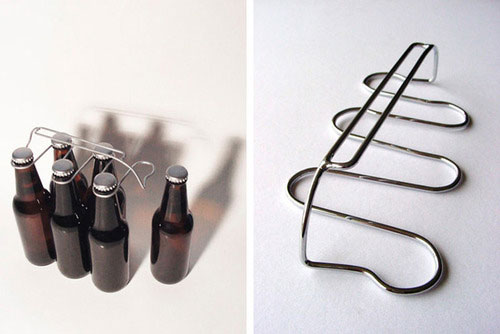 6. Beer Saver
[
link
]
Are durable, stretchy molded beer bottle cap charms.
Are designed to help keep beer fresh and safe.
Are dishwasher safe and reusable
Are made of food-safe silicone.
Come in multi-colored sets of 6 – the perfect party pack. Make a great housewarming or hostess gift for any beer lover. It most standard beer bottles and some larger style beer bottles. Make for a great talking point at any dinner party or beer tasting party. Help homebrewers keep their beer bottles clean and sterile before bottling. Help keep your beer safely identified when in clubs, bars and restaurants.
7. Inflatable Beer Pong
[
buy on amazon
]
Beer pong isn't just a sport for land lovers. Our Pong360 Inflatable Sexy Beer Pong Table is made for playing just about anywhere with or without water: pools, lakes, rivers, beaches to name a few. This is also made for those who don't have enough room to store an official foldable table. The sleek silver design is made to impress all party goers.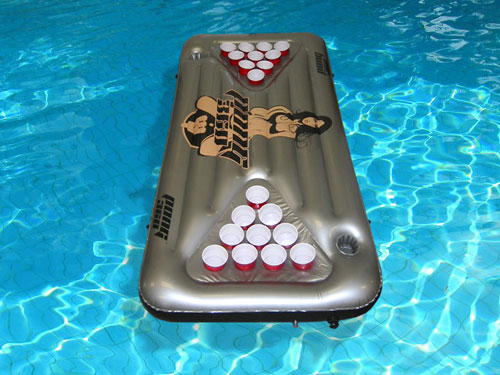 8. Fred Personality Traits Beerbands
[
buy on amazon
]
BEER BANDS are durable, reusable, stretchy molded rings sized to fit beer bottles, beer cans…and wrists! We've packed 12 bands into every clamshell – the perfect party-pack! There are 4 styles to choose from but Fred especially likes the Designated Driver style – it reminds everybody who's safe to get behind the wheel and who's not! So now that you'll finally know whose beer you're drinking you can pay full attention to remembering to drink responsibly.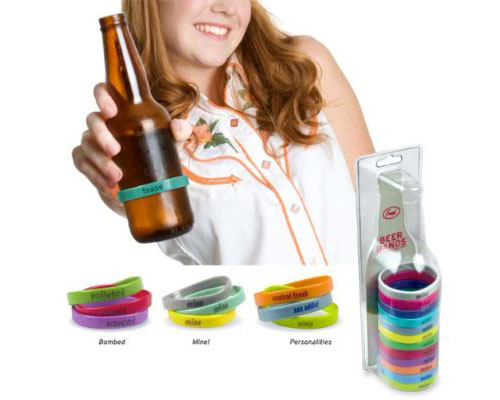 9. Beer Blaster Liquid Shooter
[
link
]
When you were a kid, one staple of summer was the water gun. Well, you've grown up, and so have your beverage proclivities. Now you like soda and beer. The Beer Blaster Liquid Shooter really is your water gun of old . . . all grown up.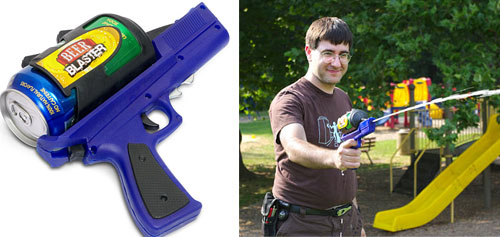 10. Hopside Down Glass
[
buy on amazon
]
Fred and Friends. Fred likes to glug his beer right from the bottle, but Mrs. Fred is appalled. So Fred went out and did something about it-he created this bottle-in-a-glass as an homage to real men like him. Hopside Down is handblown, precisely crafted and unexpectedly deluxe.
11. The Remote Controlled Rolling Beverage Cooler
(discontinued)
This amusing remote-controlled cooler can roll across a patio, rug, or kitchen floor to deliver a well-timed beverage to parched party guests. With room for 12 cans or bottles and ice, the cooler rolls on four sturdy underside wheels up to 40′ from the host at the controls. The remote's simple controls send the cooler forward, backward, and left or right. With sides of water-resistant insulated vinyl and a secure zippered lid, beverages stay cold for hours. The cooler can be carried with the removable shoulder strap and collapses to just 6 1/2″ tall for storage. Sturdy construction can transport 22 lbs. of drinks and ice. Requires one 9-volt battery and six C batteries.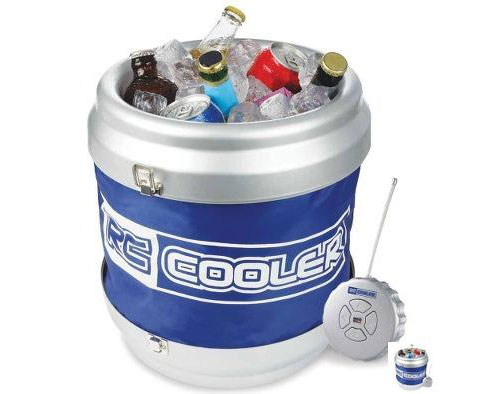 12. Urban Trend Russian Roulette Beer Bong
[
buy on amazon
]
The Beer Bong game gadget is definitely one I wished I had back in College; it is a very creative way to drink beer and also have a random game of chance. The way the beer bong gadget works is that it holds 2 liters of beer in its nice mini barrel on top. The beer bong gets spun and one unlucky (or lucky for some) contestant pulls out his or her beer bottle out with only one gushing out two liters of beer.
I guess it would definitely beat the beer pong game for those interested in a high amount of alcohol in one go, or those looking for a game of chance to determine their intoxication.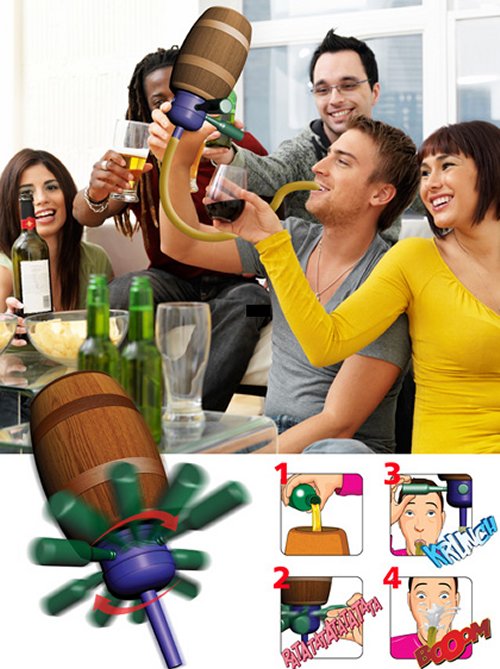 13. Grow your own beer – Beer Garden
[
buy on amazon
]
Everyone loves the taste of fresh beer. Grow beer in your very own beer garden. You will find it fun, rewarding, and tasty to grow your own beer making plants. They sprout and grow quickly and easily. Hops are the flavoring and stability agent of beer. Barley is integral in making beer and can regulate blood sugar levels for up to ten hours after consumption. Wheat is used to aid in fermentation and is the second most produced food in the world. All three of these plants fuse together to make great beer. This complete kit contains everything you need to start several harvests of beer-making plants.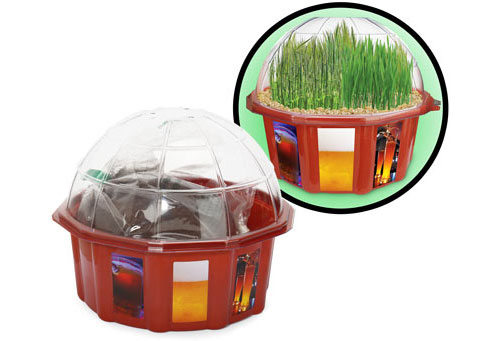 14. The BeerBelly (80-Ounce)
[
buy on amazon
]
The Beer Belly, a hands-free hydration system, looks like a beer belly when worn under clothing. It consists of two parts: the sling and the bladder. The sling is designed to fit users up to six feet, eight inches tall, and up to a 40-inch waist. Made of neoprene and nylon, it insulates and feels like skin to the touch. A hook and loop is used for custom sizing. The bladder, made of polyurethane, holds up to 80 ounces of any hot or cold beverage and fits in a custom-shaped pouch in the sling. The bladder has a wide mouth opening for adding ice and to simplify cleaning. Clean the bladder with Beer Belly cleaner, sold separately. The sling can be washed by hand or on the gentle cycle of a washing machine, then hung to dry.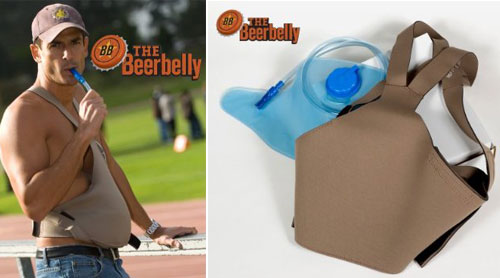 15. Home Beer-Tap System
[
buy on amazon
]
The BeerTender system is compatible with the Heineken DraughtKeg system which utilizes an internal carbonator pressure unit. The Heineken DraughtKeg unit releases Co2 every time the tap is opened, ensuring the beer remains fresh for up to 30 days and allows for a crisp quality beer with Heinekens' signature head of foam and trademark "bite". The BeerTender silent cooling system provides constant and consistent cooling of the 5L Heineken DraughtKeg and will keep it at the ideal temperature of 41 degrees F. Easy to operate, just run the keg's plastic tube to the BeerTender tap and you're done. It's that simple. Inserting a keg takes less than 15-seconds. The Krups BeerTender has an LCD display panel featuring a volume indicator and temperature indicator. It features a detachable pour handle, detachable draw spout, a removable tray.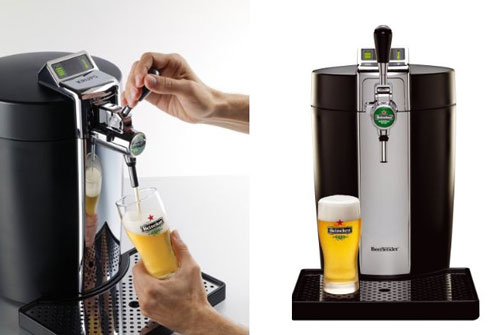 16. Leather Beer Holster
[
buy on amazon
]
A drink holder even Wyatt Earp would've been proud to carry, these rugged leather holsters keep the beer at your fingertips and the crowd at your mercy. Plus, with a hidden back-side suede pocket for all your cash, you can keep your dinero safe from even the likes of Johnny Ringo! So, holster up, swagger in, and keep the party smokin'. Drink holder easily attaches to your belt or waistband, and the suede straps at the bottom of the beer holster tie comfortably to ensure a secure fit so your six shooter will always be ready for that quick draw. Made of genuine black leather, our beer holder measures 10 x 4 , and holsters both cans and bottles.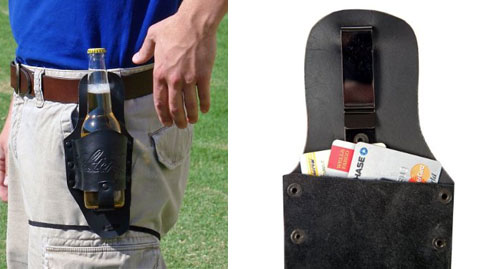 17. OOU! Cheers Beer Mug with Foam Fassbier
[
buy on amazon
]
The cap is the most eye-catching feature of this mug. It looks just like foam overflowing the mug which is fulfilled with cold beer. When we pour different drinks into the mug, the color of the drink and the mug body melts together, shows different , and may be never seen colors, maybe, this is just the color of our mood that moment!