Flower and plant are pretty agreeable decoration which bring us the feeling of nature and beautify our home. If the flowers are put into a elegant or modern vase, it will add your home more appreciative enjoyment. So vase design plays an important role to make flowers more beautiful to pot and adornment. Today, we will present you with 18 Contemporary and Elegant Vase Designs in trends. They can be purely artistic decoration by themselves or work with the rest to add more fashion and fun to your place. Moreover, some of them have their extra bonus which can work like a wireless route, chalkboard or timer.
We are a participant in the Amazon Services LLC Associates Program, an affiliate advertising program designed to provide a means for us to earn fees by linking to Amazon.com and affiliated sites.
1. Platevase – ONE VASE TWO PLATES [link]
Round porcelain vase with a double serving plate. A flowers, berries and chocolate buffet of the holiday and everyday extras we can´t do without.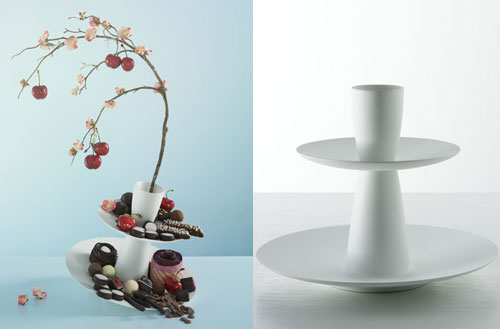 2. Funnel Vase [link]
Funnel Vase is a ceramic flower vessel with a side opening in a funnel shape. The funnel helps to change the water without having to remove the flowers. The old water can be easily poured out through the funnel and replaced with fresh water, without a mess. While being a very functional piece of design, Funnel Vase presents an original shape. The vessel has a gloss white glazing finish.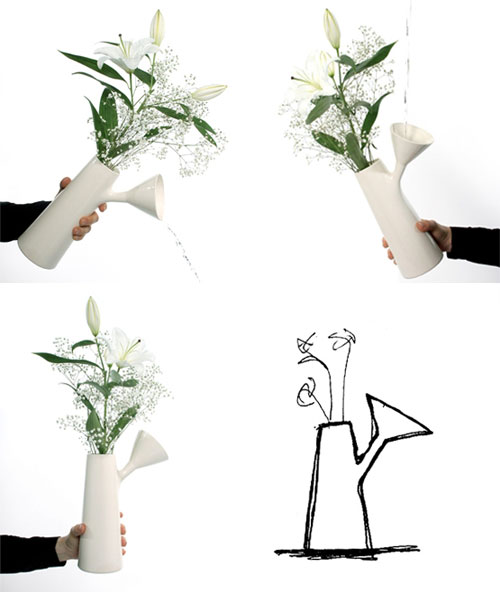 3. The flower and vase
This flower vase was designed to change three fixed ideas about flower vase.
. The flowers for the vase, not the vase for the flowers.
. The flower vase with closed mouth
. The real floral pattern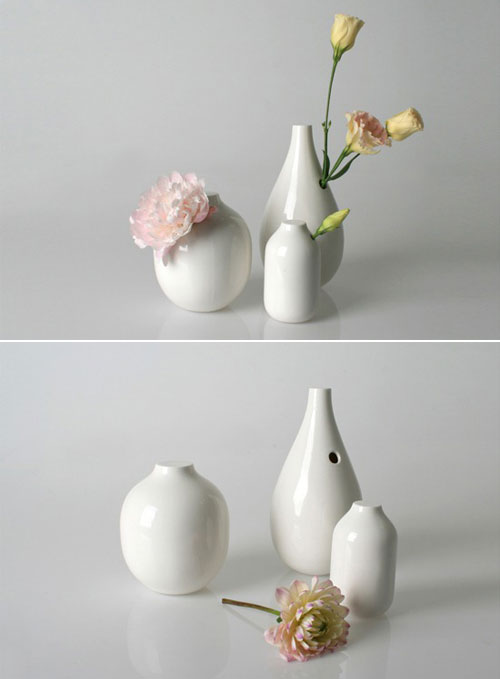 4. Vase and Kitchen Timer by Studio Lama
[link]
A ceramic Vase that integrates a cooking timer. An object that upgrades the status of the Timer and the Vase as well, so they can take there proper place in the kitchen. Moreover, it actualizes "1+1=3" in a distinct and refreshing manner.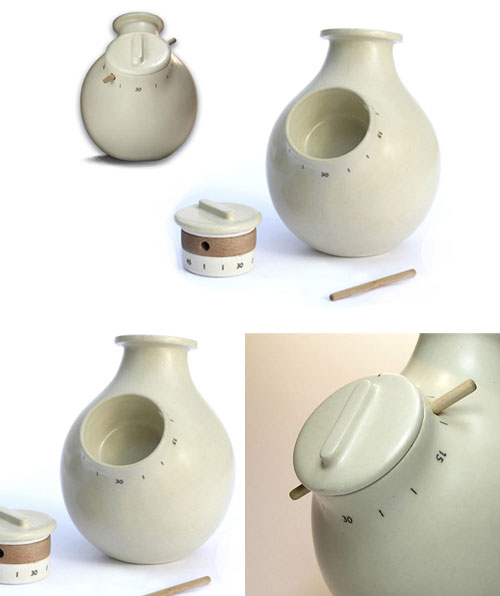 5. Wireless Router Vase
[
link
]
The designers say that "The STC Router successfully bridges the gap between lifestyle and technology with it's flower vase functionality." It was created for that hotbed of cutting edge design, Saudi Telecom, who "was in need for a unique router design that would provoke a positive emotional response. Wireless internet, Voice over IP, land line telephone and wired DSL are all incorporated into this elegant device."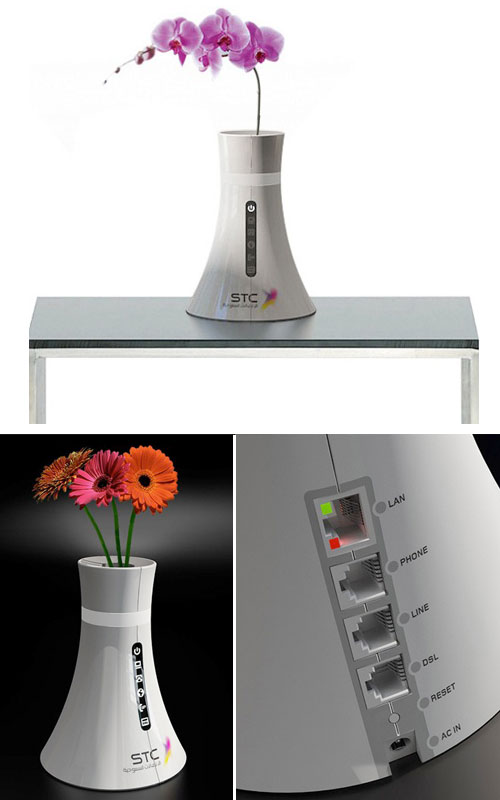 6. Zsa Zsa Vase – Multiple Hole Vase
[link]
It's often the case that you never have quite the right vase for your floral needs, but this multi-hole vase could go some way to rectifying that problem. The Zsa Zsa vase is adorned with not one hole for holding a single stem, but lots, so it can hold multiple flowers. It's a dainty and delicate vase, made of porcelain, and measures 24cm by 10cm.
You wouldn't fit the entire contents of a massive bunch of flowers in here, but it would be lovely for a single stem on its own or an arrangement of several stems.
7. Stained Glass Vase and Bowl Wall Art
[
buy on amazon
]
Hand Painted Stained Glass Vase & Bowl Wall Art.This decorative wall piece is fun and artistic. Bring out your creative side with this inspired stained glass decor. Circular in design, this wall sculpture features geometric shapes, vase and bowl designs, as well as an elegant color palette.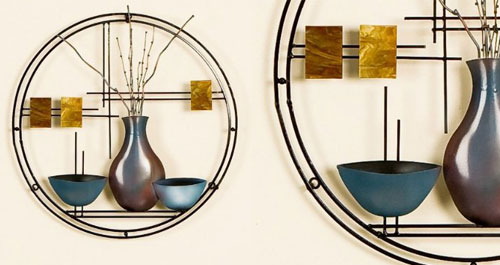 8. Black+Blum, Flower Loop, Vase
[
buy on amazon
]
An elegant yet minimal flower vase made from free flowing steel wire. The form looks appealingly simple and unique from every angle. It can be used individually or interlinked to create a cluster. Flower Loop is inspired by the Fibonacci curve that is seen throughout nature and looks correct and balanced to the human eye. A removable water tube for easy refilling and a very high quality artificial cala lily which complements the design are included.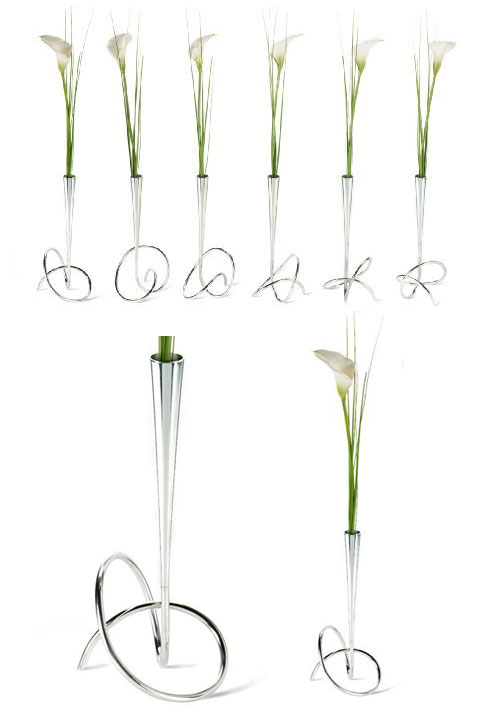 9. Nambe Globe Bud Vase and Elbow Vase
[
buy on amazon
]
Complete with a white orchid set at a rakish angle, this bud vase combines a round, tapered band of Nambe alloy and a glass center into an objet d'art suitable for any room in the house. The vase measures 7-inch in diameter.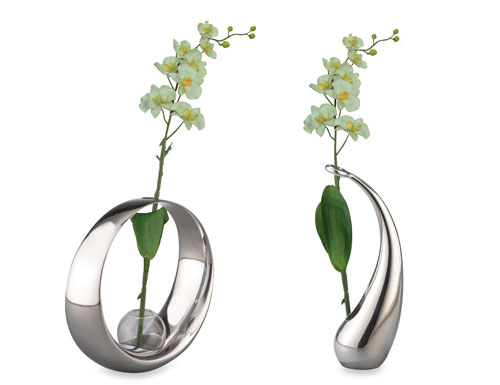 10. DCI Magnetic Bud Vases
[
buy on amazon
]
Magnetic Vase set of 5 vases and 5 metal plates. Place tablecloth between vase base and metal plate to make vase arrangement on your table. The Magnetic Vase is a single bud vase that gives the illusion that it is a free-standing vase, yet the magnetic base gives it stability. DCI product offers design oriented gift and stationery products. DCI's products stand out with fun colors and unique designs combined with the practical functionality.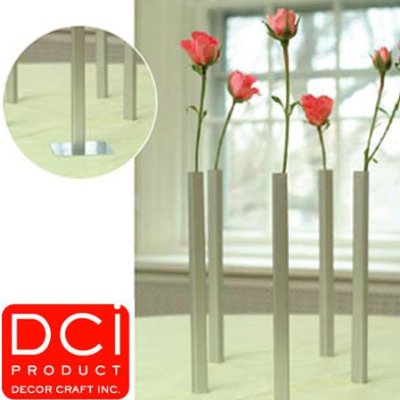 11. Hand Blown Abstract Teardrop Art Glass Vase with Angled Lip
[
buy on amazon
]
Hand-blown teardrop vase with angled-lip design. Exterior design consists of stripes and floral accents of contrasting colors that all comes together to form an Asian theme.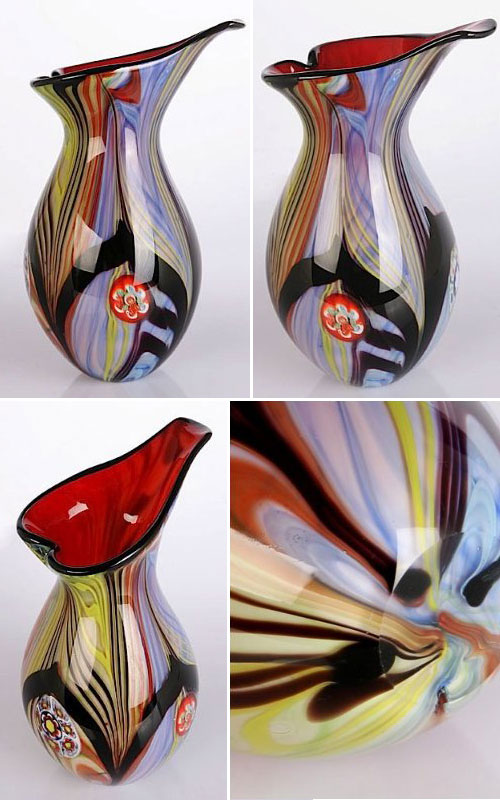 12. Plant Astray
[
link
]
If you or your friends are smokers, then you know how difficult it can be to incorporate an ashtray into your decor, let alone deal with the smell. Tab A (vase) and Tab B (planter) are clever little solutions to this problem, hiding an ashtray beneath either a vase or a planter. A perfect way to conceal a dirty habit both visually and aromatically.
Just wonder does that will hurt the plant?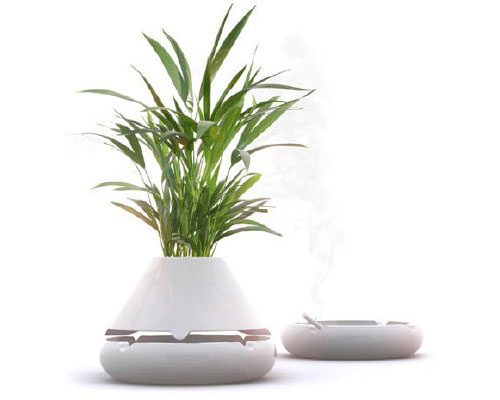 13. Luna Vase
[
link
]
LUNA by Eero Sairanen is a sculpture/vase that revolutionizes the traditional concept of the vase. Really creative and beautifully design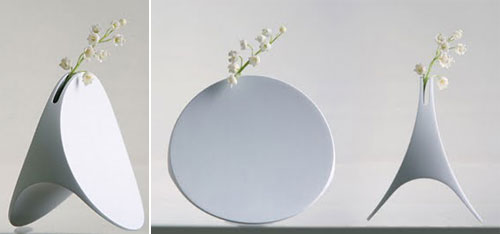 14. Swell Vases
[
link
]
German designer anika engelbrecht combines simple ceramic vessels with colorful balloons to create the swell vases. The series is comprised of five different vase forms each perforated and designed with lots of negative space. By adding a series of colorful rubber balloons, each vase is able to hold water and flowers. The weight of the water fills the balloons and forces them out of the perforations in the vases. The result is white vases bulging with red, green and blue. The balloons can be rotated between the vases to create hundreds of different combination.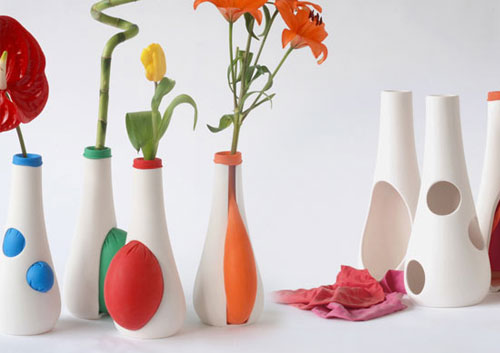 15. Portali
[
link
]
'Portali' is a collection of 18 pieces of white pottery vases. those micro spaces create an architectural blossoming landscape.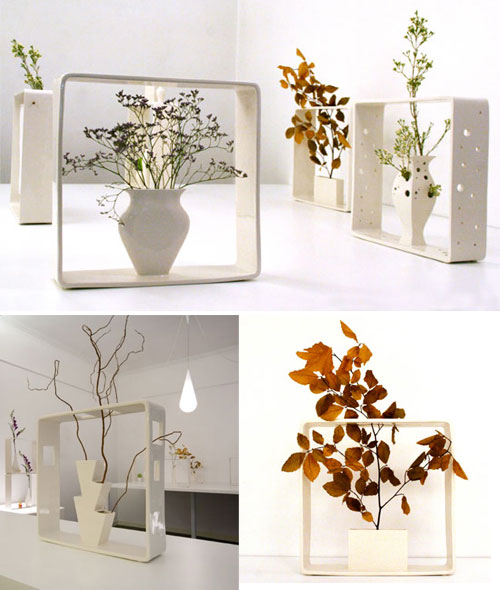 16. Adaptation Vases
[
link
]
Adaptation is a finely crafted vase that invites unique approach to flower arranging. It is designed with 4 magnets set in an aluminum base, plus 4 glass tubes and 4 stainless steel spheres. Follow instructions by carefully inserting the 404 stainless steel spheres into the tubes and place them on the magnets in the base. The tube vases may be tilted, swayed, and turned into desired configurations. Add water and flowers to create a unique centerpiece!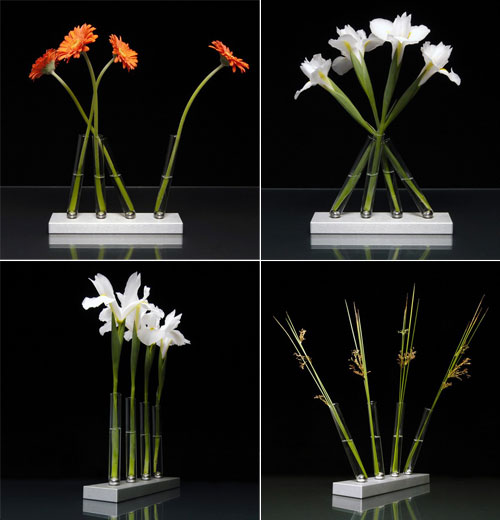 17. Chalkboard Vase
[
buy on amazon
]
This unique vase by Ricardo Saint-Clair is a blank slate, waiting for you to make your mark. A hole on the side of the vase holds a piece of chalk, which you can use on the erasable laminate surface to write reminders to yourself, illustrate what your flower might be thinking, or simply draw the vase you imagine.
A glass tube inserted into the top holds a flower, and is removable for easy cleaning. Vase can stand upright on a table, or be wall-mounted using the two included screws and anchors.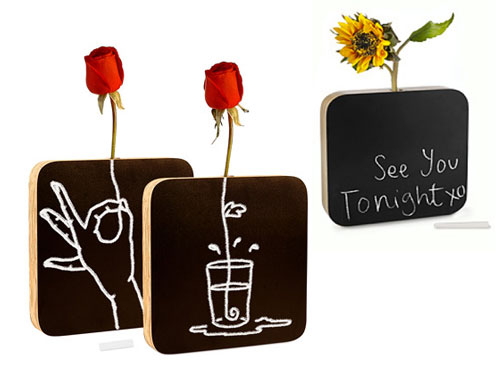 18. Unvase
[link]
Unvase is a vase made up of two elements which, thanks to their profile, featuring a solid and hollow arrangement, create an optical effect which reveals the silhouette of a vase. Unvase is glazed ceramic bi-color in ebony and white colors. The matte finish highlights even more the essence of form. Four firings and a patient process of casting and painting by hand return a product of high quality craftsmanship.