I know lots of bottle now have "twist open" design, but bottle opener is still an useful beverage accessories in these days. And with the magic from those creative designers, they can add more fun to your life. Now, you can open the bottle with your ring, your hat, your sandal, you swimming suit, your bike, your fork… there are also some unusual designer opener, which will definitely surprise your guest. You don't think so? Well, check out the 18 cool and creative bottle openers after the break.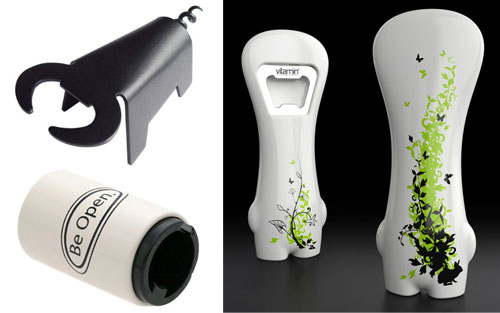 We are a participant in the Amazon Services LLC Associates Program, an affiliate advertising program designed to provide a means for us to earn fees by linking to Amazon.com and affiliated sites.
HANDLEBAR – stylish way to open your bottles [buy on amazon]
The 'stache is back! Only this time, it's not just a fashion statement. It's also a finely crafted corkscrew and bottle-opener. Because beverage containers are no match for the sheer power of a manly mustache.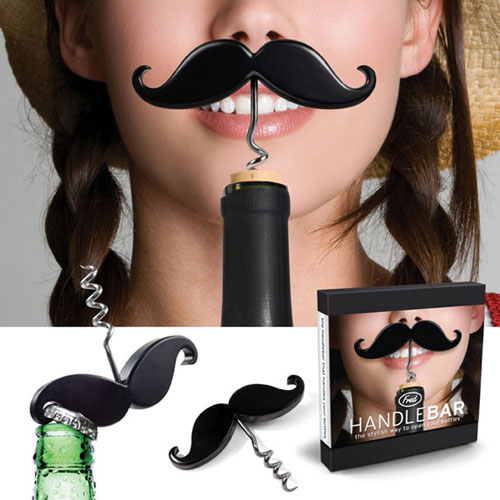 Hop and Pop Bottle Opener [buy on amazon]
Hop & Pop is three handy helpers in one. He pops off bottle caps with his mouth! He jumps at the chance to unscrew stubborn twist caps with his legs! He loosens lids with his prying eyes! You'll wonder how you ever got along without him.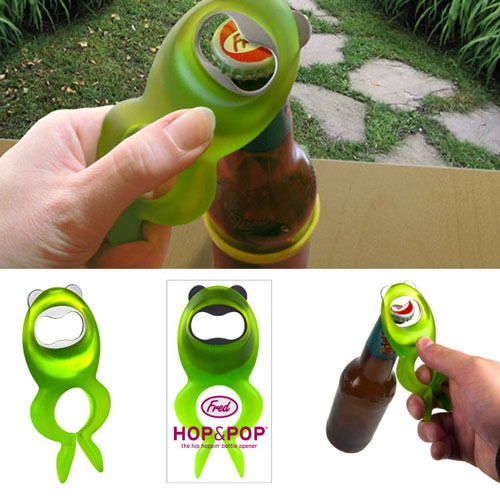 Brushed Key Chain Bottle Opener
[
buy on amazon
]
This sophisticated key ring is securely attached to a brushed stainless steel bottle opener?a dynamic duo. Fine craftsmanship guarantees a long life free from rust or tarnish. Include your personalization request in the gift note section of checkout.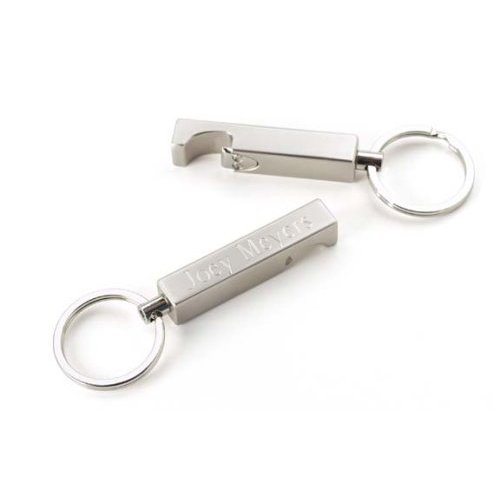 Bike Mounted Bottle Opener
[
link
]
The Road Popper is a bike-mounted bottle opener that we developed for our own use and decided afterward to share. We designed it to fasten discreetly to the rails on the underside of the saddle to help keep your bike looking crisp. So far, it's worked on all the bottle caps we've tried it on. Material options are bronze infused stainless steel. Finish options are plain (on the right in the photograph), matte gold, glossy gold, matte antique bronze, and glossy antique bronze. The Road Popper is not intended for alcoholic beverages. Chromoly does not condone cycling while under the influence of alcohol.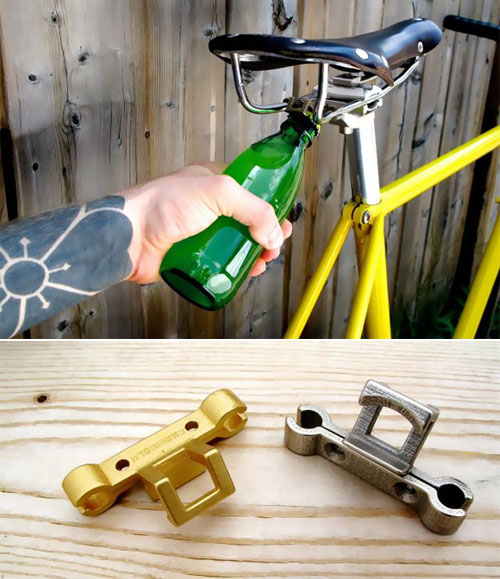 Green Guinness Bottle Opener Cap
[
buy on amazon
]
Adjustable green hat with Guinness and a pint. Arthur Guinness' signature and pint embroidered on the back. Bottle Opener on the bill.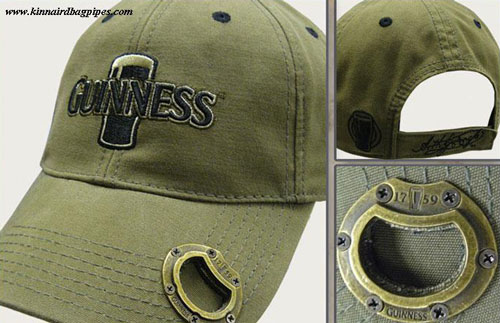 The Wackiest Bikini has a bottle opener built in
[
link
]
Bottle Betty suits have a built in bottle opener on the top and on the bottom that replace the usual swimwear accent pieces, but have the added benefit of opening a bottle. Popping tops will never be the same!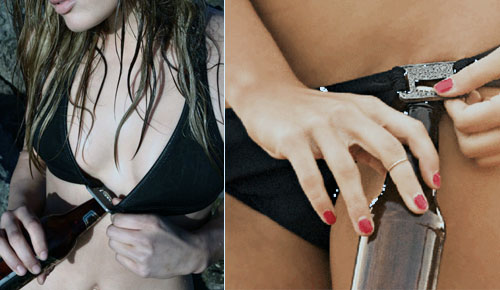 CITRUSAW – bottle opener with a twist
[
link
]
Cold beer & lime wedges go together like Joanie & Chachi. And that, my friend, is why the Citrusaw rules. It slices the citrus, it opens the bottle. It's cutting edge hardware for your home bar or beach bag.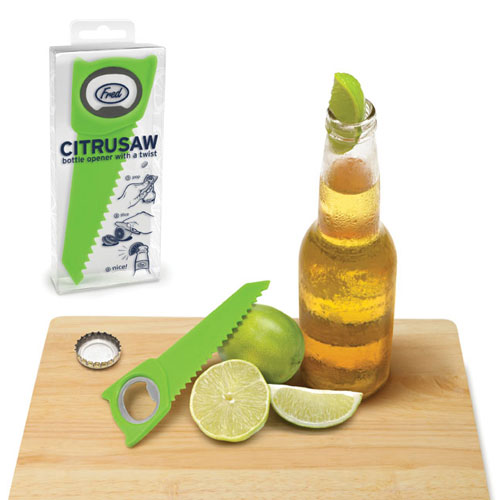 Oxo SteeL Bottle Opener
[
buy on amazon
]
The cushion-soft inset on both the top and underside of this opener's ergonomically-shaped handle make it easy to grip. One end flips the tops off bottles while the other features a sharp point for punching holes in cans. Made of stainless steel with a brushed finish for a sleek, contemporary look, this six-inch, dishwasher-safe opener complements other accessories in OXO's barware collection. OXO backs all its products with a satisfaction warranty, and will replace or refund any returned item.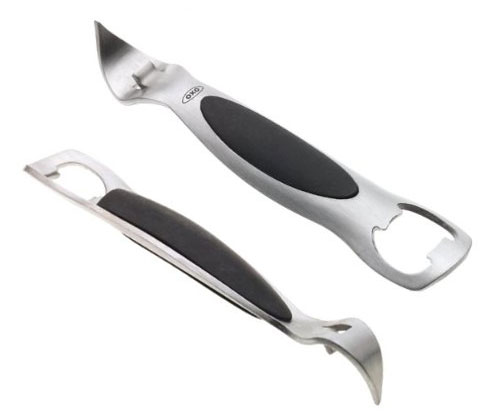 Oster Electric Wine-Bottle Opener
[
buy on amazon
]
At the touch of a button, the Oster Wine Opener easily opens up to 30 bottles on a single charge. The stylish and ergonomically designed soft-grip handle will fit into the palm of your hand for a firm grip. Also includes a foil cutter to remove wine seals and a recharging base for convenience.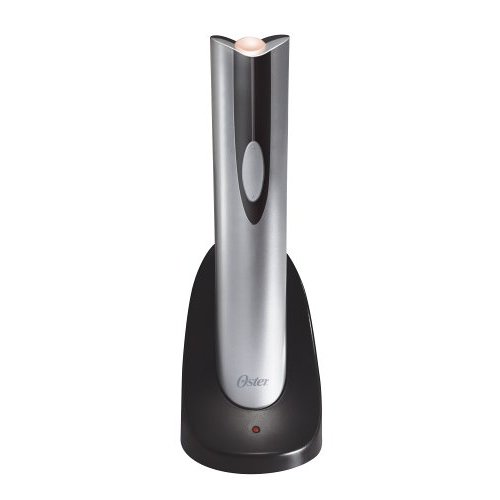 Be Open Beer and Soda Bottle Opener
[
buy on amazon
]
"Be Open", The Essential Beer and Soda Bottle Opener. For any TWIST off or pull top bottle cap, remove the cap without spilling and cut/torn hands. Simply place the opener on the bottle, push down, and instantly and effortlessly the cap is removed. You and your friend's eyes will light up with delight when you see this product in action. Make your life easier and more fun with the "Be Open" bottle opener.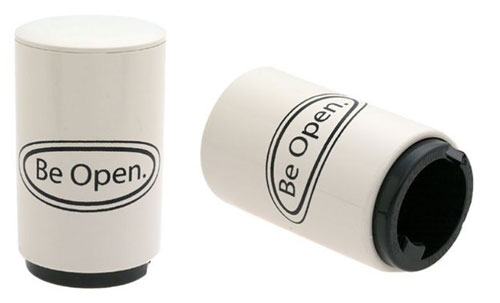 Jokari Beverage Opener, 3 in 1
[
buy on amazon
]
Opening bottles and cans is easy with the Jokari Beverage opener. Soft grip handle and non-slip easy grip teeth hug bottle lids and require little torque to open. Specially designed handle also opens can tabs and non-twist off bottle tops. Total of 3 Beverage Openers.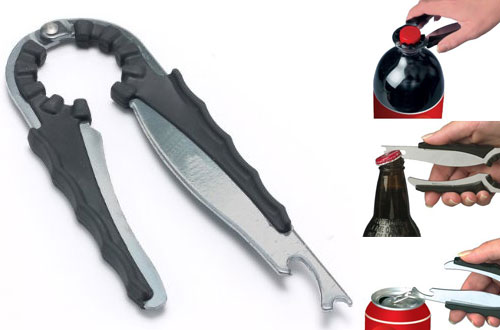 Jimmy Keyring + Bottle Opener
[
buy on amazon
]
Jimmy will magnetically climb your fridge door to store your keys and also opens bottles while holding onto the top afterward. We want to show that designed products can be made affordable without compromising their quality. The aim is to create innovative products that will charm and entertain.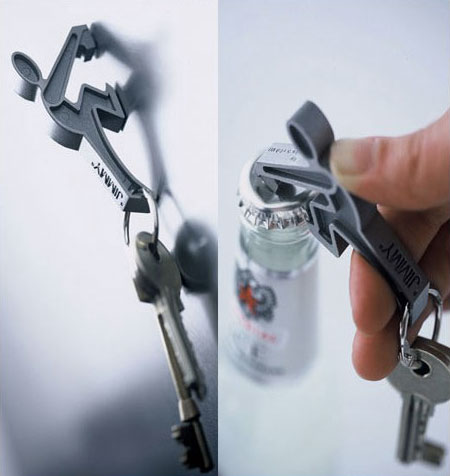 Bull Bottle Opener
[
buy on amazon
]
Bull Bottle Opener and Corkscrew. This proud and powerful little bull can open any bottle for you. For a cold beer he will use his mighty horns and for a delicate wine his flexible corkscrew tail. And be sure to use him with respect, because you don't want to get into a bull-fight with this one. The Bull Opener is designed by Ramón Middelkoop & Chris Koens for Invotis Orange and measures approx 120 x 50mm. A great item for any bar or kitchen!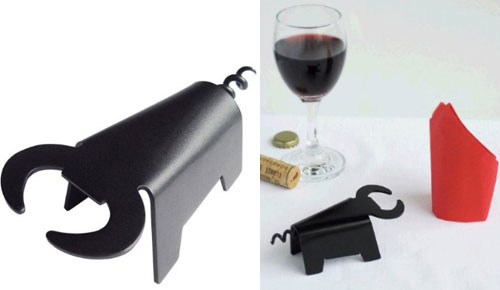 Redman the HoldUp
[[dis-continued]]
Put your hands up for?.'The Redman' Why have one bottle of beer when you can have two? Our point exactly? Nicknamed 'The Holdup' for his raised arms; the tactile and ambidextrous little chap can open all bottle lids, even two at a time, with metal mitts that allow you to dispense refreshing drinks to your envious friends in double quick time. Crafted from high gloss ABS plastic, The Holdup is way ahead when it comes to sleek drinking accessories. And like every girl's ideal man the Redman is not only handsome but strong, his metal reinforced hands and arms ensure this chic little fella is nigh-on indestructible. Then, when you have given him a thorough workout, you can stand your new drinking buddy on his own two feet next to all of your favourite designer gadgets, because lets face it, he's far too cool for the kitchen drawer. Redman has also been created with the environment in mind, with recycled cardboard packaging that even includes a nifty cut-out beer mat, leaving the Redman with a small carbon footprint and you with a clean table. Cheers!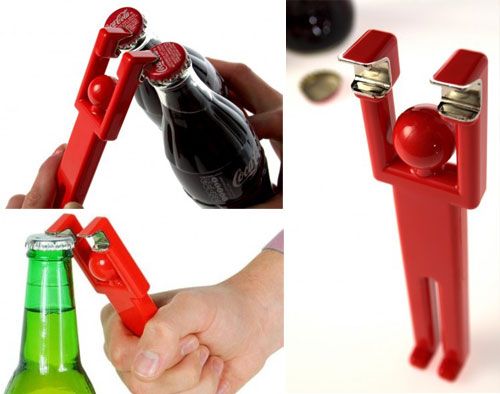 Ring Thing
[
buy on amazon
]
A ring that's a bottle-opener. How brilliantly simple is that?
Yep, made from stainless steel, the Ring Thing is a bottle opener hidden in the palm of your hand for both guys and gals. It's comfortable to wear, guaranteed for life, easy to use.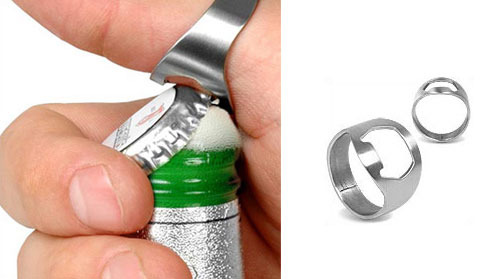 Sigg Outdoor Cutlery Set
[
buy on amazon
]
Eating on the go has never been this easy and may I add stylish. SIGG Cutlery is a locking blade utensil set that features a spoon, fork, knife and a bottle opener. It comes with a nylon pouch that keeps it on your hip. This is the perfect tool for campers and travelers.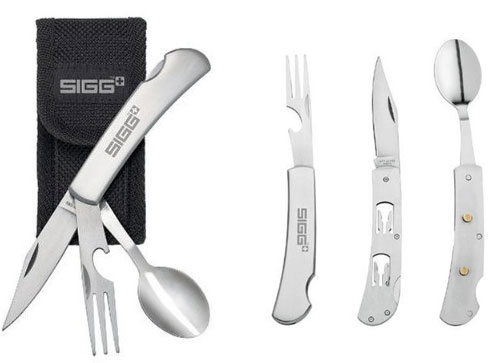 Vitamin Living Fang Openers
[
link
]
Vitamin Living always designs some of the sleekest "Urban Creatures" for the modern home that are somehow filled with so much character! The latest from them are the Fang collection of bottle openers! There are 9 patterned versions of these vinyl creatures and one plain one (you can leave it as is, or customize it to your heart's delight!)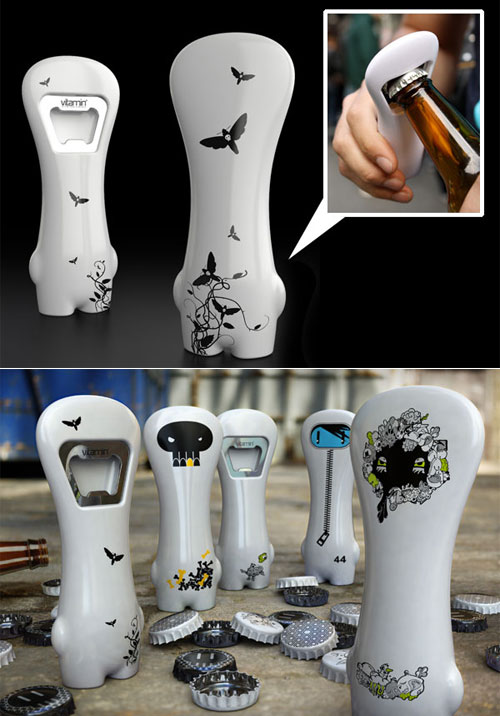 Reef Men's Fanning Flip Flop
[
buy on amazon
]
This is the original Reef Fanning that you know and love. What's it got? The quick-drying synthetic nubuck strap, the contoured footbed and thick, foamy, molded EVA sole with added arch support, the under-heel airbag cushioning…what else could you possibly need? The hidden bottle opener's there, too.