The basic function of wall hooks/hangers is to keep coats, small accessories neat and tidy when you are not using them. After doing some research, we decided to publish this awesome collection – 18 Stylish Hook and Hanger Designs, for those who prefer a unique style of living. Your jackets, hats, keys and so on have never hung so stylishly.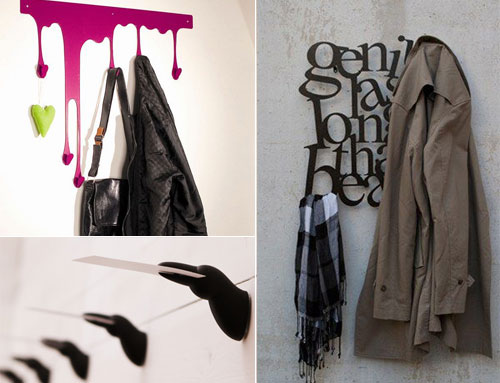 1. Floating Coat Rack [link]
Well here's a unique way to memorialize Hiroshima. Hirosima (sic) combines the magical wonder that is the "Red Balloon" to prop up a weapon the forever changed history. Put your esoteric thinking caps on. The balloon keeps the bomb from landing, therefor preventing devastation. The bomb is turned into a mundane utilitarian object by becoming a coat rack, essentially castrating it of its original intent.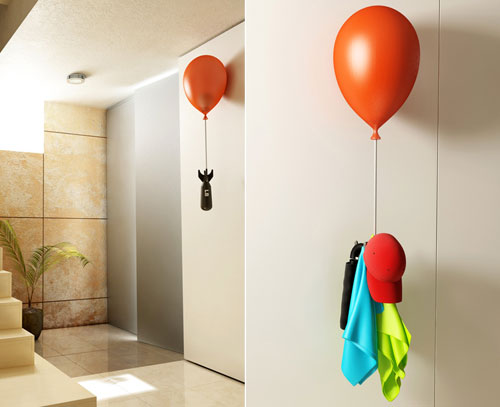 2. Monsieur Dressup [link]
Monsieur Dressup is a pretty design for hanging your clothing, designed by Loyal Loot Collective.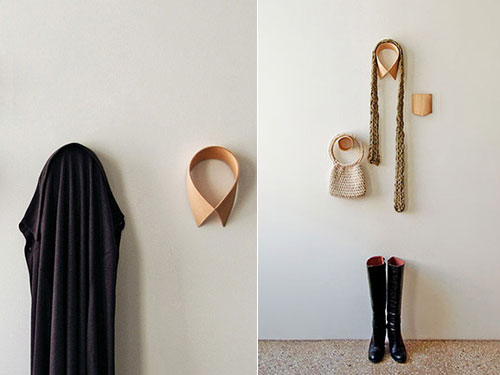 3. Bird Hook
[
link
]
This hook is designed by three Japneses design, and its inspiration is becaming from a bird grab things in their mouth. The bird hook can hold notes, cards, accessories like hats, scrafts. It does look fun to make the bird hold stuff in their mouth.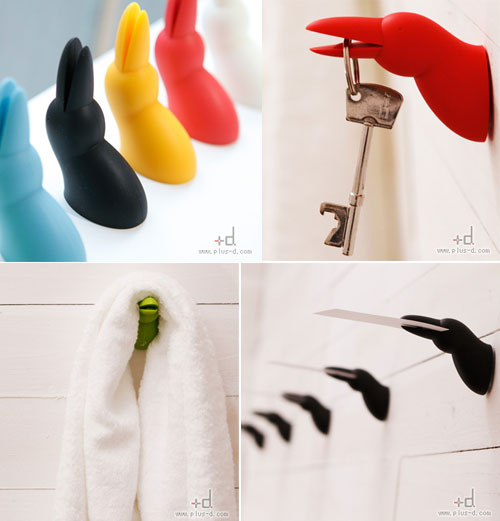 4. Arrow Hanger
[
buy on amazon
]
In a precise horizontal position the soft-edged Arrow Hanger supports hefty loads, but is just as useful for a newly ironed shirt. When you close it there are still three hooks on which to hang various items. When not in use, Arrow will adorn the wall like an iconic graphic symbol. Perfect for the hall, bathroom, bedroom or in the children's room. Hardware included. Choose Red, Black, White, Green or Grey.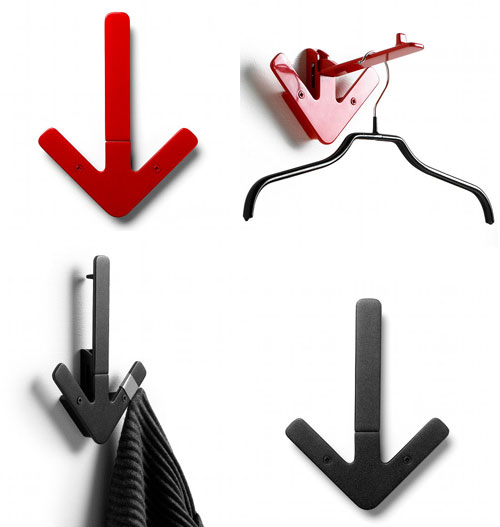 5.MagicBeans Coat Hanger
[
link
]
Designer Massimo Battaglia has created this little army of ambiguous acrobats to service all your hanging needs. Calling his design "MagicBeans", it's a project that's the homage to the Jack and the Beanstalk story. The white puppets are Jack and the green rope is the bean plant.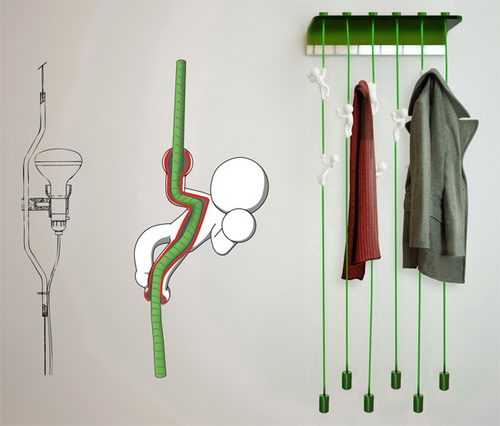 6. Steckling
[
link
]
The clothes hanger is not only a useful addition, but a crucial element in the Steckling. By inserting the coat hangers into the maple pole the wardrobe attains its complete functionality and striking optic appearance. Whether you use it as a hook or hang your favourite jacket carefully on the hangar, this coat rack constantly shows its versatility.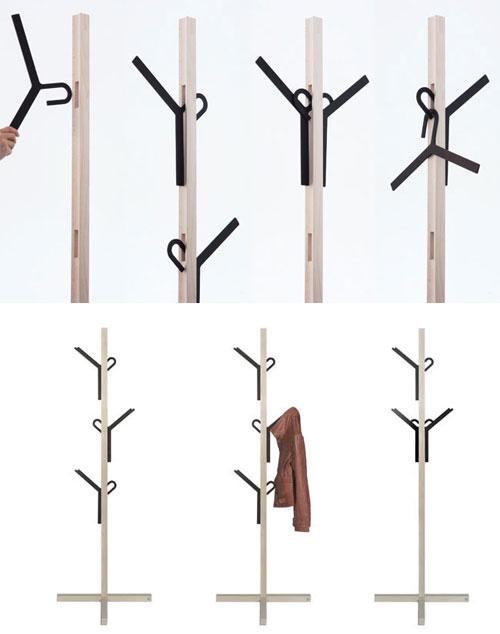 7. T-square Hanger
[link]
The Hanger T Square, which is inspired by a bevel square, has a hooked metal plate that can be rotated and set in place to function as trouser and coat hanger, or folded away.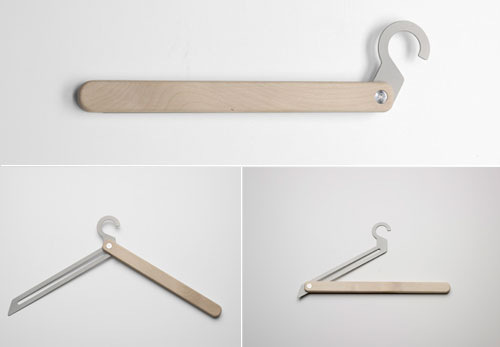 8. Mountain Coat Range
[
link
]
This Mountain Coat Range would be a favorite of the late, great Bob Ross. Inspired by excess material from our cut sheets, the contrast of Walnut to the exposed interior of FSC-certified Maple becomes the snow-capped mountain peaks of the Grand Tetons. A functional landscape for your home that leaves little impact on the actual frontier. The mountain range's peaks enable you to hang four or more items. Connect them end to end to extend your range!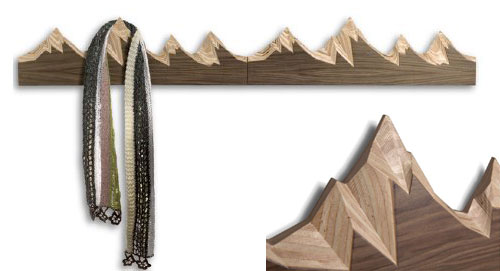 9. Claude Coat Hook
[
link
]
Looking suspiciously like a claw hammer, Claude is in fact a well-hard coat hook with attitude! You can hang a ton of stuff on his head and he won't lose his temper, just be sure he's properly nailed to the wall though…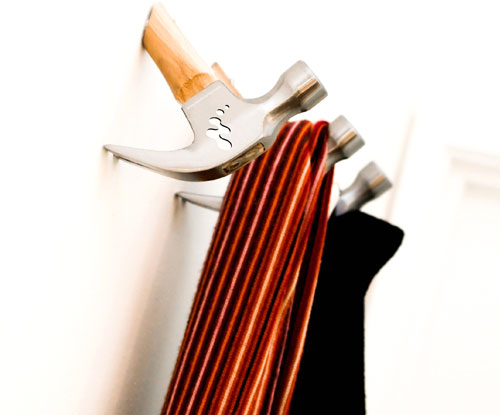 10. Wardrobe Drop L
[link]
Drop L is a stylish wardrobe for the wall. Your jackets, coats and hats have never hung so stylishly on the wall. You won´t know whether your wardrobe or your clothes are more fashionable.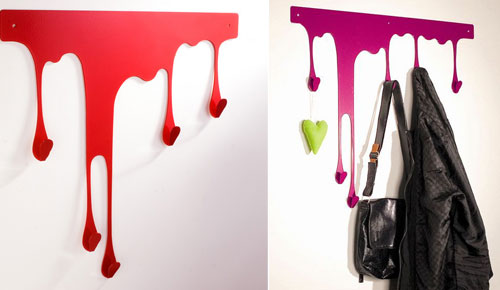 11. Wave hanger
Although made from simple metal frame, this hanger can be a good decoration when not in using.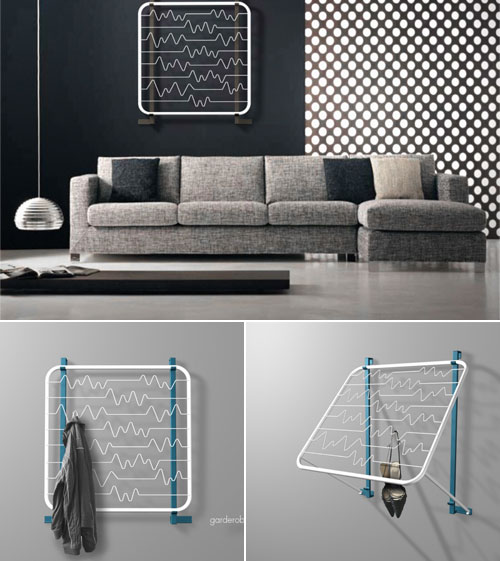 12. Man stretch hook
[
link
]
Add some visual interest to your walls with this graceful stretching man hook. His outstretched arms are great for coats, hats or even towels. Made from high quality cast resin.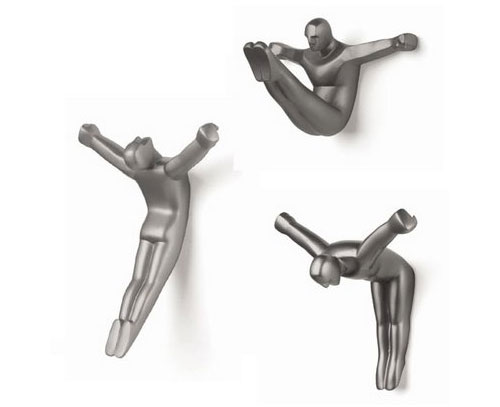 13. NINJA COAT HOOK
[
buy on amazon
]
# Metal Coat Hook – Ninja Style
# Lethal Shuriken Throwing Star Screws Into Wall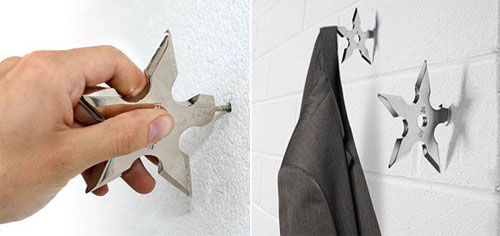 14. DINO coat rack
[
link
]
Lincoln Kayiwa's DINO coat rack can be configured according to the type, length or size of item by using differently sized, yet matching, hangers. By varying the hangers, the rack takes on the appearance of a dinosaur skeleton. Handy for family use where adults and kids can all tidy up, the DINO also offers numbered hangers for use in public cloakrooms.
15. Coat and Key Hook Rack
[
link
]
What a neat way to organize your keys! Thanks to Cucampre, it'll be quite difficult mixing up the keys and now the only thing you have to worry about is forgetting them. This key organizer is also a coat rack.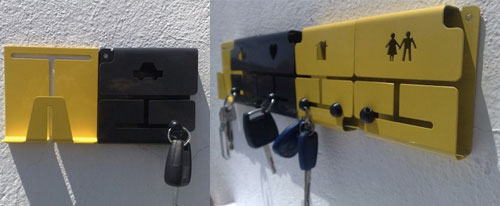 16. alone
[
link
]
Alone, an "illuminated circular outline", a coat hook that casts an eye at the concept of a wall light. Its clear-cut, linear design is enhanced at the rear by an opal finish ring that fills with white light creating a bright halo focusing on the hanging garment.
17. Wall Hook – Flip Up Nickel Hooks
[
buy on amazon
]
his wall mount coat rack boasts very clever design! The wooden coat hook rack features 5 hooks that flip down for use. When not in use, each hook slides neatly back into the rack for an allover sleek look. This coat hanger is made of stained and lacquered hardwood with brushed nickel-plated hooks. Comes in Natural and Espresso finishes.
18. Genius wall
[
link
]
The "Genius Lasts Longer than Beauty" clothes hanger is really cool : a statement mixed with something practical, a thing to reflect about on your way to work.