In today's busy business landscape, a restauranteur must know how to innovate as much as he must know what good food tastes like. Apart from food, the primary way a customer engages with the restaurant they are eating at is through the ambience. With scores of restaurants, bistros and cafes lined up in every street of the world, the need to stand out in terms of decor is difficult.
While factors like lighting, colors, and music are significant in building a customer's experience, they are rarely willing to pay more money for it. On the contrary, furniture is a tangible factor that often translates into monetary profits. According to a research article produced by the Rochester Institute of Technology, titled 'Interior Design in Restaurants as a Factor Influencing Customer Satisfaction', restaurant furniture was confirmed to be the most important element of interior design that influences overall customer satisfaction and willingness to pay more. At the end of the day, the design of commercial spaces like restaurants hinges on how stylish and comfortable your furniture feels. If positively received, it can catapult your turnover rates, reviews and footfall by a considerable margin.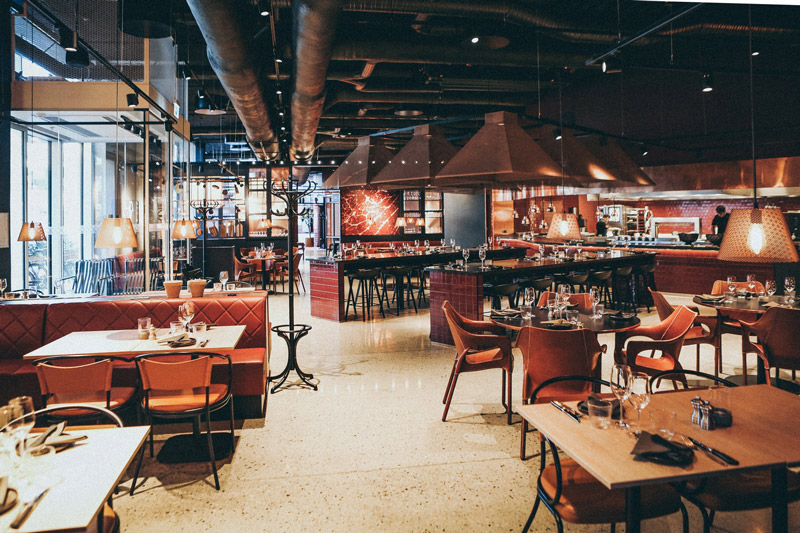 With this quick primer to understanding how influential the choice of your restaurant's furniture can be for the customers, evolve into the restaurant of your dreams, today!
Layout, Seating and Tableware
There are three primary components of restaurant furniture are Layout, Seating and Tableware. Let us explore each element in detail.
1. Layout
Every detail of your restaurant space must be carefully plotted instead of being randomly assorted. Which means, your design strategy to maximize customer satisfaction and profits should be planned down to the layout of the space. The layout of a restaurant is never going to be the first thing a customer mentions in a positive review, but it has a significant impact on their experience. It is an underrated element in interior design.
Customers generally prefer spacey and breathable ambiences. Ideally, your space should not be too stuffy or cramped but should still retain a cozy feeling. According to an article, a comfortable flow of traffic is critical to a fulfilling customer experience. The flow of restaurant staff, customers should be as though as a brook: forward flowing. For instance, entry from the parking lot is much less exciting than entry from the central atrium. Your customers must experience a beginning, a taste of your ambience, a staircase that may lead up to another floor, the kitchen, and utilities.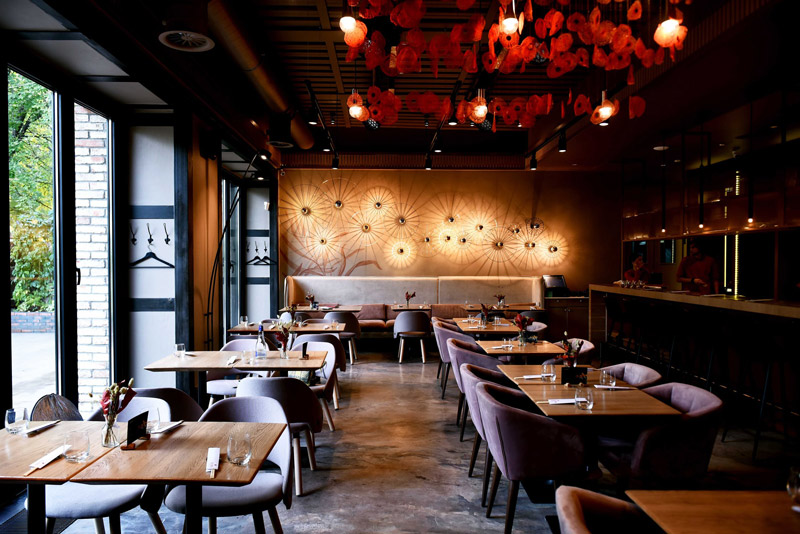 If the space is small, then the industrial restaurant furniture selected should be compact – like revolving stools instead of private tables. Ultimately, the furniture should not interrupt the flow of traffic.
2. Seating
Seating affects how long your customer decides to linger on. For example, upscale restaurants often offer private dining rooms because they intend to increase the amount of time a customer sticks around to increase profits. On the other hand, fast-food chains like McDonald's have plastic or metal chairs. Sushi serving pubs in Japan called Izakaya are quick serving establishments and to keep up with the rush, they offer counter seating – kaunta seki.
The difficulty in choosing the right kind of seating is striking balance. If the seating is too comfortable, customers may linger too long and occupy space. On the contrary, if it is uncomfortable, the customer might not choose to give your restaurant a second chance.
Finalizing your restaurant's concept will help you narrow the type of seating you may consider. Metal and plastic chairs are easy to wipe clean and hence are popular with quick-serving restaurants. Wood is traditional and is classic because it matches with any kind of decor. It is used in mid-range and family restaurants. Fine dining and more elegant establishments offer more comfortable seating options like cushioned chairs, recliners, cotton, or leather sofas to encourage customers to linger on for desserts and more. However, expensive furniture calls for expensive maintenance. Make sure you have the budget planned out for frequent cleanings and dry cleaning.
3. Tableware
Restaurant tableware, like seating, also depends on the concept of the establishment. Wooden and granite tables are visually appealing, expensive-looking which makes them popular with fine-dining restaurants. However, they also demand more upkeep.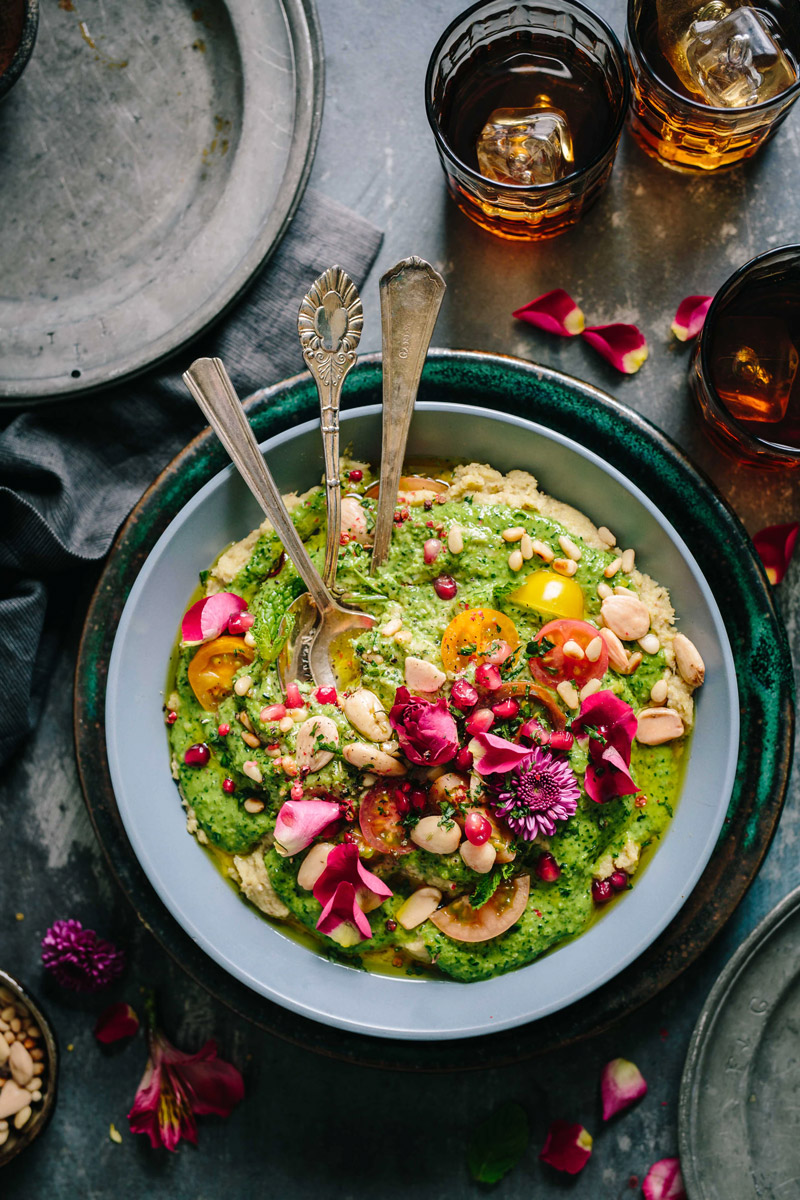 Economical options for quick-serving and fast-food operations include laminate-coated tables or melamine. They are durable, easy to clean and child friendly.
In conclusion:
Restaurant furniture is critical to maximizing customer satisfaction and in turn amp up sales. With this lucid guide to understanding the fundamentals, it is time to take your restaurant to new heights.