Bus stop is always a hot place for advertising. Basically, when you are waiting for bus… you have nothing to do… so you look around, even read every words on those advertisement to kill times. Today, we will present you with 19 Creative and Unusual Bus Stop Advertisements collected from the world. And I do hope I can see more and more those kinds of Bus Stop Advertisements around my life… then I won't get bored when I am waiting for bus.
Real Hip Hop Bus Stop Advertisement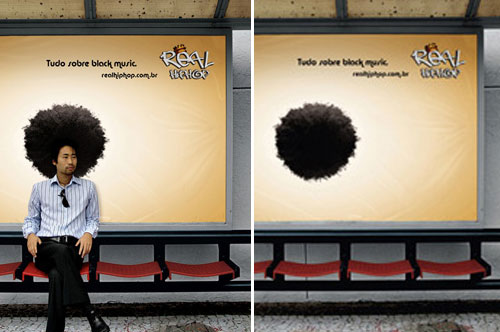 Hasbro Cluedo: Bus stop killer from DDB, Italy
Headline: How does it feel to be involved in a crime?
At the bus stop, there will be posters covered by a shower curtain. Opening the shower curtain will reveal a classic assassin with a knife, ready to kill.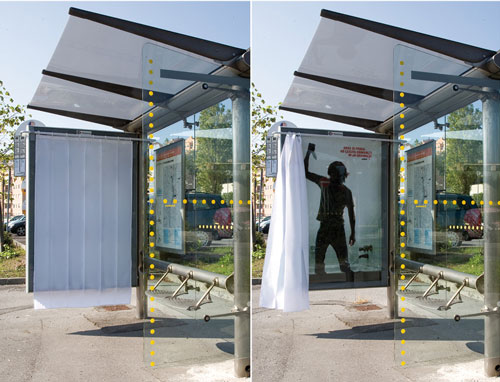 IKEA Bus Stop
Real sofa from IKEA was placed in a bus stop shelter in Istanbul.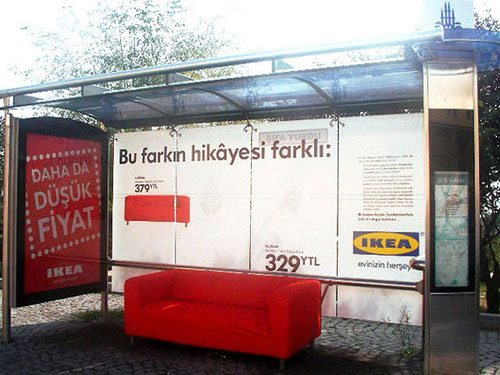 McDonald's: Free coffee bus shelter
McDonald's was giving away free small cups of its brew for a two-week period, in an effort to attract new breakfast customers. A transit shelter was turned into an 'hourglass,' with an ever-diminishing number of coffee beans reminding customers of the promotion's short-term nature.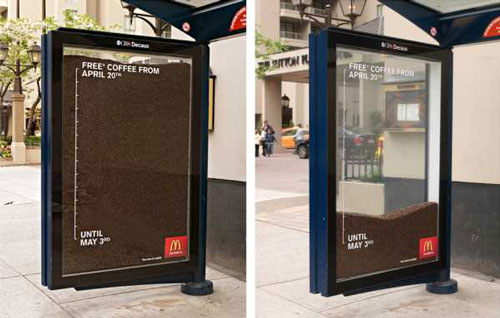 Victoria Bug Zoo: Eyes
The Victoria Bug Zoo is all about experiencing the world of insects and spiders. This TSA, made from a plastic sheet with hundreds of small magnifying lenses, allowed passersby to see through a bug's eyes.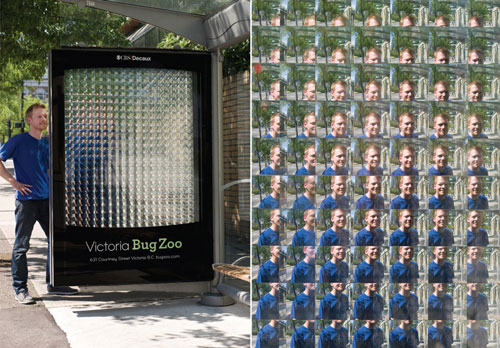 Perwoll Color Magic detergent: See colors (Color blindness test)
It's know that you can't tlak about colors if you can't see them. Tha's why, to promote Perwoll Color Magic, a detergent that protects colors from fading out, we created a unique street color vision test: instead of colorful dots we used over two thousand socks rolled like just after laugdry, put into citylights at the bus stops. Those who were able to see colors could also spot the correct solution: a shape of Perwoll bottle inside the circle.
As a result people in Warsaw sould test their color vision and see with their own eyes that Perwoll allows them to see colors, even after washing.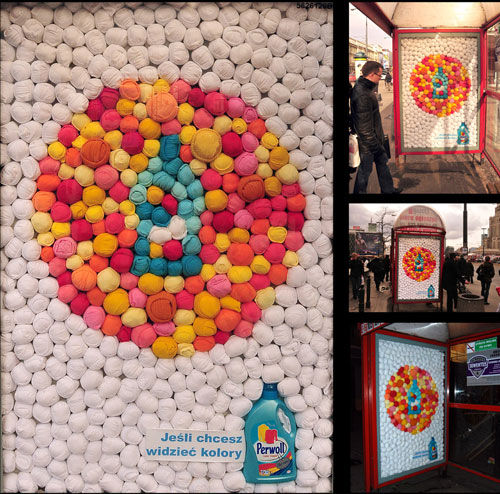 Fitness First: Bus stop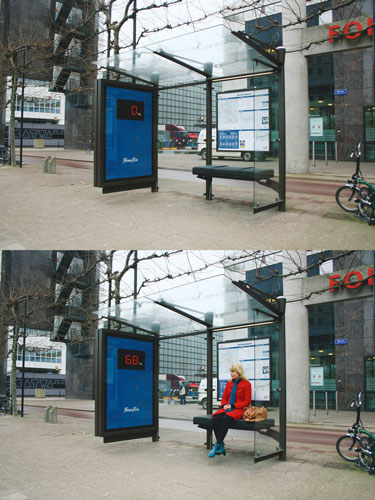 Omar Calçados (Footwear Store): Silhouette
The project is the installation of a feminine silhouette protected by two red curtains, showing only the film legs and shoes of the collection Omar Footwear. During the night, a play of light emphasizes the silhouette and the collection of shoes, thereby creating the presence of women within box of advertising.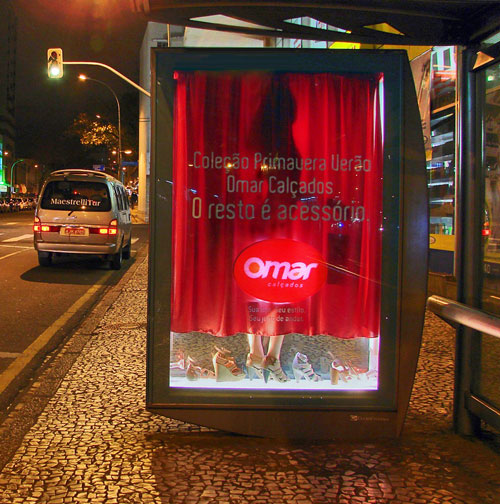 The Heart of the City: Rubbish
Everyday the rubbished found around the bus shelters was picked up and placed inside the bus shelter.
Treasury Casino: Let The Good Times Roll
7563 dice were painstakingly set into the face of Treasury Casino's bus shelter sign.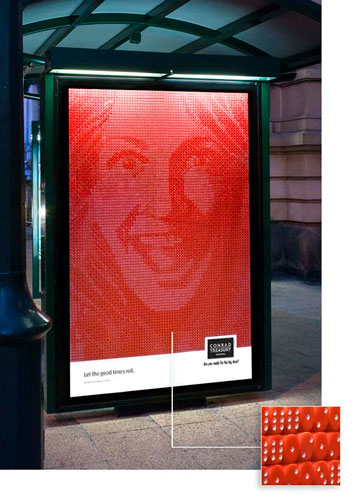 San Francisco Zoo: Critter Quest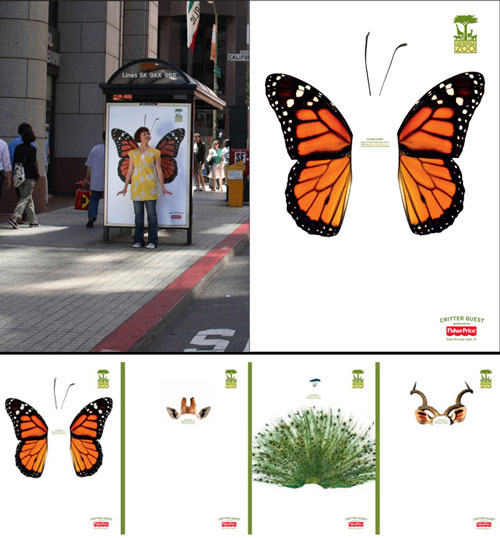 Australia Post: Personalised stamp
Australia Post's online Personalised Post service via bus stop posters.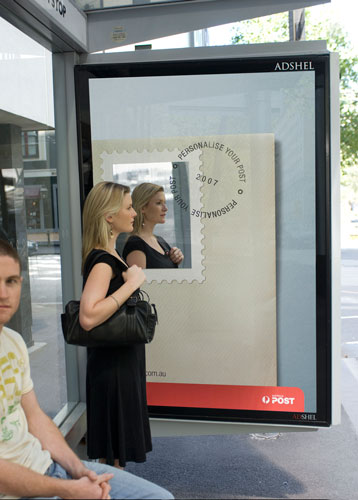 3M Secutity Glass: Money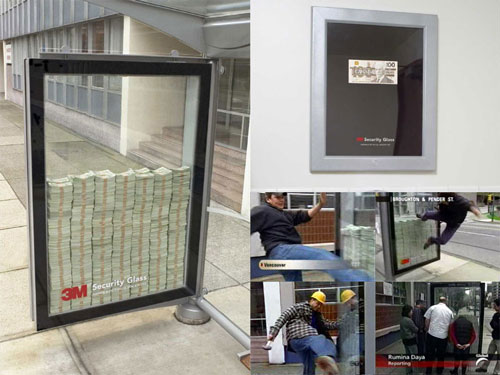 McDonald's Freshness Box Salad
Clever poster, with what appears to be fresh salad vegetables, changed a bus shelter into a section in the refrigerator.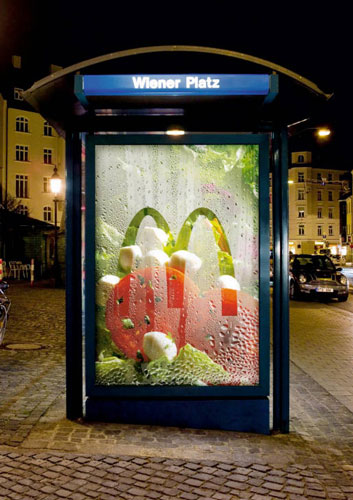 Playstation 2: Bus stop
This bus station in Malaysia features boards with bubble wrap.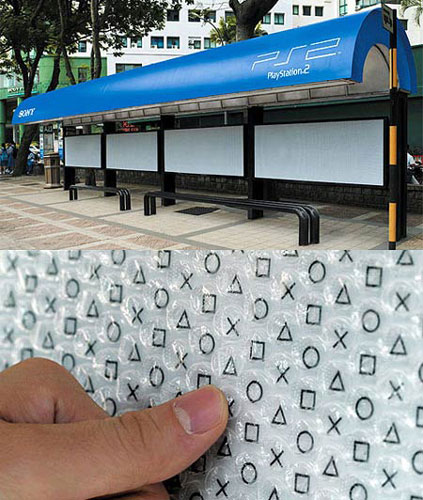 Foundation Abbé Pierre: 6
6m2 is enough to wait for the bus. but to live in?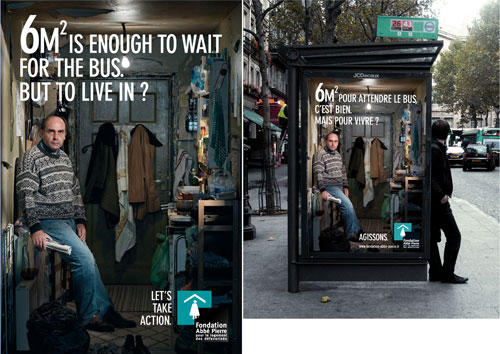 Osram: Bus stop – Only use electricity when you need it.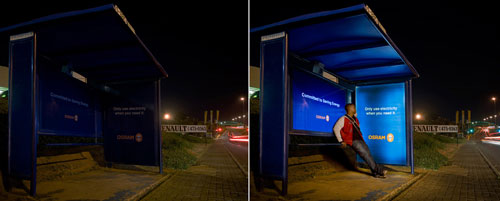 Star Wars Episode III: Lightsabers
This is an outdoor ad, mostly called citylight. The inner side of the installation is exposed to show the fluorescent tubes that look like lightsabers.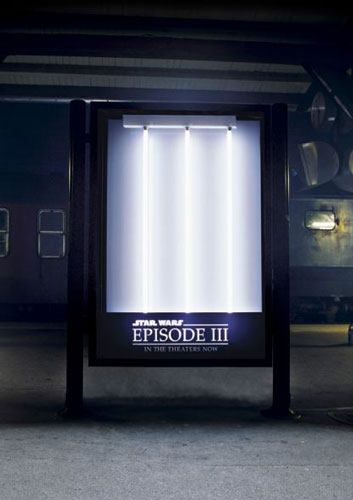 Science Alberta: Invisibility
Is invisibility possible?
Invent your future with a career in science.