Bathrooms have transcended their utilitarian origins, blossoming into sanctuaries of tranquility and revival. The contemporary bathroom is a canvas for luxury and style, where lavish amenities and chic aesthetics converge. In this exploration, we delve into a curated collection of 25 spacious bathroom designs, each a testament to sophistication, innovative layout, and captivating aesthetics. Discover how these spacious retreats transform into havens of indulgence and relaxation.
In each of these designs, expansive bathrooms transcend their utilitarian roles to become exquisite havens of relaxation and style. From verdant oases to opulent marble retreats, these large bathroom designs redefine the art of bathing and elevate everyday rituals to luxurious experiences.
Visualizer: July Astankevich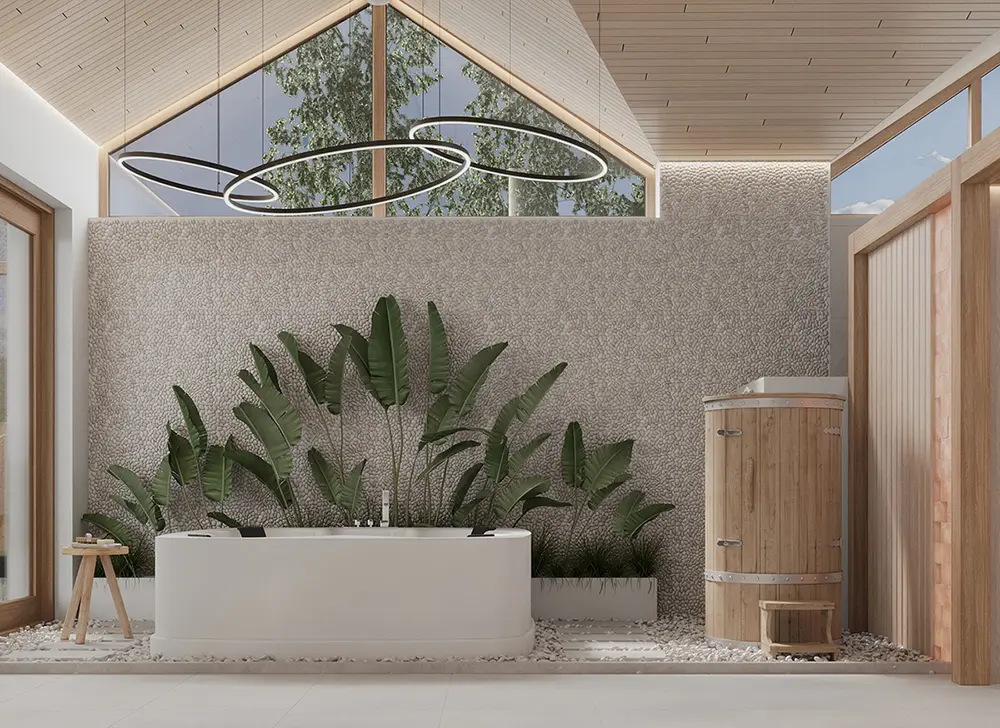 A lofty ceiling is accentuated in this large and airy bathroom design. Custom-shaped windows point into the wood-clad rafters and wide circle chandeliers loop above a trendy racetrack bathtub.
Visualizer: Ngurah Arya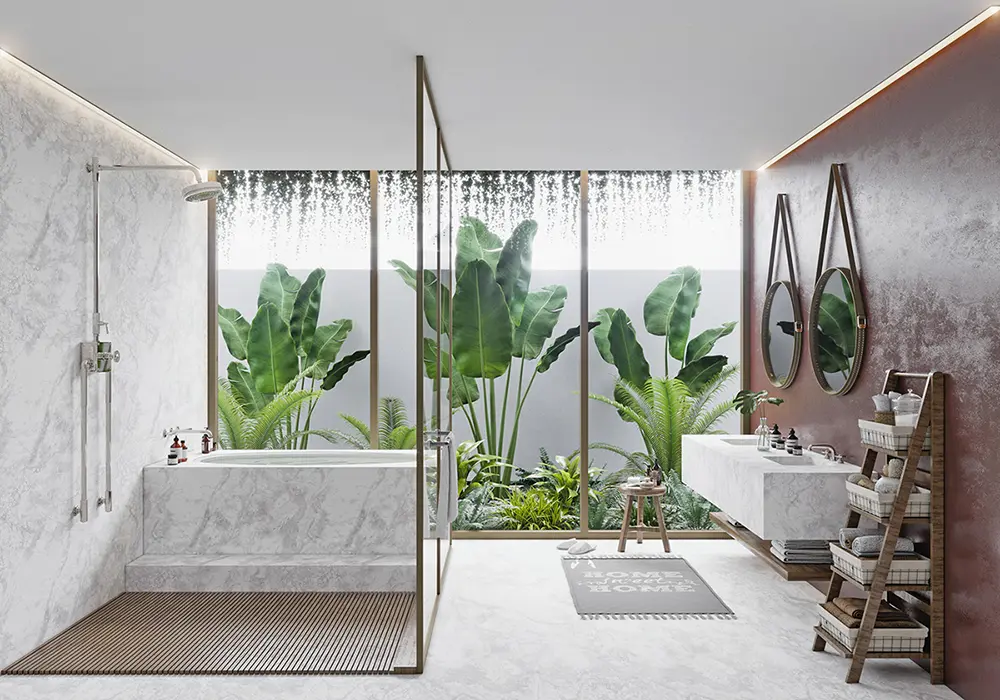 Create a combined shower space and bathtub zone behind one large glass screen. The melded functionality will simplify your bathroom layout.
Visualizer: perspectiva interior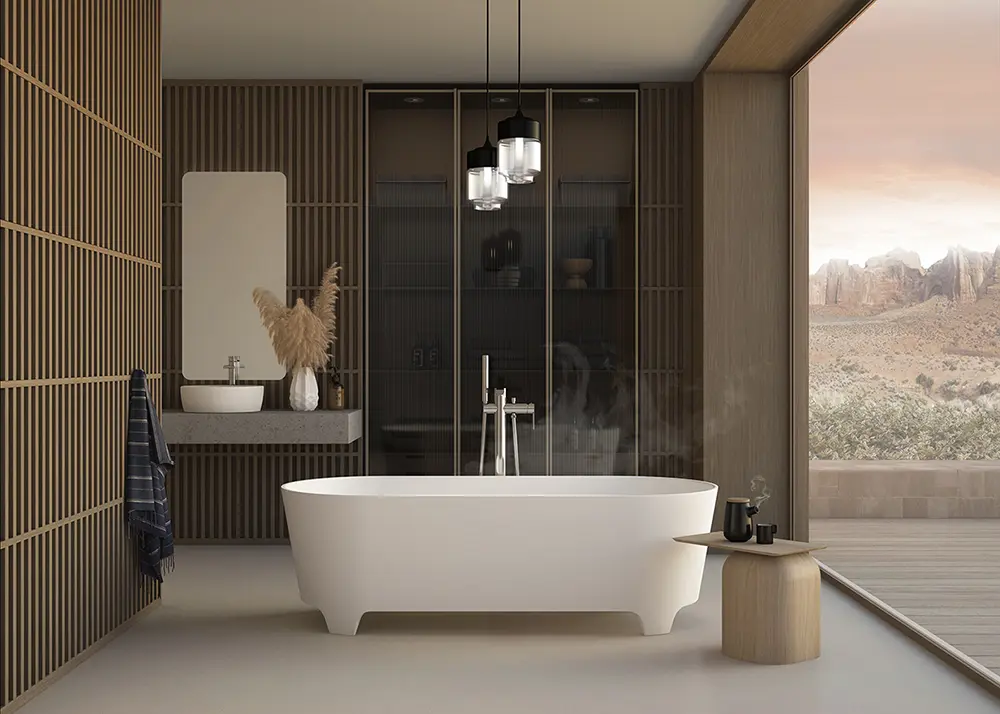 Place an elegant freestanding bathtub in the center of a wide bathroom and orbit everything around it. The freed wall space offers opportunity for built-in storage or a longer vanity unit.
Visualizer: Mohamed Saeed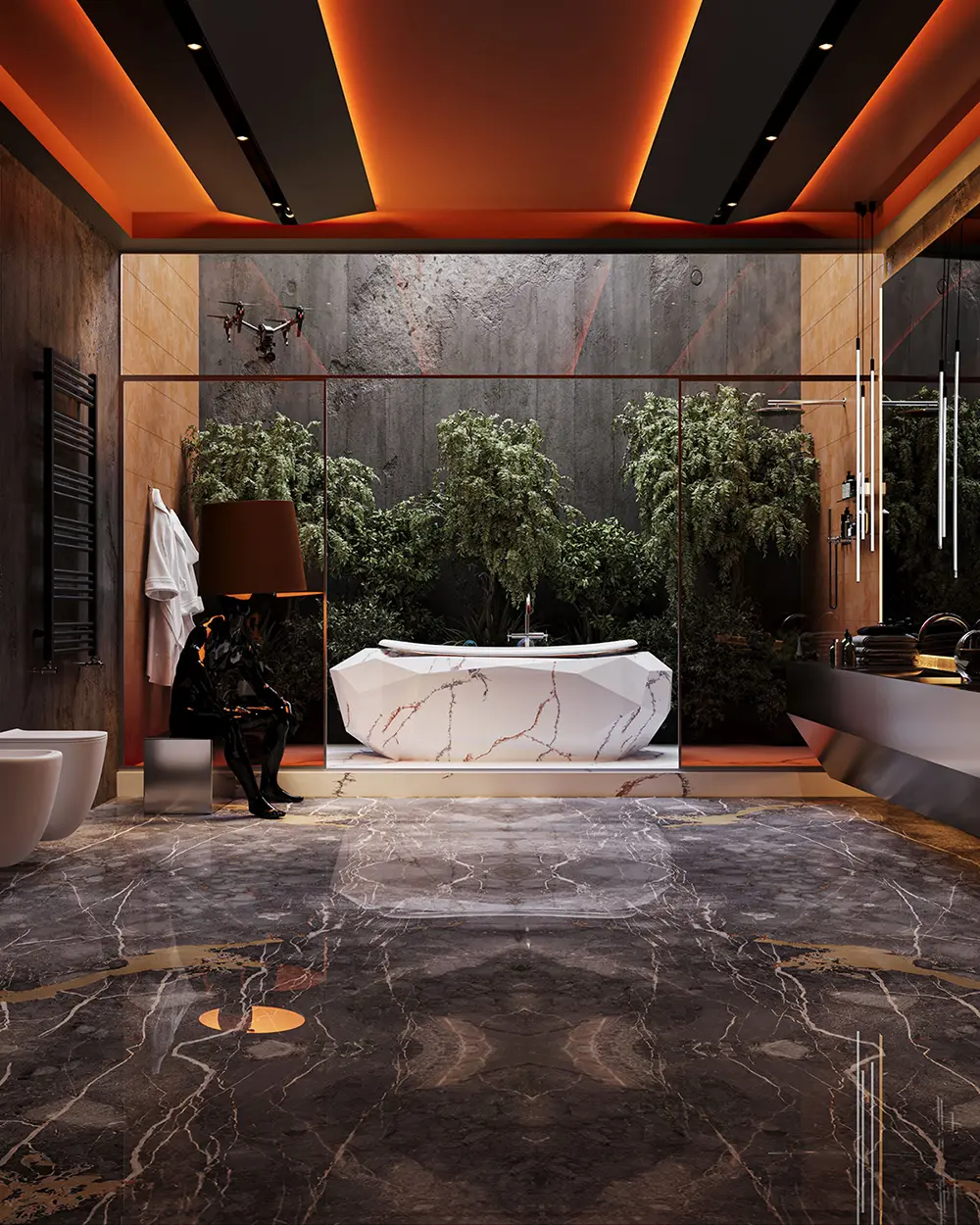 If you're going to focus the budget on just one part of your large bathroom scheme, let it be the bathtub. This extraordinary marble creation could sit in a shed and still look incredible.
Visualizer: K- Render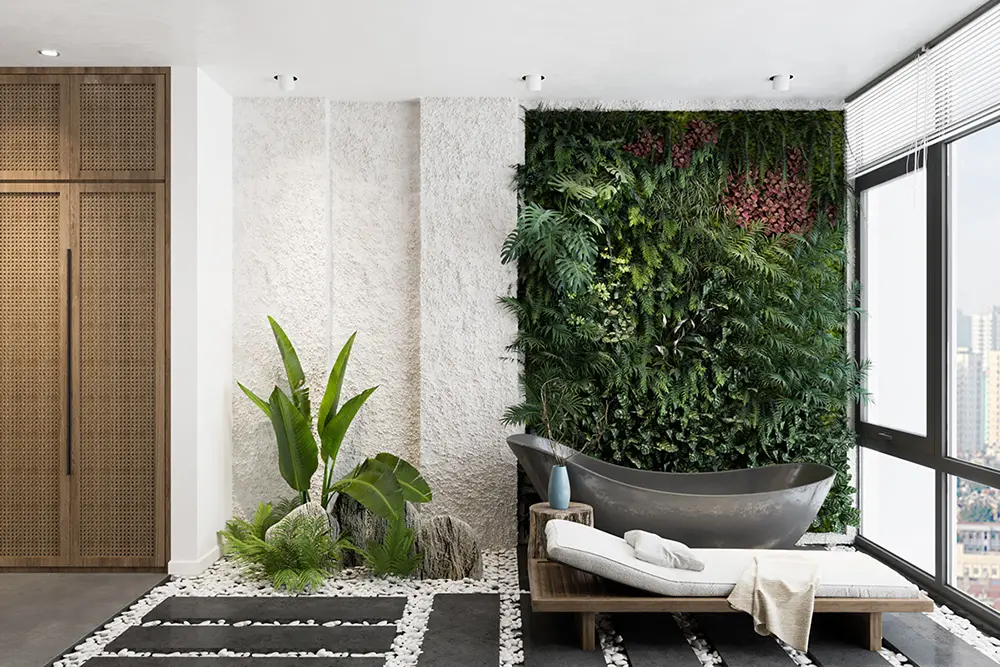 Install a vertical garden to put you in touch with nature first thing in the morning and last thing at night.
Visualizer: Render Vision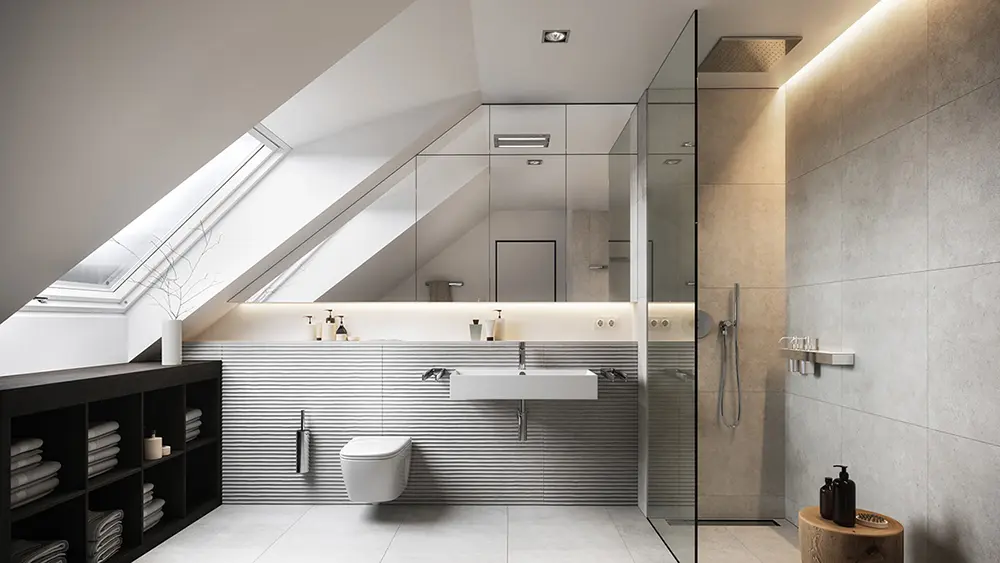 Bathrooms that are under the eaves can present design challenges. Use the shortest wall for storing fresh bathroom linens or housing the bathtub. Invest in a custom-cut mirror to utilize angular wall space.
Visualizer: INAX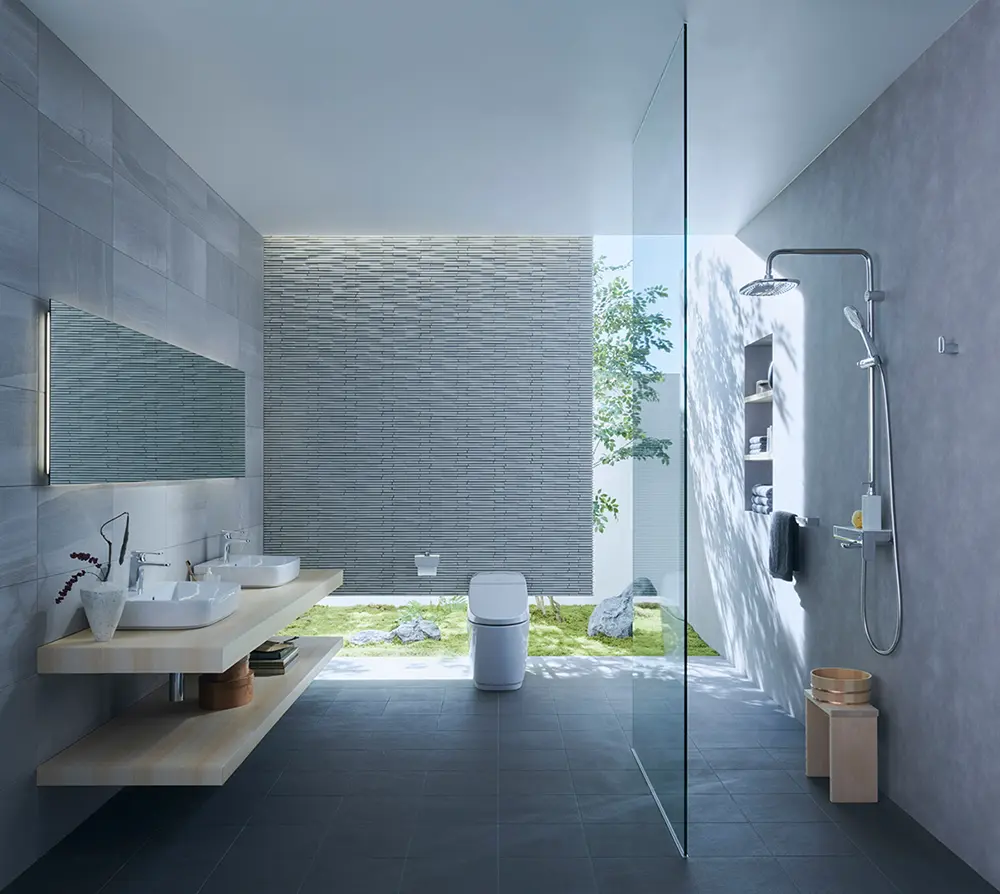 Invite slivers of the garden into your bathroom without compromising privacy. In this peaceful ​​grey and white bathroom, thoughtfully placed screens block out the neighbors.
Visualizer: Stanislav Kaminskyi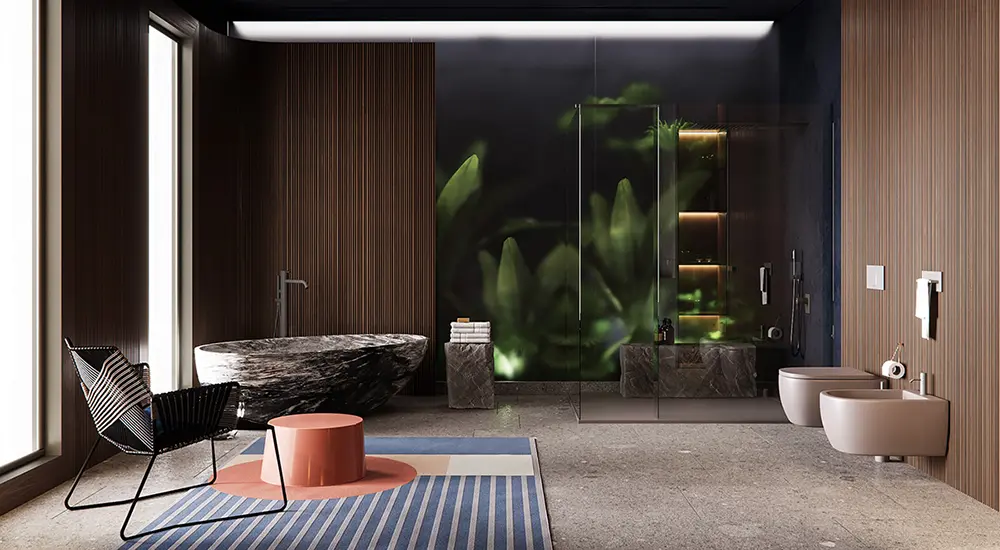 Use mixed materials and contrasting colors to construct an interesting concept.
Visualizer: Mushan Jin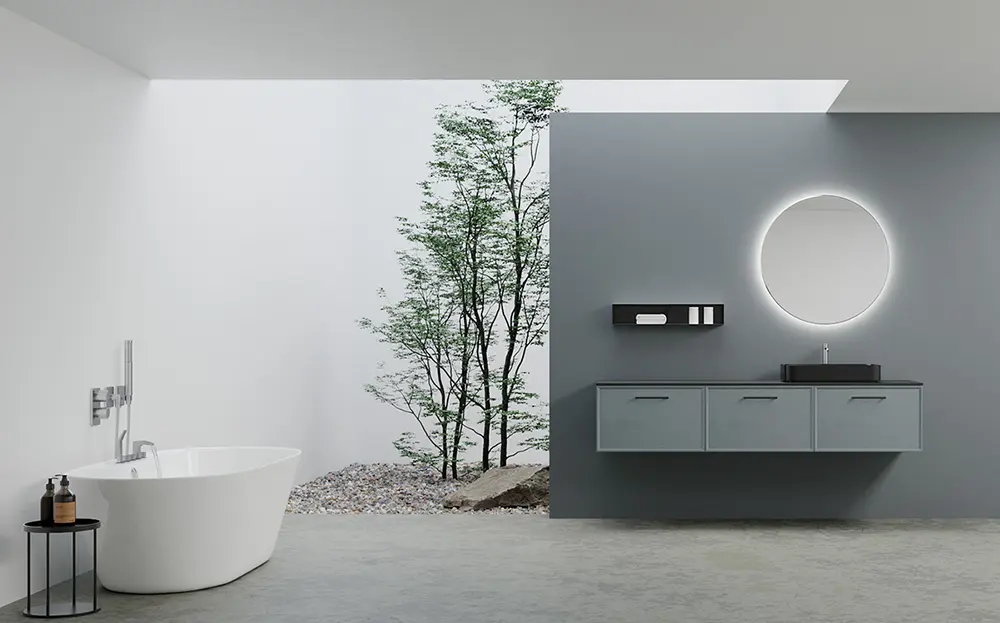 Where there is no outer garden view available for a bathroom, plant an interior courtyard.
Visualizer: Adam Klich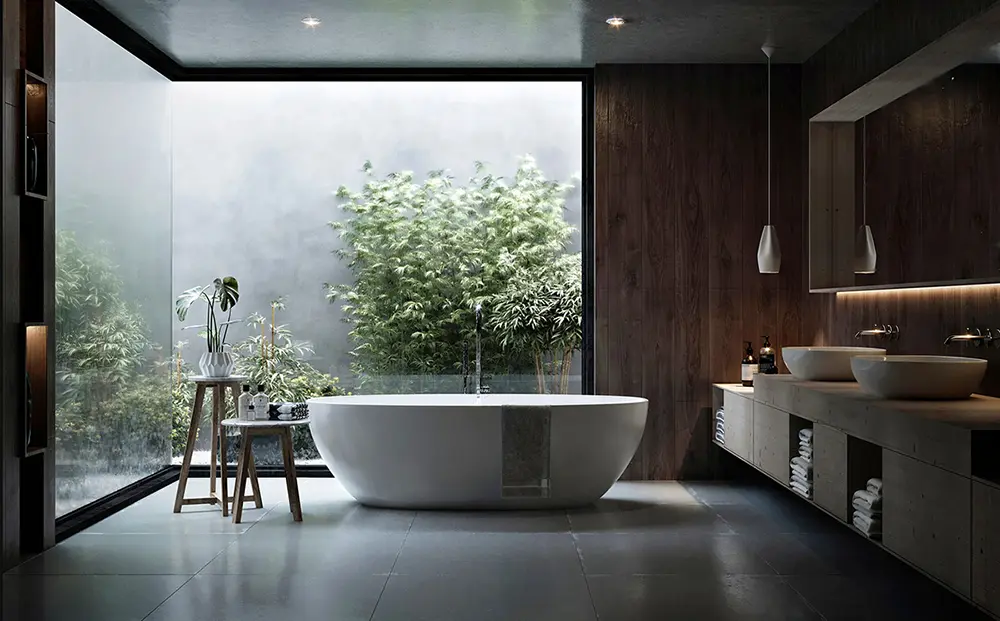 Dual aspect bathroom windows make perfect sense when there is a private courtyard outside. An open aspect gives a bathroom a unique and luxurious twist.
Visualizer: DoPixel AoFrame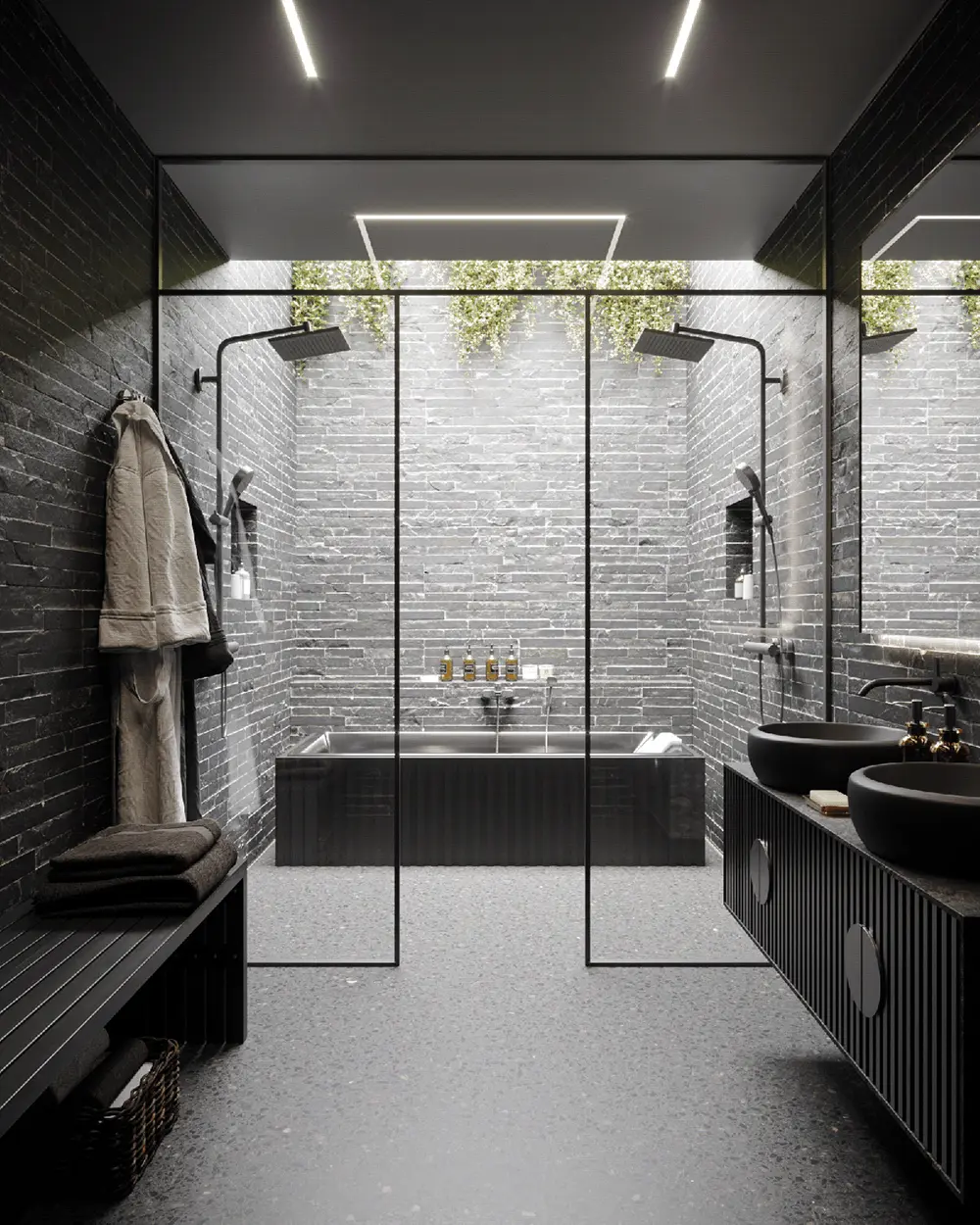 This combined shower space and bathtub zone contains twin shower heads, which gives the bathroom layout a calming, symmetrical balance.
Visualizer: Aguirre Arquitetura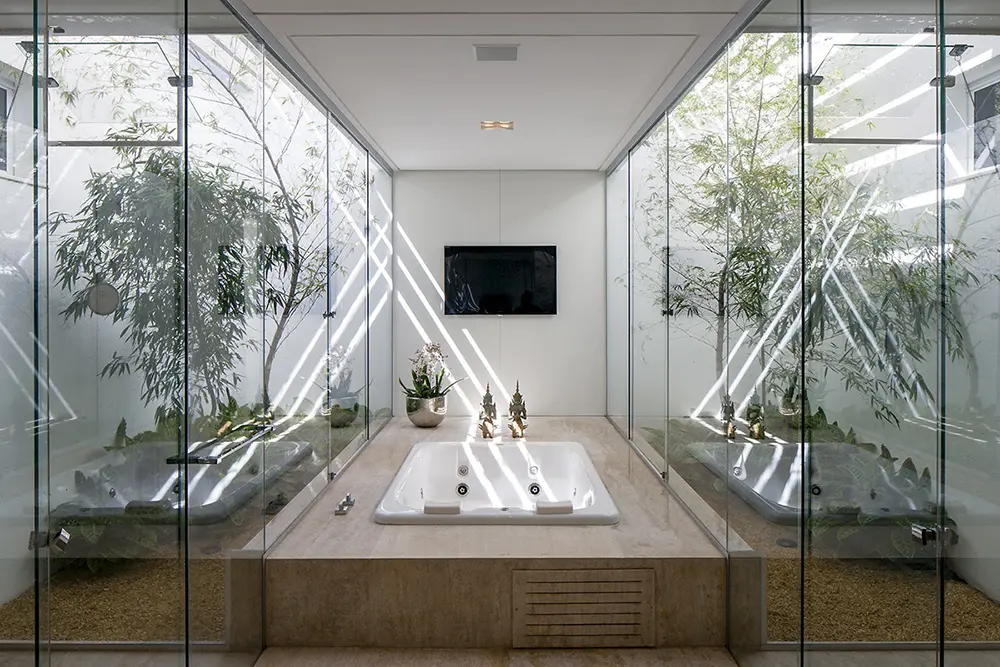 Another symmetrical bathroom layout concept, this time with skylit courtyards brightly sandwiching a sunken bathtub.
Visualizer: Shexia Space Design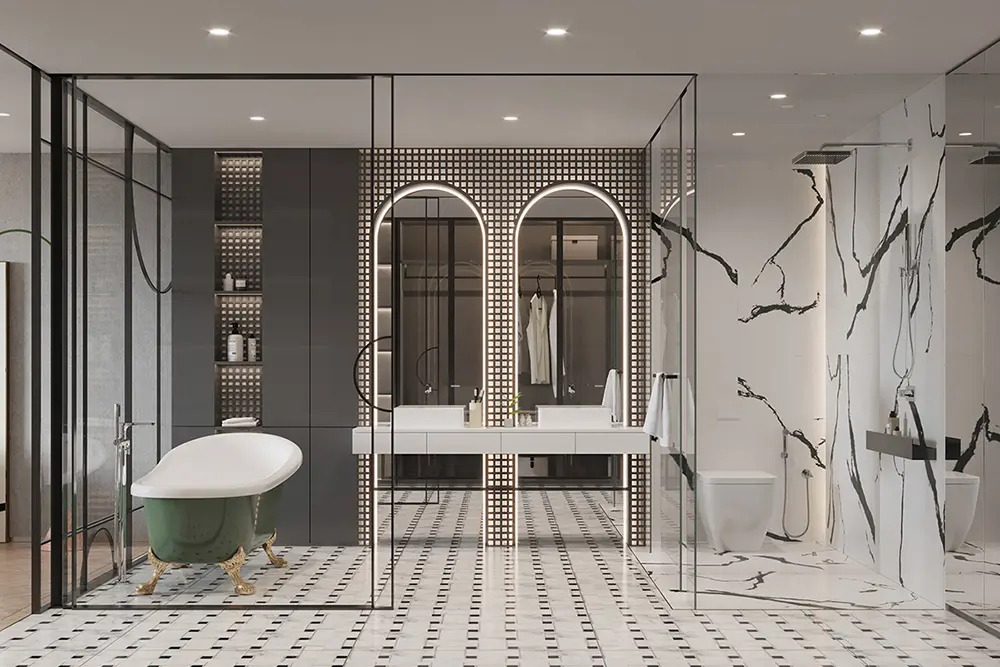 This time, a green bathtub provides a singular rich color pop to a fabulous monochrome bathroom scheme. Full-height illuminated arch mirrors frame a double sink vanity unit with dazzling allure.
Visualizer: Nicolas Frederico Goemann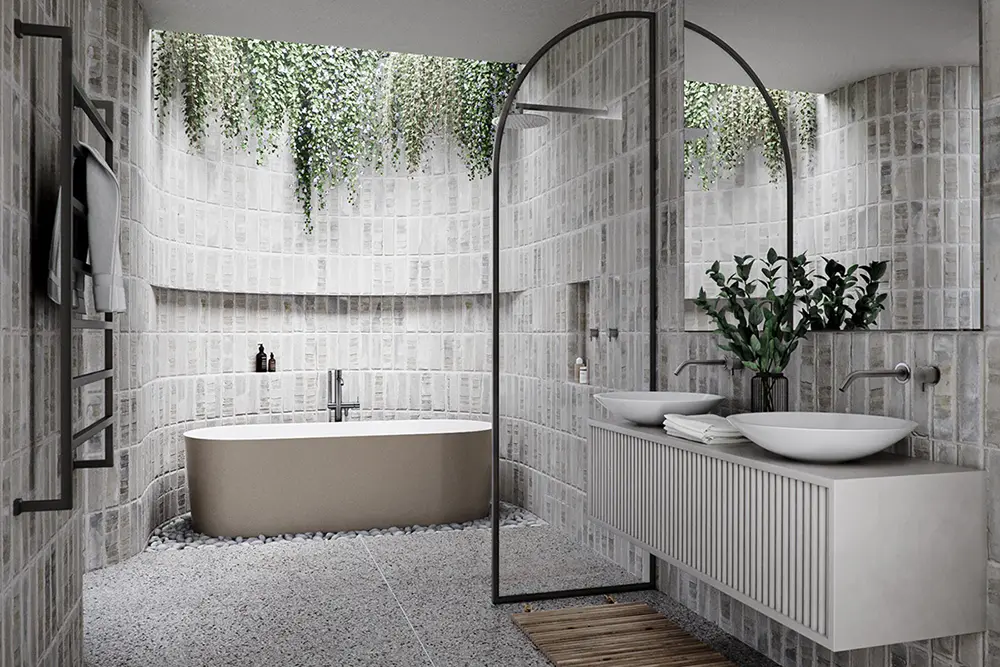 Place your favorite features thoughtfully. Use a mirror to double the effect of a decorative shower screen or create a focal wall around a high-end tub.
Visualizer: Irina Kazantseva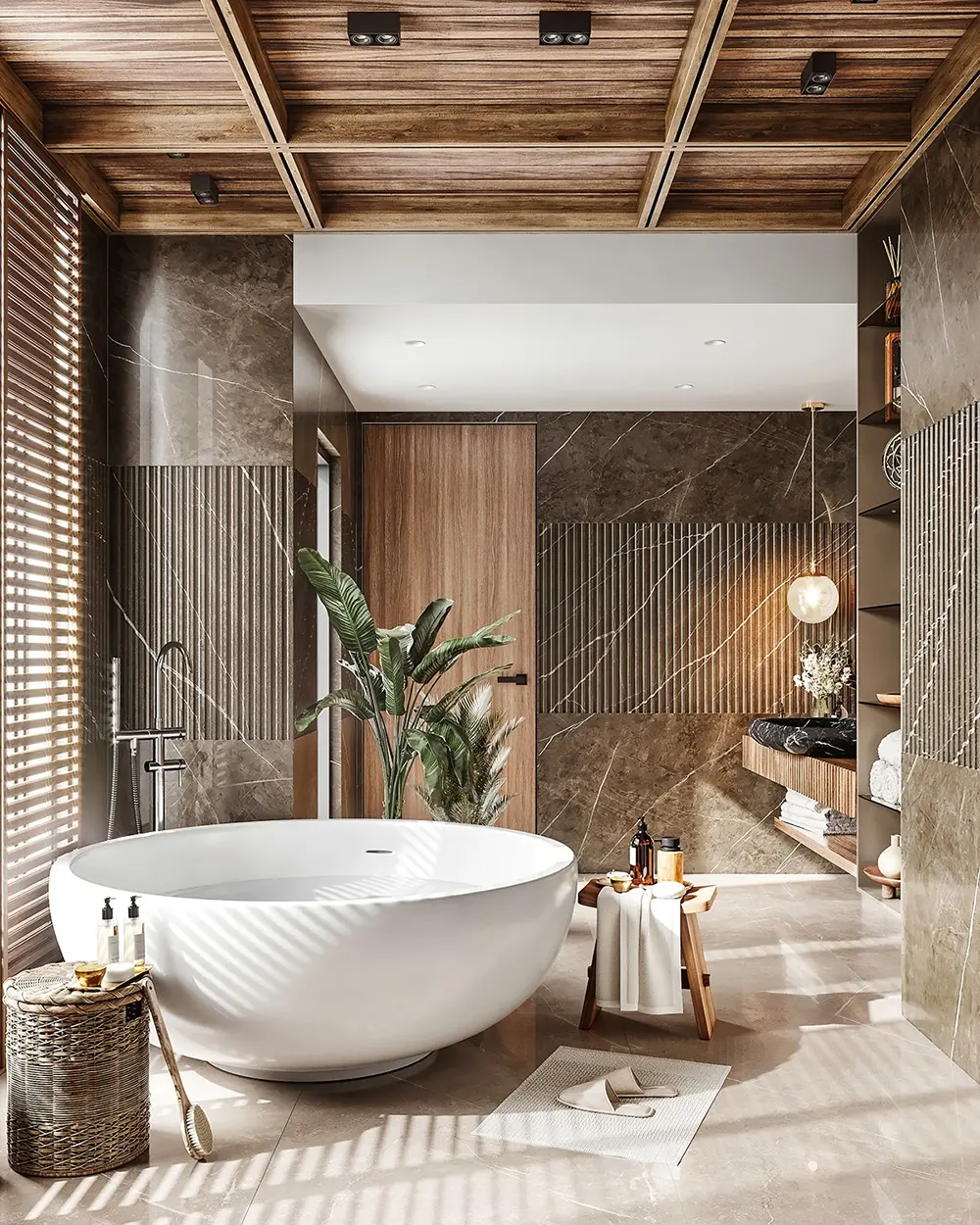 Employ textured elements to shake up your bathroom decor scheme, avoiding the monotony of a large, repetitive space.
Visualizer: M.Serhat Sezgin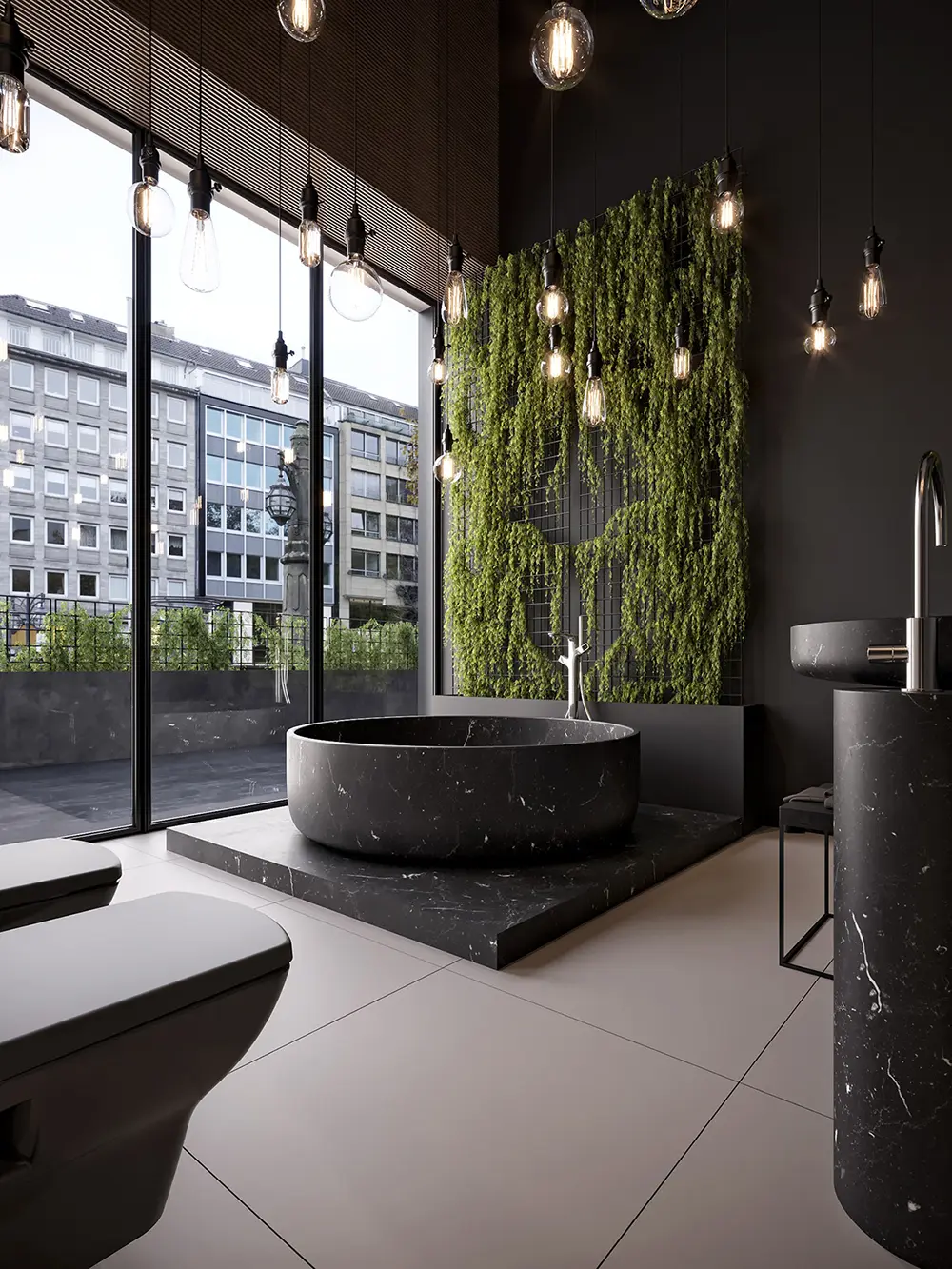 This black bathroom decor scheme is uplifted with a lush green vertical garden wall behind the bathtub, which counteracts the gray city view. An impressive lighting installation of individual bulbs glows magically across the black ceiling.
Visualizer: M.Serhat Sezgin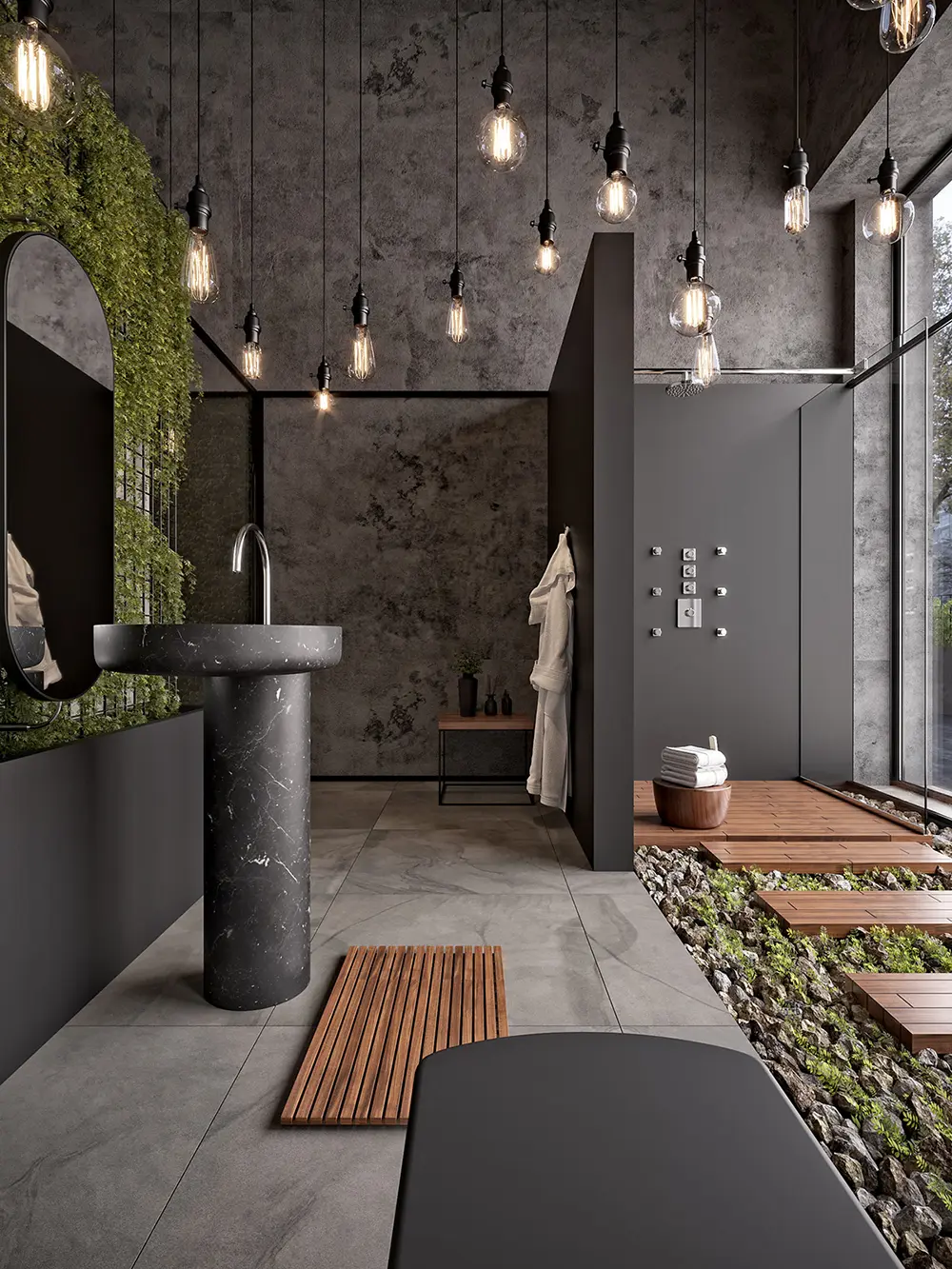 Make your journey to the shower an adventure with wooden stepping platforms across a mossy stone bed.
Visualizer: Giri Dwi Cahya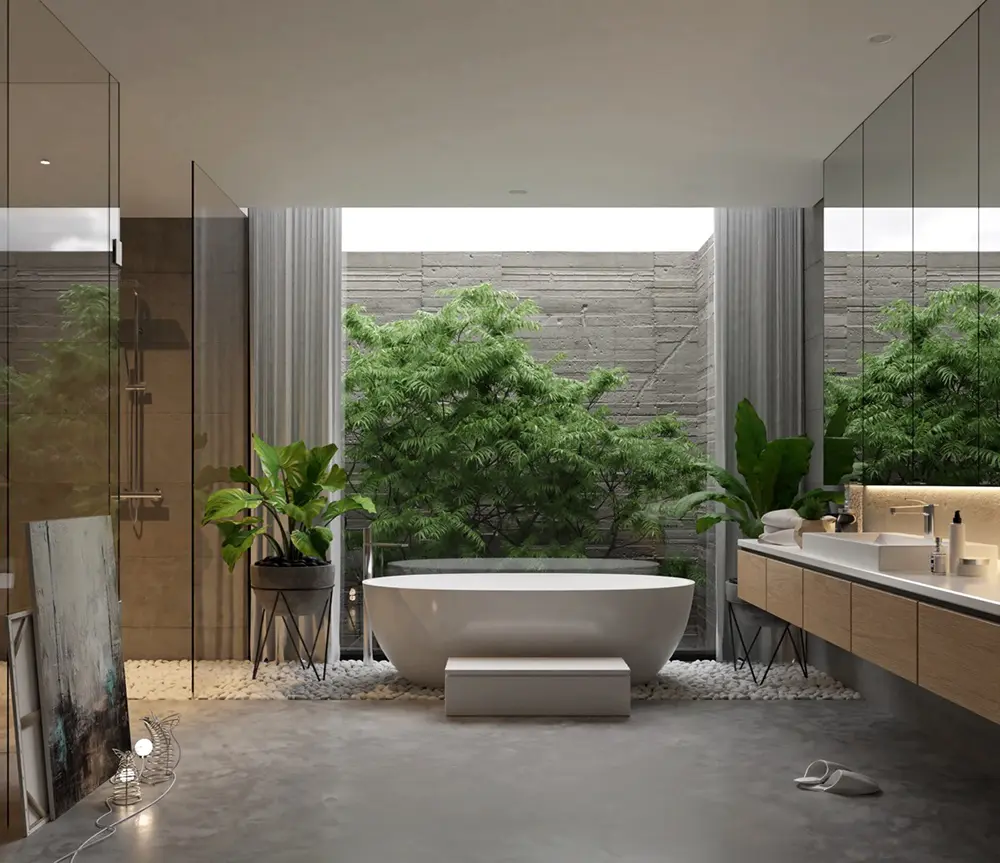 Frame your hero piece. Two unique plant stands frame an elegant freestanding bathtub
Visualizer: Nataliya Yahela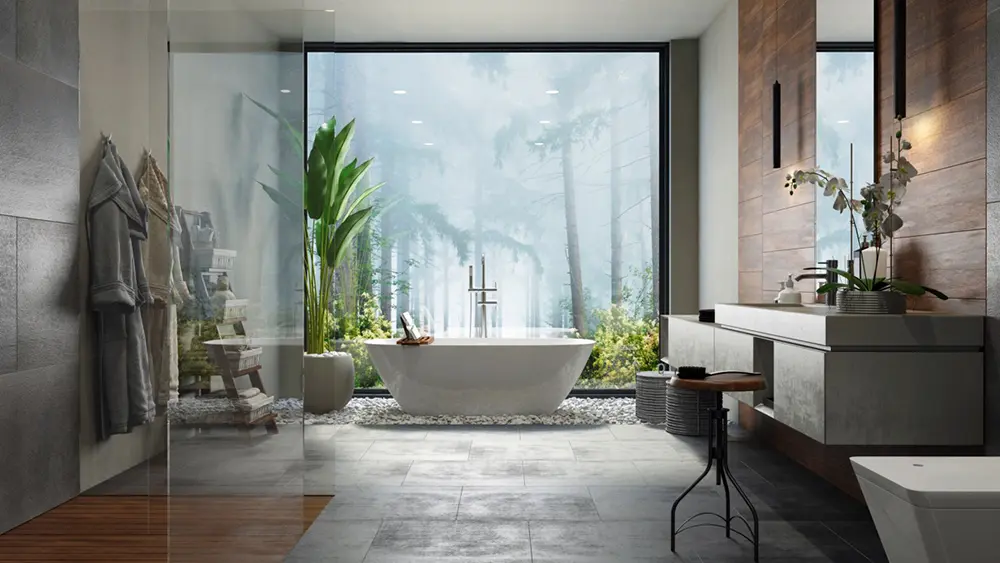 Blur the border between a garden and a bathroom. Standing a bathtub on a floor of pebbles creates a natural flow between inside and outside spaces. Grow an indoor garden of potted plants with long fronds to keep the theme going.
Visualizer: Anastasia Bushkova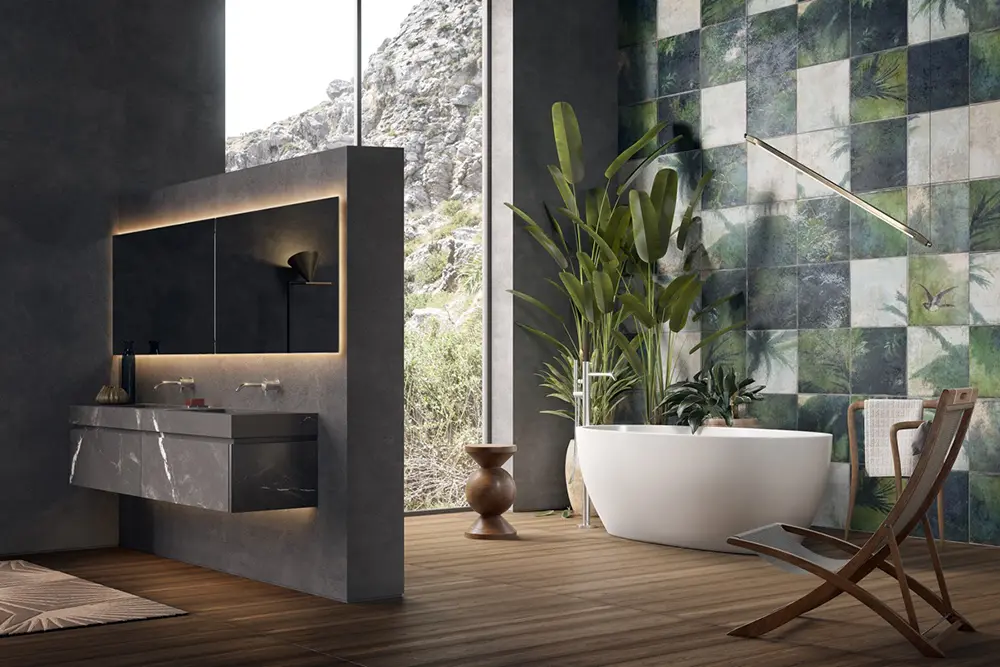 Create a tree mural. Even if you're not lucky enough to have a bathroom picture window to a private garden, you could place a tree mural behind your bathtub. This unique nature themed feature wall is a tile design that shows small sections of tree.
Visualizer: Artem Shelipov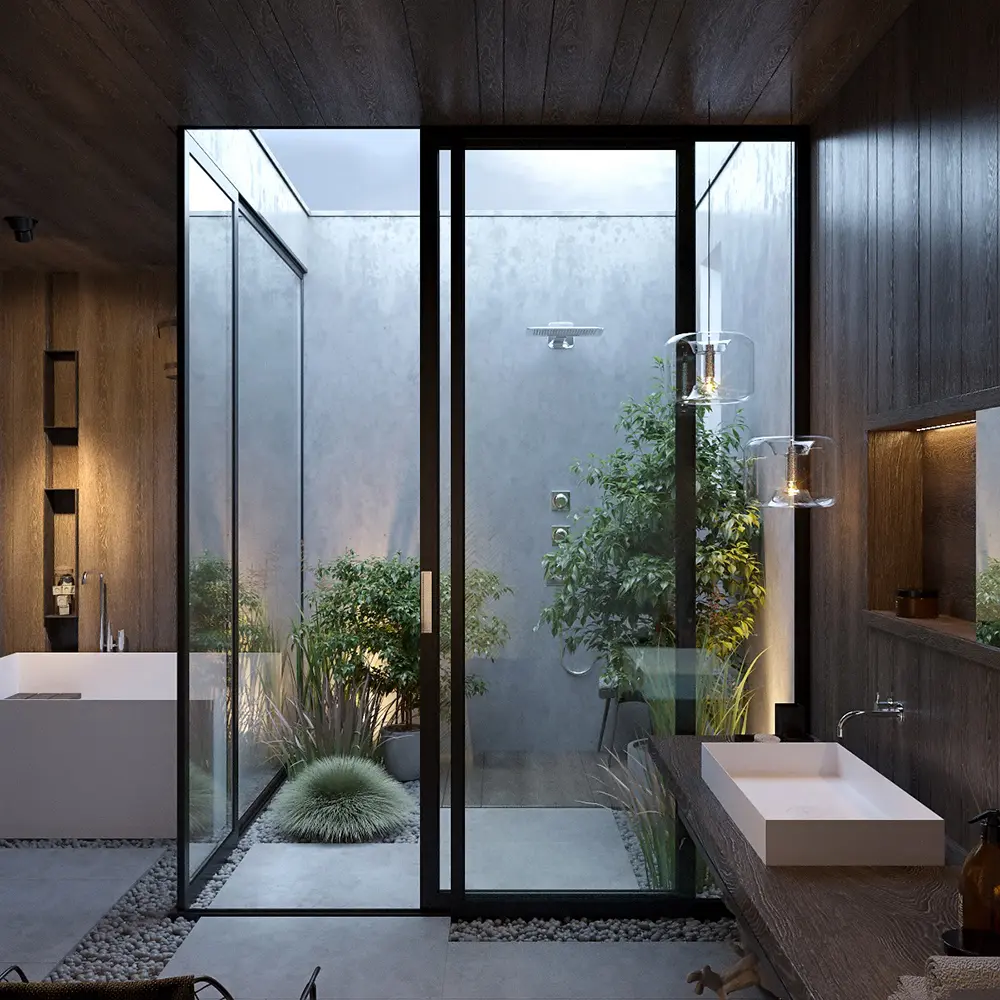 Get creative with plants. The owner of this bathroom must really love plants. Things may get a bit tickly in that crowded shower enclosure.
Visualizer: La Alegría Dhifaoui Samiha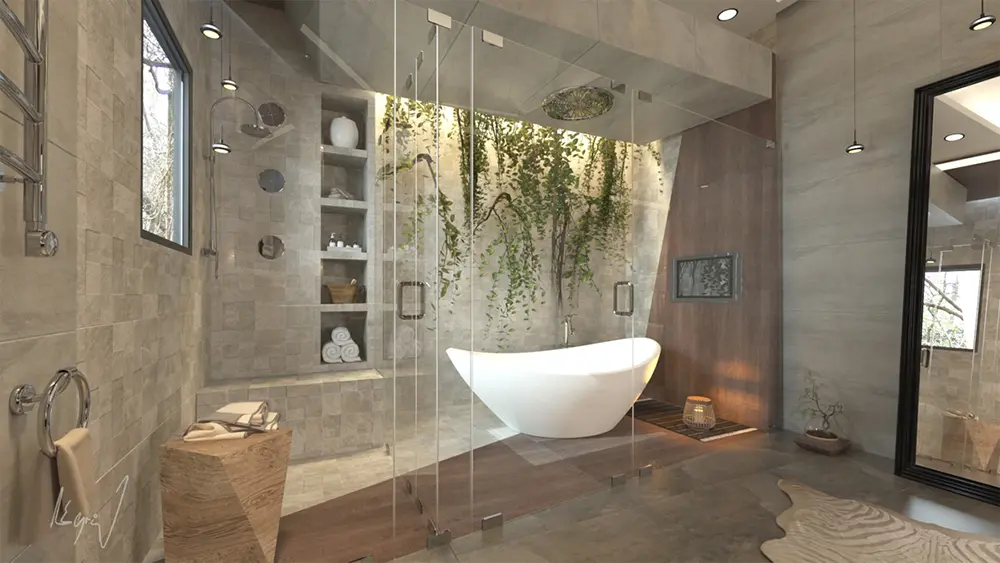 Zone with different flooring materials. The border to this wet zone is accentuated by a geometric section of wood flooring, which continues upward as bathroom TV wall decor.
Visualizer: Tawfeek Kalagi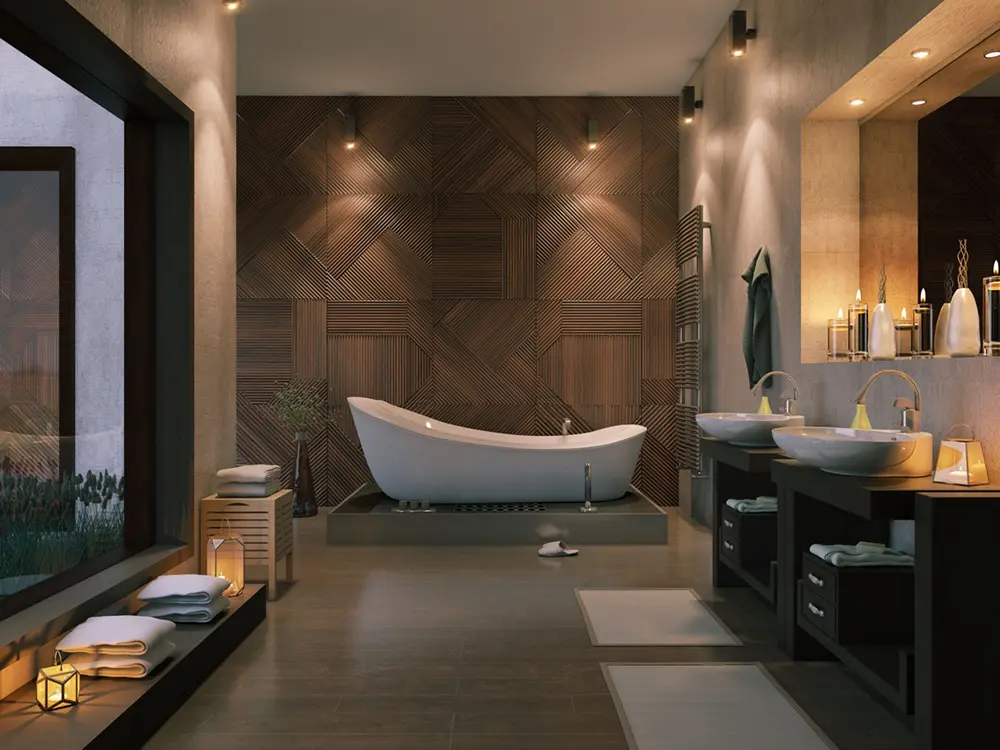 Dark wooden decor creates a sumptuous look; flickering tea light holders enrich the theme.
Visualizer: Denis Fomin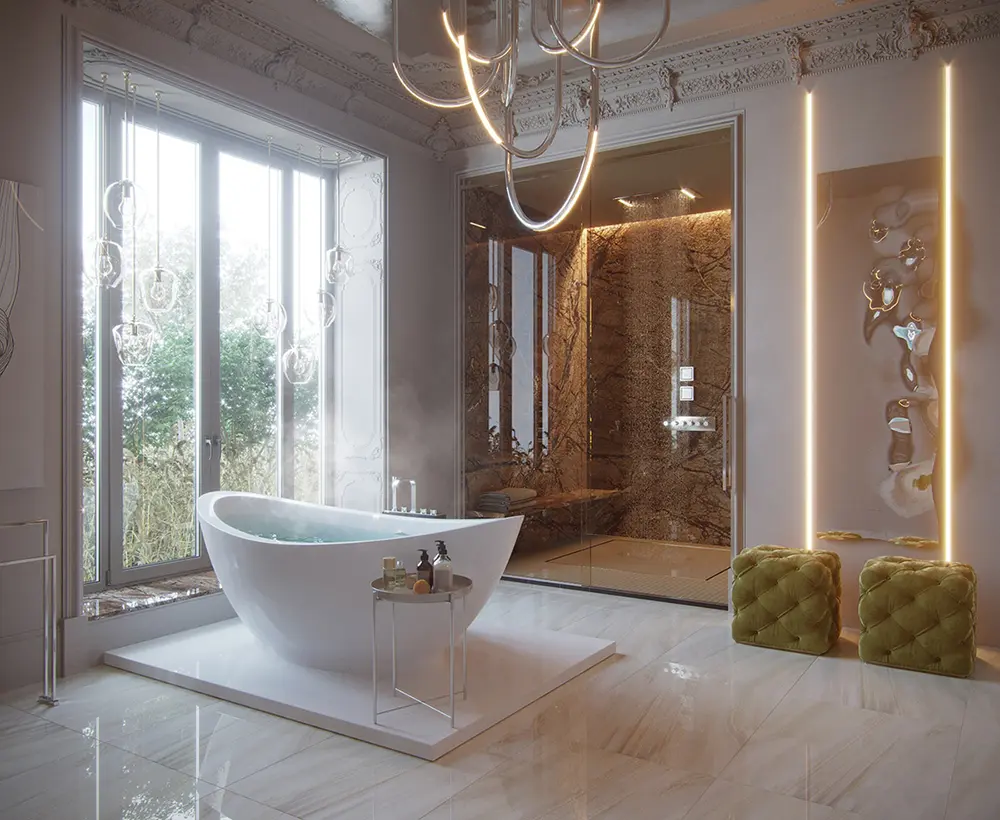 Add a table next to a freestanding bath. You don't want to be hanging over the side of the tub to reach for your bathtime potions. Choose an elegant table to house a pretty display of soap and lotion dispensers.
Visualizer: Dima Karma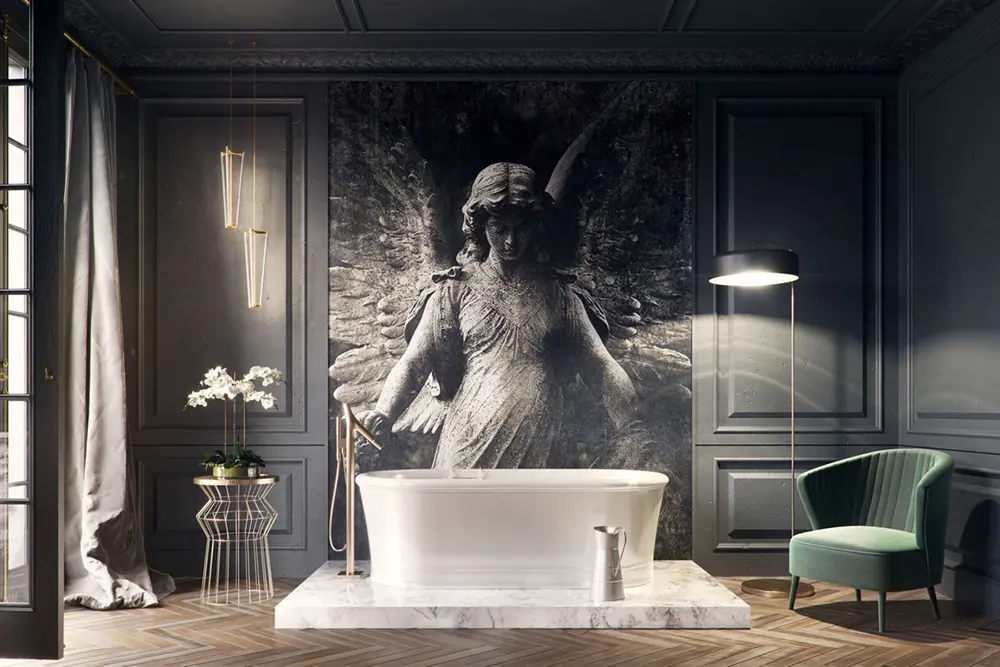 The hero of this room is most certainly the imposing garden statue art mural, softly lit by small bathroom pendant lights at one side and a floor lamp at the other.