One of the most important rooms in the house is definitely your bathroom. Even though it is vital to everyday health, its importance doesn't need to stop there. In fact, the bathroom can serve as that spot in your home which you can use every time you want to relax after a long, stressful day.
As time goes by, your priorities as a homeowner change. The simple bathroom with a small countertop and a showerhead was just enough for you when you moved into your home. But as you get older you start to long for a bathroom that will include all comforts a spa usually has. However, homeowners sometimes don't give it the thoughtful consideration they normally give the rest of the house. On one hand, many of them hesitate to do any bathroom remodeling because they assume that it would require bigger budgets and hassles. On the other hand, many don't realize that even though it can be costly and time-consuming, the end results are just mesmerizing. Therefore, if you are looking to create your spa getaway right at home, take a look at these high-end features you can install in your bathroom and relax anytime you want.
Upgraded bath fixtures
One of the most important features in any bathroom is the bathtub. The role of this amenity isn't only to help you wash up but to also soothe you and provide you with unmatched comfort. Luckily, there are many bathtub options to choose from that can match your personal taste as well as meet your bathroom requirements.
The most common type is the alcove bathtub which fits perfectly in a small bathroom. If you have this type of bathtub and you don't want to replace it, you could simply do small improvements like sealing it. Correctly sealing a bath is extremely important, so make sure you do it properly or leave it to professionals. Another very popular bathtub type is the freestanding tub which will make you feel all sorts of luxurious when you want to take a long bath. This bathtub is actually perfect for bigger bathrooms or wet rooms.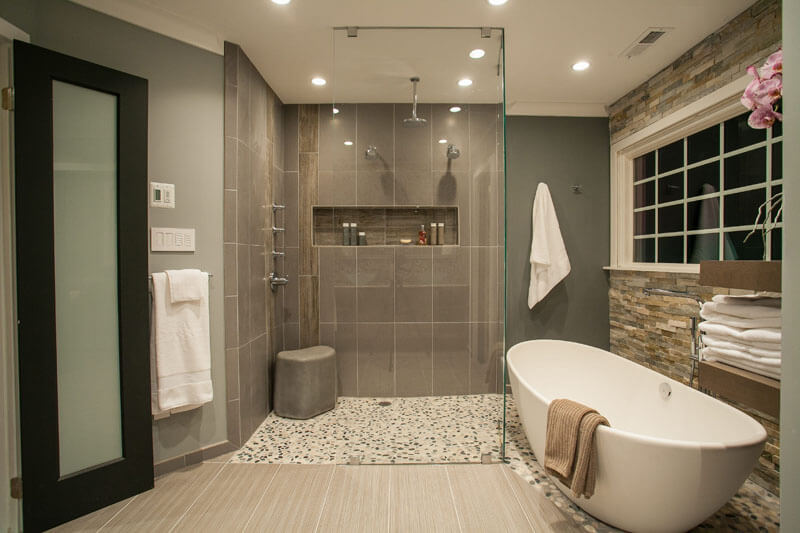 Photo by Best in American Living from Pinterest
Heated tile floor
Stepping on a warm tile floor is another spa-like feature you should have in your remodeled bathroom. Even though the installation of radiant heating may be costly, the benefits you get from having it are simply amazing. The first major benefit of a heated floor is that it is very durable. In fact, it is assumed it can even last up to 35 years. A second advantage is that the hot water tubes that are installed under the floor produce heat evenly, all throughout the bathroom. As opposed to the traditional HVAC unit which pushes the hot air toward the ceiling very fast, the radiant heating slowly heats the entire room equally.
Another advantage is that it can certainly save you money on your energy bills. The reason for this is due to the programmable thermostat you can install to control the temperature in your bathroom and adjust it according to your needs.
Bring in more lighting
Homeowners often put the lighting in the bathroom at the bottom of the priority list when renovating as they believe that it isn't such a big deal. But having the proper lighting in the bathroom can definitely make it spa-like.
One way to go about lighting is to start with the ceiling and vanity lighting and work your way down. For example, if you are looking for general illumination, you can choose between flush mount ceiling lighting and recessed lighting. However, if you don't want it to be too bright, look for dimming lights that you can adjust however bright you want them to be when you take a relaxing bath. As for your vanity, you can opt for bathroom task lighting which you can place above the mirror in the form of bath bars or bathroom sconces on either side. Besides installing proper lighting, placing candles in the bathroom can also turn your bathroom into the perfect spa nook.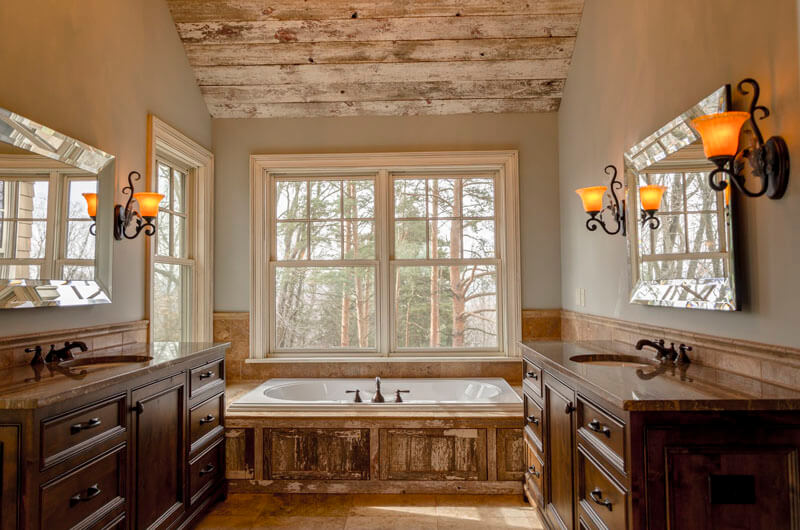 Photo by Aaron Huber from Unsplash
A distinct bathroom countertop
Your bathtub and lightning aren't the only amenities where you can play around with styles to make your bathroom look like a haven. In fact, every bathroom also deserves a decorative piece in the form of a countertop to contribute to the overall feeling of comfort and relaxation. For example, the bluestone bathroom countertop is one option that adds warmth and texture to a neutral space.
A more affordable countertop option are the subway tiles which keep the bathroom space looking bright. You can place them as a backsplash to light brown cabinetry to provide more storage in your bathroom. Another very popular choice is the Evercore countertop because it comes in many colors that you can match according to your personal taste. Lastly, if you are looking for the perfect spa look in your bathroom, you should opt for the classic wooden countertop. If you have an old workbench in your garage, you can repurpose it by adding a vanity to the wooden surface and a new sink feature.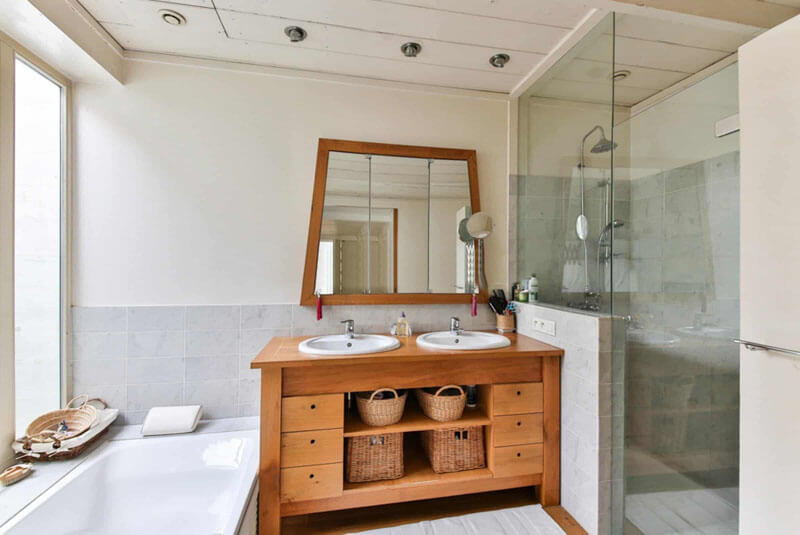 Photo by La Belle Galerie from Pixabay
Going lavish with a fireplace
Fireplaces are no longer reserved only for the living room, but they can also be used in your bathroom next to your bathtub to provide you with the warmth you need on a chilly day. There are actually many benefits of having a fireplace in your bathroom.
First off, it definitely helps in setting the mood. If you are looking for a romantic or cozy ambiance, the fireplace will offer you just that. Another advantage is that the fireplace creates comfort and elegance in the bathroom.
While you are taking a bath, you can put on some relaxing music and listen to the crackling flames as you let the day's worries float away. Just remember that the comfort a well-lit fireplace provides is even a better option than a few candles placed around the bathroom.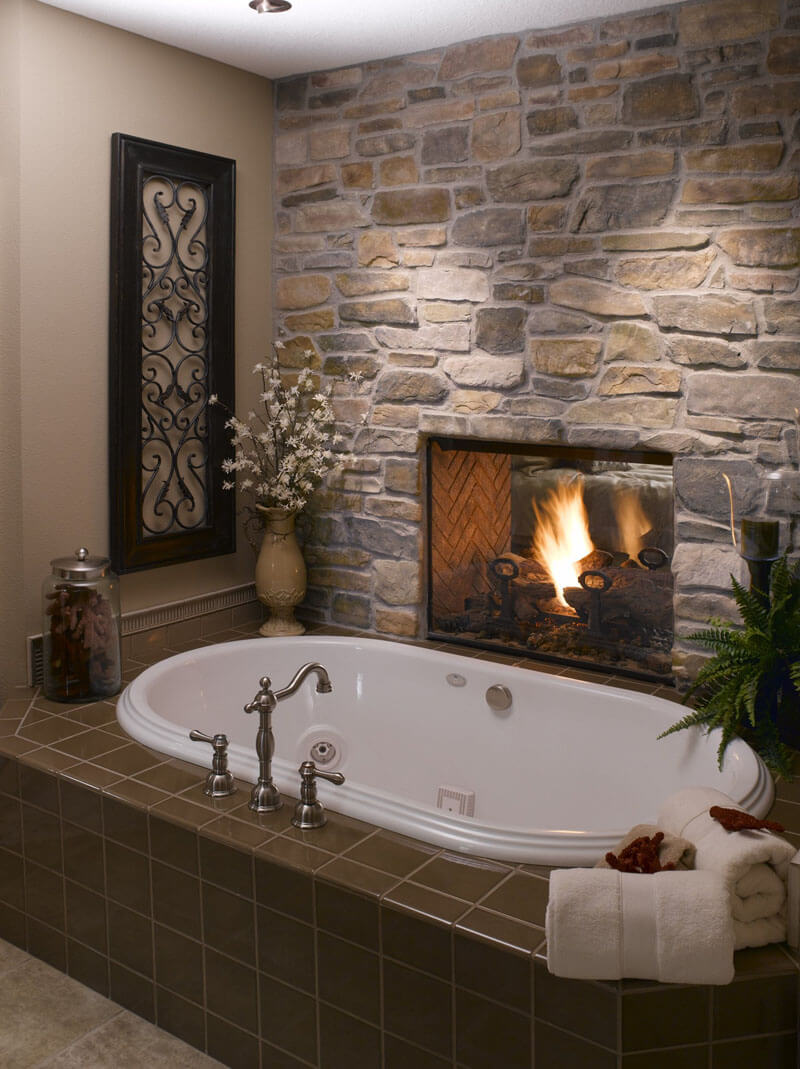 Final thoughts
No matter the current layout of your bathroom, you can make it look like a perfect spa getaway with just a few small repairs and decorations. From lighting candles to having the perfect bathroom countertop and installing a fireplace, there are so many options you can choose from to design your bathroom haven. So, if you are in need of some bathroom remodeling inspiration, consider these five ideas which will help you turn your bathroom into the perfect spa center.