When it comes to outdoor adventures like camping, hiking, or enjoying a lovely picnic, having the right tools can make all the difference. One essential item that often gets overlooked is a reliable and portable knife and cutting board set.
Handpicked for their multifunctionality, portability, and compact design, these sets are meticulously crafted to meet the needs of outdoor enthusiasts like yourself. Whether you're a seasoned camper or a weekend adventurer, these products are designed to enhance your culinary experience while on the go.
Join us as we explore the top 6 picks that will revolutionize your outdoor cooking experience. Discover the perfect balance between functionality, portability, and compact design, and get ready to elevate your outdoor culinary skills to new heights.
Wanbasion 5 In 1 Camping Cutting Board
This kitchen set includes a cutting board, kitchen scissors, a peeler, a bottle opener, a paring knife, and a serving tray. This plastic cutting board set makes your cooking while camping easier and more convenient. Perfect for anyone who likes preparing meals indoors or outdoors!
This 5-piece kitchen set can be stored and organized in the serving tray. The lightweight deisgn will reduce your burden in your camping kitchen. Because of the space-saving nature of our set, it is an ideal addition for an RV kitchen where space is limited.
Switchback Travel Cutting Board
The Switchback is made from bamboo due to its long term strength and sustainability. The Board itself is 3/4″ thick, 50% thicker than the industry average to ensure years of use. The Switchback comes with its own chef's knife inset inside the cutting board itself. The Switchback comes with its food-grade silicone travel cover. The cover keeps your knife secure and cutting area sanitary during travel. It can also be used on the backside of the board to keep it from slipping on wet surfaces.
Kitchen Cutting Board with 9-in-1 Multi-Functionality
Whatever tool you need to slice, dice and strain fruit and vegetables is all in one place. Whether it's a paring knife or mandoline, or a durable, natural cutting board, it has all you need in the kitchen to prepare food easily, conveniently and comfortably. Its 9-in-1 multi-functionality is perfect for just about any occasion, anywhere. From magical BBQs grilling fish and meat in your backyard or family camping fun, your home kitchen or restaurant, it's the perfect kitchen gadget.
Small Wood Board with Handle Build in Knife
Ideal for cutting fruits and vegetables, this Bamboo Cutting Board features a rectangular board with rounded edges, a knife that conveniently fits into a built-in slot and a large cutout oblong hole at the top for easy handling. This board is great for everyday use, picnics, camping and more. Measures approximately 10″ long x 6″ wide. Comes shrink wrapped.
Pack Along Cutting Board with Knife
A portable and sturdy surface for chopping, slicing, tenderizing, and preparing your meal. The knife is stored in the folded cutting board and is secured with a magnet. the bamboo cutting board includes non-slip feet for stability
Store & Go Cutting Board
This double-sided cutting board has slots that tuck away two included knives for convenient use at home, potluck, picnic, or campsite. The board in durable polypropylene has nonskid rubber grips that hold it in place as you chop and the slanted configuration collects juices for mess-free use when slicing watermelon and other fruits. The knives in sharp stainless steel (101/4″ and 8″ long overall) slip snugly inside for safe storage and travel. Cutting board about 12 3/4″ x 9 1/4″. BPA-free. Dishwasher -safe.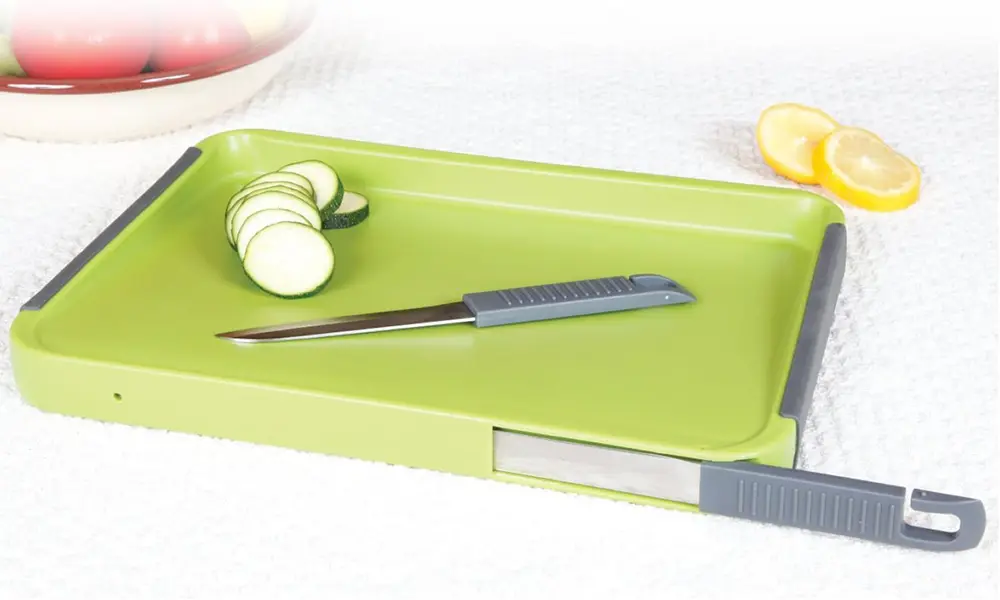 [buy on amazon]