Air plants are low maintenance, making them a great choice for people who are new to indoor plants. There are many types of planter for succulents and due to there low maintaining requirement, you can plant them anywhere.
However, if you want a bit more, like a little tiny indoor succulent garden, it will take a bit more efforts, such like different plant, soil, sand, gravel, bark and more. Hence, even plant terrariums look pretty, getting all of the supplies together can be troublesome.
That is the reason we have those Do-it-yourself terrarium kits to save us some trouble on getting supplies. No matter you want a succulents garden, a seaside scene, a moody forest, a greenery mountain or even a zen garden, you can find the perfect all-in-one-step kit for you.
This post may contain affiliate links. If you make a purchase, Design Swan may earn an affiliate commission. Please read our disclosure for more info.
Terrarium Building Kit Complete for Succulents Foliage Moss [buy here]
Create your own terrarium with the Living Arrangement Terrarium Kit! This terrarium kit is all natural and the perfect gift for any occasion.
Included in kit:
-Glass container (approx. 6")
-Sphagnum Moss
-Soil
-Charcoal
-Drainage Rock
-Ornamental rocks
-Sea treasures/ Woodland treasures
-Instructional Pamphlet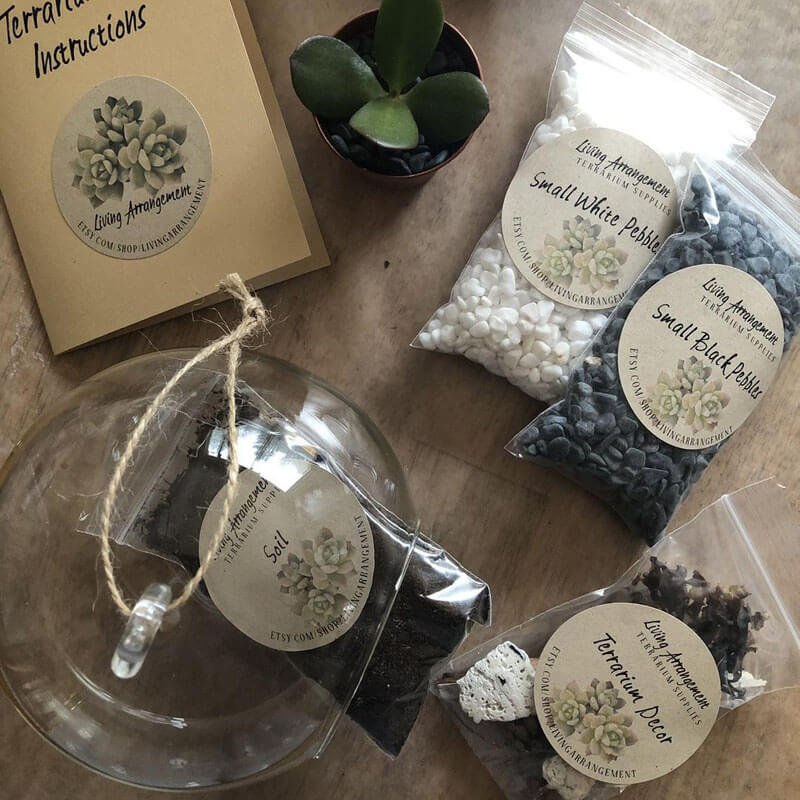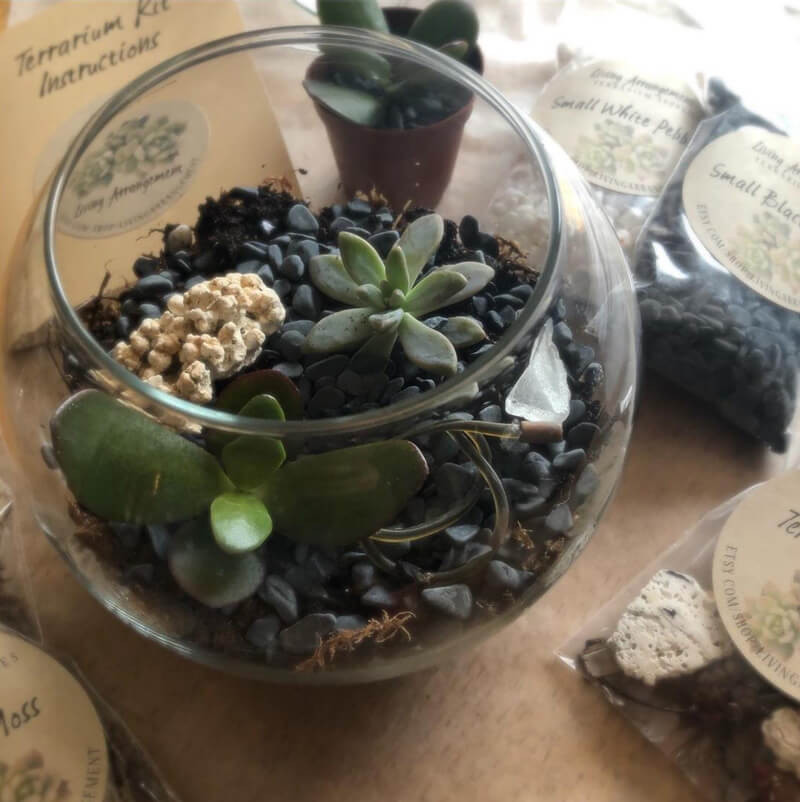 Artizan Air Plant Terrarium Kit [buy here]
The Artizan Terrarium Kit is designed to give you a layered, moody, forest feel with many shades and textures.
What's included:
-Tall Artizan Terrarium
-Miniature Garden Tools
-Air Plant Fertilizer
-Air Plants
-Moss Variety
-Grapevine Wood Piece
-Decorative Seeds
-Dark Orchid Bark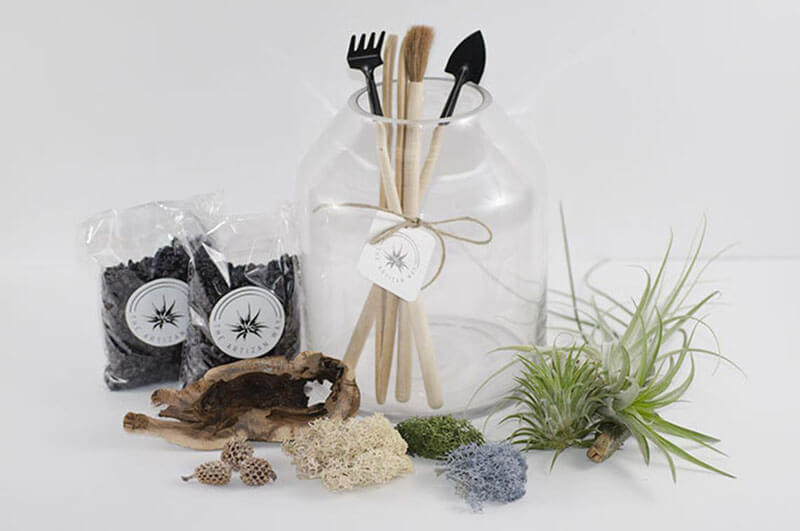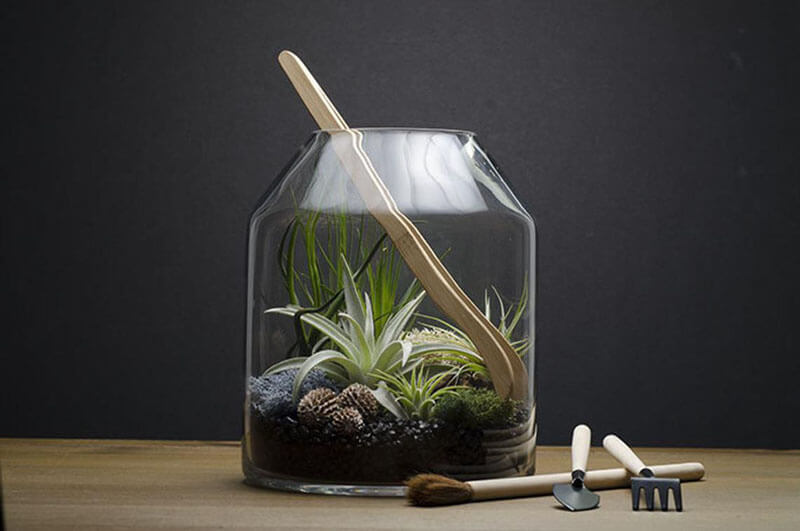 Live Moss Terrarium – Barnacle Mountains [buy here]
Beautiful scenery of a winding wooden path at the base of two mountains (made with real barnacles). A small succulent plant is placed at the base of the hill.
This is an already assembled: 4.4″ or 5.0″ glass ball terrarium, with assorted live moss species, rocks, succulents and real barnacles.
Your terrarium package will include:
-Assembled Terrarium with live moss
-Clear Acrylic Lid
-Stainless Steel Tweezers
-Microfiber Cleaning Cloth
-Care Instructions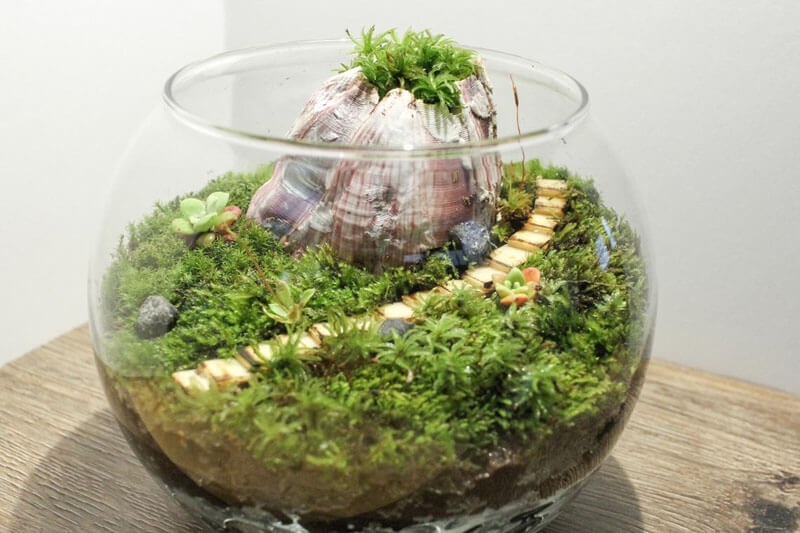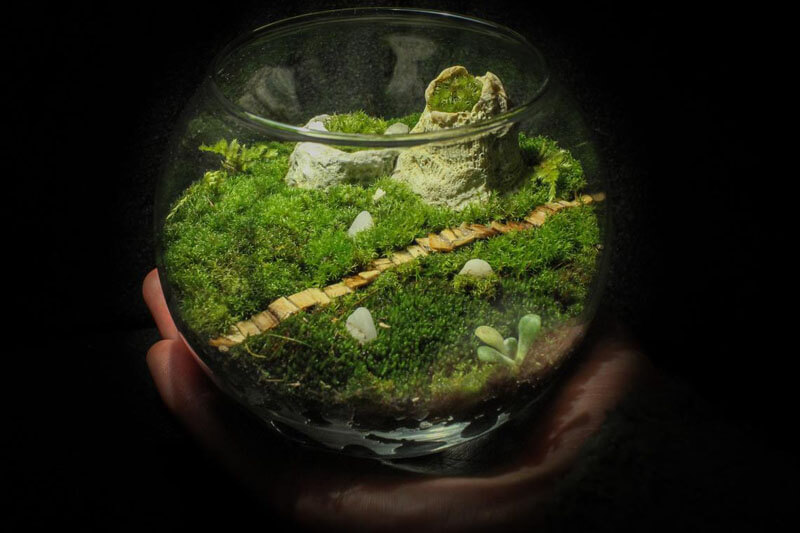 Seaside Air Plant Terrarium Kit [buy here]
The Seaside Terrarium Kit is designed to give you a beachy, relaxed feel with seaside shades and textures.
What's included:
-Terrarium
-Miniature Garden Tools
-Air Plant Fertilizer
-Air Plants
-Moss
-Sea glass
-Shells
-Sand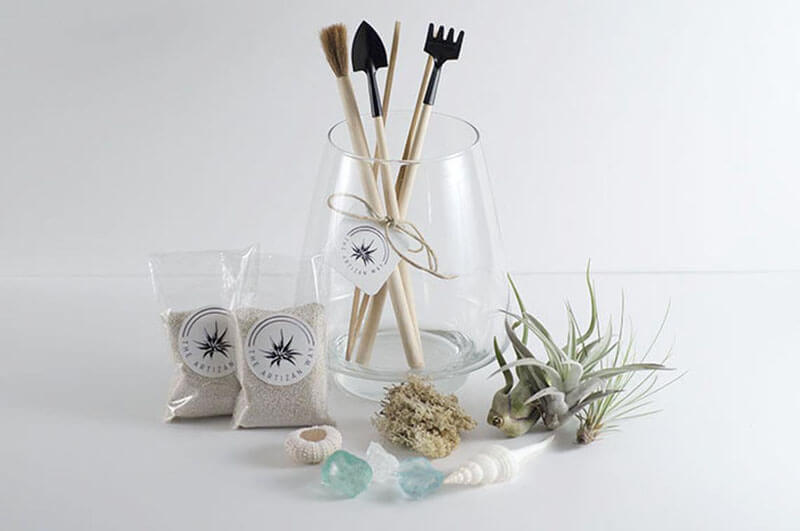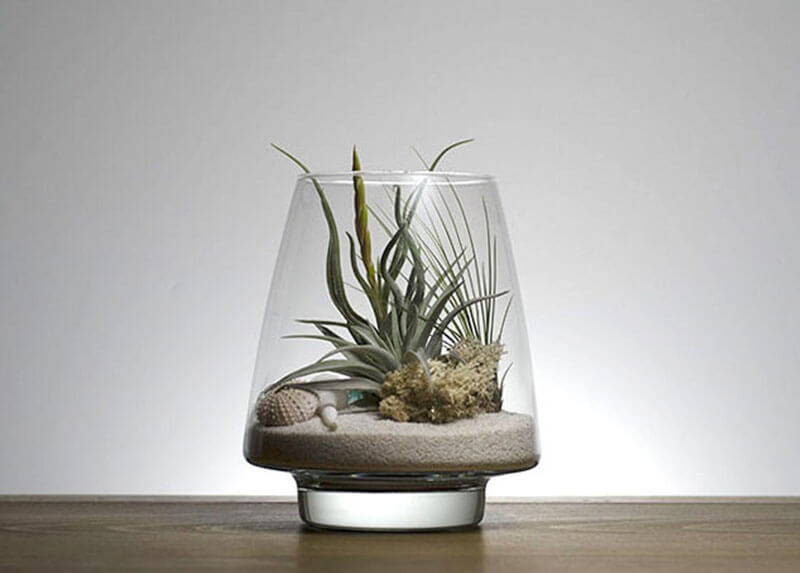 Sea Theme Air Plant Terrarium Kit [buy here]
You'll get everything you need to make this terrarium including two Tillandsia air plants (one bigger and one smaller), white sand, moss, a shell and glass container that you can sit on a flat surface. This glass container measures 8 inches tall, 5 inches wide and the opening is approximately 3″ wide so it's big enough to move your plants around.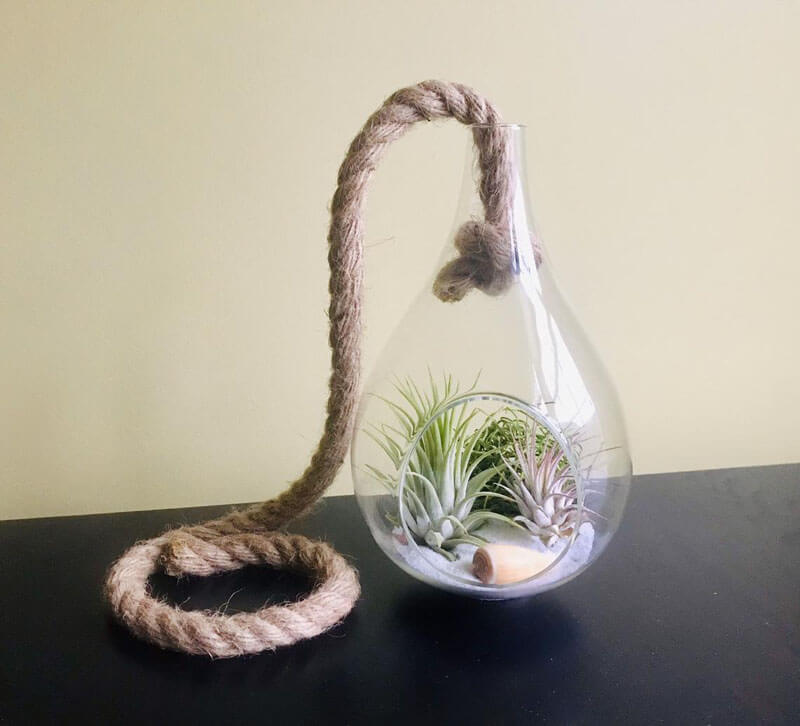 Modern Air Plant Crystal Zen Garden Kit [buy here]
The 3-sided triangle foundation serves to revitalize your Body, Mind, and Spirit. The natural crystals are used for their healing, energizing, and detoxifying properties. The air plant signifies personal growth. The gold sand represents the physical realm while the white sand represents spiritual enlightenment.
AIR PLANT CRYSTAL ZEN GARDEN INCLUDES:
– Beautiful Wooden 9" tray
– Wooden Carving Rod
– Tillandsia Air Plant 2″
– 1 White Quartz Geode from Morocco – Size 2″
– 1 Rose Quartz Raw Chunk from Madagascar – Size: 2″
– 1 Purple Amethyst Cluster from Uruguay – Size: 2″-3″
– White Sand
– Gold Rock Chips
– Crystal Description Card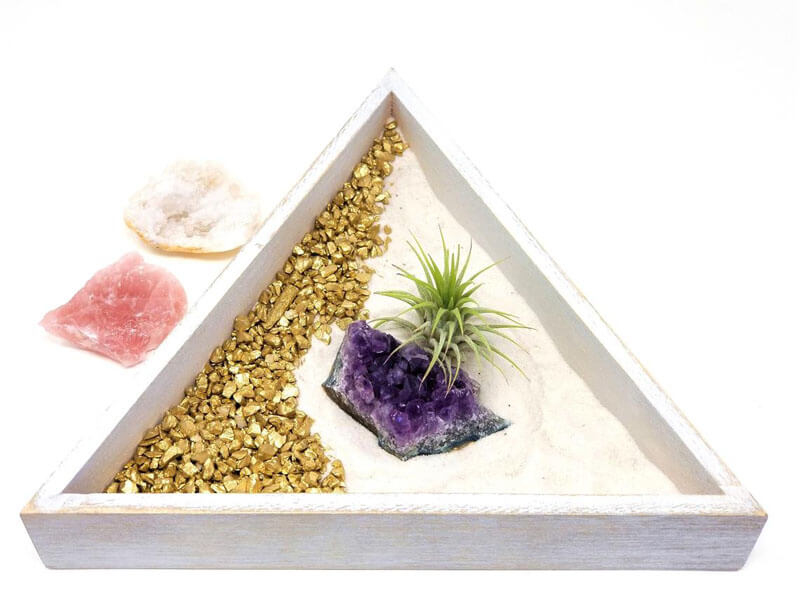 Marimo Aquarium Kit [buy here]
Marimo Moss balls grow very slowly and can live in a Jar for years. xtremely easy to take care of. Keep them in any freshwater Aquarium, terrarium, simple Jar or glass vase. They can even live in tap water with a biweekly water change. No need for special Lighting.
Includes one nano marimo Moss ball, a Square 7oz bottle with cork, Sea fan, and river stones.