The straight, sleek, distinctly industrial lines and forms. The bold and beautiful blocks of contrasting colors. The dreamy, sparkly, shiny materials and fabrics. All of the above combine to form Art Deco, which is often defined as the pursuit of beauty.
We've constructed a list of 7 tips to create the ultimate art deco interior of your home. Read on to find out how to make a home that exudes the magnificent opulence and splendor of the early 1920s.
Vibrant Colors
The definitive Art Deco color palette is all about high contrast, bold colors, and striking elegance. All of these are surefire ways to make your home more unique.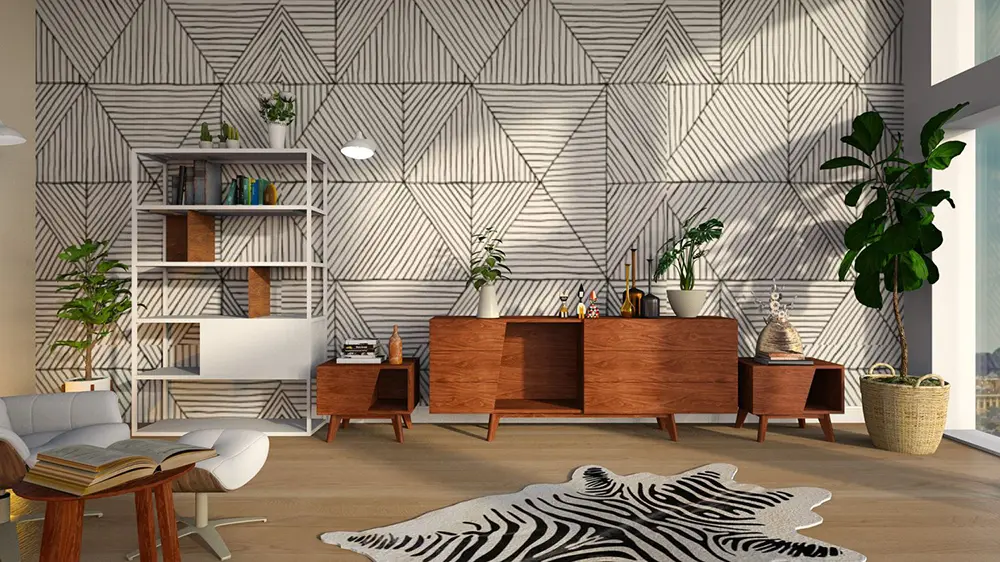 The black and white Art Deco tiles are a classic combination for sophisticated flooring. However, any flooring with a cubed design, sporting blocks of contrasting colors will look spectacular.
Your Art Deco colors should lean toward vibrant jewel tones. You'll want to opt for cobalt blue, emerald green, rich purple, bright and deep yellows, and startling reds and pinks.
Juxtapose these moody, saturated tones against neutrals. Creams and beiges are ideal for living rooms, dining rooms, and bedrooms for a homey atmosphere.
Large-Scaled Furniture
Your primary furniture pieces should be large in scale and streamlined in silhouette. Veer away from anything that contains frills and intricate detailing.
Bring in big armoires and sideboards into your bedroom. Add sleek and generously sized extendable dining table sets to your dining room. This style of furniture showcases the solid, clean lines indicative of the Art Deco era.
A fantastic way to bring in large-scale Art Deco furniture pieces is by introducing a home bar into your house. Or make your desk and chair the large-scale center point of your Art Deco office space.
Shapely Accents
Opt for trapezoidal shapes and curved forms for your accent furniture.
Trapezoidal chairs, tables, roofs, walls, and stairs are defined by the presence of one pair of parallel sides. But this shape can also be applied to accent furniture such as mirrors and vases.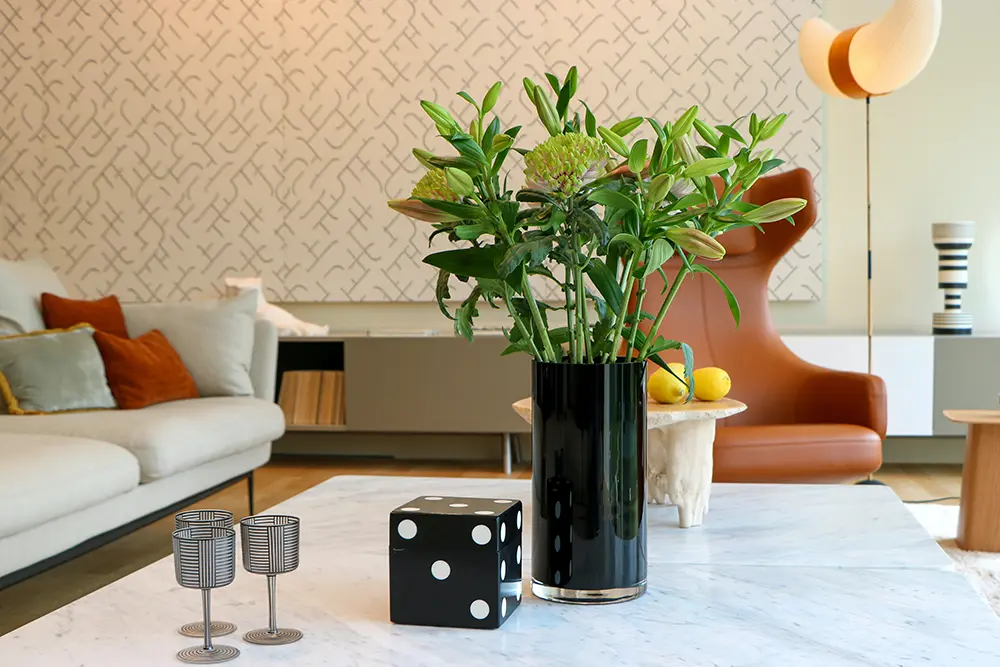 Be mindful of your lighting fixtures. This important accent can make or break your Art Deco style. Your lights should have clean, aerodynamic modern lines and silhouettes.
Choose lighting shades with jagged, pointed edges and stepped or elongated shapes, inspired by and depicting skyscrapers. Pick out shades with fanned-out shapes obscuring the bulbs.
Even select an extravagant, decorative, and eclectic chandelier! You want these elements to introduce an over-the-top, sparkly, glitzy note of glamour into the aesthetic.
Fluted Details
The original purpose of the fluted design style was boundless imagination and craft-led design.
Fluted, clean, linear forms are generally seen on furniture and paneling. The grooved or scalloped look has become increasingly popular recently!
Introduce these details in the kitchen and bathroom cabinetry, basins, and backsplashes for absolute opulence. Or focus on smaller fluted accessories in other rooms, such as lighting and vases, to add dimension to your fabulous Art Deco home.
Install fluted, ribbed glass into any room or high-traffic corner of your house. This will give an extra shine and decadence to your abode.
Geometric Patterns and Animal Prints
Now, what about patterns and fabric designs? That's simple! All you need is some geometric and animal print.
You want solid colors and textiles in zig-zag patterns, stripes, chevrons, triangular forms, etc. These patterns could be placed anywhere! Add it to your wallpaper, your upholstery fabric, or simply a large, impactful statement rug.
Then introduce zebra, shark, and leopard prints depending on your preference. A minimalist may lean toward animal-print decorative throw pillows. On the other hand, a maximalist may prefer a sophisticated animal-print area rug or chairs.
Bold Artwork
Keep your artwork and decor bold as with the rest of the style! After all, Art Deco is defined by its grandeur and drama. Artwork is also the perfect area in which to personalize your home.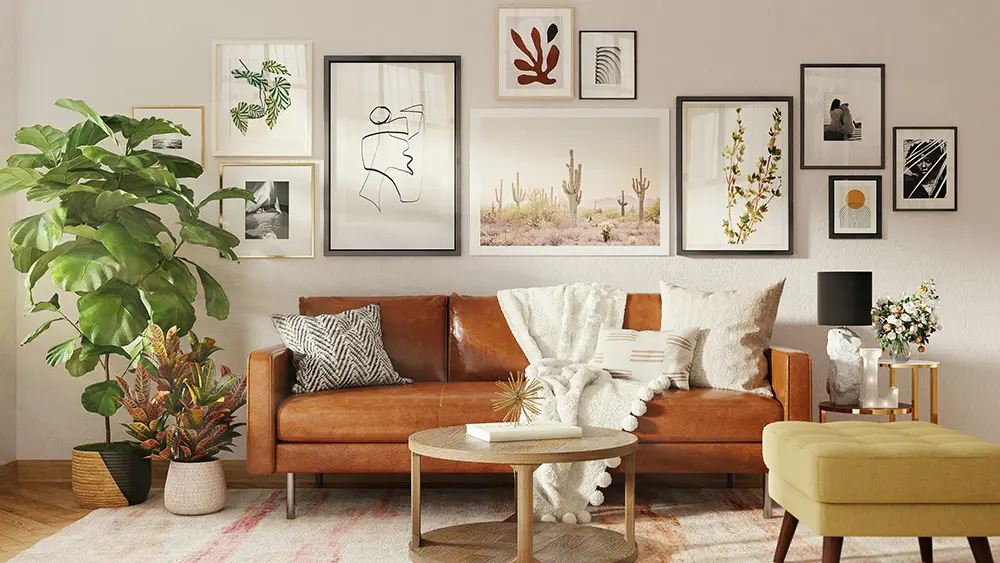 Stylized wildlife and sculptures can embody the style's sleek aesthetic. While prominent pieces of artwork in high-contrast hues highlight the style's boldness. And for a splash of Hollywood glamour, only a large sunburst mirror will do!
All of these artwork pieces are guaranteed to attract a guest's eye and be a wonderful conversation starter. Especially because Art Deco is forever on-trend.
Opulent Materials
Luxurious and rich materials are what our Art Deco dreams are made of!
Glamorous and exquisite velvet, silk, brocade, satin, leather, and chenille are the perfect materials for seating, headboards, and other cushioned or soft fabricated furniture. Be sure to avoid anything overly feminized such as floral patterns and fabrics if the Art Deco aesthetic is your goal.
Your furnishings and accessories should brighten up the home! Anything constructed with stainless steel, mirror and chrome, glass, and lacquer is your go-to. Exotic and upscale materials are a must-have for the Art Deco home. These include marble, granite, burl wood, and crystal.
Our expert recommendation is to opt for the faux versions of these exquisite materials. Veneers or laminate surfaces are often more budget-friendly, animal-friendly, and environmentally friendly. The feigned versions exude elegance, nonetheless.