Cat tunnels are a treat for cats as in them they're able to indulge some of the behaviors they'd naturally exhibit in the wild, like running, hiding, playing and pouncing. Some cat owner even think they are must-to-have item if you own a cat.
Hiding is a part of cat life and it's important to provide those opportunities. Depending on your cat's size and the space you have available, you can choose one-way tunnels or multi-section tunnels. Moreover, some cat tunnels are multi-functional. They can double as cat beds or come with built-in toys. Additionally, most tunnels are foldable or collapsible. So you expand it when you want your cats get some exercises and play time. And collapse it to free up some space.
1. Cat Tube with Collapsible Washable Cat Bed
VERSATILE CAT TUNNEL BED-Hipipet Cat Tunnels give your furry babies a cozy space to play, relax and rest, like in rooms, crates or even on cars-Ideal for multiple cats or dogs to have their own "tunnel bed" without taking over your bed, couch, chair or furniture
Washable inner cushion can be removed for easy maintenance. Suitable for cats, small dogs, puppies or rabbits up to 20 lb
2. Cat Plush Tunnel Toy with Ball
Two vents on the top so that cats can freely get in and out of the tunnel. Meanwhile they can have better interaction with you and the environment. You can connect two or more tunnels together to form a long and fun one. It can be folded to save space at your home.
47 x 9.8 x 9.8 inches; 1 Pounds
3. 3 Way Collapsible Tube with Peek Holes Cat Tunnels
Cat tunnel is made of polyester double-layer fabric, which is not easy to tear, and is made of a high-strength steel frame with protective ends. It is not easy to collapse and can withstand the jumping and falling of pets. Cat tunnels for indoor cats have 5 peep holes, multiple pets play together, chase, jump, and hide among each other. With collapsible design, cat tubes and tunnels can be folded and shrunk in a short time, which is convenient for storage and carrying.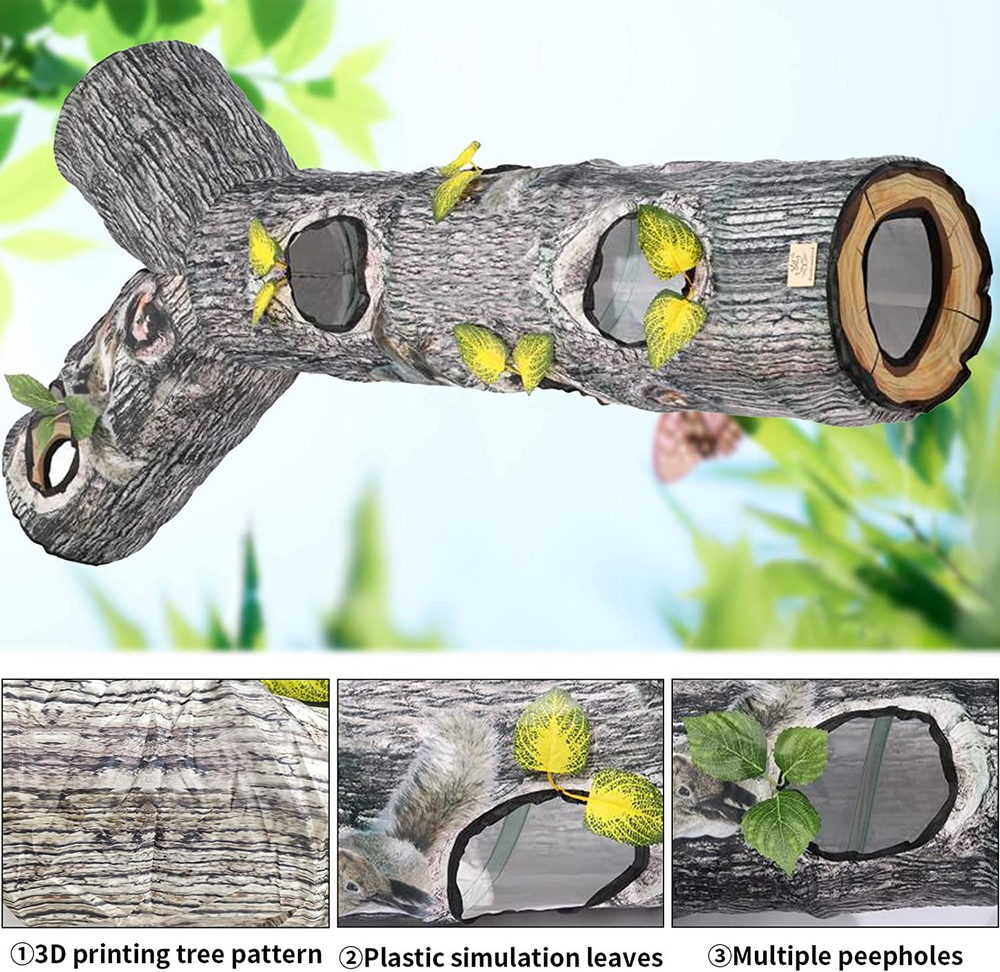 [buy on amazon]
4. Cat Tunnels for Indoor Cats
Free splicing, you can choose many splicing ways for your beloved pet cat, it can become cat tunnel, carpet, cat bed. The pet tunnel is designed with holes, so your cat won't feel hot while playing. Soft and shapable entertainment space. Attracts cats to hide, stalk, bounce and chase in it, encouraging healthy activity and bringing out the cat's natural hunting
Size Tunnel is 92*22*22cm.
5. Kitty City Large Cat Tunnel Bed
It's an all-round HQ for almost everything your cat loves. The tunnel cat bed combines a soft-but-structured tunnel with entry and exit points, a hanging toy to play with and a cozy plush Bed in the middle. It's endless enjoyment Whether your cat wants to burn some energy or laze the day away. Better yet? It assembles and breaks down in just a few minutes. Zip It down, fold it up, and the whole set is ready to hit the road and entertain your cat wherever you roam.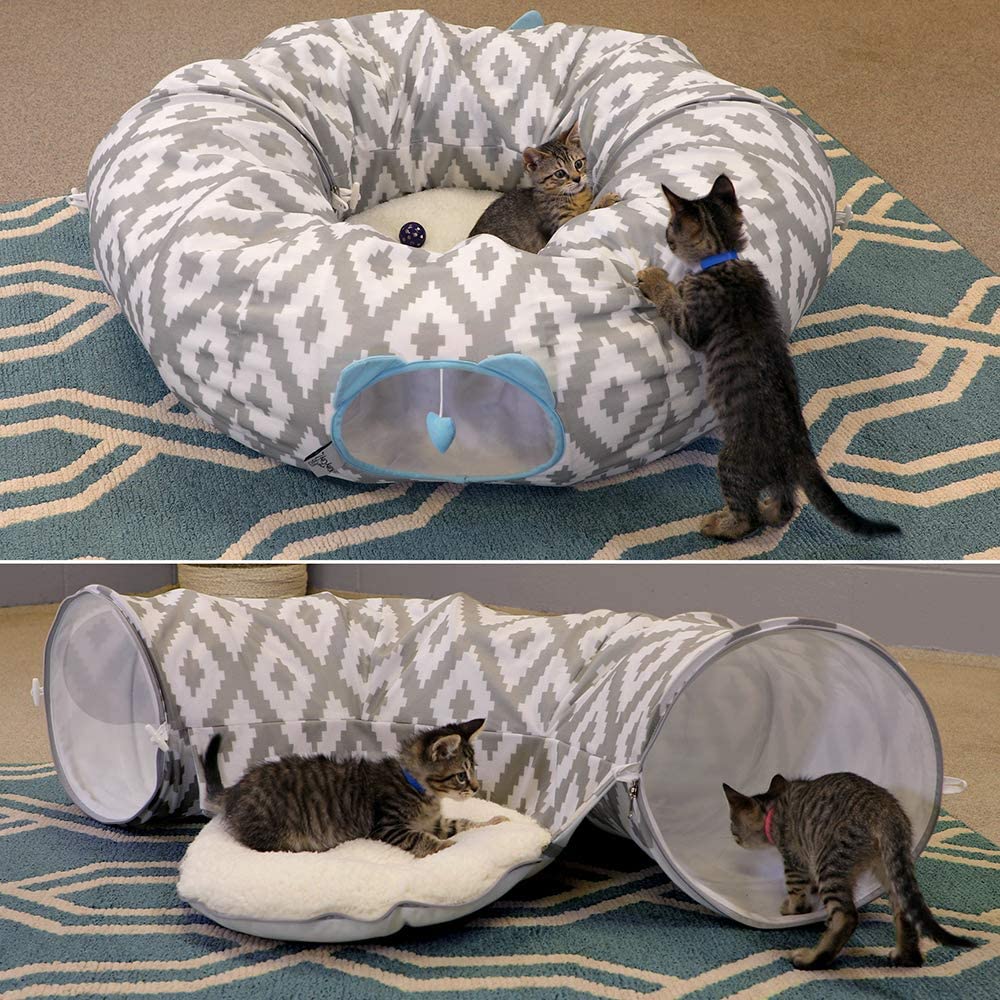 [buy on amazon]
6. Magic Mewnicorn Multi Cat Tunnel
One large 4-foot tunnel and four connected smaller tunnels, are perfect for hide-and-seek and playing chase with other cats. Provides interactive fun that helps encourage daily exercise and keeps your pet active. Folds down small in seconds and stays compact with added ties. Perfect for storage and travel.
7. 3-Way Cat Tunnel for Indoor Cats
Made of ultra-strong, tear-resistant polyester wrapped around a sprung-steel frame with protective ends (for safety); stands up to crazy cat scratcher antics. And center does not collapse like other tunnels! With provided rope, our tunnel folds down small in seconds for easy travel and storage. Each tube is about 10 inches height and 47.5 inches length. Take the entertainment with you anywhere, so your lovely pet is never bored!
8. Donut Tunnel cat nest
The cat tunnel is made of high quality material, wear-resistant and scratch-resistant, non-stick, easy to care, large space, full body folding, easy to carry. Four Seasons cat nest, tunnel and roof board with zipper connection, fancy stitching, a variety of ways to play, removable, washable, easy to store