It is easy to buy lunch outside but if you want to make sure your food's quality and eat healthy, bring your own lunch is a better choice. Here we rounded up 8 Cool Lunch Boxes. No matter you need to pack lunch for kids or yourself, there must be one right for you.
Grain, bread, meat, fruit, salad, or snack like protein cookies can easily be added into these lunch boxes. Take a look and start to eat healthy.
We are a participant in the Amazon Services LLC Associates Program, an affiliate advertising program designed to provide a means for us to earn fees by linking to Amazon.com and affiliated sites.
1. Bento Box by Black + Blum [buy on amazon]
Bento Box from Black + Blum is just right for a filling and sumptuous meal of rice or pasta, or even sushi for that matter. The design also includes a clip for holding your fork or chopsticks. You also a sauce pot and a separator, which means you don't have to carry anything separately for lunch other than the Bento Lunch Box. It is microwave and dishwasher safe, which makes cleaning the lunch box a breeze.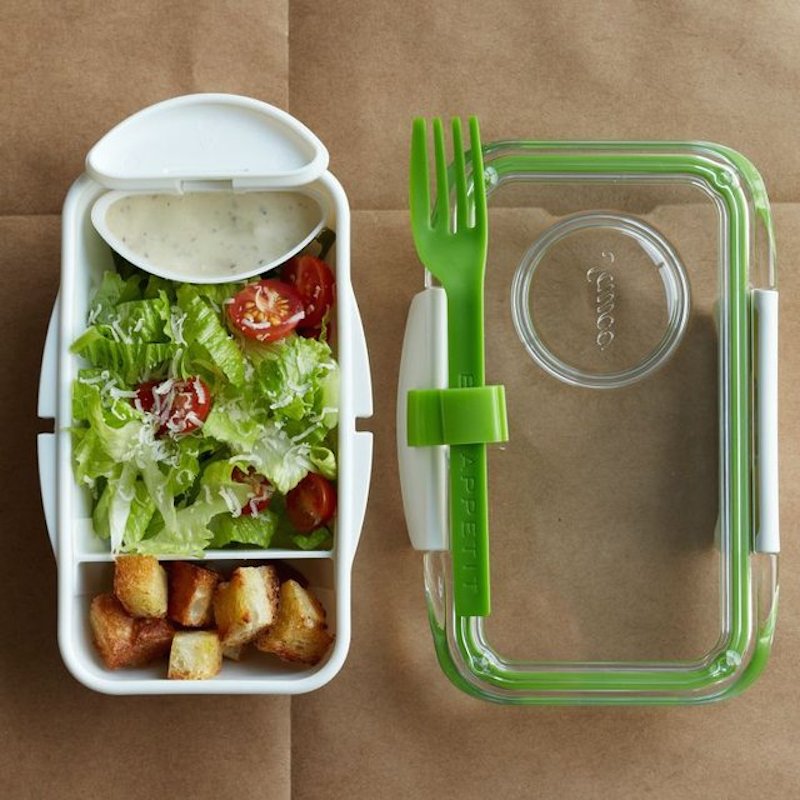 2. Square Lunch Black & Black [buy on bentoandco]
Stylish and convenient, Square Lunch Black & Black is a chic and modern bento box, which is great for lunch at work or for taking out on a picnic. It's great for those with big appetites. Consisting of 2 stacking compartments, each has a capacity of 550ml for a total of 1100ml. Each compartment comes with its own inner black lid.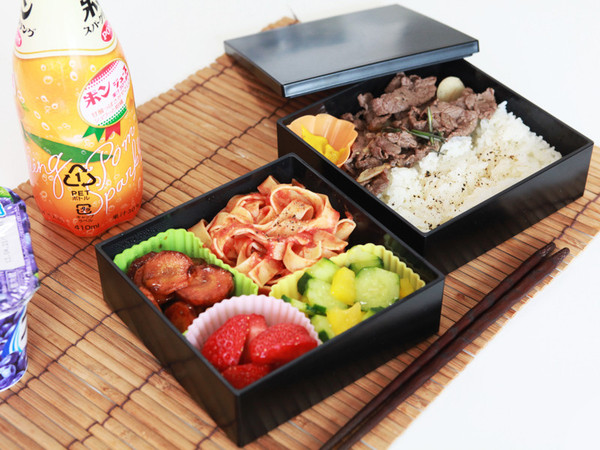 3. Béaba Soft Lunch Box [buy on amazon]
Designed especially for young diners, the case helps keep foods warm while the nonslip plate and kid-friendly utensils encourage self-feeding.
7.25″ wide x 8″ long x 3.25″ high
Cheerful sorbet-colored case has a keep-warm lid to help retain foods' most appetizing temperatures.
Microwavable storage container has side-by-side compartments for multiple foods.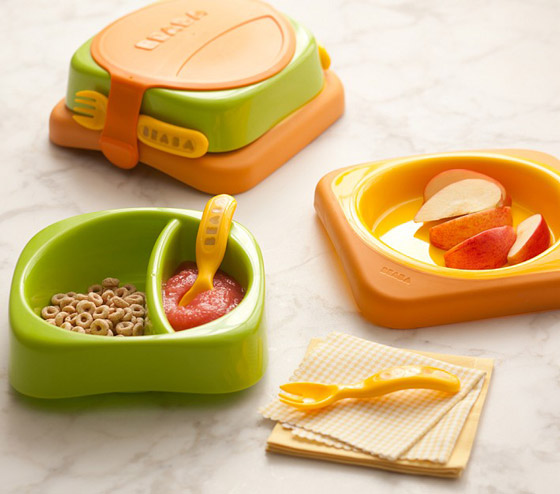 4. Lunch box with chopsticks [buy on fancy]
METAPHYS has created Ojue a lunch box with a minimized base area that can be stacked vertically, allowing it to be placed neatly and freely even within the slimmest of bags. Comprised of three units, Ojue can be freely combined depending on appetite and physical condition, based on the idea of providing vertical flexibility.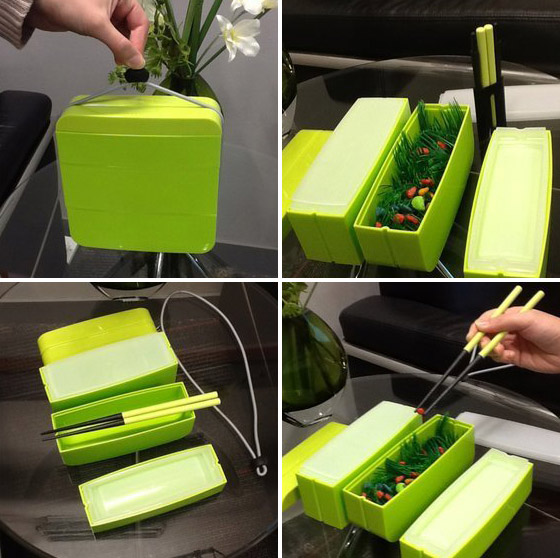 5. PlanetBox Rover Lunchbox [buy on amazon]
PlanetBox Complete is the eco and easy way to pack healthy, waste-free lunches. Part bento box, part TV dinner tray, PlanetBox is the custom-designed, all in one solution for packing well-balanced lunches kids love. Made out of high quality stainless steel, its the safe, non-toxic alternative to plastic. Individual compartments ensure that foods don't touch each other and that lunch arrives looking neat and appealing. The individual compartments remind parents to pack a varied lunch which includes fruits and veggies, and makes eating that lunch quick and easy for kids. Even though PlanetBox is designed for kids, it also works great for adults who want to pack a healthy lunch without overeating.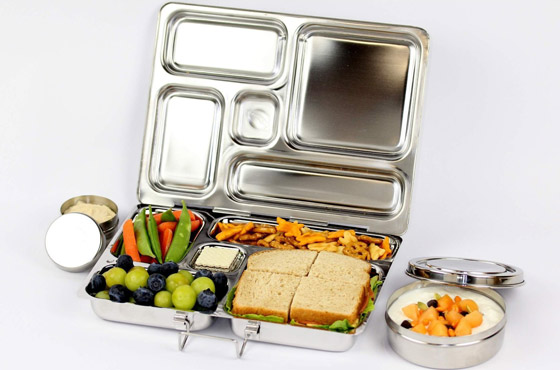 6. Box Appetit Lunch Box [buy on amazon]
The ceramic-like bowl is made from polypropylene and copolyester (BPA free) and has a glass-like lid locks to the body for a water tight seal. It includes an inner sealable dish, sealable sauce pot and a hybrid fork/knife combo utensil. It's perfect for keeping the salad dressing separate from the salad or splitting up different foods so you can microwave a hot dish, but keep other foods cold.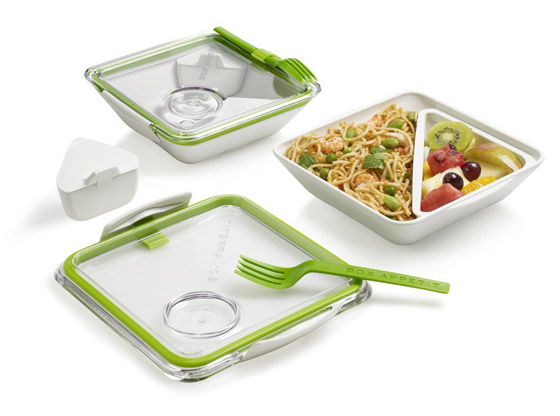 7. Frozzypack Lunchbox [buy on firebox]
Microwave and dishwasher safe, the lid contains a non-toxic cool gel that can be frozen to keep your food cool and fresh for up to seven hours. Perfect for transporting takeaways, lugging your lunch or transporting items of an unknown nature.
Dishwasher and microwave safe
Lid needs to be frozen overnight (+10 hours) before use
Measures approximately 20cm(W) x 13.5cm(H) x 8cm(D)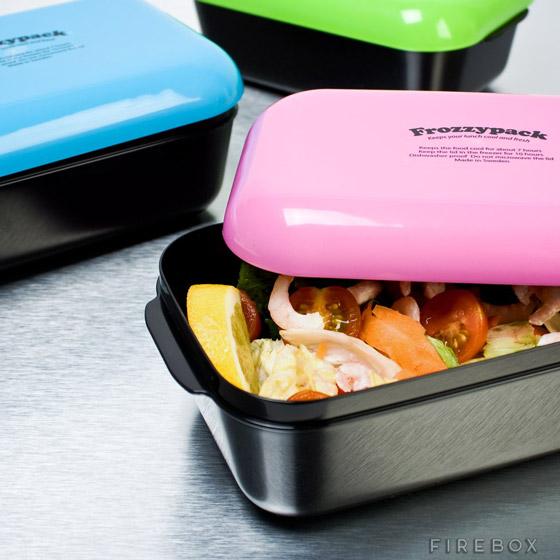 8. Yumbox Leakproof Bento Lunch Box Container [buy on amazon]
Yumbox is a bento-style, kid-friendly, leakproof food container designed to make health lunch packing a breeze! Ideal for school lunches, camp, picnics, travel, toddler meals, snacks and all of your meals-on-the-go! Help kids establish healthy eating habits by packing balanced meals everyday. Yumbox's food tray is divided into five ½ cup portions of the main food groups: Fruit, Vegetable, Grains, Protein, Dairy. Plus a small treat or dip well too! Its silicone molded lid engages with the food tray to create a tight seal, so no leaks inside or outside of the box.