Using wall shelf is a smart way to expanding your storage space as well as showcase your favorite display. Hence, you will find they are incorporated widely in interior design. For the same reason, the normal wooden wall shelves cannot satisfy people's needs. Here we have 8 Creative And Unique Wall Shelves, hope they can give you some inspiration and help you doctorate your walls.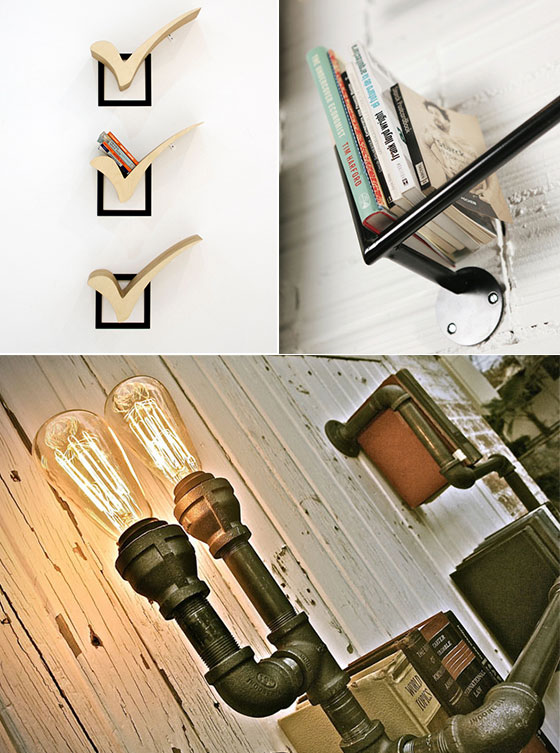 1. Fire Escape Wall Shelf
As its name states, this wall shelf looks like like a fire escape. Crafted from metal, this shelf is a beautiful decoration on your wall by itself. But it also looks great most things you can put on a shelf, like plant, books, figurines or photogrpahs. Bound to thrill apartment-dwelling urbanites and lovers of all things big city.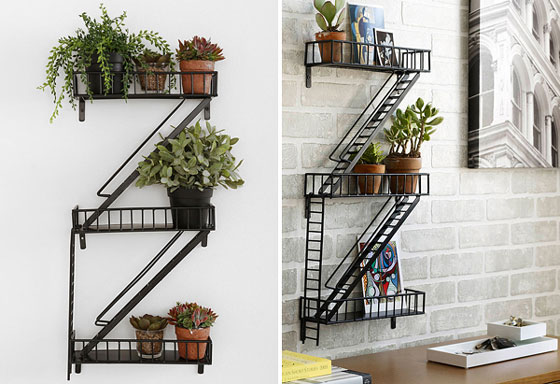 2. Balance Bookshelf
The Balance Bookshelf is a unique bookshelf which give you clear visualization of your read books and unread books, encouraging you to read more. It is designed to accommodate approximately 5-10 average sized books on each shelf. Just wonder, how the shelf looks like if only one side has stuff.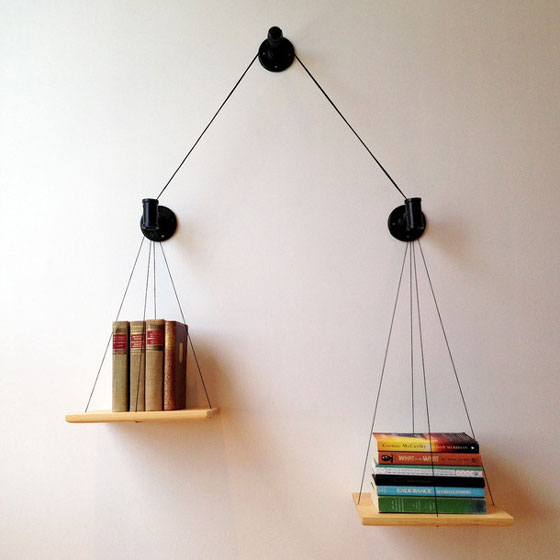 3. Industrial Bookshelf with Lighting System
This Industrial Bookshelf is made of old plumbing pipes and incorporating accent lighting. There are several configurations availabe: some are purely shelf while some have factional lighting system at the top. No matter which one you choose, this versatile design is a great adds-on to any space with its authenticity and ambiance.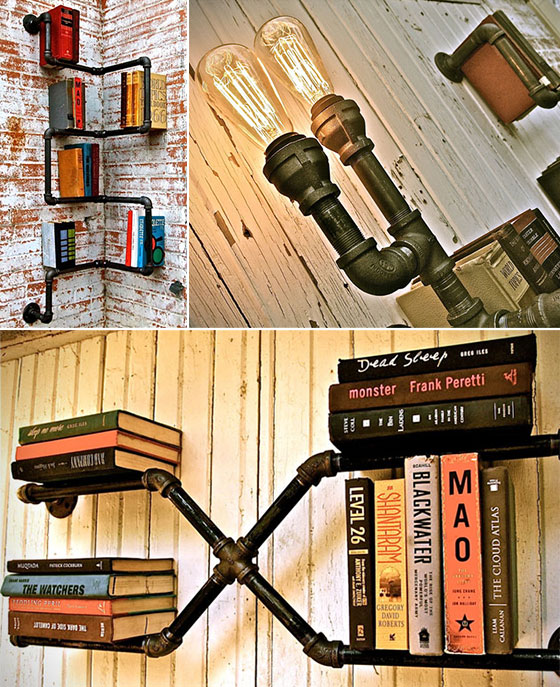 4. Vitra Corniches
Vitra's Corniche Shelving System is not only a storage space for your small, informal and daily stuff, but a beautiful decoration on the wall. Inspired by nature, Corniches shaped like a rock and hang by a hidden support system. No matter work by itself or server as a braod wall display, Corniches are definitely a new way to enhance the walls we live within.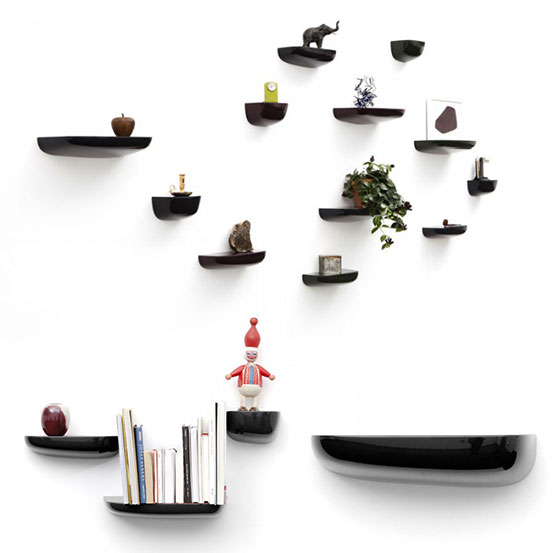 5. Checkmark Shelf
Created by Jongho Park this Checkmark Shelf bookshelf looks like a big check mark on the wall. The check sign is made of laminated wood and the check box is made of steel. This cool shelf is definitely a conversation starter on your wall.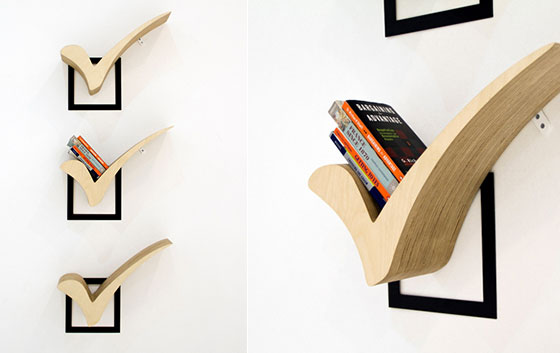 6. Bird Wall Shelf
This elegant bird-shaped shelf is a great way to add some color and playfulness to your storage space. The distressed finish metal features vintage-look wallpaper backing for a charming look. With three shelves, this cute bird can be used as a decorative shelf in any room, especially kitchen.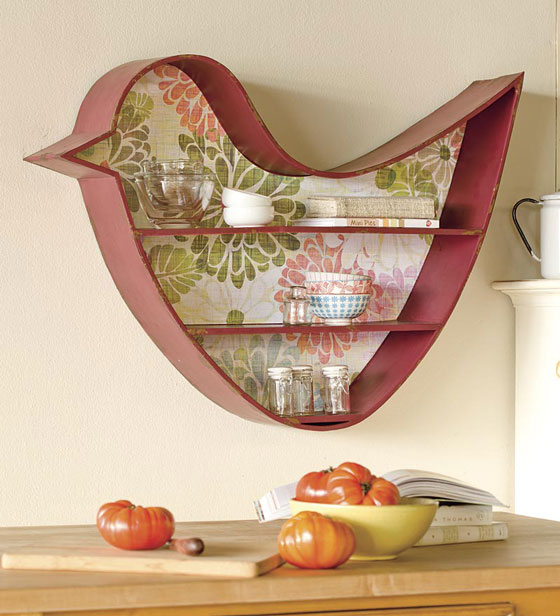 7. Fusillo: a Multi-functional Wall shelf
Fusillo is an Multi-functional wooden bookshelf made of modular elements. All the modules are designed to rotate around a central axis providing support for the books. When untwisted the shelf is completely monolithic, the bottom part bottom part can be used as an hanging device where you can hang anything you like. Hence, it is a bookshelf, but also can be transformed into a sensible coat hook, bicycle rack, or book ends. Moreover, multiple shelves can be endlessly combined to customize your space. Nice design help you to utilize space.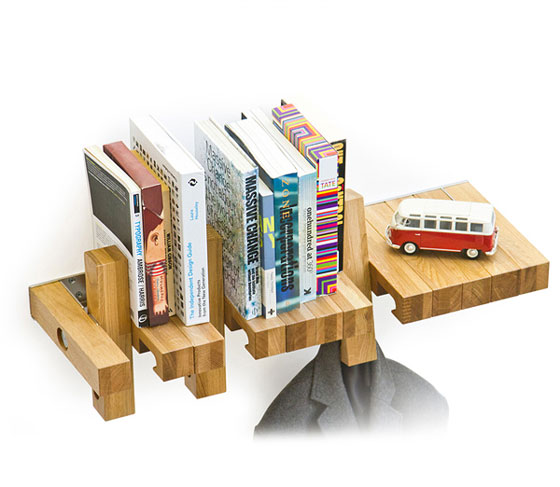 8. Magda: Minimalist Wall Shelf
Magda is a minimal style shelf made of one L shape steel tube and a center support. Doesn't like other shelf, you don't need to level it during the installation since the shelf only works when it is slightly skewed toward the angle – so the book won't slip down from the open end.