Maybe it is not right time to talk about creepy designs since we just start to enjoy the summer and Halloween seem still far away. I just accidentally came across several interesting brain inspired designs and decided to create this collection before I forgot them. I have to admit some of them are pretty creepy and bloody, maybe only suitable for those holly night, like the skull+brain candle set, zombie bowl and cookie jar. But the brain ice cube and light are pretty cool and definitely can be used any time you want and send as a perfect gift.
This post may contain affiliate links. If you make a purchase, Design Swan may earn an affiliate commission. Please read our disclosure for more info.
1. Anatomic Brain Specimen Coasters (Set of 10 pieces) [buy here]
This pack of 10 coasters features a slice of a brain and when it is stacked together, it completes a full brain! Think about it!
Each coaster is made from glass and features 4 rubber feet for traction. So you never have a headache, each coaster is labeled so you can piece your brain back together.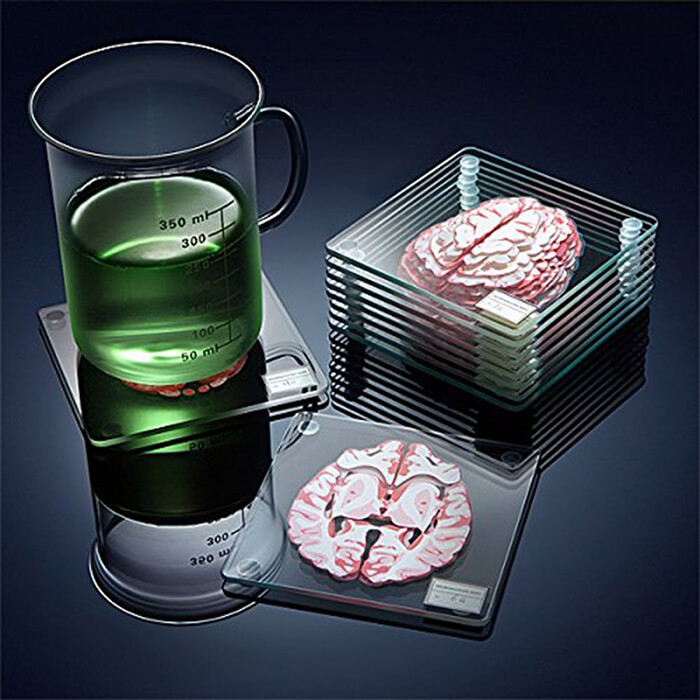 2. Brain Ice Cube Mold [buy here]
Brain Freeze is an ice cube tray with 4 molded brain shaped ice cubes. We humans are well known for our highly-evolved sense of humor – as evidenced by Brain Freeze, the ice tray that makes 4 frosty brains. So let's celebrate our higher powers by raising a glass. Because a brain (not to mention a cocktail) is a terrible thing to waste.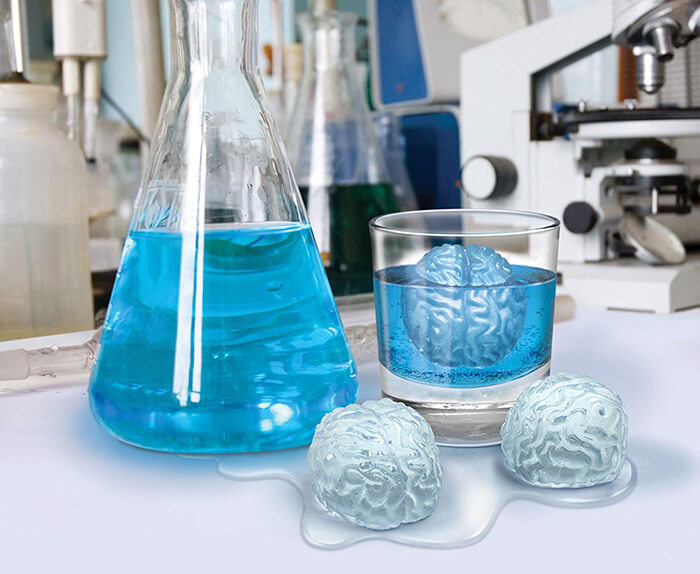 3. Zombie Bowl [buy here]
The Zombie Bowl is made to look like (most of) the head of a zombie. But there's no top, so you can add all the foodstuffs you want. We like using it to eat things that look like brains. Soggy shredded wheat is good. Spaghetti with tomato sauce works well. Beef stew sort of looks like throw up, so that's acceptable. Eating gross-looking things out of your Zombie Bowl is a great way to elicit stares, laughs, and fear in your home or office. Make us proud: send us action shots of the grossest things you eat out of your Zombie Bowl!
4. Zombie Head Cookie Jar [buy here]
Just crack open this zombie head, reach inside, and grab some cookies. We recommend at least 3. You don't taste the first one, the second one is good but leaves you hungry, and the third one is the most satisfying. Maybe four cookies if you're extra hungry, but five is right out.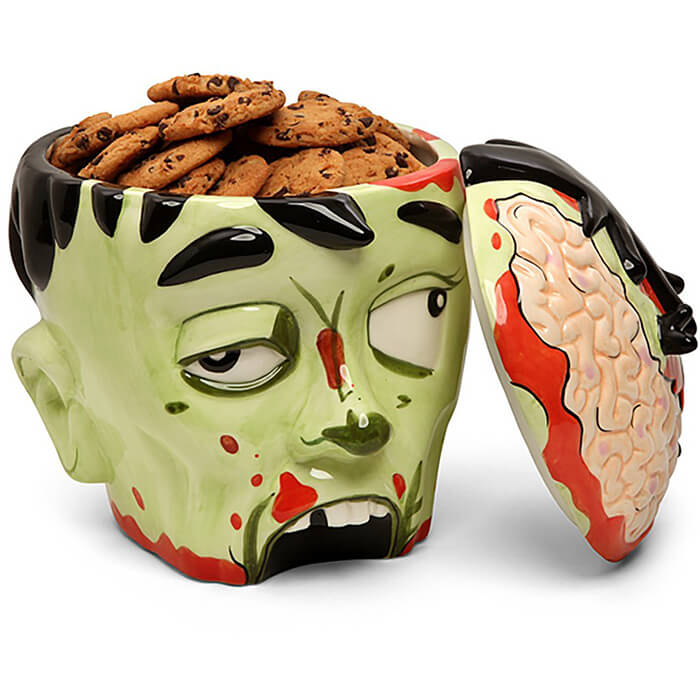 5. Skull Candle Holder with a Brain Candle [buy here]
Handmade crying skull candle holder with a brain candle. A brain-melting combination! A perfect match for Gothic,Emo,Geek or Witchcraft themed decoration style. But will also stand out within any style.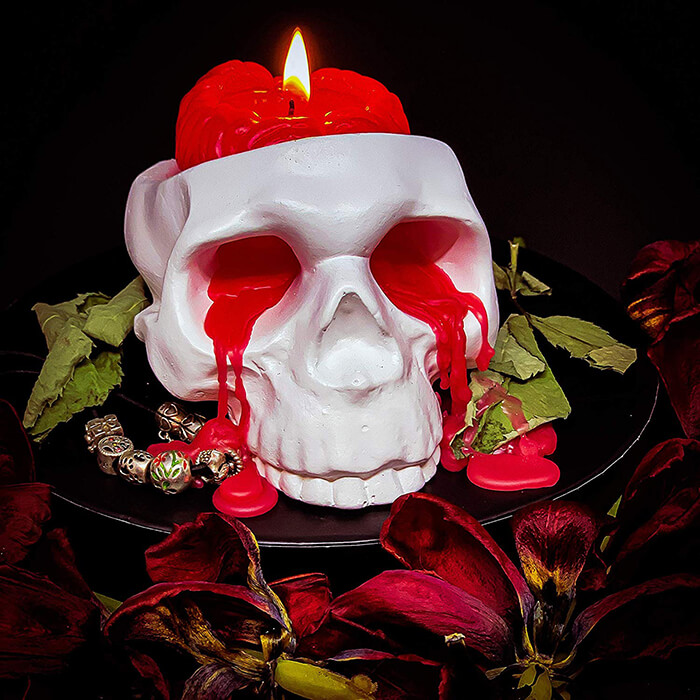 6. Brain Salt and Pepper Shakers [buy here]
This salt pepper shaker set is made of high quality glossy ceramic, hand painted and polished. These brains salt and pepper shakers measure approximately 2″ tall, 3.5″ long and 1.75″ deep. Add some flair to your kitchen and dining setup with these cool salt pepper shaker set. Ever wonder what goes on in our brains? The left and right brain functions differently whether it be arts or academics!!! These salt pepper shakers just adds humor and animation to the table!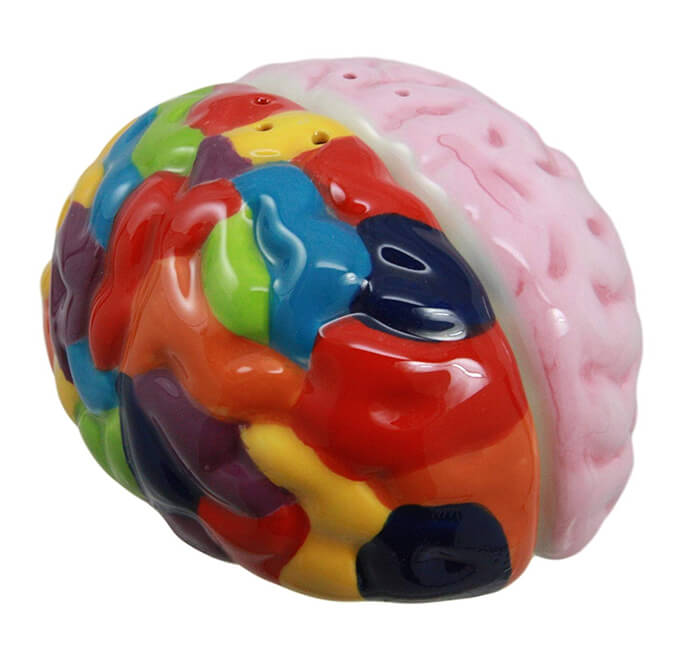 7. Brainstorm Table Lamp [buy here]
Inspired by the power of the mind, Brainstorm's LED light shines from within a ceramic brain, cutting a line through the hemispheres. The result is an illuminated white table lamp that adds a quirky sense of fine design to your home.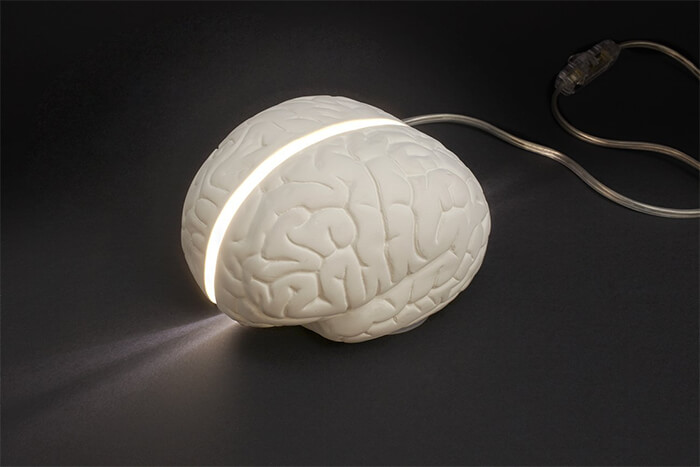 8. 3D Brain Abstract Night Light [buy here]
This 3D Illusion Lamp turned out to be a 2D wire frame lamp which is only a few millimeters wide. It is made of acrylic not glass, strong, hard, high toughness, not fragile, will not hurt the child; Laser engraving technology,never fade. Fashion and creative. 7 Colors Change. When shut down light, it is still a beautiful decoration and will match your décor.