Are you looking for new thematic inspiration for your living room interior? Are you already bored by looking at the same old setting and want a stylistic change?
No matter whether you're just moving in or need an idea for renovation, experimenting with interior design is always fun. And we have to agree that the whole atmosphere of the space hugely depends on the living room style.
For that purpose, we have created a short inspirational living room guide. Once you go through every design style, you can pick out your favorite and apply it to your living room or even your whole house or flat.
1.Industrial Design
The industrial style has been quite popular lately and used for shaping the interior of many cafes, restaurants, and even offices. Also, many people are incorporating it into their homes. To get a grip on how industrial design actually looks, you should merge the concept of an abandoned factory building with rammed walls and strings of light bulbs as details.
The industrial design has its looks and living room style from the industrial era. It mostly incorporates the use of steel, wood and brick walls. The industrial decor is mostly rustic and bold. There are two options that industrial design offers for your living room: a modern alternative with clean lines or a vintage option including antique details.
If you want a cool and easy-to-maintain living room, search no more. Maybe the industrial design is the relaxed and warehouse vibe you've been searching for.
2.Mid-Century Modern
This interior design was developed from the mid-40s to the mid-70s and that's where its name originates from. If you want to create a mid century modern living room, here's what you should focus on:
Refined lines (concerning furniture and walls)
Natural shapes (for tables and cupboards)
Minimalist silhouettes
Creative ways of using new materials such as plywood, aluminum, and molded plastic
What's really interesting is the fact that mid-century modern pieces are quite versatile. This means that you can use them in other designs as well. The mid-century modern design is also a highly functional style that looks effortless.
3.Scandinavian Design
Scandinavian living room interior design is all about simplicity and minimalism. To achieve the look you can combine metal and wood, focusing on neutral colors. In fact, it's all about decluttering your living room from unnecessary ornaments. Lively decorations, such as fresh flowers and plants are welcome!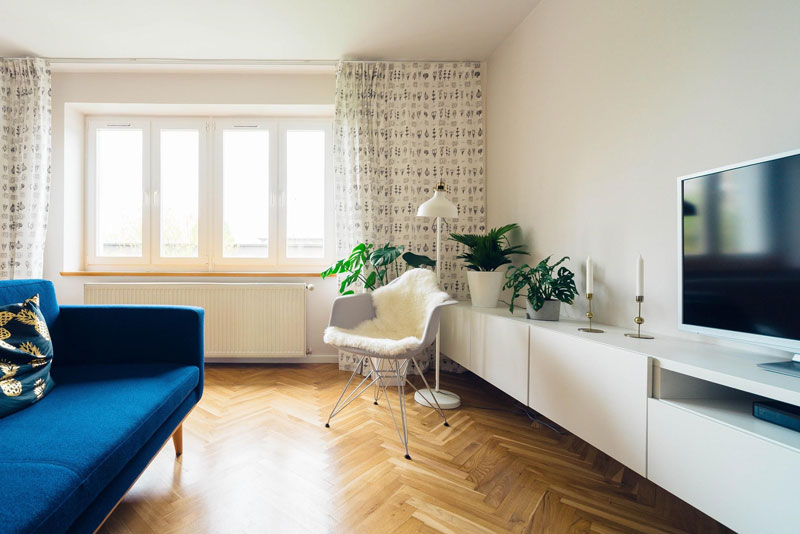 Photo by Jarek Ceborski on Unsplash
To obtain the Scandinavian look, forget about curtains! Or, if you already have curtains, make sure they don't cover the windows. It's all about letting the light in and soaking up the sunshine.
4.Nautical Style
The nautical style is such a suitable living room interior idea for your beach house. This relaxing and positive interior is based on the three colors: white, desert sand color and shades of blue. In fact, all the details such as pillows, chairs, and ornaments are blue. The most common materials used within the nautical style are wood, linen, and glass. So, the tables can be made of white-colored wood, the pillows from linen and the details from the glass. The style includes introducing jars with seashells, nautical maps, and boats within the living room atmosphere.
5.Farmhouse
The mix of white and khaki brown are the colors that represent farmhouse decor. For accent, you can use a bit of yellow or turquoise. This type of design finds inspiration in nature and that's why it includes mostly natural colors and elements.
The furniture that you should choose for your living room should be comfortable and rusty. The farmhouse decor can be obtained by taking care of some simple details. For instance, you can put dried lavender or other herbs in a vase.
The materials that should dominate if you choose the farmhouse style are distressed wood and linen. As mentioned, it's all about using organic and natural materials as much as possible.
6.Bohemian Style
A bohemian style living room will reflect your adventurous and eccentric spirit. This style is all about vibrant colors, different textures, and patterns putting an accent on red and purple tones. If you want your living room to get the bohemian look, you have to let it be messy. And this includes having several pillows and a blanket on the carpet to create a cozy atmosphere. You can also create this type of warm ambient by placing some unique chandeliers in your living room.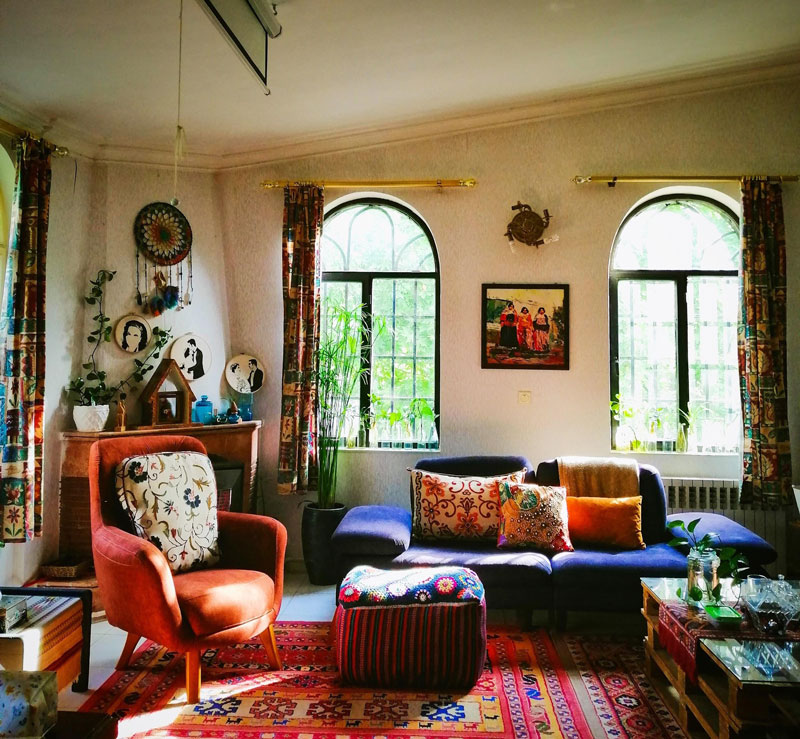 Photo by Nasim Keshmiri on Unsplash
The bohemian style also includes putting several layers on textiles with blankets, pillows or rugs that have a nomadic or ethnic vibe. Some of the most popular designs are Southwestern, Moroccan or tribal-inspired designs. When it comes to materials, you can easily mix a bit of everything, as long as it's vivid and lively.
In the end, if you choose to turn your living room into a bohemian style, make sure every piece tells a story. This is why most bohemian styled homes are decorated in time, gathering authentic pieces from all over the world.
7.Urban Modern
The urban modern design is usually used for styling flats in the city. This 21st-century design idea revolves around minimalism, glamorous chic, and edgy experimental details. When picking out a sofa for your living room make sure it's very large and comfortable. You can add mirrors, pictures, pillows and end tables as decor.
When it comes to the colors, go for calming tones and hues. The mixture of neutrals and warm tones will give your home a cozy atmosphere.
8.Shabby Chic
Furnishing your living room in the shabby chic style means that you'll use a recreation of vintage elements. The furniture you'll use should look rustic and aged, even though it might be brand new. Using some paint on the wooden elements to make them look old and used will help you do the trick. If you want to skip the DIY venture, you can simply check out some popular shabby chic retailers and just make your choice.
Final Thoughts
We hope that now you have a better understanding of what your favorite design might be. So, it's about time to spice up your living room, be creative and experiment. In the end, you'll have space where you can dwell and thrive every second of your free time!