Bird Photographer of the Year is a global photographic competition. The competition is open to residents of any territory and to entrants of all ages. There are eight categories to enter and additional special awards, offering plenty of chances to win.
For this year, over 22,000 images entered into the competition. From a cute sunbird taking a bath in a banana flower to a brown pelican diving into water to catch fish, here is plenty of spectacular photography on display. The wealth of images shows just how many stories there are to tell about birds, some joyous and some sad, but all important.
Below are some of the winning photos for 2021 competition, you can head over here to see the full collection.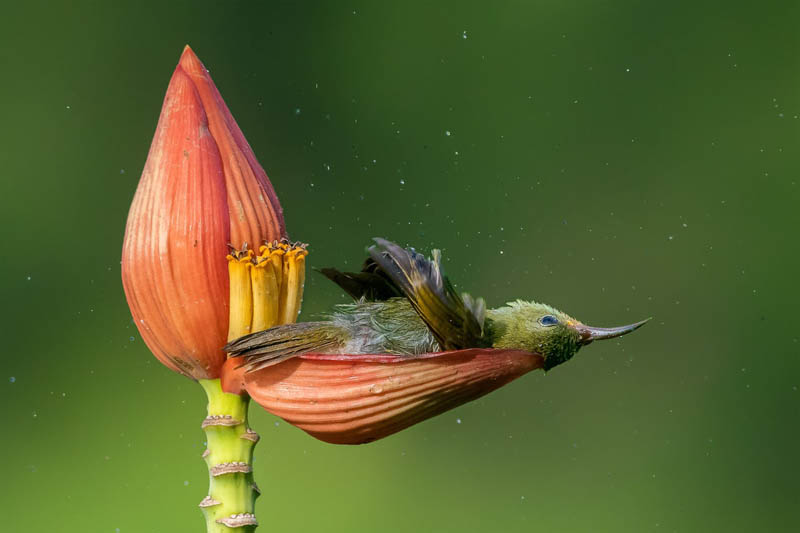 "Floral Bathtub" by Mousam Ray, India. Gold, Bird Behavior.
"This image was taken at North Bengal Agricultural University in Cooch Behar, West Bengal. To set the scene, here in India autumn days (when the photo was taken) are typically hot and humid – sporadic rains interspersed with sweltering heat – while the nights are cold. I was keen to capture images of Crimson Sunbirds drinking nectar from banana flowers. Typically, these flowers point towards the ground, but in some ornamental species they point skywards and some of their outer petals open up like cups, holding water from rain or dew. Late one evening, a female Crimson Sunbird suddenly arrived and started sipping nectar. Her thirst quenched, she then started bathing in the water stored in this banana flower petal. It's quite common to find birds refreshing themselves in the evening, visiting puddles and pools, dipping their heads, and wetting their wings and body. However, it was a unique experience to see this sunbird immersing herself upside down in water contained in an ornamental flower petal, like a lady in a bathtub. Her relaxed and indulgent manner, lit by the glow of sunset, was truly a sight to behold."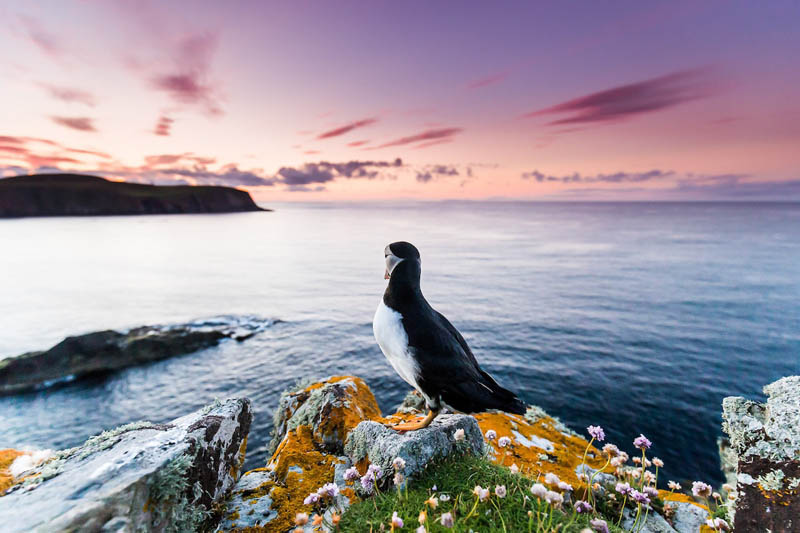 "Lost in Thought," by Kevin Morgans, United Kingdom. Portfolio Award Winner.
"When photographing an animal, eye contact is a critical component, allowing your viewer to connect with the image. This photo breaks many of the traditional rules. The setting sun, the uneasy pose of the puffin, and the central composition throw up many questions and thoughts. Where is the puffin looking? What is it thinking? What lies beyond the horizon?"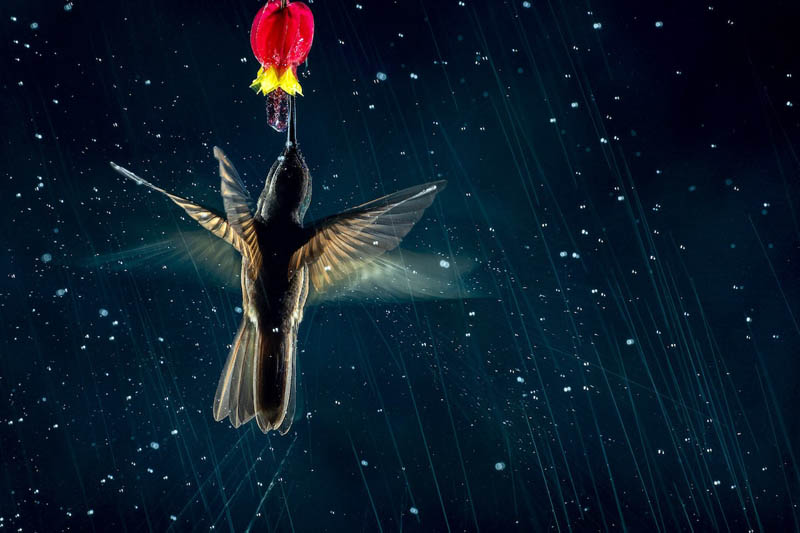 "The Art of Motion" by Nicolas Reusens, Spain. Silver, Birds in Flight.
"This image is one of my favorite shots from my last trip to Ecuador. Using a complicated set-up, I was able to trigger two sets of flashes during a single exposure, using a shutter speed of 1/25 second. I then tried to introduce a sense of movement into the image by adding continuous lighting to the scene. After three days of photographic attempts to get a single picture with an intense atmosphere, this is what I achieved. I hope it was worth it!"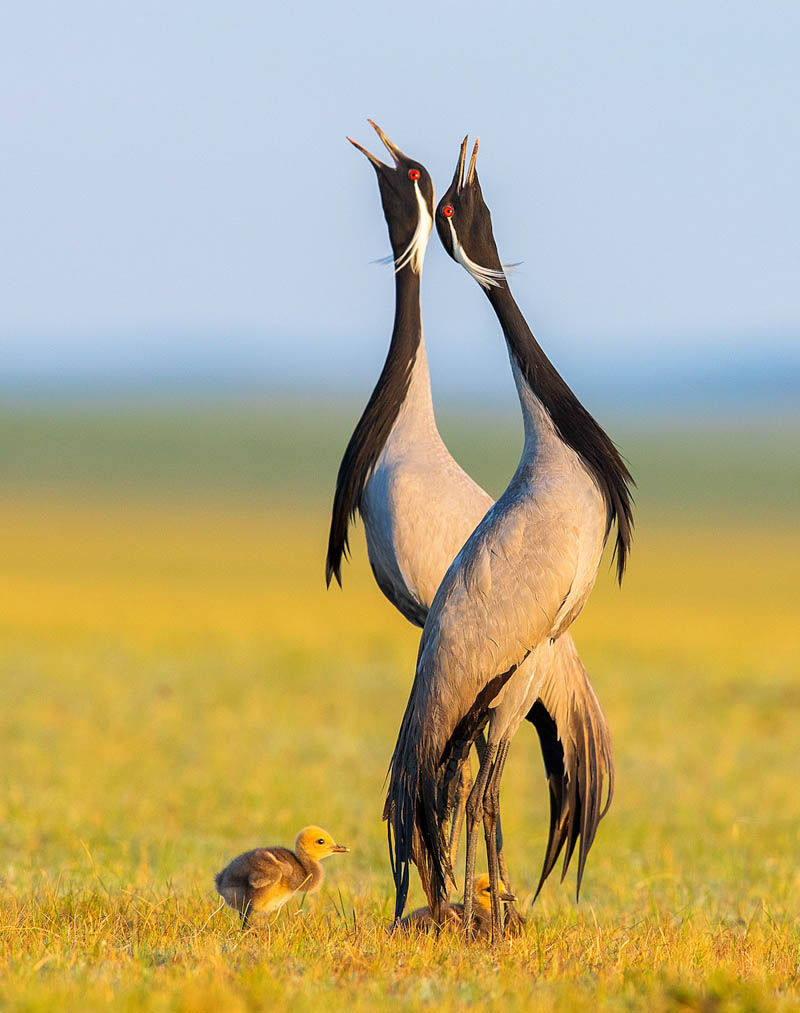 "Sing Heartily" by Maofeng Shen, China. Silver, Best Portrait.
"June marks the start of the breeding season for Demoiselle Cranes on the vast grasslands of Keshiketeng in Inner Mongolia. It is a blessing to witness the arrival of these beautiful birds, and a privilege to have documented their nesting behavior. In order to capture wonderful, intimate moments of breeding behavior without causing disturbance, I did a lot of homework. I drove more than 800km to the vast prairie of Keshiketeng two days before I planned to photograph and did my groundwork. I got up at 3am on 29 June 2018 and rushed to the location of the breeding cranes. In order not to disturb their peaceful life, I had previously set up my equipment in the long grass and lay down, disguised on the ground. In the morning light, the figures of the Demoiselle Crane family of four gradually appeared out of the gloom. Just as they were leisurely foraging for food, suddenly the distant sound of shepherds herding sheep could be heard. It seemed as if the sound was enough to inspire the pair of adults to call, as they stood back to back. This evocative sound cut through the silent sky for a brief moment, then everything quietened down again. I enjoyed the company of the crane family for the next four hours."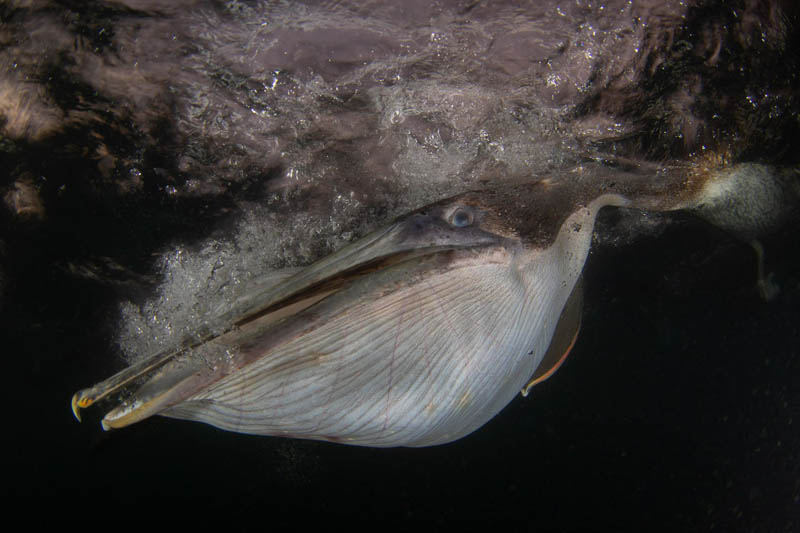 "Underwater Portrait" by Felipe Foncueva, Spain. Gold, Best Portrait.
"This underwater image of a Brown Pelican was taken off the Pacific coast of Costa Rica, near the mouth of the T.rcoles River, where there are small fishing villages. Groups of pelicans await the return of fishermen and take advantage of the scraps they throw into the sea. Looking at this image, I am struck by the similarity between the way the pouch beneath the pelican's bill functions and the throat of a feeding baleen whale. At first glance you could be forgiven for thinking you are looking at a marine mammal rather than a bird!"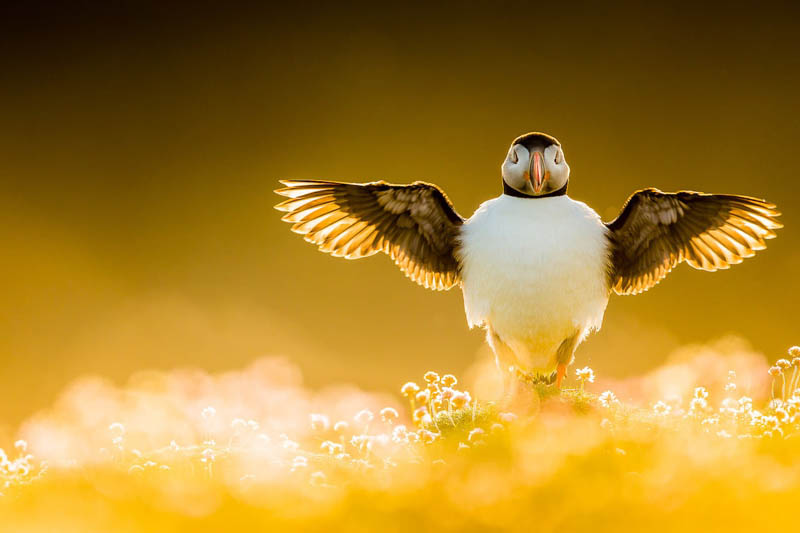 "Wing Stretch," by Kevin Morgans, United Kingdom. Portfolio Award Winner.
"Back-lighting is strongly represented throughout this portfolio. Combining the technique with the beautiful golden hues of sunset can transform an image, and birds, in particular, look fantastic using this approach. The light shining through their feathers creates an almost translucent effect."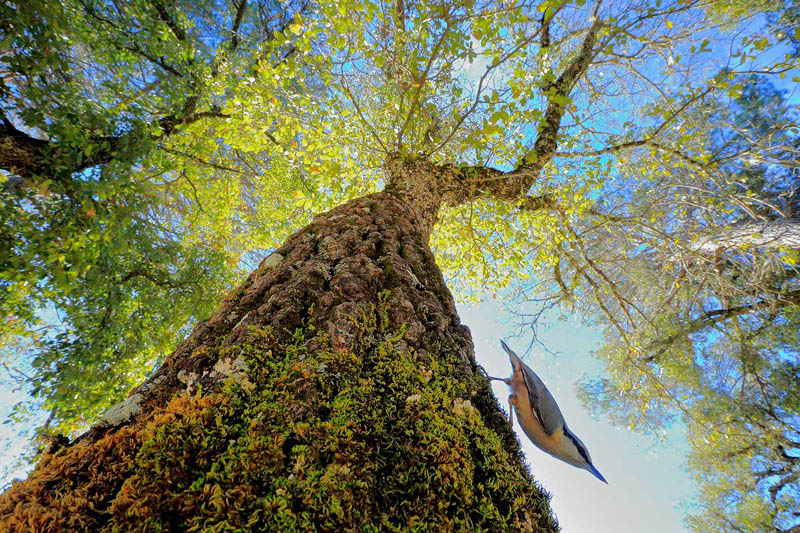 "In the Woodland" by Andrés L. Domínguez Blanco, Spain. Gold, 9-13 years.
"This Eurasian Nuthatch regularly used the trunk of a Portuguese Oak as a route to go down to drink. This picture was taken with a wide-angle lens and remote control from a hide. It gave me this unusual perspective of the bird through the use of a creative approach to bird photography."