Small apartments are increasing in popularity these days. The real estate costs are so high, so many people decide to downsize. Living in a small space doesn't have to mean that you will lack comfort. There are some ways to turn tiny apartments into the ultimate living space. In this post, we share a few tips and tricks that will help you turn your home into a functional space.
Add wall sconces
When designing 2 bedroom apartment, there is one trick that will help you save some extra space. Task lighting might take some of your precious space, so opt for wall cones. They won't take from your floor space while adding the decorative element into the bedroom. Choose modern and outstanding designs that double as decor.
Prefer furniture with legs
When you are decorating a small space, you must make it visually bigger. When choosing the right furniture, always go for pieces with tapered legs. They will keep the sofa off the floor while making the room look more spacious. The same goes for coffee tables and side tables. The mid-century modern style embraces the use of this type of furniture and adds a retro look. Check up some images to get your inspiration.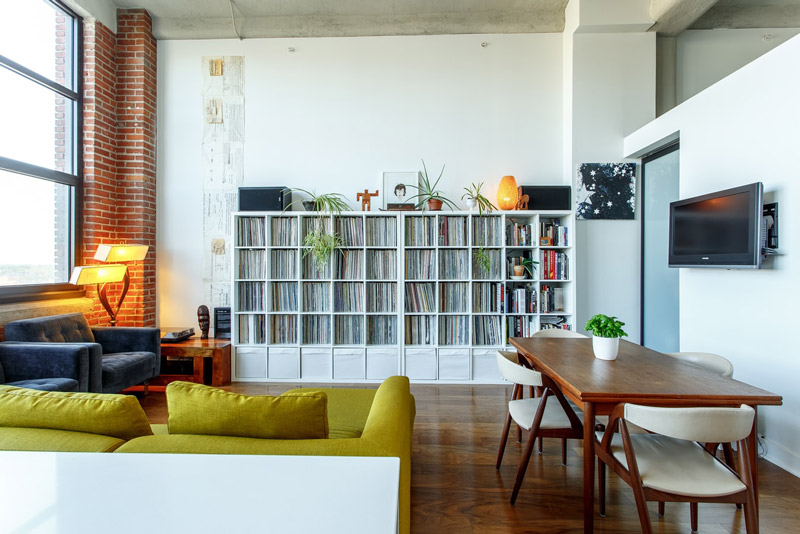 Decorate with rugs
Whether you have carpet or hardwood, don't underestimate the power of area rugs. They will visually divide the space into different zones. However, make sure to pick the right size. Too small rugs will look awkward and disproportionate while emphasizing the small room. According to the rule of thumb, the rug should cover at least the furniture's front legs.
Also, you can play with the shapes and choose an oddly shaped rug. Feel free to play with textures to add dimension to the space. Whether you like jute or faux fur rugs, add your favorite to enhance the style.
Divide the space
Whether you live in a studio or one-bedroom apartment, you know the struggle. You might not have a separate dining room or even a separate bedroom. We already mentioned one trick: using area rugs to divide the space. However, there are lots of other options to consider too. Use a bookcase or a wardrobe to separate the bedroom from the rest and create a private space. Or, let the back of the sofa make a clear border between the kitchen and dining area.
Consider acrylic furniture
Acrylic furniture looks so modern and stylish. Despite the aesthetics, keep in mind that it has advantages when it comes to decorating small apartments. The transparent material will reduce the visual clutter in the space and make your home look airy. The lack of definition and color will make the area visually larger. Make sure to avoid large and billy pieces of furniture and opt for minimalist acrylic pieces. Whether you are thinking about adding a dining table, chairs, or a coffee table, consider all of your options and blend the elements into your style.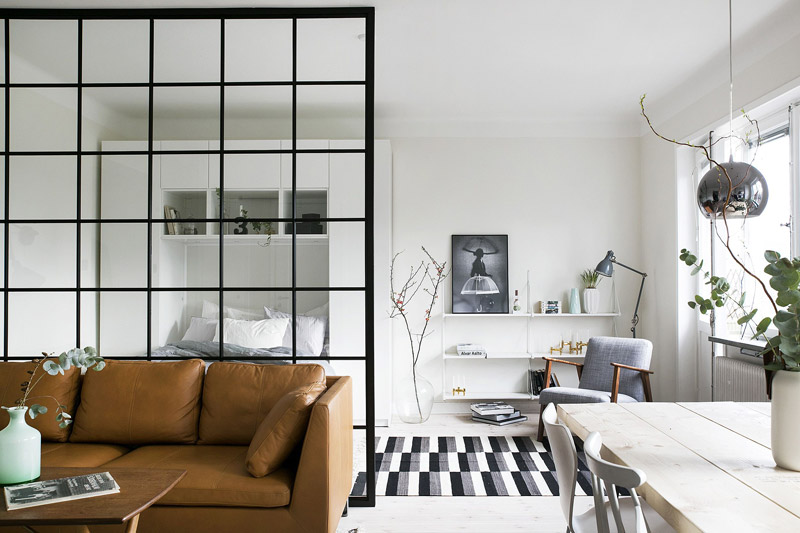 Decorate with artwork
Ust because you have a smaller home, it doesn't mean that it will be dull and empty. When you don't have enough space for decorations, you can always take advantage of the vertical space. Add fun artwork that will bring a dose of visual interest while not taking your precious space. Whether you like to hang one large piece or make a gallery wall, you have both options available. Pick the one that matches your specific style and preference.
Tip: Since storage is one of the most significant issues, use every inch of the space smartly. Get furniture that has a built-in storage option, such as a bed with a drawer.