Are you one of the many millions of people who became entranced by the recent Netflix show Bridgerton? If so, you probably swooned over not just the pretty people, steamy love scenes, glamorous gowns, and salacious storylines, but also the opulent settings.
The show showcased a twist on the Regency style and has inspired many people to say goodbye to minimalistic décor and start decorating to the max. Here are some Bridgerton-inspired decorating tips if you'd like to bring a dash or a dollop of Regency to your property in 2021.
Pretty Pastel Hues
One of the most obvious features in the design choices in the TV show was the use of pretty pastel hues. The Featherington estate was almost solely decked out in soft shades, especially the pale, powder "Wedgwood Blue" found on 18th-century jasperware pottery. The show also featured mint green, blush pink, faded olive, and lavender hues.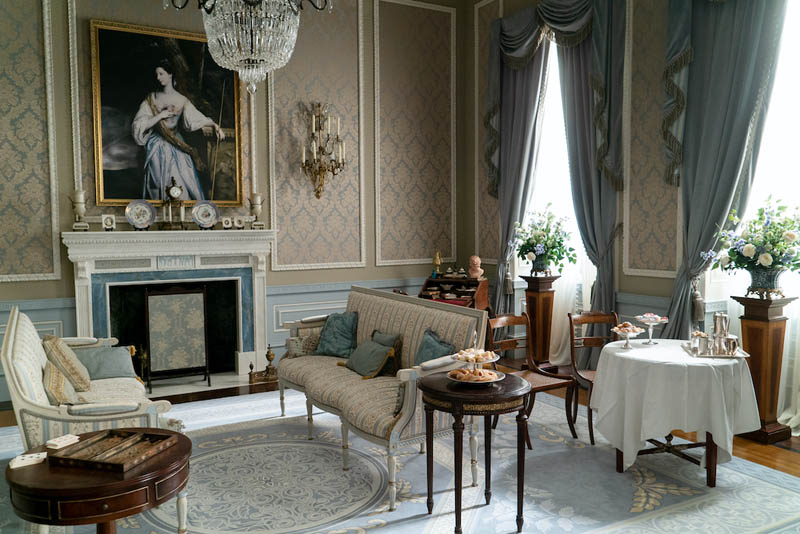 You might like to decorate your home with such pastels on the wall and in furnishings and accent choices. Plus, pair these simple yet elegant shades with cream and off-white to achieve a luxurious, airy look in your home, with depth and a timeless appeal.
Ornate Woodwork
Ornate, carved woodwork featured heavily throughout the first season of Bridgerton, too. It showed up in furniture and fixtures and other features. Bring some Regency glam to your property by adding eye-catching crown molding or a set of French doors. Choose lights made from detailed wooden forms or an elegant low-profile ceiling fan made in a wood look with carvings or other patterns.
If you want to go down the woodwork path but in something less permanent, invest in vintage fauteuil furniture pieces. These are characterized by carved wood frames. You might also source antique-framed mirrors to dress up any room.
Vintage Wallpaper
Pat attention to the walls in Bridgerton, and you'll notice lots of wallpaper usage. In particular, the production designers kitted out the sets with floral patterned wallpaper to add warmth and character. Wallpaper is a great place to bring in some fun, ornate patterns, whether you choose to update all the walls with coverings or merely a single feature accent wall here and there. Damask motifs were prominent in both the television show and the Regency period.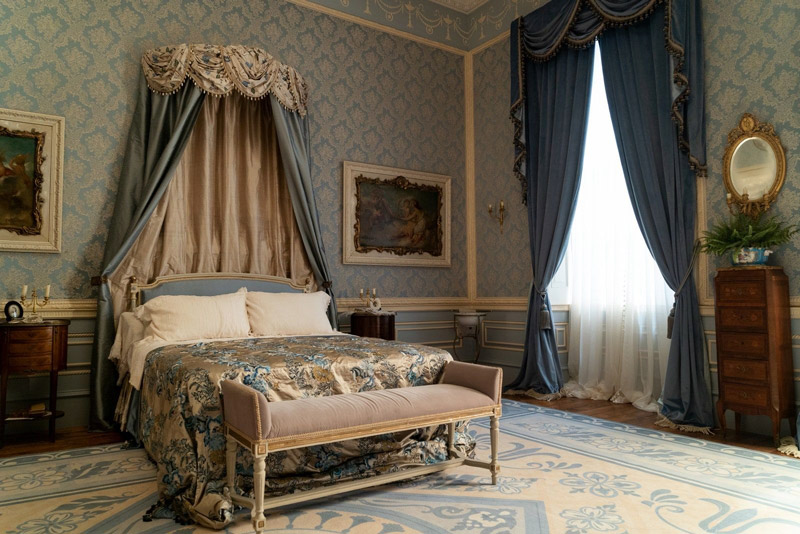 Decadent Lighting
Decadent lighting is another must if you want to make your home feel like it's worthy of a visit from the Queen. Start searching for over-the-top, elaborate, eye-catching lights that draw the eyes up and wow guests at any time of the day or night. Chandeliers, in particular, bring the glamor to whichever room you choose to place them in.
Luxurious Materials
Another tip for those who want to get a Bridgerton vibe happening is to select luxurious materials wherever possible. Rich fabrics in silk, velvet, linen, etc., are not only lovely to touch but also look and feel expensive. They convey a sense of luxury.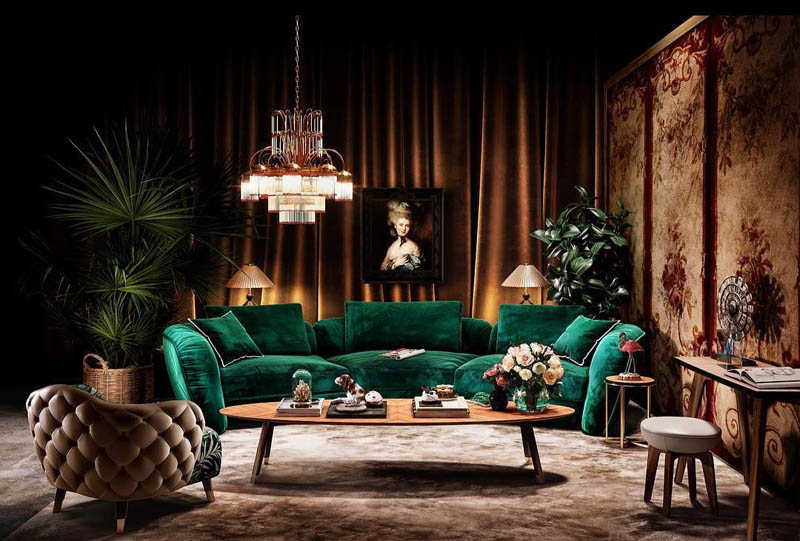 If you don't want to worry about going all out with new furniture upholstered in such materials, consider choosing them for accents such as pillows and throw rugs, along with smaller pieces like upholstered reading chairs, stools, benches, and the like. You might also choose window treatments made from soft, fancy fabrics.
Dramatic Drapes
Speaking of the coverings for your windows, a Bridgerton-inspired property isn't complete without dramatic drapes that are long and flowing. Hang lavish curtains that stretch close to the ceiling and down low, nearly brushing the floor. This design choice will make any room in your home feel grander and more formal. It pays to select thick fabrics and tie them back with tassels to complete the old-charm look.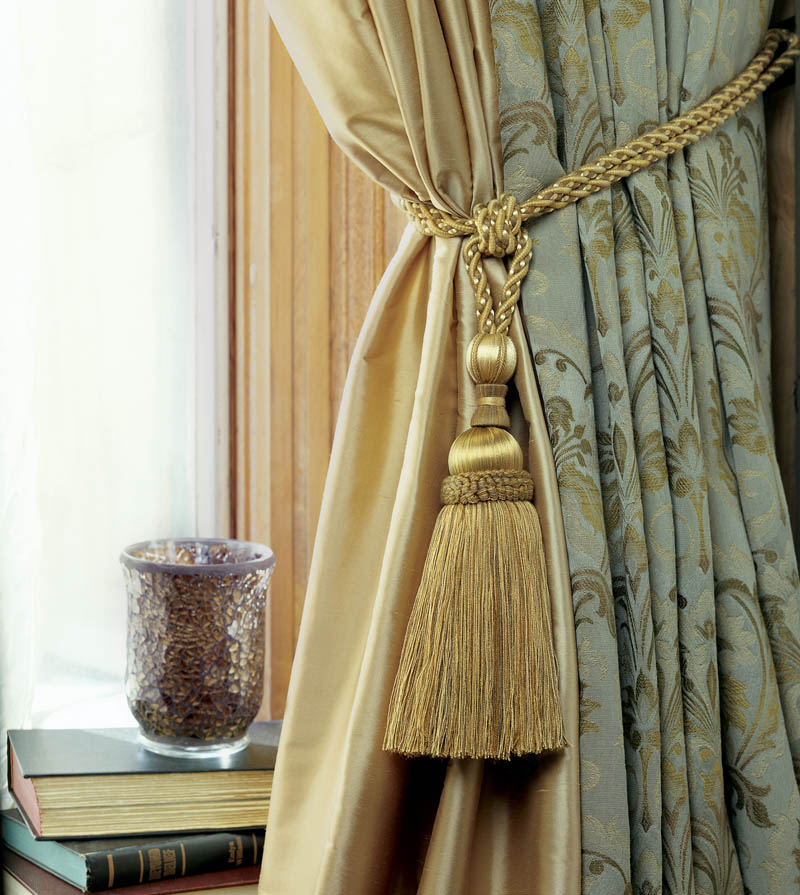 Vintage Artwork
While the homes in the popular TV series were fitted out with giant wall art, typically family oil paintings, you probably don't want to go so big. However, to get the Regency look, you can hang personally-chosen artworks or photographs in central areas of your home to add a focal point to each area.
In particular, it pays to create an art gallery-style wall in the formal dining room or living room, or hang a striking piece above a staircase, entryway, or in a hallway. You could also source a vintage still-life painting or print. Pair the art you choose with detailed, embellished frames made from gold or brass finishes.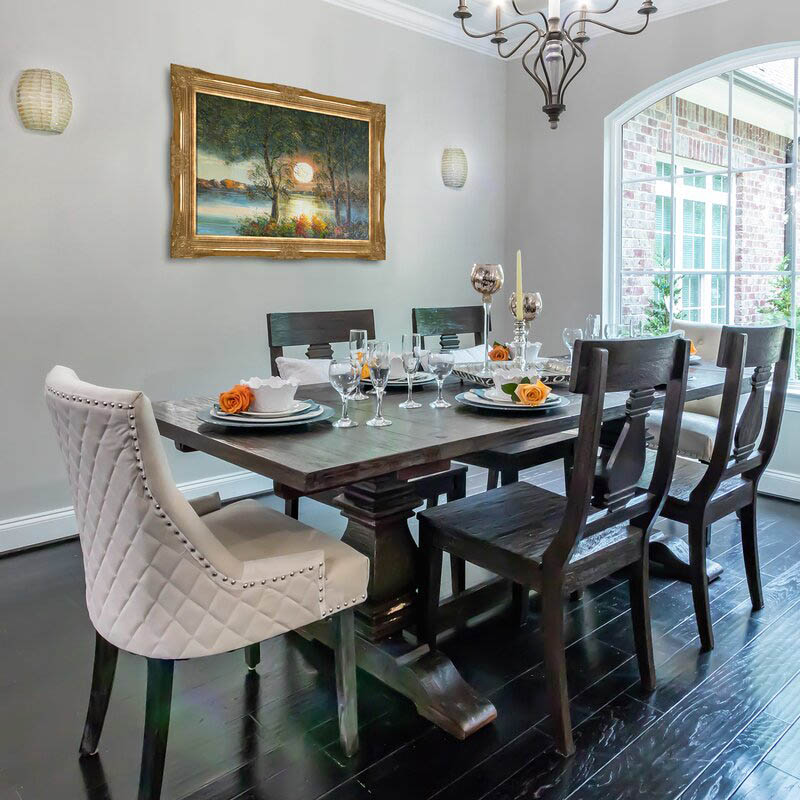 If you're after some other ways to make it feel like you're living in the Bridgerton world, add plenty of gorgeous greenery inside and outside your home, such as pink roses, wisteria, cherry blossom, lavender, and other pretty-as-a-picture plants. Furthermore, add some metallic accents (shiny door handles or candle holders, for instance), and decorate rooms with many small details. The finer touches will complete the Regency-inspired look.