Nestled in the embrace of contemporary aesthetics, this apartment, designed by Simple Forms Interiors, redefines modern living on a modest scale. A rich palette of warm neutrals, natural textures, and inviting elements blend seamlessly to create a space that exudes warmth and sophistication. Every detail is carefully orchestrated to balance functionality with aesthetics, showcasing how ingenious design can transform tight spaces into havens of relaxation.
The living area comes to life with earthy accents of beige and terracotta, adding a touch of nature to the compact open-plan space. Crisp white walls provide a refreshing contrast, while strategic black accents infuse a touch of edgy modernity. The living and dining area combo is thoughtfully designed for storage, ensuring a clutter-free environment. An elegant lighting track defines the kitchen area, creating a clear boundary while maintaining an open feel.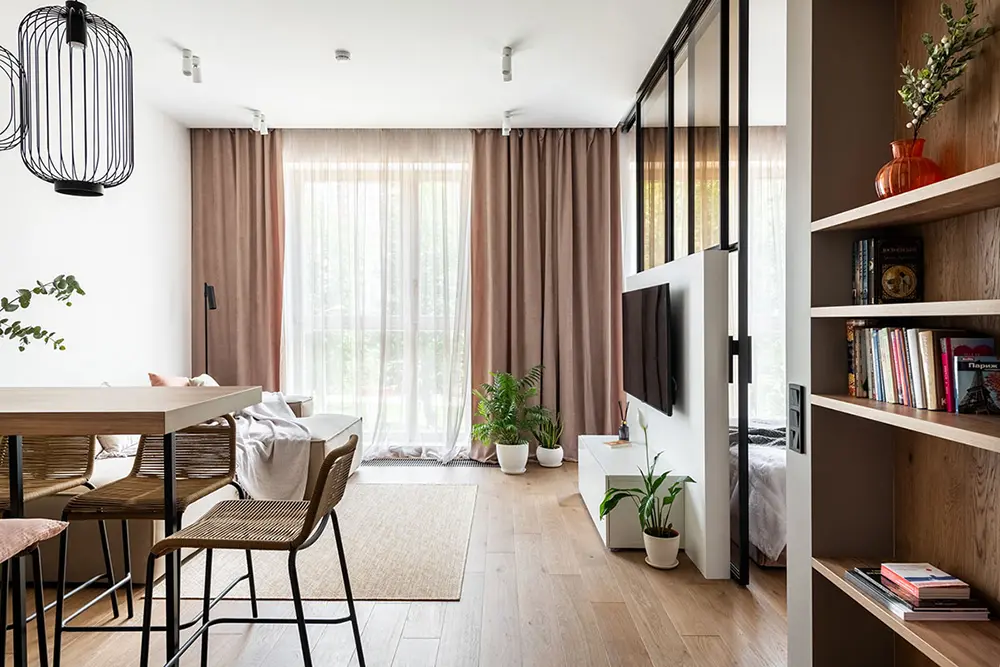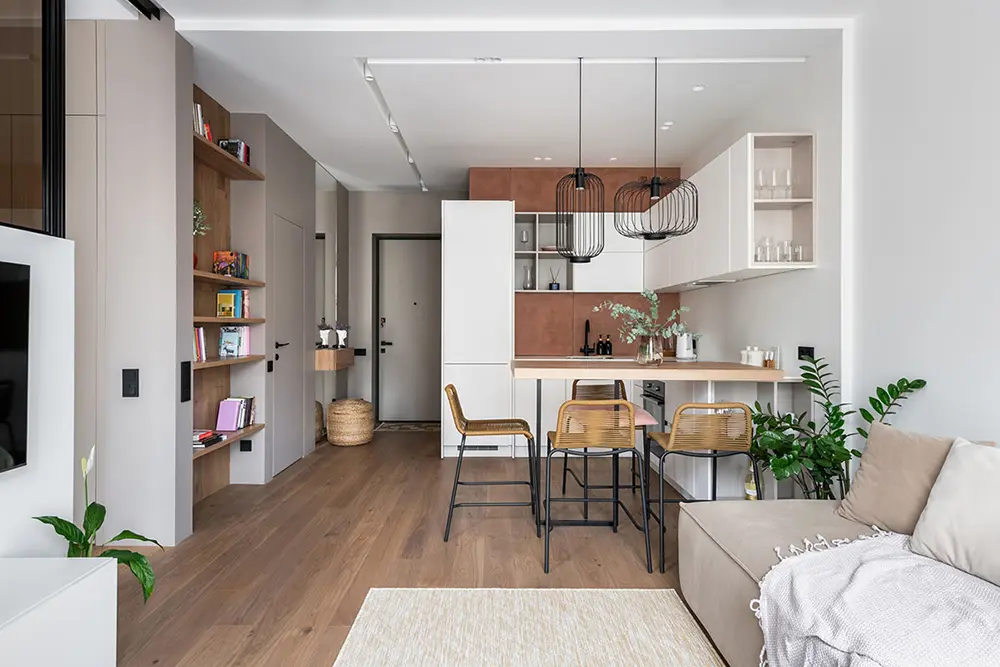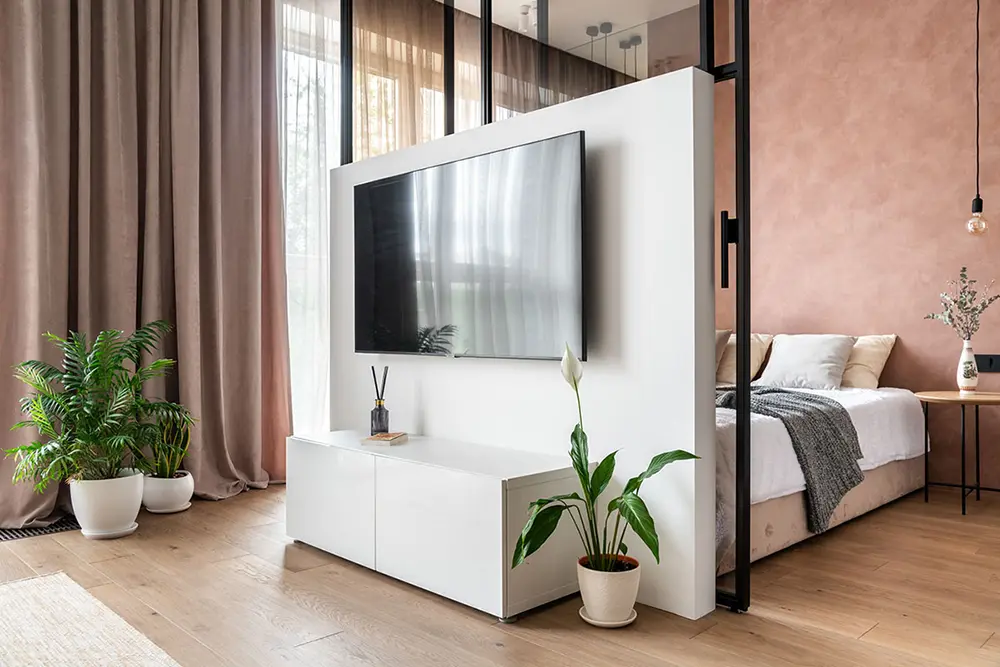 The L-shaped kitchen, adorned in minimalist white, ends with a wooden dining peninsula and a convenient open shelving unit. Rattan bar stools introduce a laid-back boho vibe to the modern kitchen. Black wireframe pendant lights elegantly illuminate the dining area, complementing the kitchen's sleek design. Track lighting and recessed spotlights provide functional brightness throughout the space.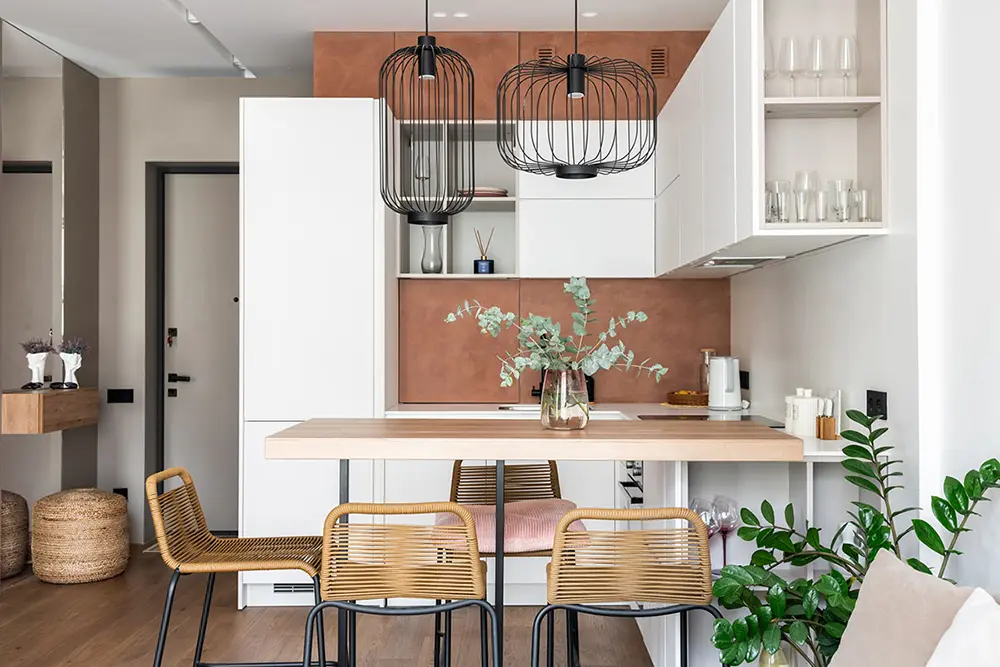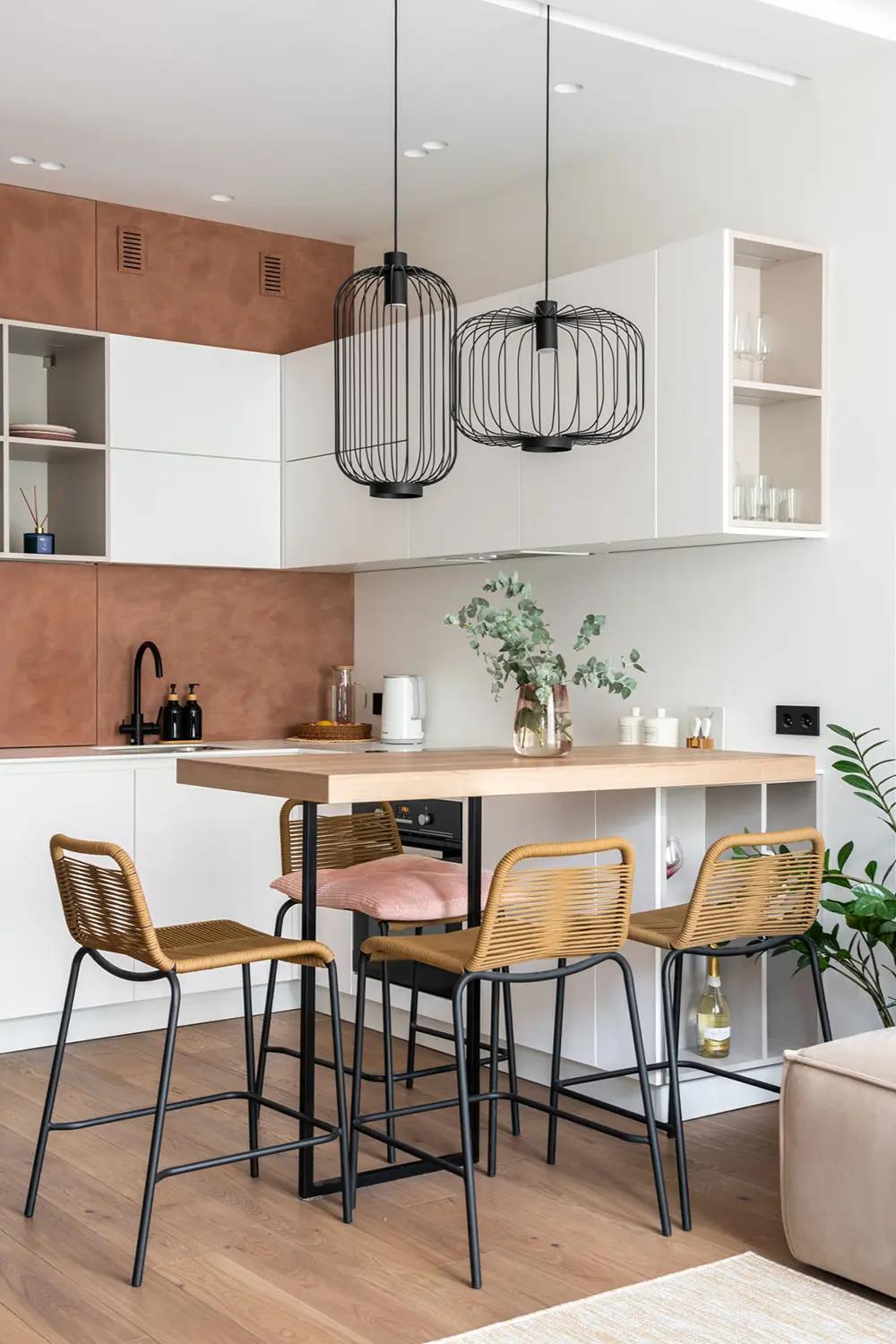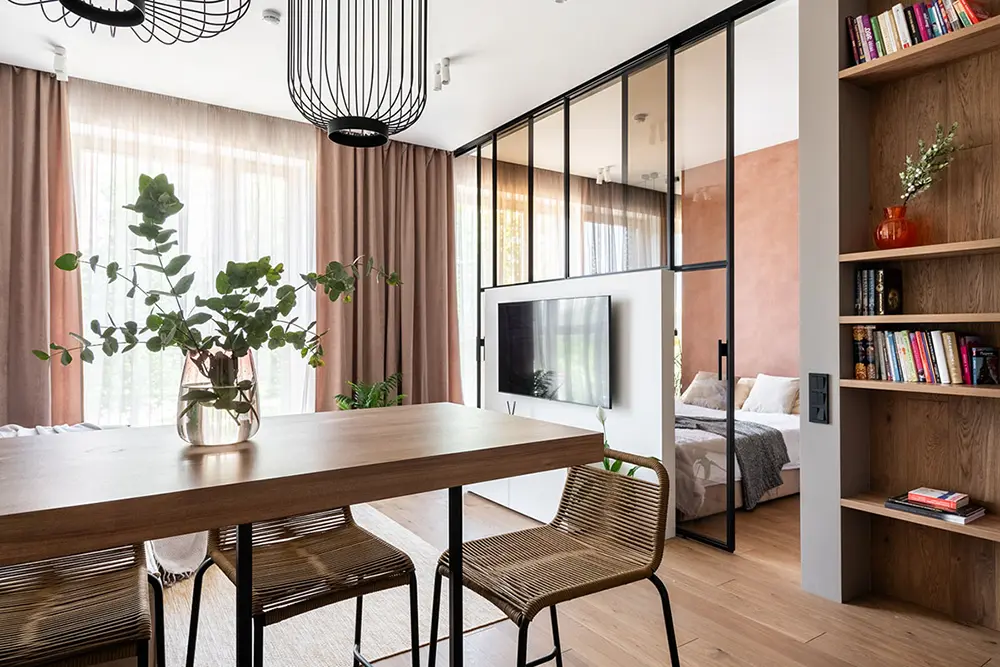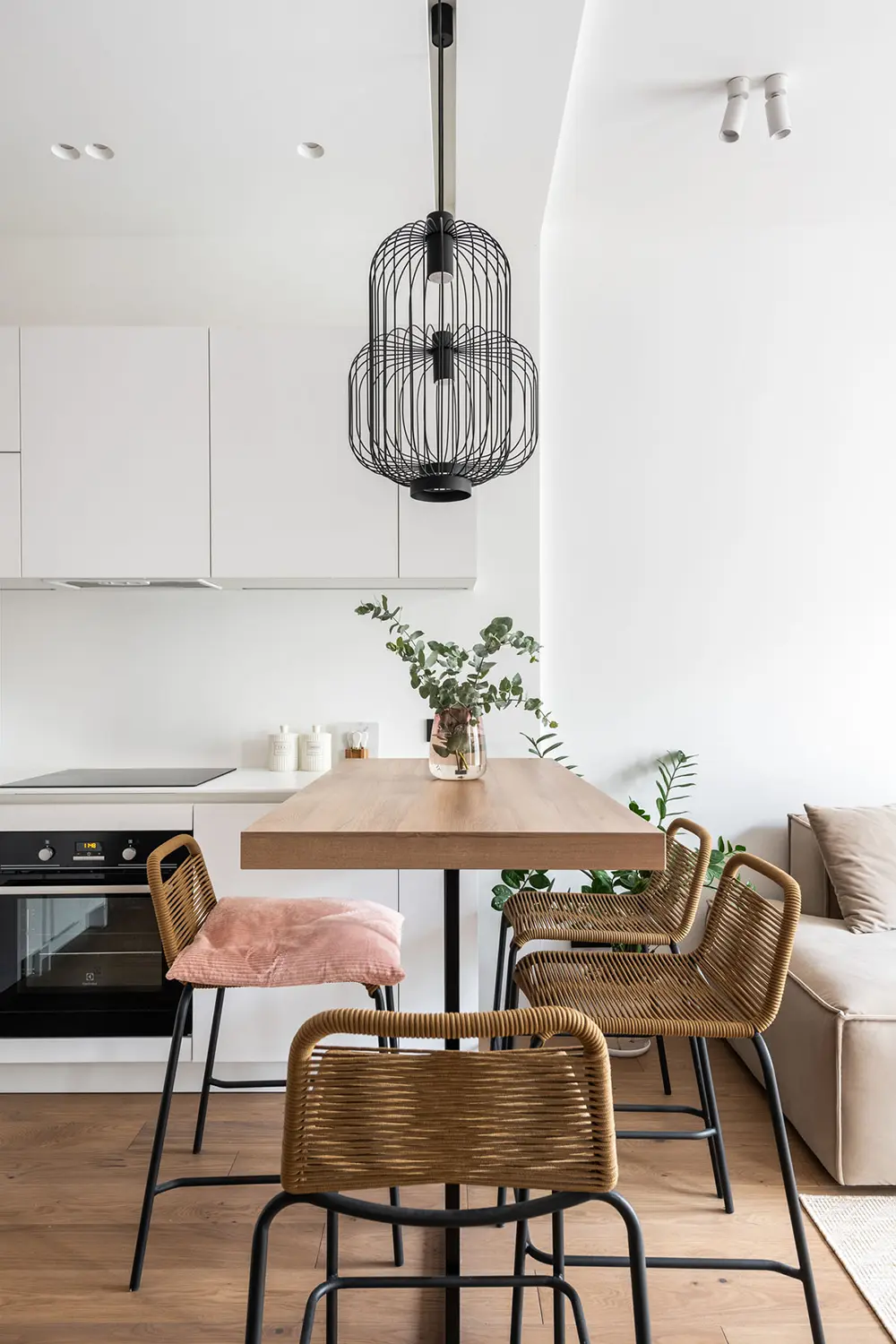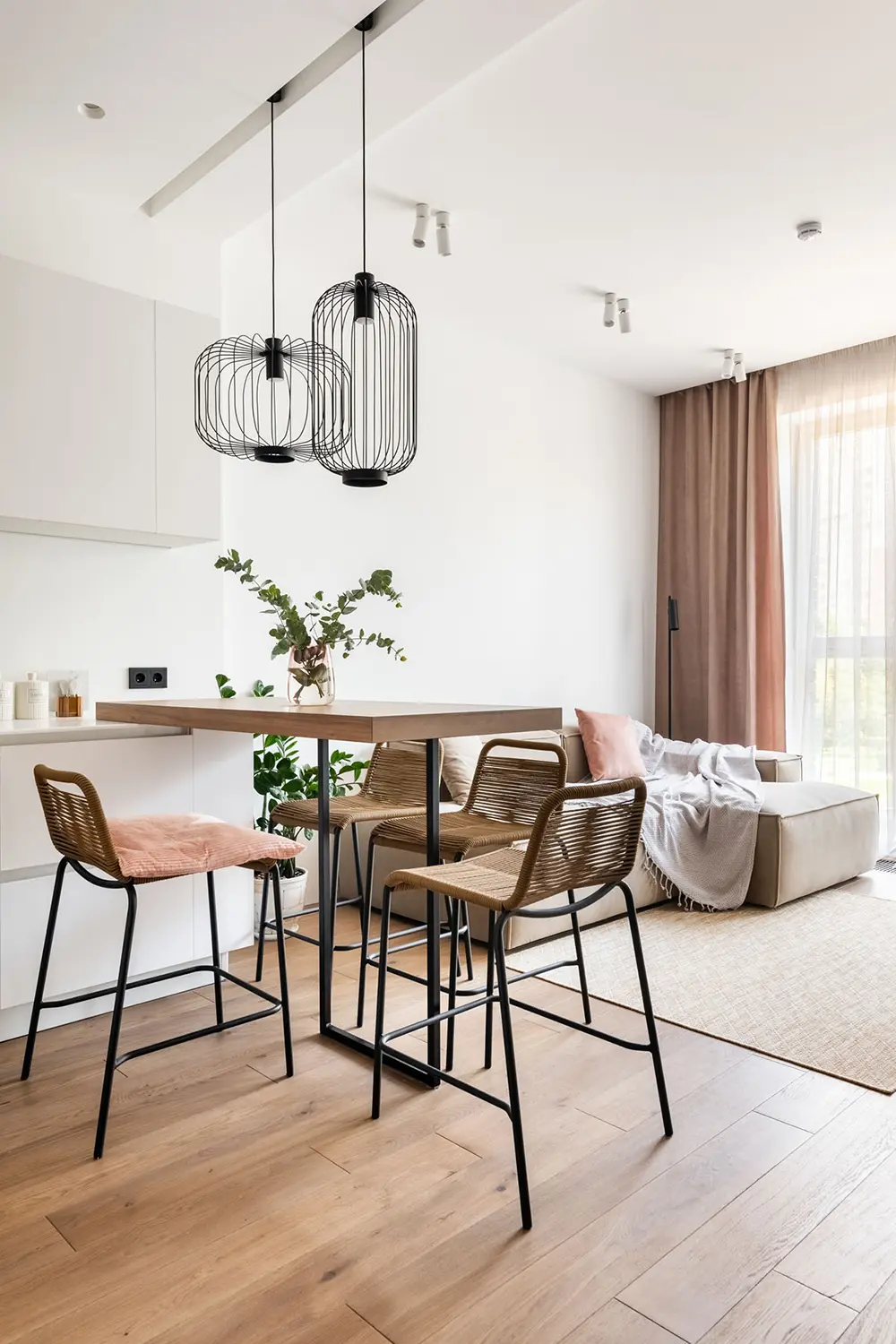 The open entryway boasts a floor-to-ceiling mirror, complete with a floating entryway shelf, offering both practicality and style. A rattan stool adds a touch of convenience to create a functional vanity area.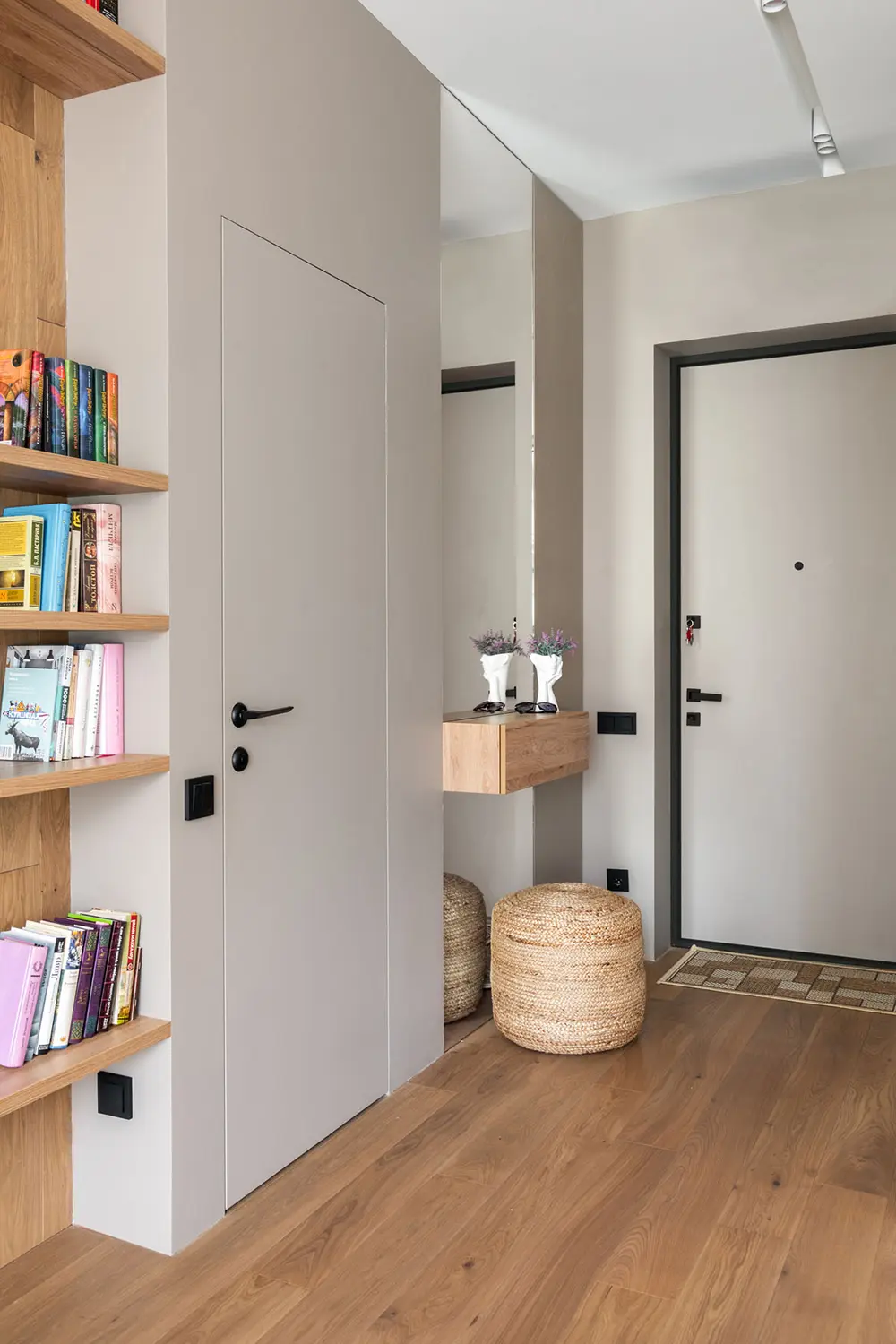 Ingenious design elements ensure that natural light flows seamlessly through the glass wall that divides the TV area and the bedroom. This strategic placement allows for abundant sunlight throughout the day, nourishing indoor plants that introduce a refreshing touch of green. Sliding doors on either side of the bed provide access and flexibility. A full-height mirror amplifies the natural light, while black bedroom pendant lights stylishly illuminate an indoor plant. Gray wardrobes seamlessly blend with the gray living room accent wall, creating a cohesive color scheme.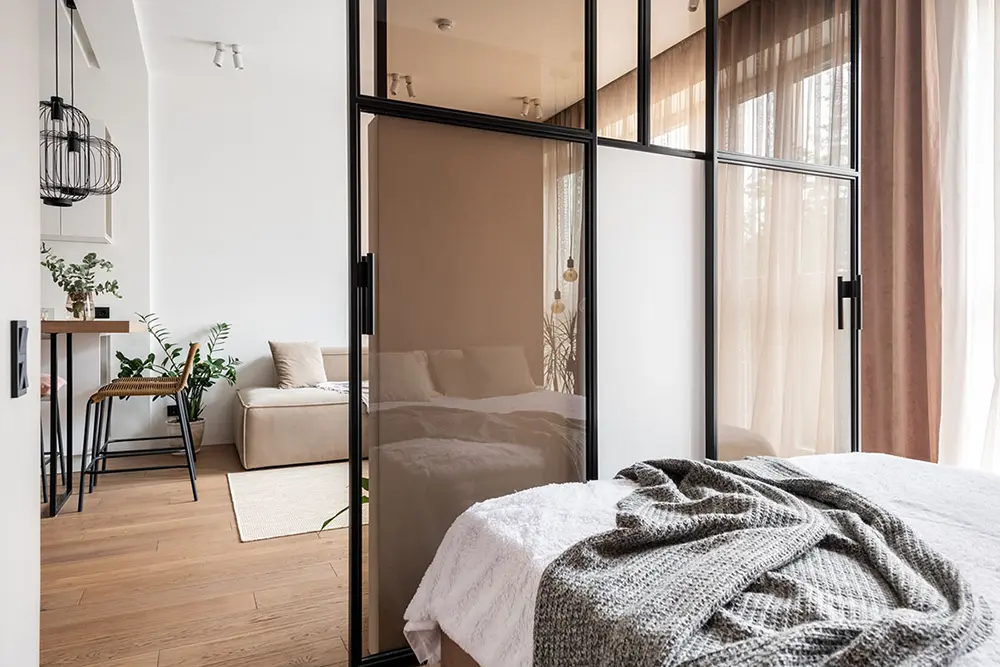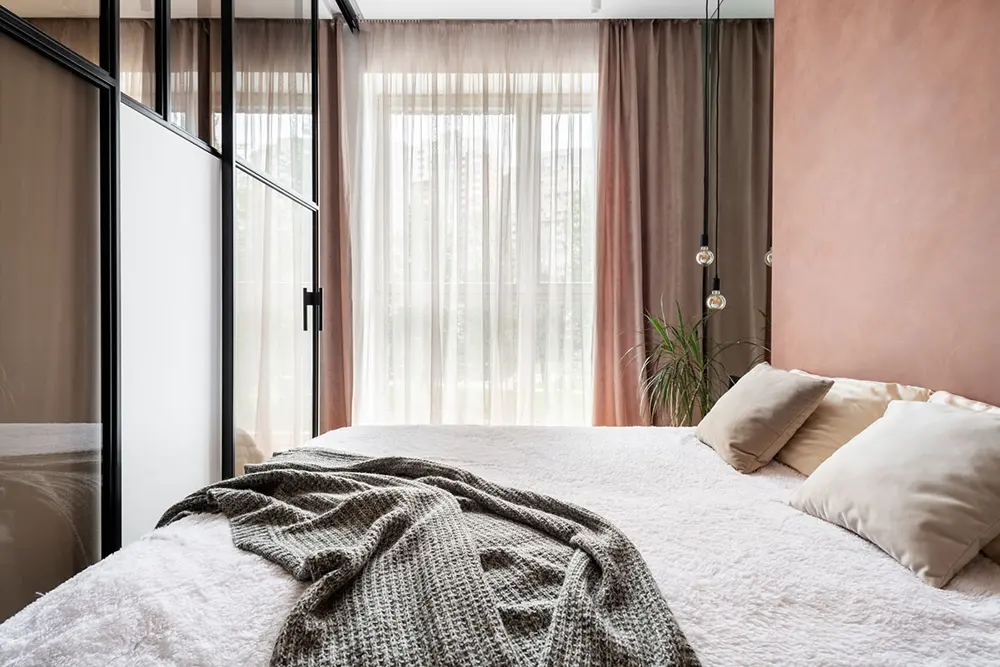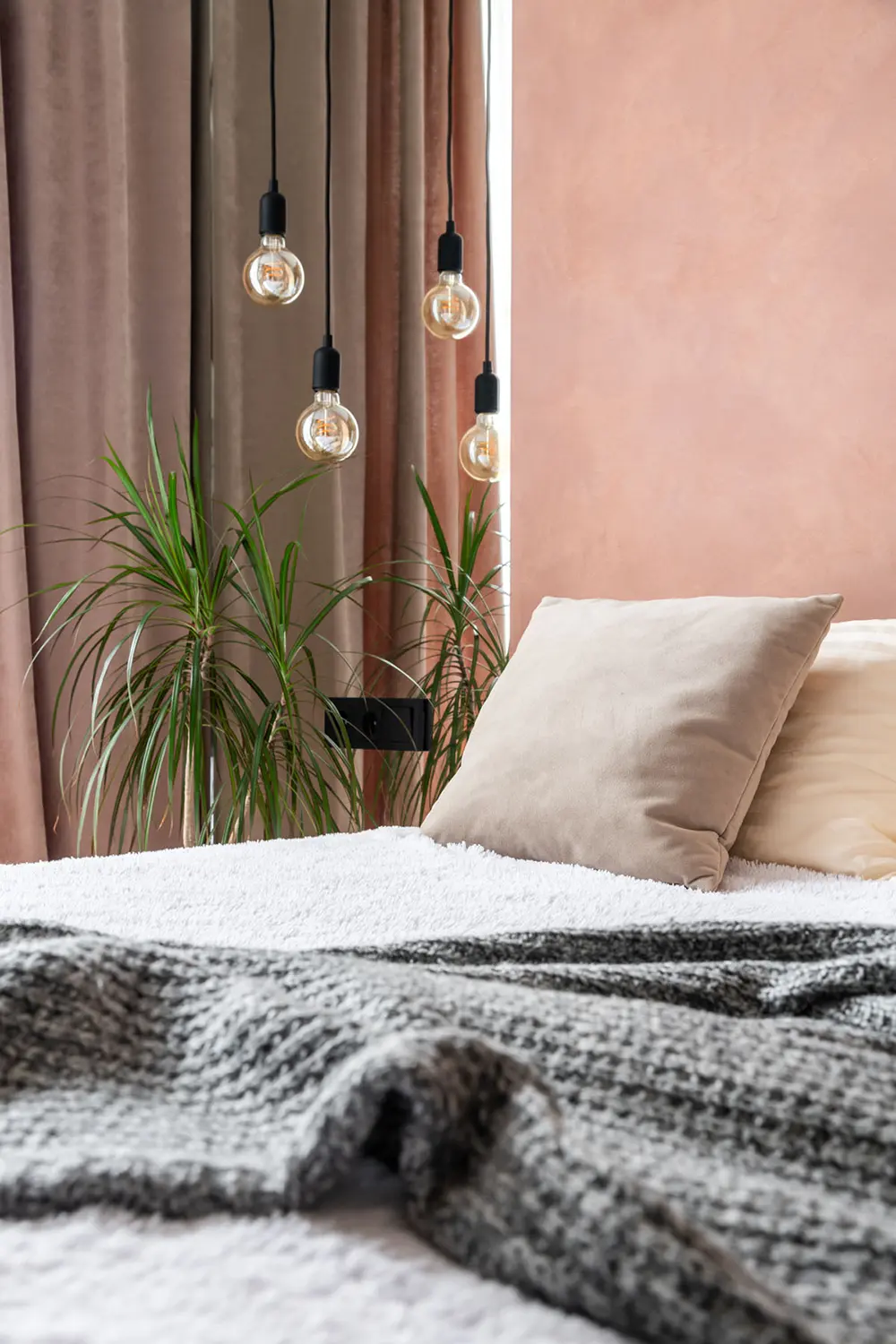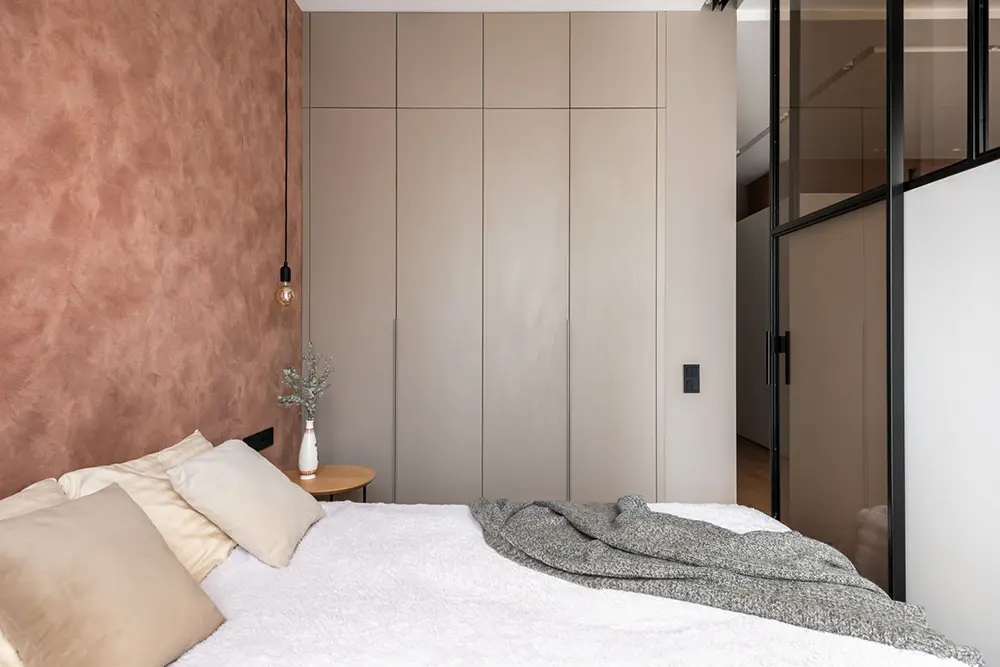 The bathroom creates a soothing atmosphere with mood lighting and backlit built-in shelves. An illuminated bathroom mirror complements a wood grain backsplash wall and a contemporary sink. The modern vanity unit echoes the clean white aesthetics of the living room and kitchen cabinetry, bringing a cohesive design approach to the entire home.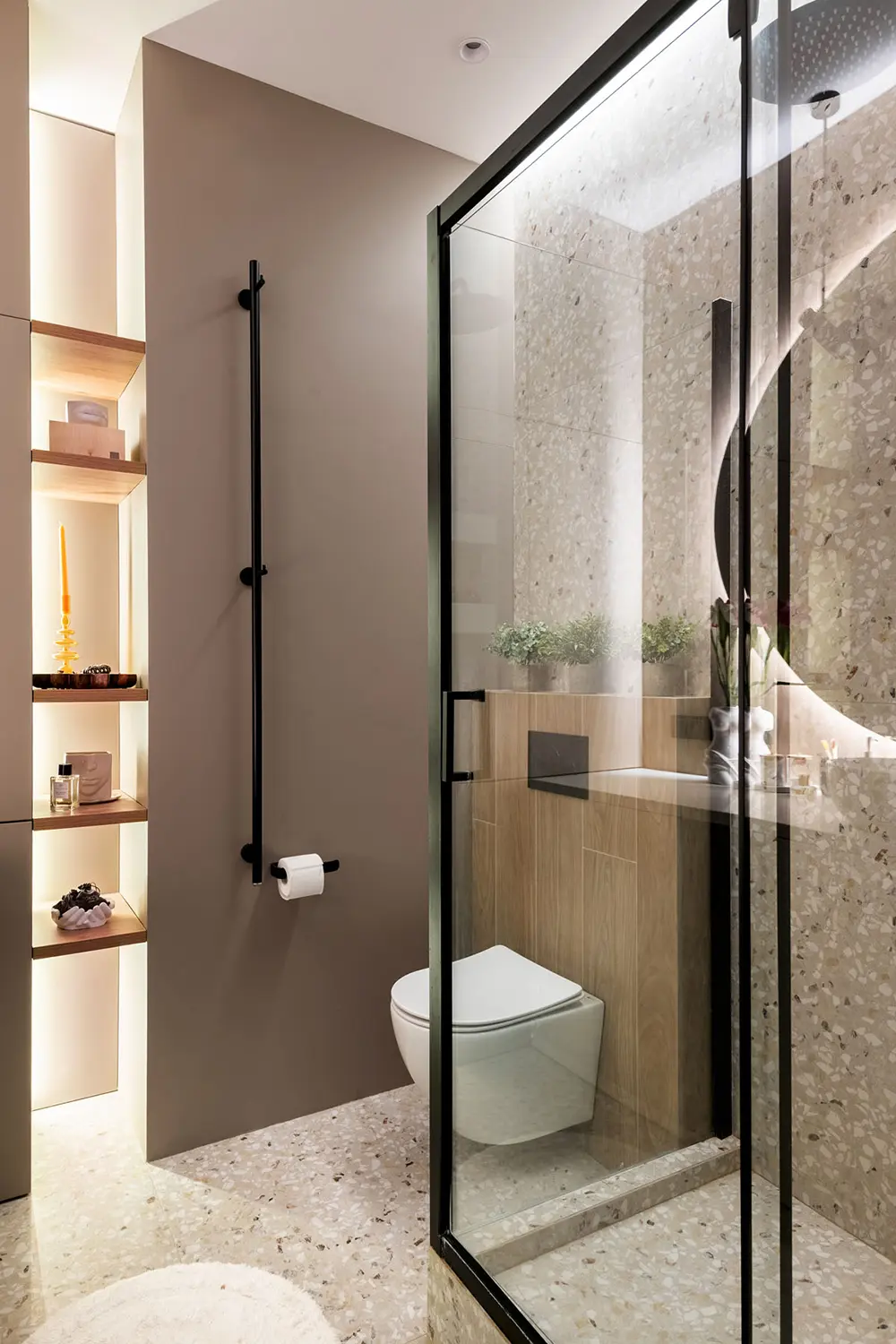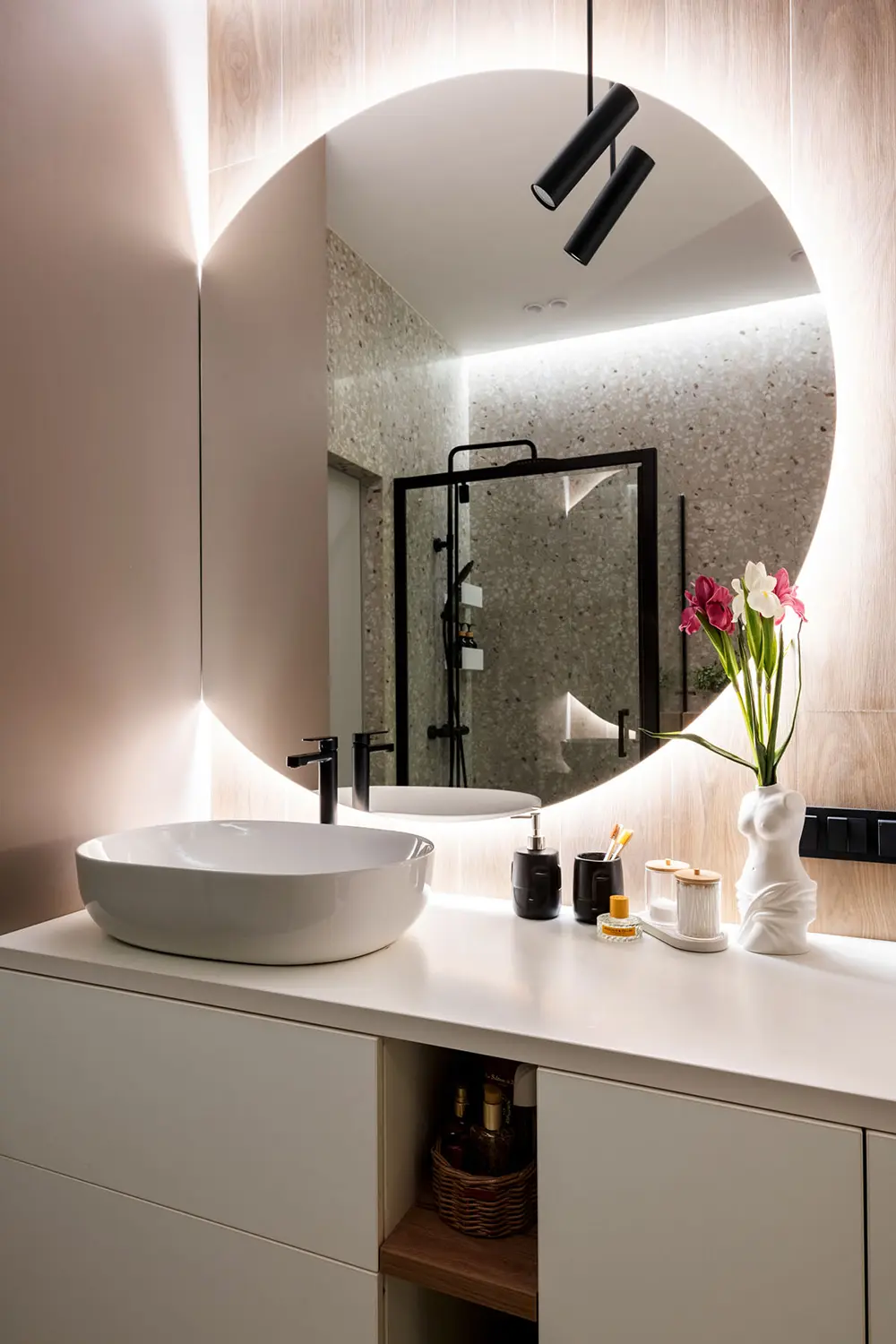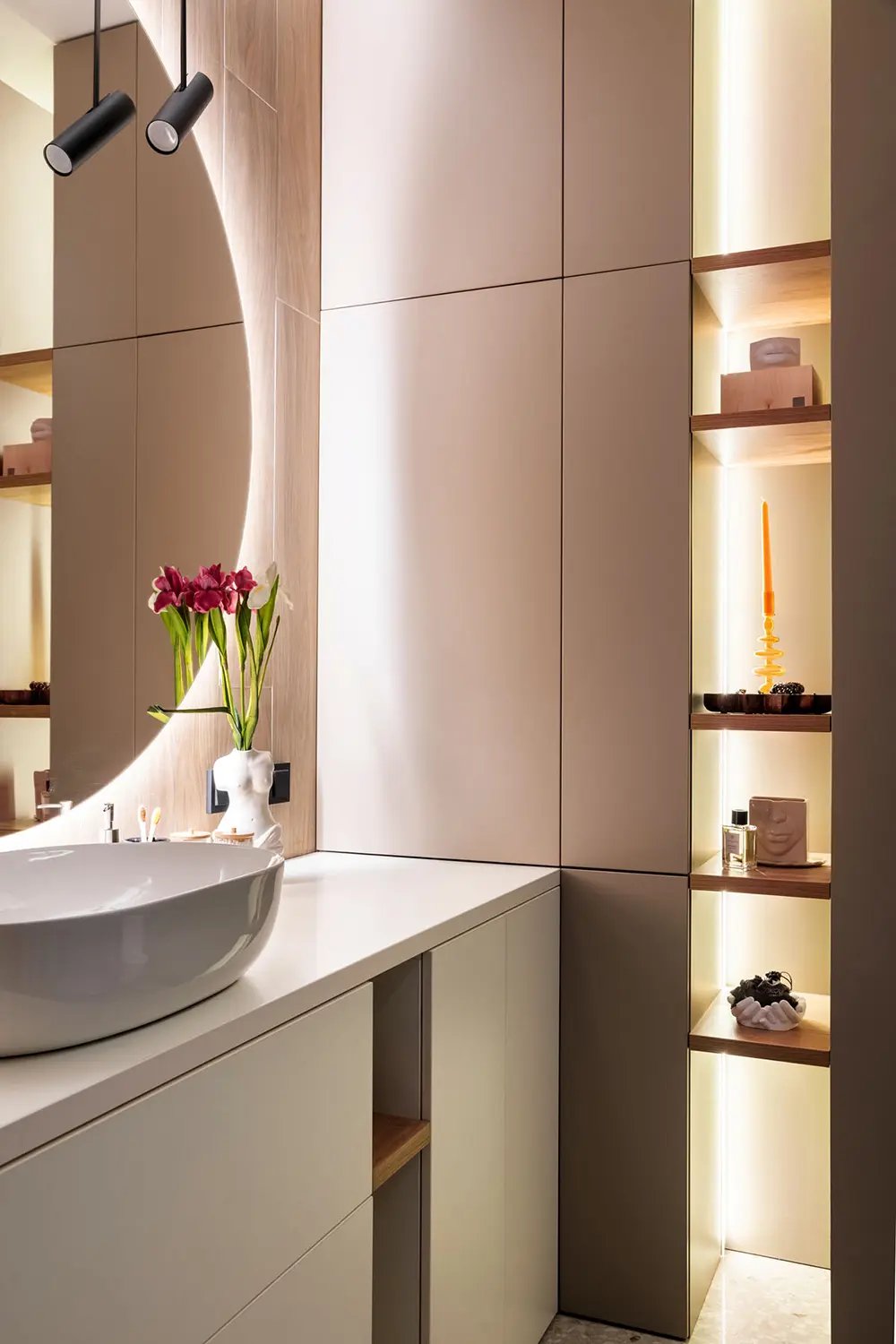 In this compact and contemporary space, simplicity and functionality harmonize with aesthetics, creating a haven of modern comfort and style.