Guitars never get old, they just get more creative and stranger. In this post, we will feature 17 Creative and Unusual Guitar Designs collected from the world.
From spider shape guitar to lego built guitar, from dragon guitar to gun-shaped guitar, maybe not all those guitar sounds great. But they are definitely look great! What do you think of them?
We are a participant in the Amazon Services LLC Associates Program, an affiliate advertising program designed to provide a means for us to earn fees by linking to Amazon.com and affiliated sites.
1. Real Lego Guitar [link]
This black Lego Guitar is a functioning instrument with the entire case made out of our favorite childhood toy. Jam out with your friends, and if a piece of the guitar falls off, just snap it back together. Including pick-ups, bridge, and all of the functioning parts, all this baby needs is some strings. And judging from the comments on the source page, Viagra users just love it.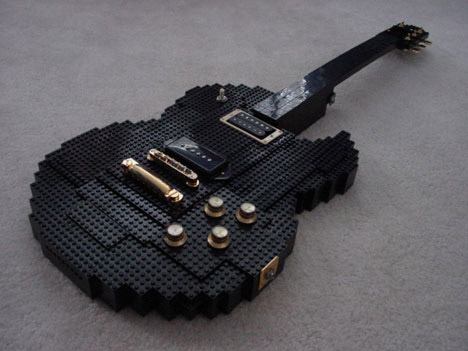 2. Leaf Guitar [link]
22 fret Hard maple neck, rosewood finger board, medium fret wire, sealed large tuners and oiled neck for that worn in feel.
* Fixed Bridge easy to intonate and restring
* 1 Green Guitar Heads Hexbucker humbucker pickup
* 1 volume control
* Basswood Body
* DR Evergreen handmade strings .09 gauge
* Custom engraved neck plate, serial numbered
* Custom detailed high gloss finish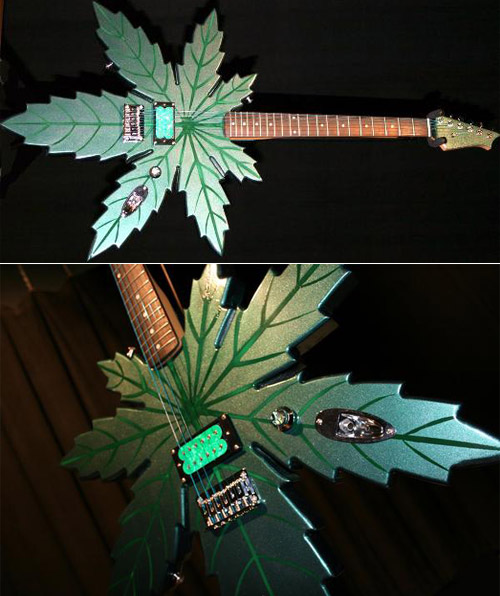 3. AK-47 Guitar [link]
Former UN Secretary-General Kofi Annan shows an AK-47 assault rifle that has been transformed into an electric guitar.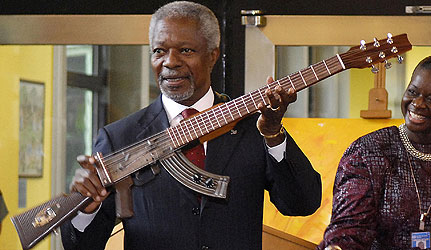 4. Big Foot Guitar [link]
Famous guitar maker George Marlin has created this magnificent Big Foot guitar which he displayed at the Miami Beach Guitar Festival. The sasquatch sound box is actually just the foot of Bigfoot- an earlier attempt at a full size Bigfoot guitar found that it too difficult to hold a 10 foot tall guitar and it was scaring off the neighborhood kids as well. No idea how it sounds, but in rock n' roll image is half of everything and this thing looks really freakin' cool.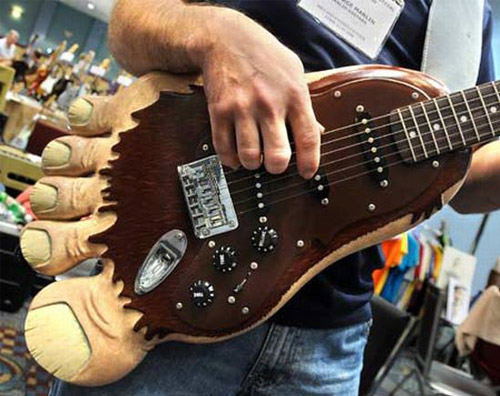 5. Transparent Guitar [link]
Wholesale -2010 New Transparent Ibanez jem 7V Electric Guitar BY Plexiglass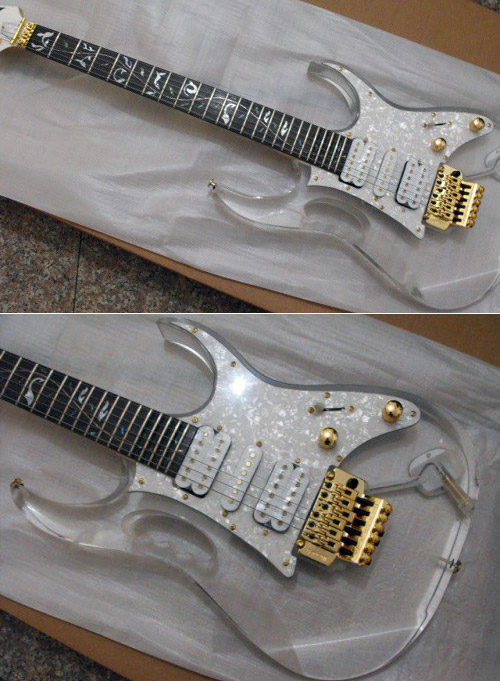 6. Normandy ATGWB-CH Archtop Guitar with Bigsby [buy on amazon]
* Triple-electroplated chrome
* Aluminum Body constructed of aircraft-grade material
* Hard Rock Maple neck with Rosewood Fretboard
* Bigsby Vibrato Tail Piece
* Gotoh Tuners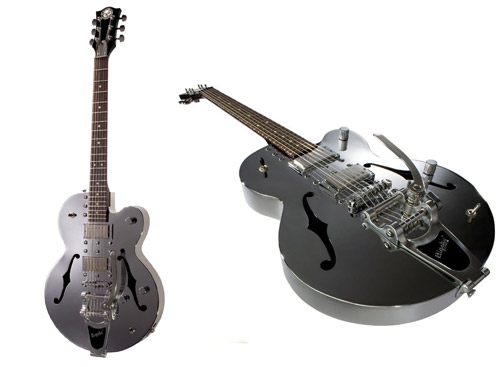 7. Ultimate Steampunk Guitar [link]
Thunder Eagle guitars made a fun looking guitar from copper pipes and gears. With pipes and guages and beautiful gears – amazingly she sounds as good as she looks! The creator modified a Rhodes Jackson V, copper plating some pickups, re-facing the guage, and adding some wonderful paint effects.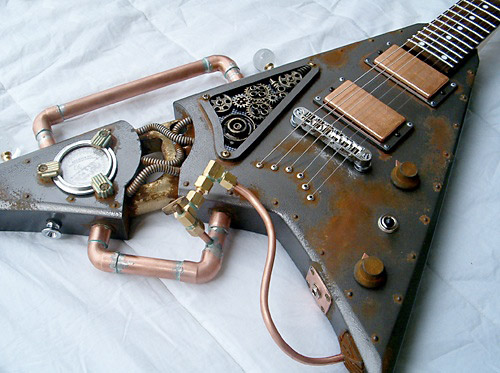 8. ESP LTD ALEXI-600 Electric Guitar [buy on amazon]
ESP/LTD ALEXI 600 SCYTHE SIGNATURE MODEL GUITAR: Features the Children of Bodom's Alexi Laiho Signature Model with a Neck-Thru Body Construction, a Maple Neck and an Alder Body. Children of Bodom's Alexi Laiho, ranked as one of the world's best guitarists, has four new Signature Series models introduced at NAMM 2009 from ESP and LTD. The ESP Alexi-Scythe, LTD Alexi-600-Blacky, and LTD Alexi-600-Scythe will be available from ESP's network of dealers and international distributors. Since 2003, Laiho has worked with ESP on all of his signature model guitars. The ESP Alexi-600-Scythe features a neck-thru-body design at 25.5″ scale, with a light alder body and maple neck with a 24 fret ebony fingerboard. The hardware on the model includes Grover tuners, a Floyd Rose 1000 Series Bridge, and a single EMG HZ F-H2 pickup.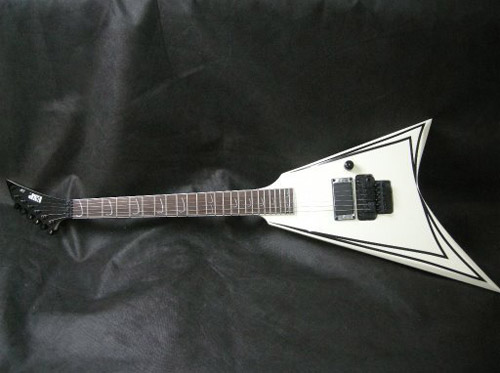 9. Custom-Set Neck Electric Guitar [buy on amazon]
et the "Led" out in your music with the guitar made famous by Jimmy Page. The Epiphone G-1275 is a stage-dominating two-headed monster that combines a 12-string solid body and a classic 6-string SG in accurate detail. Get high-fret access on both set Mahogany necks on the carved SG Mahogany body and Cherry-finished Flame-Maple top. Both necks feature Rosewood fingerboards with split-parallelogram inlays and a whole lot of heavenly tone with high-output Alnico Classic Plus Humbuckers that are covered on the 12-string side and open coil on the six. Chrome hardware and vintage Kluson tuners complete the look.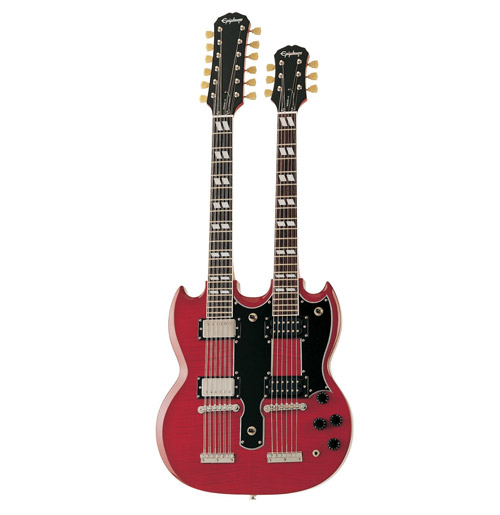 10. Spiral Electric Guitar [link]
Designed by Steven Almond and entitled the Spiral Electric Guitar, would immediately center the attention of any audience. Though it may look like more of a gaming peripheral, the guitar is better-suited for football stadiums and basketball arenas than living rooms. It looks slightly uncomfortable to hold and play, but the visual impact can't be debated.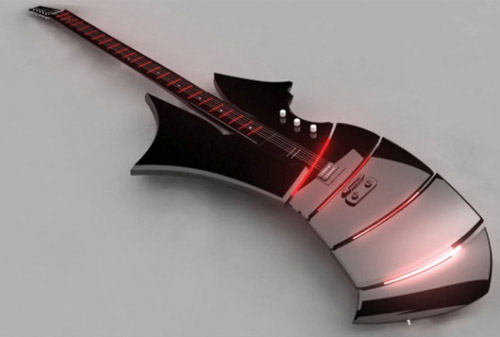 11. Sprinkler guitar
The Sprinkler Guitar was created in the early 90's by modifying an old electric with miscellaneous metal objects (including a lawn sprinkler) and a focus on visual design rather than functional qualities. In addition, I made a bass and another guitar in a similar style to give the "band" a unified metal/techno look.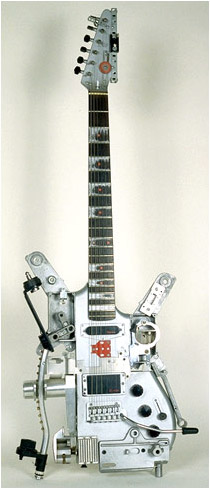 12. Emerald's new Dragon – Bahamut
The body is a Chinese dragon that is twisted into the shape of a treble cleff and to top it all off we added another little dragon on the headstock. Of course there always has to be a little something extra and in this case it is the red lasers in the eyes.

13. Sculpture Guitar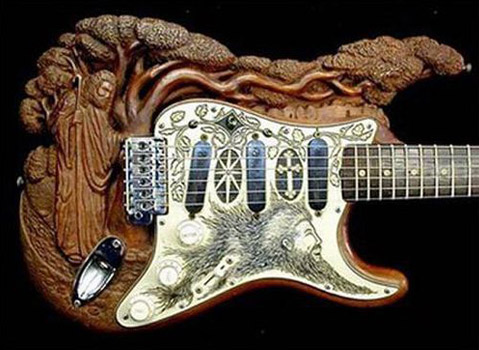 14. Spider Guitar [link]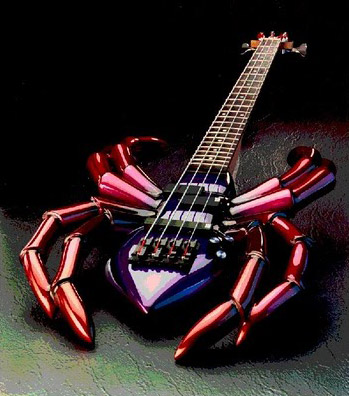 15. Ikon Arachnoid 1 [link]
The body of the Arachnoid 1 is constructed of a poplar wood core for strength and tone and a proprietary resin compound that allows the builders to sculpt and shape finished bodies into new and innovative designs. The resin compound took many prototypes and years to finalize before committing to final production. In addition to the proprietary compounds, Ikon Customs also builds bodies using other materials such as fiberglass, carbon fiber and Kevlar.


16. Stow-Away Travel Guitar [link]
The standard Stow-AwayTM model features traditional styling with a double cut-away, solid alder wood body, three single coil pickups mounted in a 3-ply white pickguard, a headless 25 & 1/2″ scale maple neck with rosewood fingerboard, 22 medium frets, and a linear tuning system. Standard colors include: black, red, dark blue metallic, and two color sunburst, all with gloss polyester finish.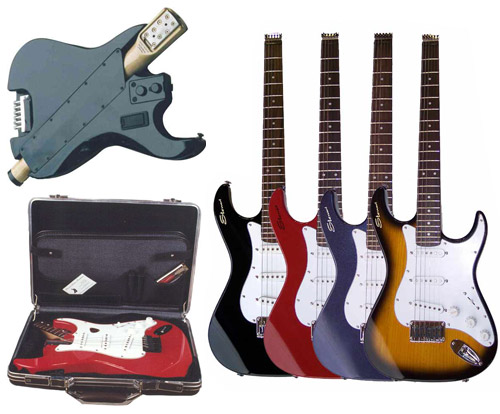 17. ESP Shinigami [link]
Once upon a time, a world renowned visuals crew known as ESP sold their name to a little known guitar company caled ESP. Since then, they have admired each other's work in the custom merchandise field. Today is the day that I will big up their most recent custom; the ESP Shinigami guitar. (Shinigami in Japanese, means Demon) This scary hellspawn retails for above $20,000!! Face-melting riffs a plenty with this psycho looking guitar; a Death-Metal wet dream.