To create a dining room, of any style, is a crucial decision for the house. The dining room is perhaps the most important meeting point, and certainly, it will be the place for many memorable moments, and for meaningful chats with your beloved ones. If your dining room reflects your interests, and you actually enjoy it, you'll want to be there, having dinner or just chatting with your family.
In the words of Charles Eames, one of the founders of the Mid Century Modern Design, "Design is a plan for arranging elements in such a way as best to accomplish a particular purpose". So, the dining room must be a comfortable place to have a good dinner, and to chat with our family and guests; but what are these elements to be arranged?
First of all, you've got to be clear about where you stand. How do you feel about interior design? Which style you like? Classic? Modern? Luxury or do you just want to mix a little bit of all? It's highly recommendable to gather some images of the kind of space or spaces you dig in. Discover your inner designer, and have some fun in the process.
Second: Measures. It's important to have proper furniture in the dining room, but it's equally important for you and your family to walk easily through this space. Measuring the dimensions of the room allows you to get the most of it. Keep in mind that the room is going to be full of people and that there will be several focal points surrounding you: a Tulip Table in the middle, maybe a big chandelier hanging from the ceiling, a portrait or two hanging on the wall, a fireplace…
Now that we have a better idea of what we are fond of, let's take a look at the key elements we always need to observe, when it comes to a dining room, taking advice from experts from Interior Charm and Elle Decor.
Light. A big part of the action in a dining room takes place in the evenings, obviously. So the right combination of artificial and natural lighting is essential. Whether they are a big, majestic chandelier or an ultramodern set of halogen lamps, artificial lighting is the second most important focal point of the dining set. Of course, the natural sources of light are key too, and their optimal use is encouraged. Use it wisely in windows and/or skylights, and they will do wonders in your design.
Color. There are some classic movements in a color that we must always know. Balance is the right word. Strong, bold choices must be handled with care. In general, no color should overwhelm the dining room, and the colorful notes should be located in some pieces, like a pair of chairs, or a sidewall. It must not be excessive. The color is the element that relates better to the dining room with the rest of the house.
Furniture and focal points. And of course, the furniture. Which elements do you want in a dining room? A gorgeous, beautiful table, of course, a lamp, a mirror, or one or two portraits. It's time to play and have some fun. Furnish your dining room thinking of the human element as the principal element, but then surround it with a beautiful, tasteful landscape.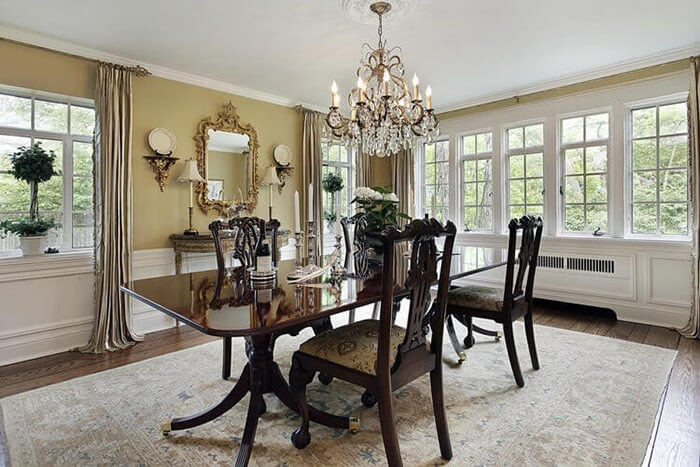 Source: Interior Charm
In the classic, elegant dining room we find the standard elements associated with comfort, beauty, and style. Dark wood table and chairs, majestic chandelier, a dramatic mirror and the golden tone as the preferred color. Some plants, collection plates, and side lamps bring the perfect detail to an enchanted and illuminated space.
Source: Interior Charm
Keep in it formal and elegant, but in a more relaxed way, this beautiful set shows how lighting and color are again the key effects to bring us pleasure and joy in our space. Notice how the chairs are used to balance the color effect, while they connect with the rest of the house.
Let's go Modern. Mid Century Modern Style is definitely a trend to watch carefully if we want a gorgeous dining room. The simplicity and natural elegance in its shapes and forms are a trademark easily recognizable and appreciated for the hard enthusiasts of interior design. While it requires some audacity to go modern, and get away a while from the traditional choices, it can be highly rewarding in terms of quality, comfort, and beauty.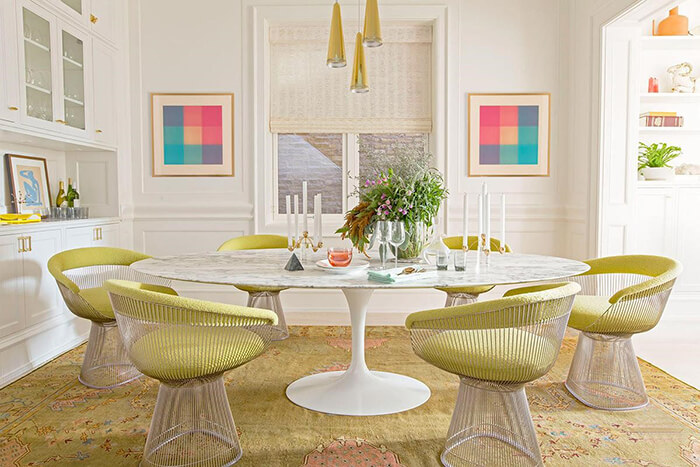 Source: Home Designing
As we can see, this is a clear, elegant and modern room. The Saarinen Tulip Table is the center of the action, with its slender, iconic shape. Its clean-cut marble top is in tune with the season revival of this stone. A couple of candlesticks, several pieces of modern art hanging on the walls and a halogen set of lamps, bring some formality to the whole set, without being too rigid. In the end, its beauty and freshness invite us to sit and chat, even after dinner. In this case, the preeminence of white colors is balanced exquisitely with gold brushstrokes, from the chairs and lamps.
Modern inspiration. Let's take a look at how powerful and majestic a modern style dining room can be. Dominated by silver-grey colors without being boring, and with some sense of theatricality, this pedestal, cement finished table with its crystal top, is definitely a magnetic spot. The spectacular lighting set and the modern art on the walls take us without a doubt to a very cool place, where the color vibes will be present in the guests, the food and the interesting chats.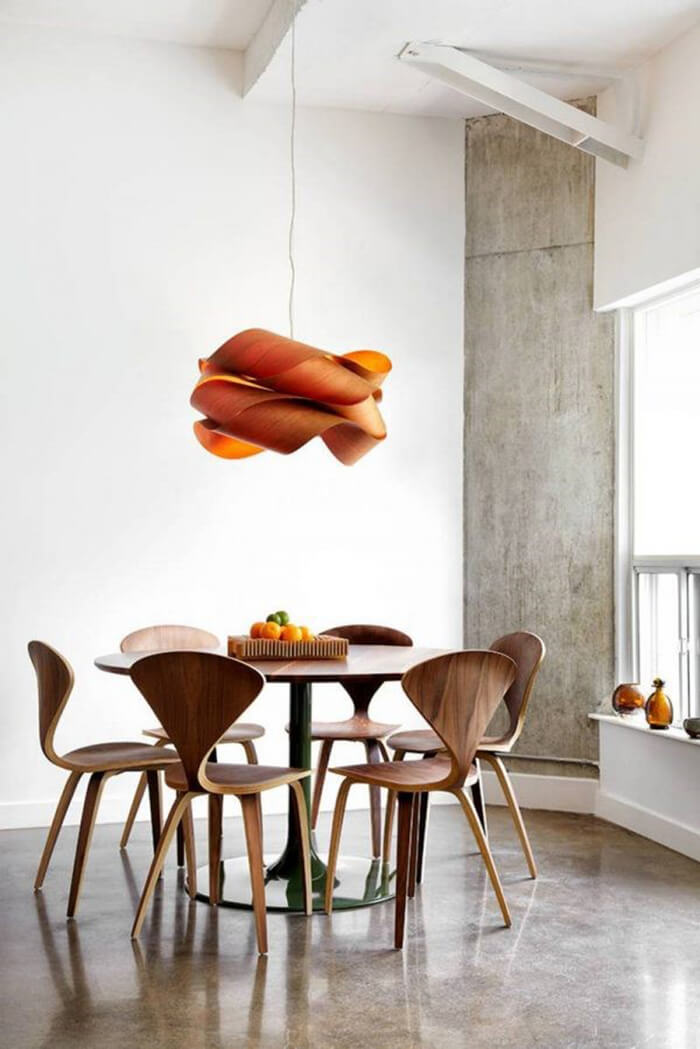 Exquisite walnuts.
The color, and somehow the look and feel of this design has this luxurious feel all over the place with outstanding results. This an example of how to be elegant by your own rules. In this intimate, but stylish dining room, the Saarinen Tulip Table with green pedestal and top of the wood is crowned with a wood groove basket. The contrast of wood and fruits will always give the color balance this delicate set requires, and it's something that you can play with anytime. A real main character in this dining set, the walnut veneer lamp, totally focalizes your attention and invites you to sit and have a glass or two of wine with good company.