DROP XL: Micro Removable Modular Hotel Room
Designed by Barcelona-based design studio In-tenta, DROP XL is a large version of the organically-shaped removable hotel room, which can be placed wherever the heart desires and the land permits. Due to its ECO design, it can be placed in a natural spot, and easily removed without any ecological damage as a consequence of its presence.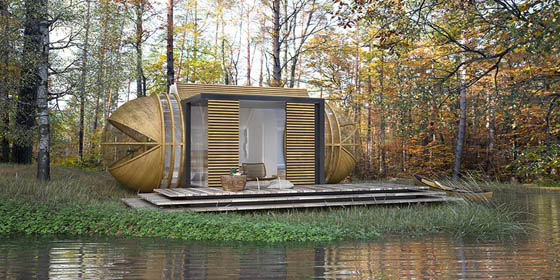 It measures 30 sqm (323 ft²) and can be customized for the client's requirements, like the addition of a Kitchen, in function of potential uses. Made with wood, steel and glass, the structure's base is elevated from the ground, on adjustable steel legs, to minimize the contact with the soil and adapt to the irregular terrains. The main structure contains a sitting area, a bedroom area and a bathroom with both shower and bathtub. A notable feature of the design is the large bubble windows at the ends of the cylindrical tube which provides additional view of the natural surrounding.