When it comes to roofing your residential or commercial building, there are several different types of roofing materials available to choose from, including metal shingles, asphalt composite shingles, slate tile, and wood shakes. You could simply go with the option of roofing you currently have, or you may want to consider a more modern, longer-lasting roofing material. When choosing the right type of roofing for your building needs, you need to weigh longevity, appearance, structural issues, and roofing material prices.
How Much Does it Cost To Replace a Roof?
Roof replacement costs can vary widely depending on the price of labor, which type of roofing material you choose, and the shape and size of your roof. Nationwide, the average cost for a roof replacement is $8,314. The price can range between around $5,500 and $11,000.
The following are different types of roofing materials to consider when replacing your roof in the Portland and Vancouver area.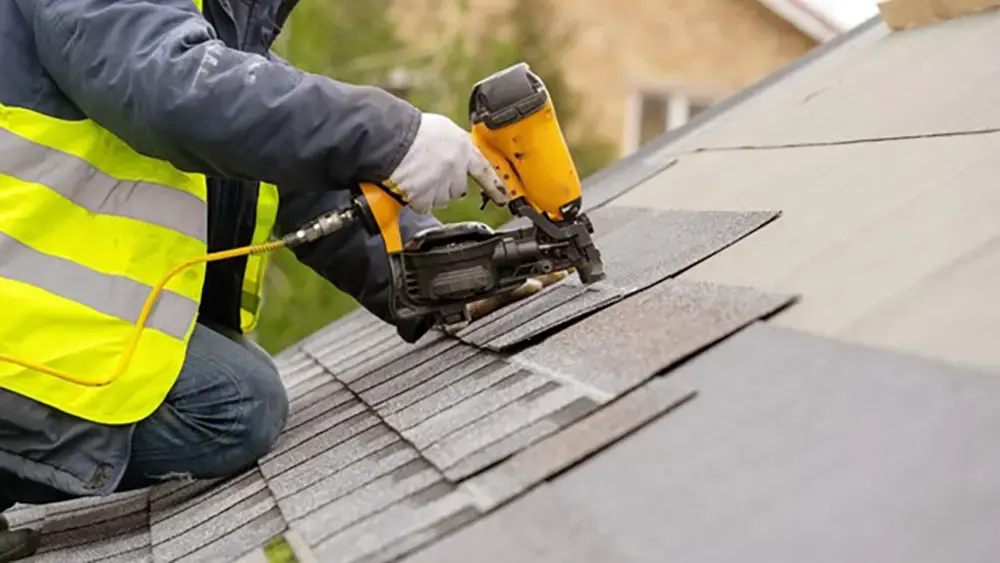 Asphalt Composite Shingles
Asphalt composite shingles are the most popular material used for roofing throughout America. These three-tab shingles are created using a base of fiberglass topped with asphalt and cellulose covered with asphalt or mineral granules.
Fiberglass asphalt shingles are a durable and fairly lightweight roofing material. Organic asphalt shingles tend to be heavier but are still very durable. Composite shingles are known for their flexibility and are able to adapt to the movement of a roof due to contraction and expansion.
Asphalt composite shingles usually come with a 20- to 30-year warranty. If individual shingles are damaged, it is fairly easy to replace them. The majority of roofing companies are familiar with installing asphalt shingles.
The lifespan of a roof covered in asphalt shingles can range from 12 to 30 years, and the average cost is $1.50 to $4.50 per square foot.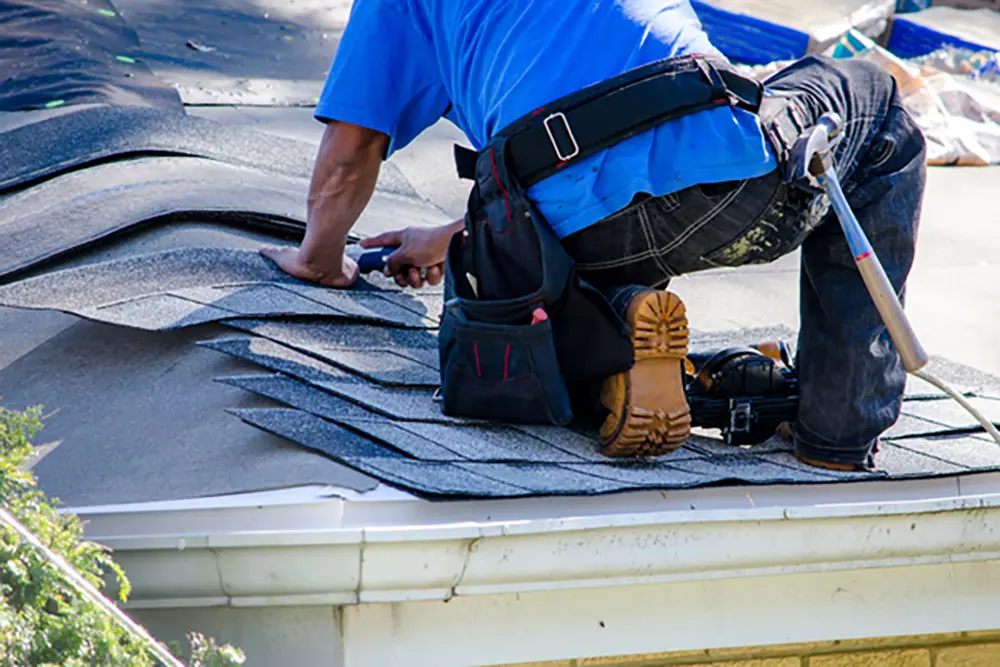 Built-Up Roofing (BUR)
This type of roofing material is used on low-pitch or flat roofs. BUR systems are made with multiple layers of roofing felt and asphalt that are placed through a hot application.
A barrier of 2 to 4 layers thick is created by overlapping the felt layers and then applying a layer of crushed stone that is ingrained in hot tar, creating a very impenetrable and durable roof.
This type of roof can last 20 to 30 years and costs, on average, $2.50 to $5 per square foot.
Rolled Roofing
Rolled roofing is quite often used for low-slope, residential roofing, in addition to outbuildings, such as sheds, shops, and other structures. Rolled roofing is made of long rolls of mineral and asphalt material that is topped with mineral granules. The rolls are about 100 square feet of roofing and are about 3 feet wide.
As one of the cheapest materials, rolled roofing can be fast and convenient for covering a sloped roof but does not offer much aesthetic value to the building.
Rolled roofing lasts, on average, 5 to 8 years and costs $1.50 to $2 per square foot.
Membrane Roofing
Used in low-pitch roofs or flat roofs, this membrane roof comes in many types of membranes, including:
EPDM (Ethylene propylene diene monomer)
Neoprene (Polychloroprene)
Polyvinyl chloride (PVC)
Polymer-modified bitumen
Chlorinated polyethylene and chlorosulfonated polyethylene sheets
EPDM is a roofing material that is synthetic, often called "rubber roofing," is one of the best membranes and is compared to rolled asphalt roofing as it is applied in sizable sheets, limiting the amount of seams that can be infiltrated by water.
This type of roof can last 20 to 35 years and costs $4 to $8 per square foot.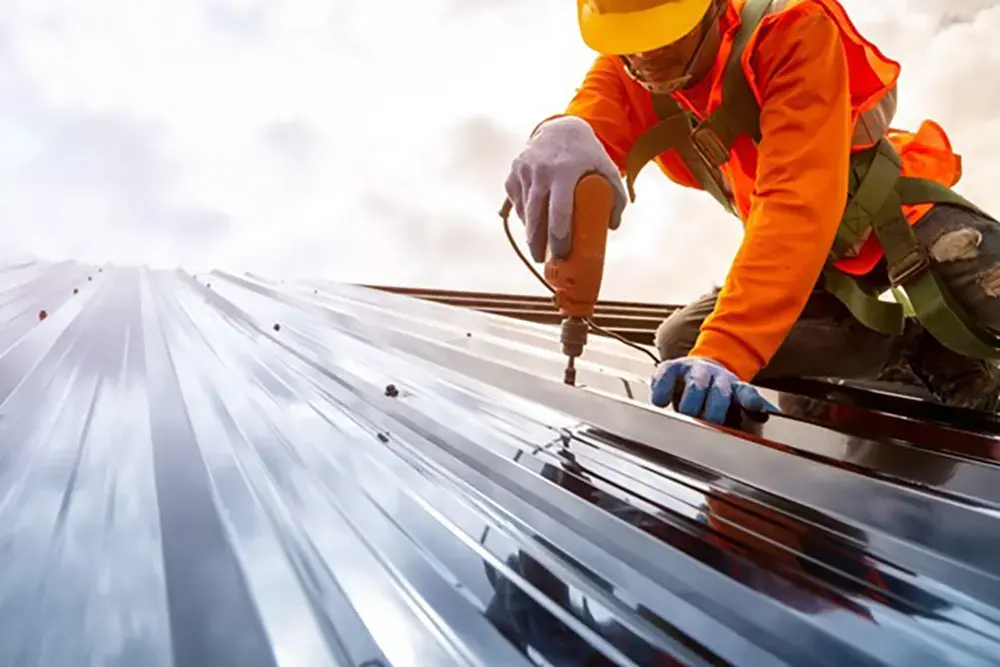 Standing Seam Metal Roofing
A standing seam roof is the most common type of metal roofing. It is made from steel or aluminum roofing panels that come together in raised interlocking seams that keep moisture out. These roofs are popular where there is a chance of wildfires or heavy snowfall and are recyclable when the roof does finally wear out. Installation of this roof system requires specialty skills which cannot be done by every roofing company.
Metal roofs last, on average, 30 to 50 years and costs $10 to $16 per square foot.
Wood Shingles/Shakes
Though it offers one of the most attractive roofing options, this material has limitations, it can be quite costly and are not as long-lasting as other roofing materials. Made from natural woods, such as cedar or redwood, the shingles and wood shakes differ in how they are made and appear. Shingles are often thin, wedge-shaped slabs of wood made from precise sawing. Shakes are made by splitting wood, and they have a rougher surface and thicker wedges.
Depending on circumstances, climate, and maintenance, a shake roof or wood shingle roof can perform for 20 to 60 years and can cost $4.50 to $9 per square foot (shingles) and $6.50 to $14 per square foot (shakes).
Metal Shakes/Shingles
This roofing material is made from stamped metal and finished using either mineral granules or a high-quality baked-on coating often fabricated to look like traditional asphalt shingles, slate, clay tiles, or wooden shakes. They are an excellent choice for durability and longevity while offering a great appearance.
Metal shakes and shingles can last 30 to 50 years and cost $8 to $16 per square foot.
Slate Shingles
Often seen in luxury homes, slate is a type of roof that lasts the longest and is made from true, thin sheets of slate stone. Installing the slate roof is a skill requiring highly specialized, qualified installers, which can be difficult to find.
A slate tile roof typically lasts 75 to 150 years, and the average cost is $10 to $30 per square foot.
Oregon's Choice for Residential and Contractor Roofing
According to cvcpdx.com, the importance of having your roof repairs and installation done in a timely, professional, and friendly manner cannot be overstated. Find a professional team who only uses quality roofing materials along with the best roofing practices. This way, you will have the peace of mind you deserve.