Whether buying or planning a DIY wreath this Christmas, here are some festive arrangements to try with your family and friends and what to consider when selecting the perfect wreath.
Pre-Made Wreaths
If you're looking to buy a ready-made wreath, many options are available. From traditional to modern and simple to extravagant, whatever your style is, with these beautifully decorated wreaths, you can find something that will match your decor.
When deciding on a premade wreath, you first need to consider several essential factors:
Color: Look for a wreath that has colors that will complement the rest of your decorations.
Size: Measure the area where you plan on hanging the wreath and ensure it's not too big or small.
Material: Choose one made of artificial or natural material according to where you plan to hang your wreath.
Style: Decide whether you want a classic or modern style.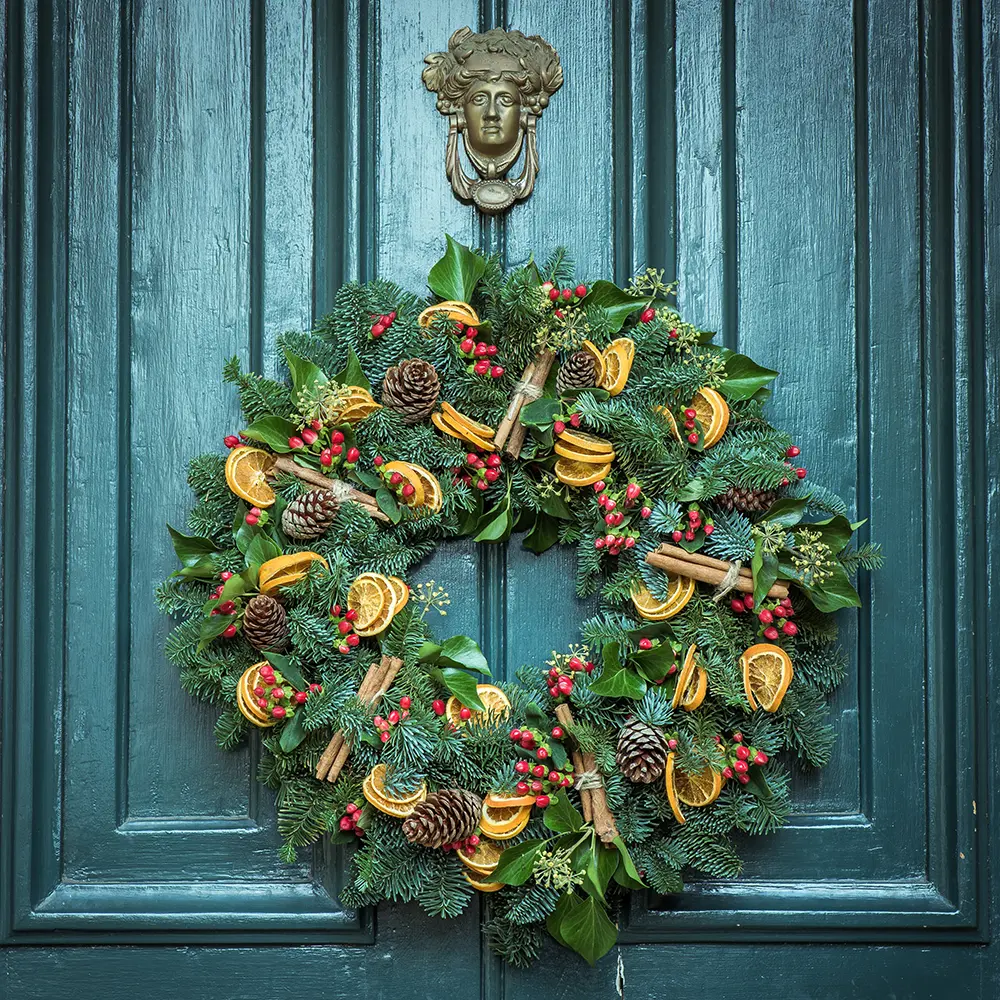 DIY Wreaths
Making your wreath is an excellent option if you want to get creative. You can customize it to match any theme and budget, and it's a fun activity the whole family can participate in.
Before you start looking for materials, here are a few guidelines to keep in mind:
Theme: Think about the decor you want and the feel you're trying to create.
Materials: Research which types of material will be best suited for your theme. It can range from evergreens, berries, and festive ornaments.
Budget: Estimate how much you will spend and look for materials accordingly.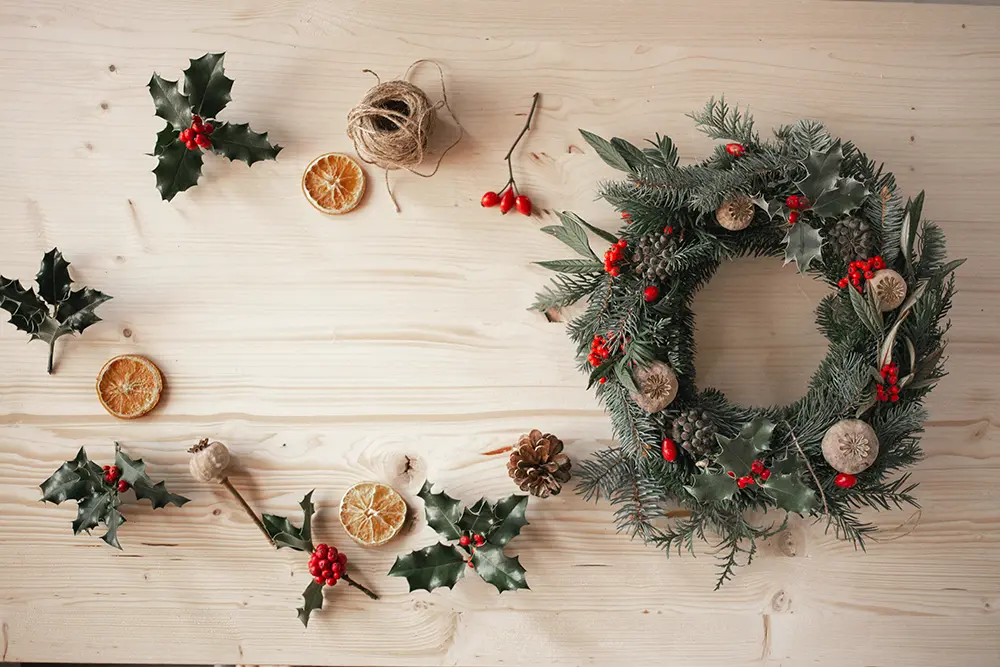 Best Wreath Arrangements To Consider This Holiday Season
Wreaths have been one of the most popular decorations for centuries. But before you go hanging one on your door, it's better to have a quick trivia of what they are and their meanings.
Holly Wreaths: The most traditional Christmas wreath is made from holly. It symbolizes eternal life and hopes for renewal during winter, a great visual reminder of everlasting love and joy.
Candy Cane Wreaths: A candy cane wreath is a fun way to get your home looking festive!
Starburst Wreaths: For a more modern and eye-catching look, opt for a Starburst wreath. It's made up of wood cut into the shape of stars or other shapes and suspended from a circle in the center.
Snowflake Wreaths: Snowflakes make incredible decorations during the winter months, and a snowflake wreath can add a touch of sparkle to your home. It's perfect for an elegant, winter-inspired look and will be admired by all.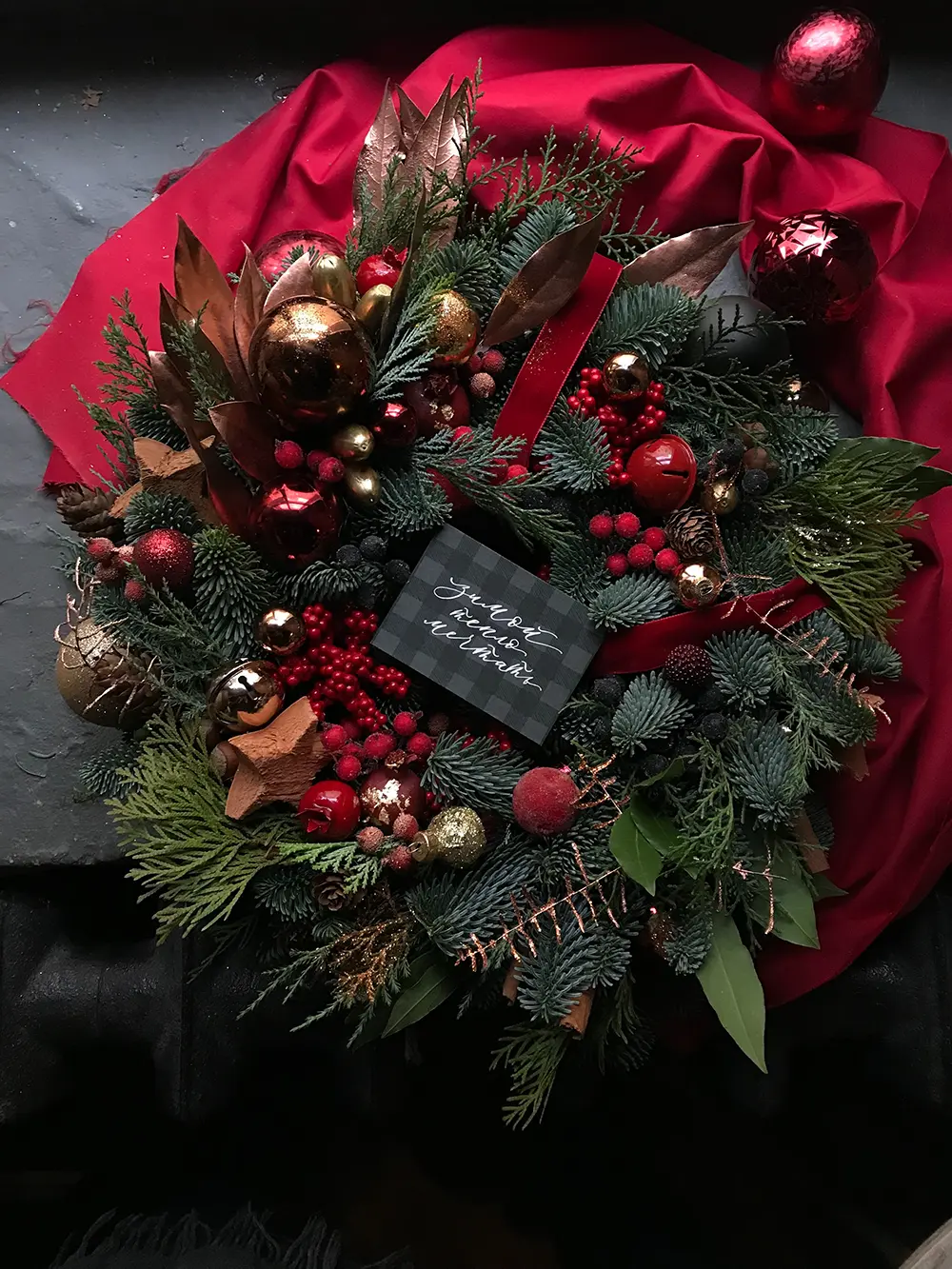 Wispy And Wild
If you are up for rustic vibes, a Wispy and Wild wreath is perfect. Combining dried grasses, seedpods, leaves, and flowers creates an organic look that can easily hang on any door or wall.
Magnolia – Classic Wreath
For a timeless look, why not try making a classic magnolia wreath? The combination of this beautiful flower with evergreen leaves looks stunning and is perfect for any home decor.
The Ever Traditional One
Okay, do you want something traditional? Then, you can't go wrong with an evergreen wreath. Whether it is a mix of different pinecone, holly, and spruce branches or just one type of foliage, these classic Christmas decorations will never go out of style.
Free-Flowing And Fruity
Another fun and unique idea for a wreath is one made with dried fruit, such as oranges, apples, or pomegranates. This arrangement looks great hung from the door or mantelpiece and will bring an instant splash of color into the room.
Pinecone And Prettiness
If you're looking for something more understated, a pinecone and prettiness wreath is the perfect choice. This simple design looks great hung on any wall or door, bringing an earthy touch to your holiday decor
Dagger Deer
A little more daring? Try a Deer wreath! This unique design is perfect for those looking for something special and eye-catching. Combine deer antlers with evergreens, berries, and other festive decorations to create a stunning look that all will admire.
Wreaths Of Ornaments
You can't go wrong with a classic wreath of ornaments! Whether it's all one color or an array of rainbow shades, this will surely add a festive touch to your home. Get creative and have fun by mixing up different shapes and sizes for the ultimate holiday look.
Accessorize And Adorn
Don't forget to accessorize your door or mantelpiece with ribbons, bows, and other festive decorations. This is a great way to add the finishing touches to your wreath and create the perfect holiday atmosphere.
Cranberries And Candles
Bring a touch of warmth to your Christmas wreath by adding some cranberries and candles. This gorgeous combination will give any home an ethereal look and cozy feel.
Succulents And Sparkles
Create a unique wreath this season with succulents and sparkles. Combining these two elements creates a stunning and unexpected display, perfect for creating something more special.
Final Tips
No matter which wreath you choose, some final tips will help ensure it looks great and lasts longer:
Keep the wreath in a cool place, away from any direct sunlight or heat sources.
Select materials that are all-weather resistant if you plan to hang them outdoors.
Spray the wreath with water every few days to keep it looking fresh.
With these tips and ideas in mind, you'll find the perfect Christmas wreath for your home that will add a festive touch and create a warm atmosphere this holiday season. So get creative and have fun.