Gentle and soothing, this 89 square meter modern apartment interior is one of the most calming and warm design I've seen. Located in Baku, Azerbaijan, the home design was visualized by Kamran Karimov to include a warm and light color palette for psychologically calming effects.
It should be noted, ribbed wall panels and glass fixtures create a recurring theme throughout every room of this modern apartment, creating comforting cohesivity. The sleek TV stand fits seamlessly around the wall shape to maintain the modern linear aesthetic. Slatted wood paneling and ribbed gypsum texturize the wall above the smooth TV unit to create a luxury look. In addition, the two pink tinted cabinet besides follow the textural theme and match the color of sofa perfectly.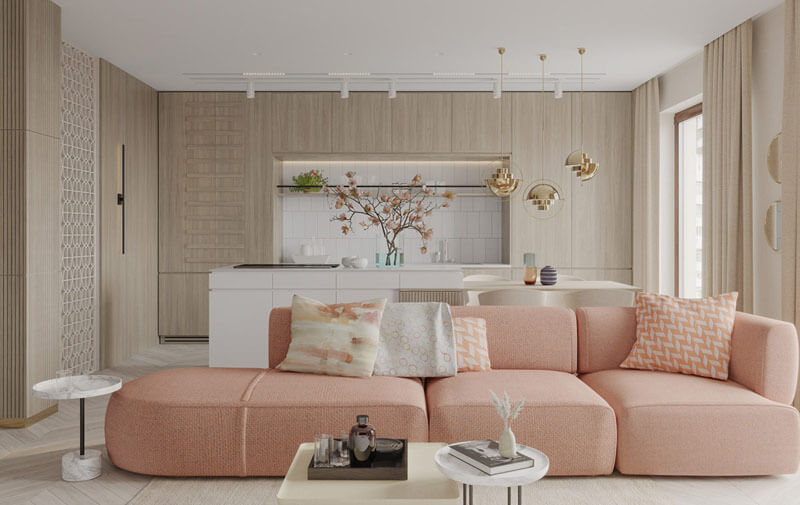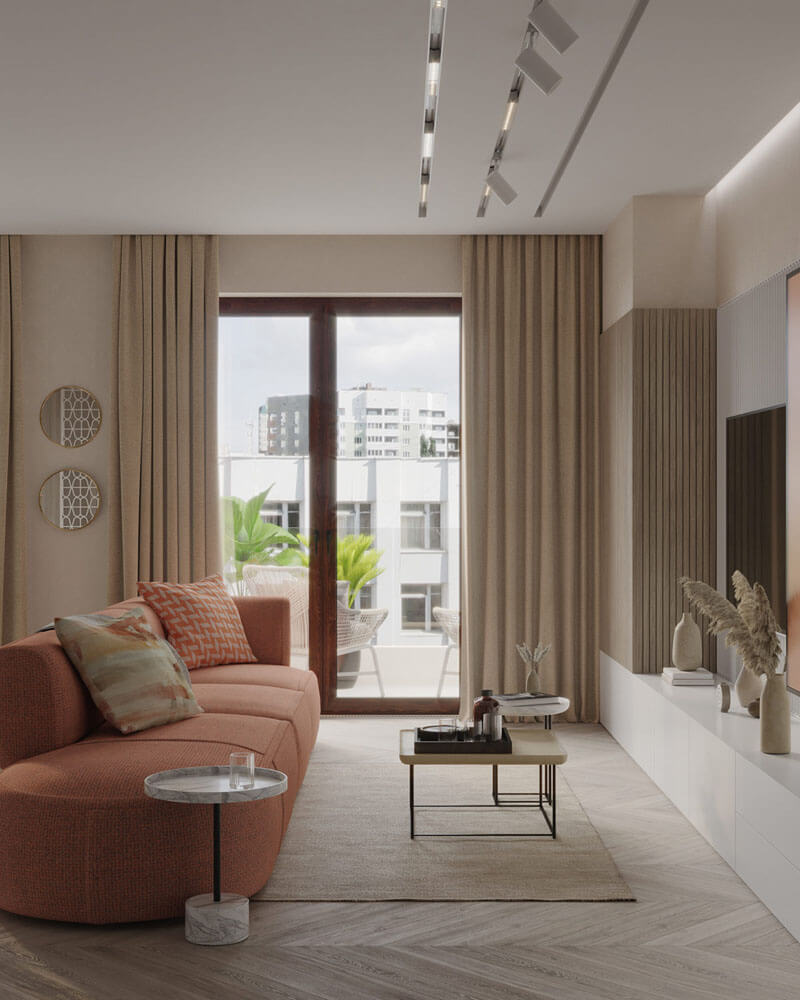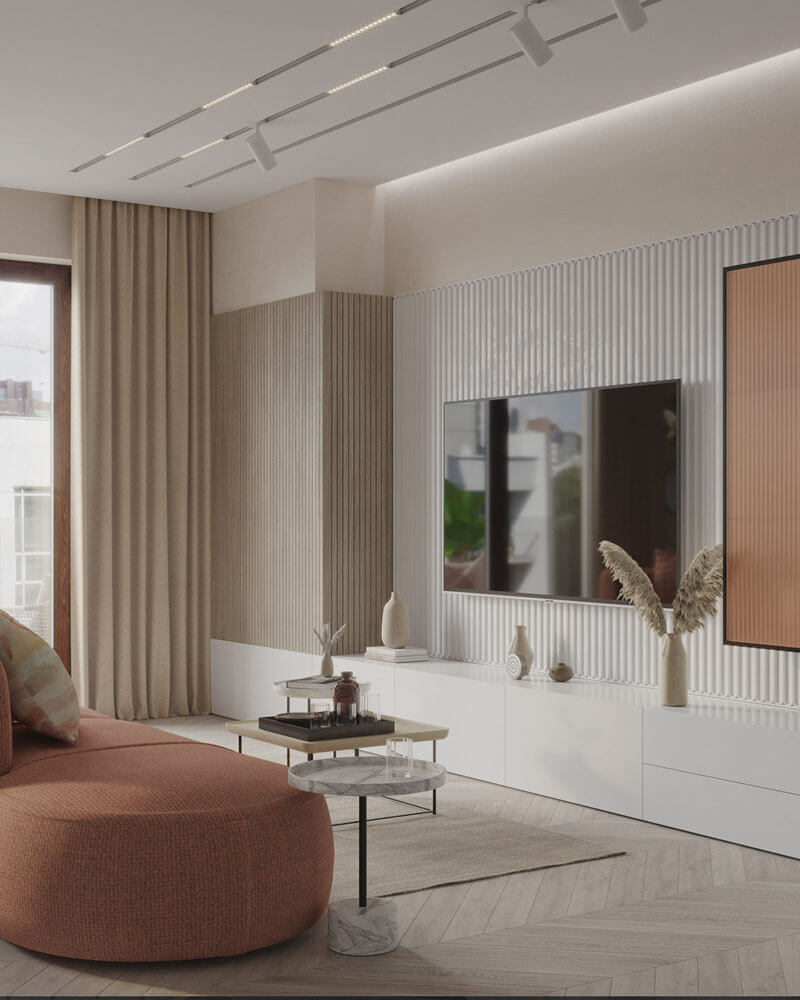 Light wood grain has also been used in the kitchen to create fluid cohesivity around the open plan living space.
There is no dedicated dinning room. Hence, a tabletop is integrated into the kitchen island to create a streamlined, space saving solution.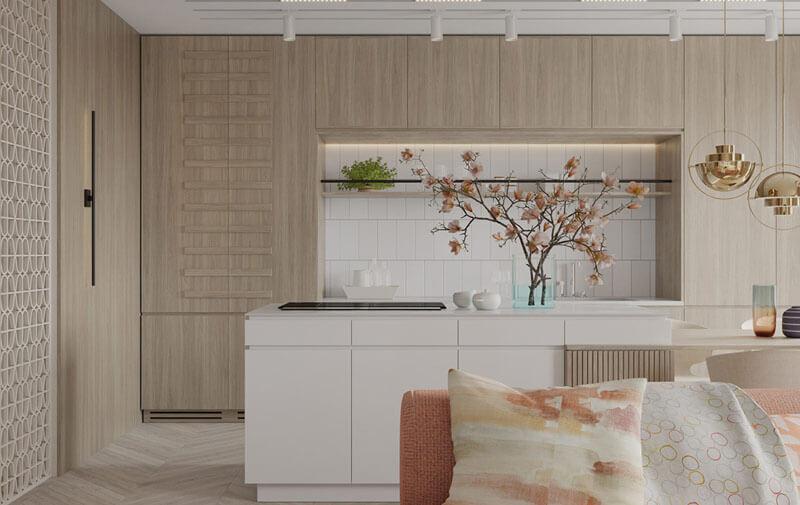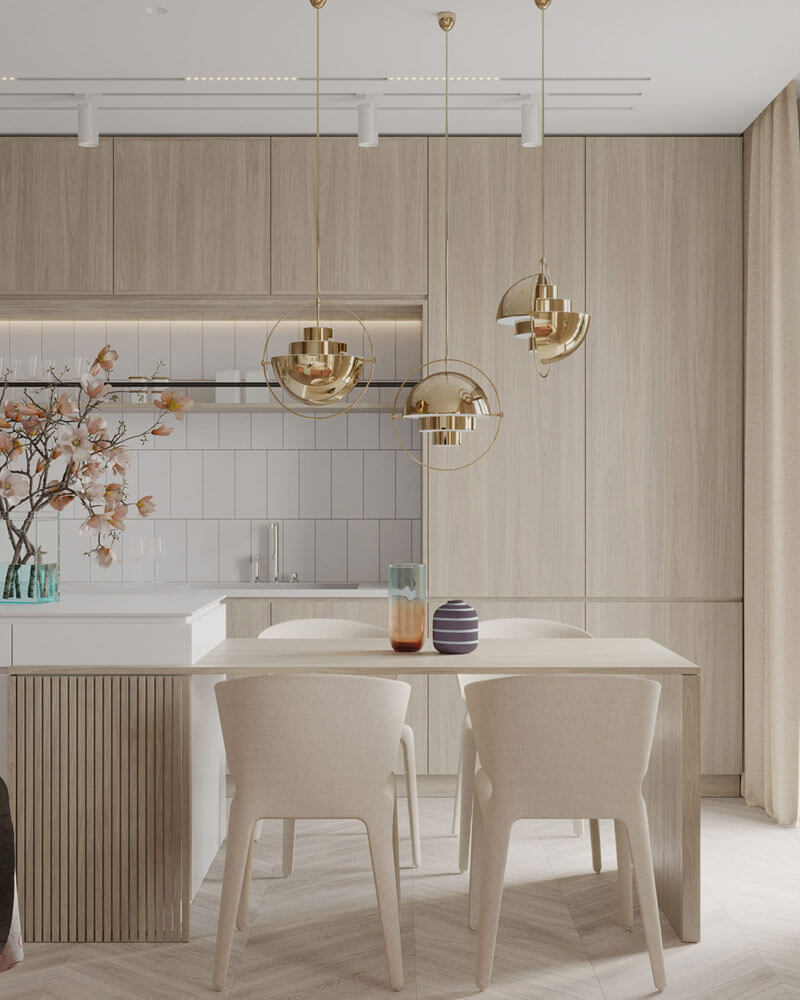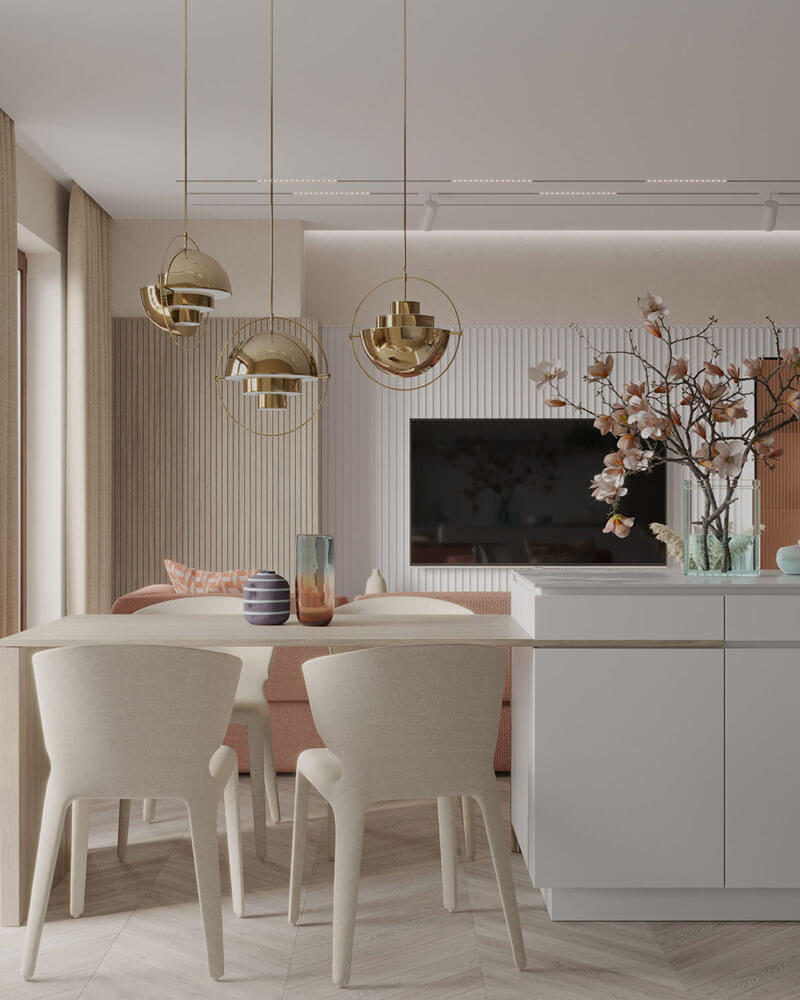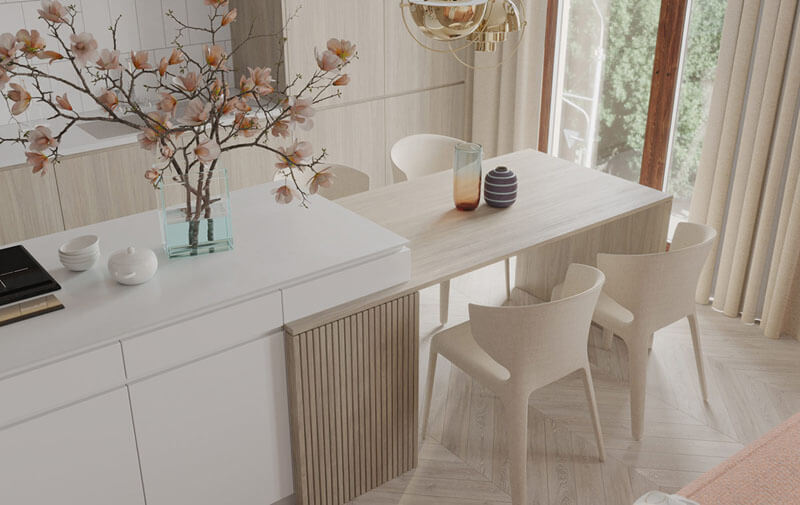 Moreover, the same tight slat wood panels have been used to clad a supporting column between the living room and the entryway to the home. Also, a decorative muxarabi screen works as a room divider, creating the separation while filtering light into the hallway. A large decorative wall mirror is placed at the end of the hallway. Along with the two marble planters flank become an impressive focal point at then entry.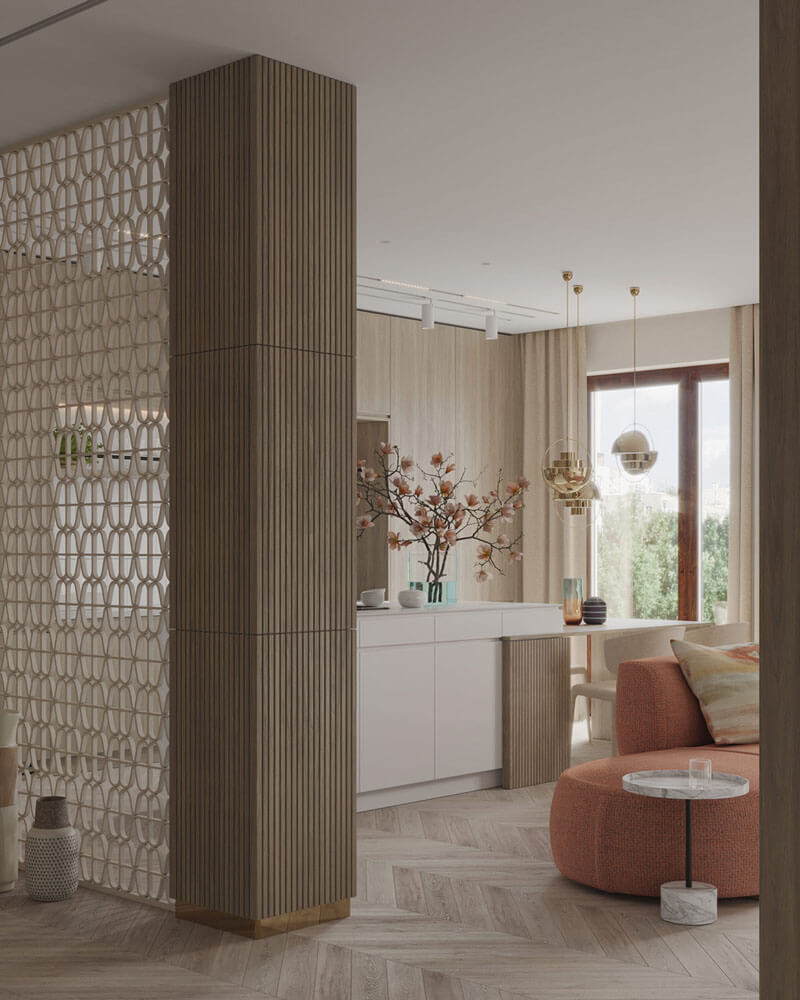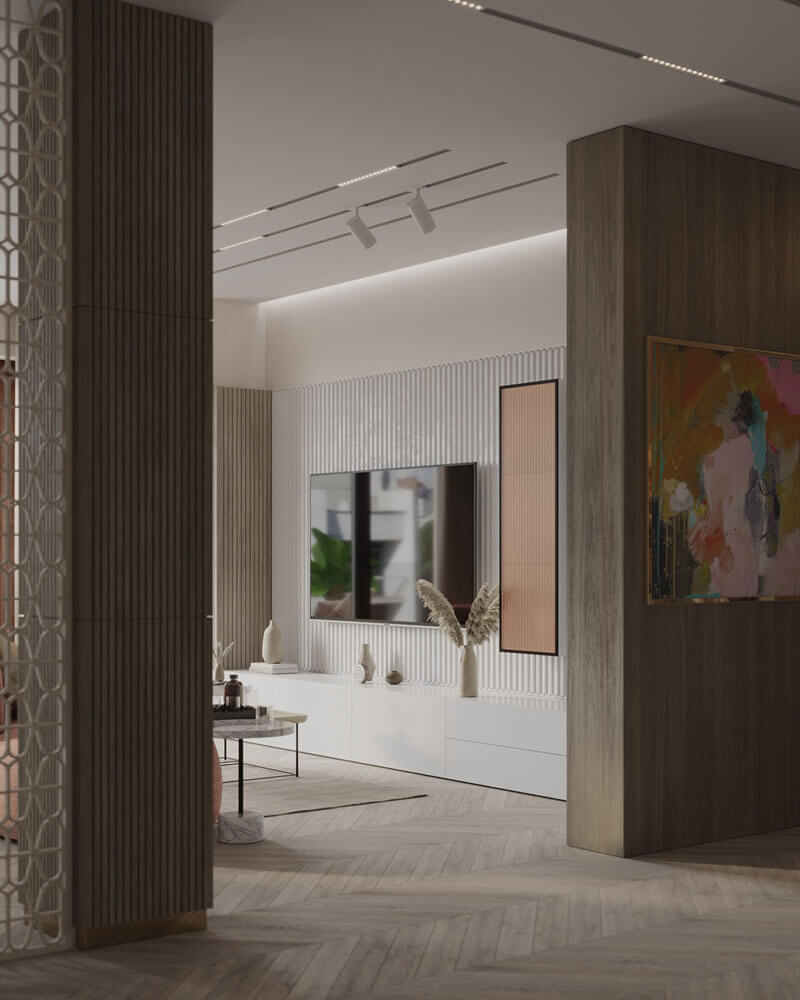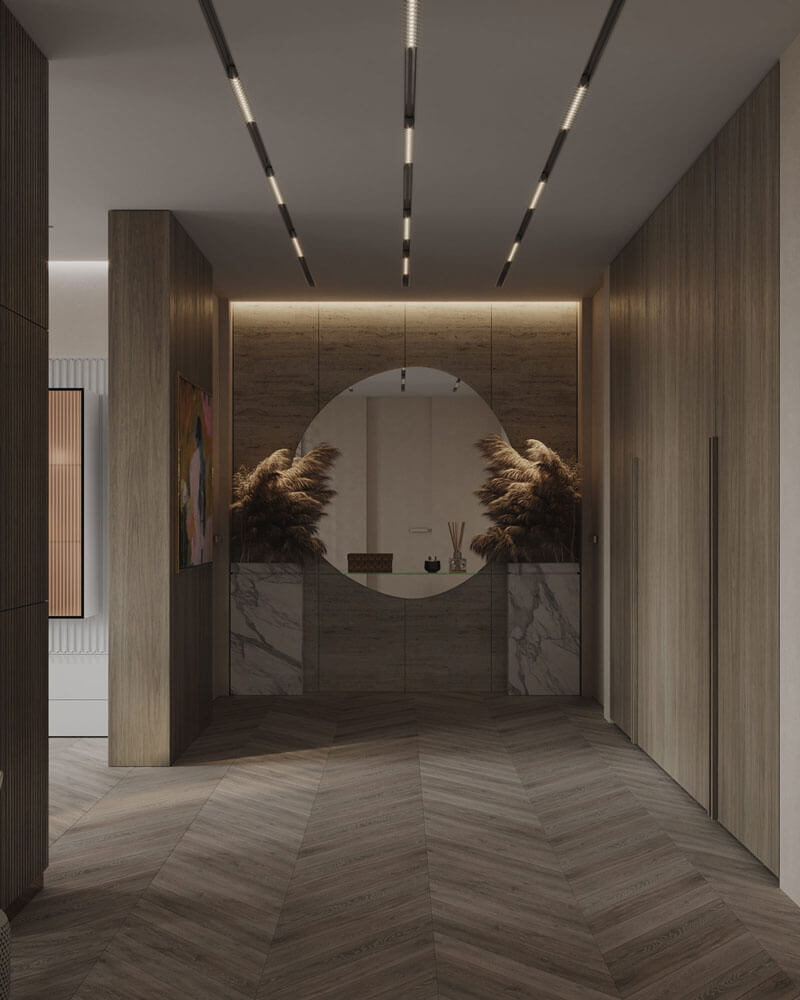 Modern Master Bedroom
Following is the bedroom. In the bedroom, a modern platform bed is given a grand floor to ceiling padded headboard feature, trimmed with lustrous gold detail. A combination of softest grey upholstery and creamy fabric furnishings come together to create a comforting dream-like bedroom scheme.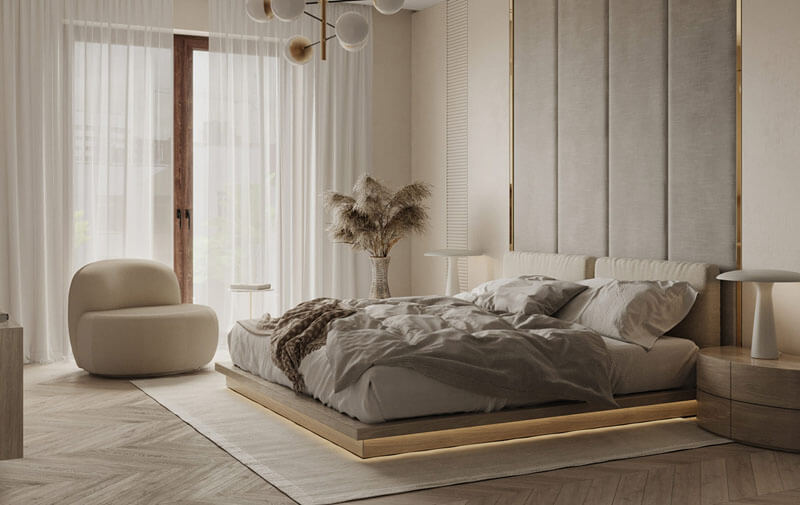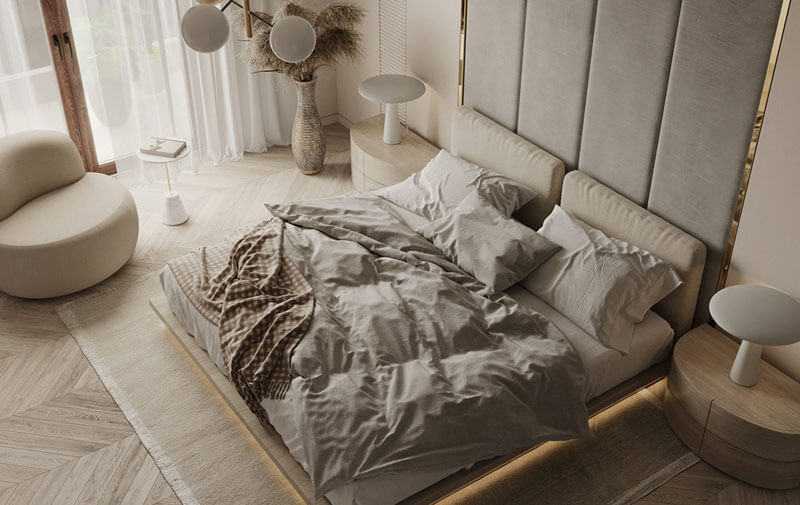 A marshmallow-like bedroom chair rests at the very edge of the bedroom rug. A small side table teams with the comfy chair to make a relaxed reading nook, or a spot for morning coffee in the breeze.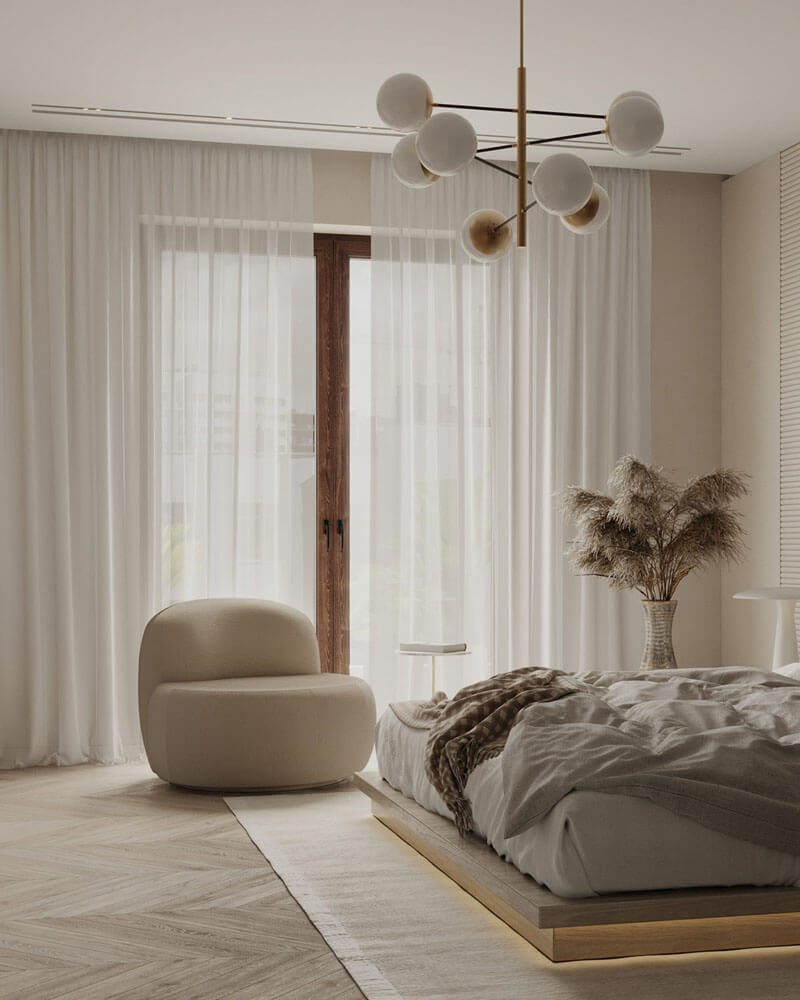 Glass closet doors hark to the ribbed texture theme established in the living room. Closet track lights emit a glow through the obscure glass.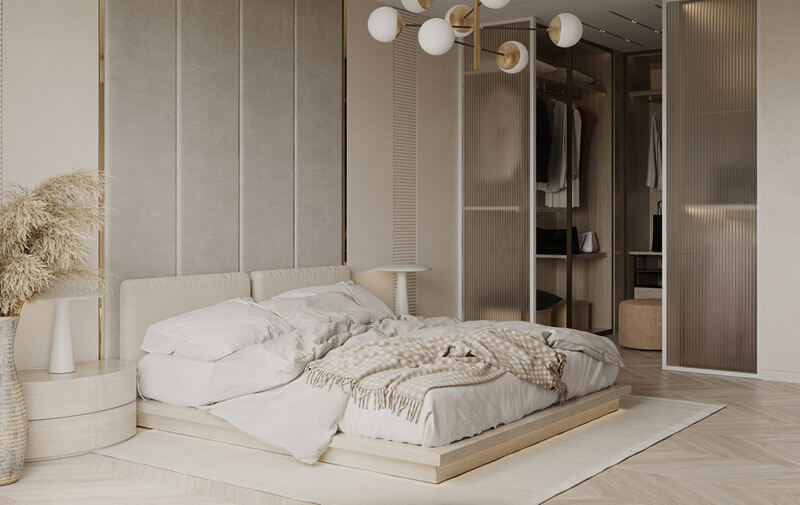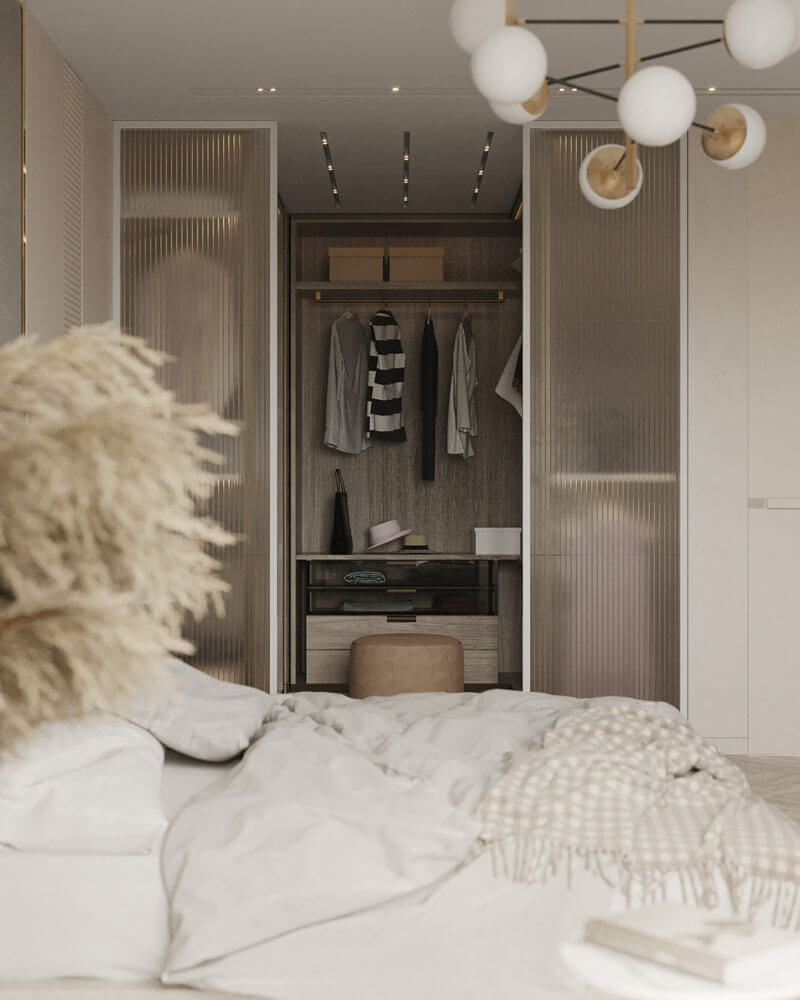 At the foot of the bed, a small bookcase floats clear of the floor to keep the layout looking clean and spacious. Colorful artwork brings in the uplifting pink accent from the lounge.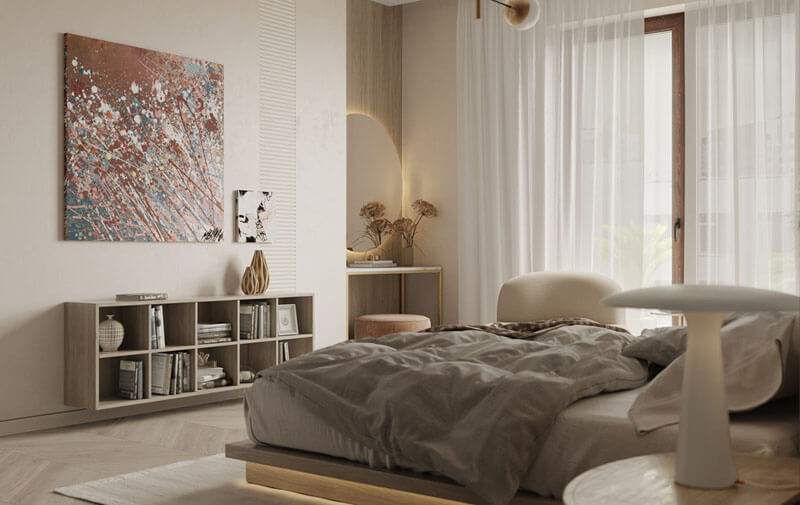 In the corner of the bedroom, an alcove has been made into a charming vanity area as well. A blush vanity stool tucks under the chic white marble makeup table. A backlit vanity mirror creates a golden glow over an oak effect backing panel.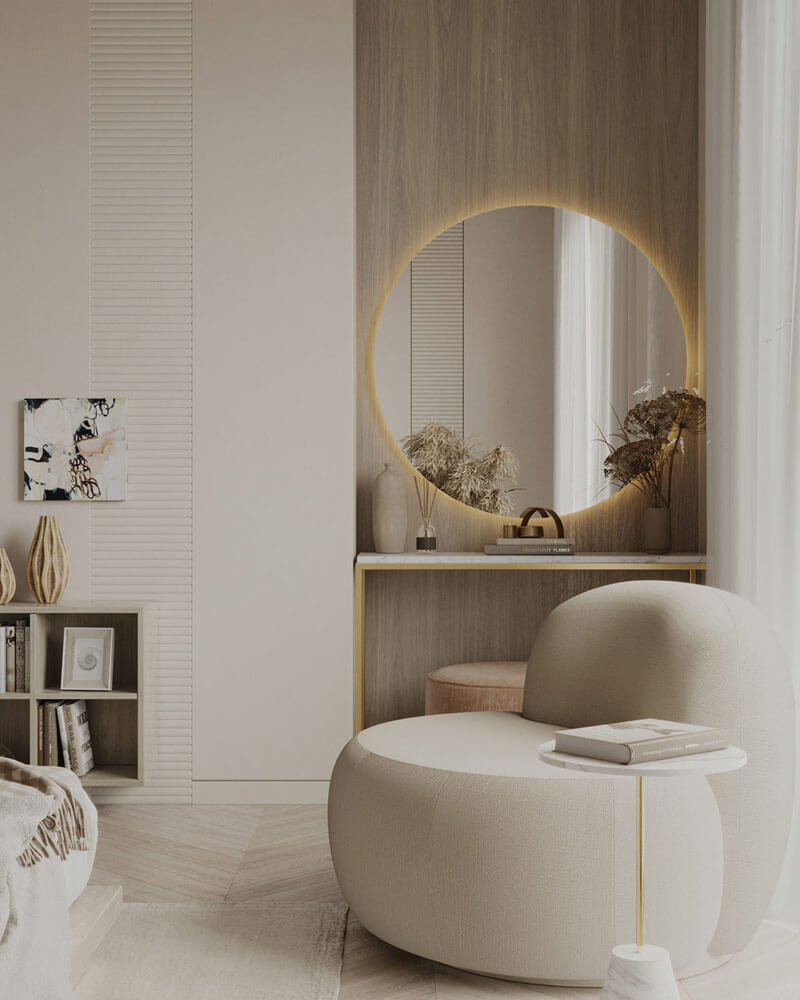 Bathroom
The large round mirror and ribbed stripes texture theme continue in the bathroom. Moreover, a deep bathroom sink rests on an attractive custom-made floating vanity unit. Smooth oak effect panels clad the wet zone around the bathtub. A white shower head, rinse faucet and a matching toiletries shelf contrast cleanly against the darker grain.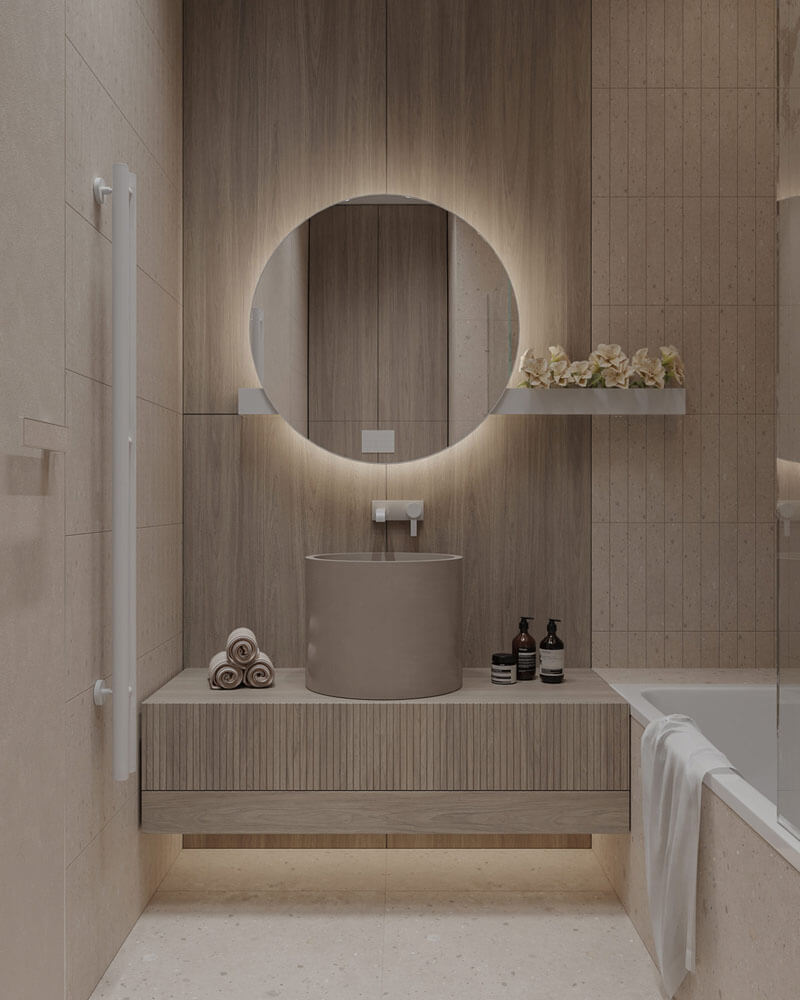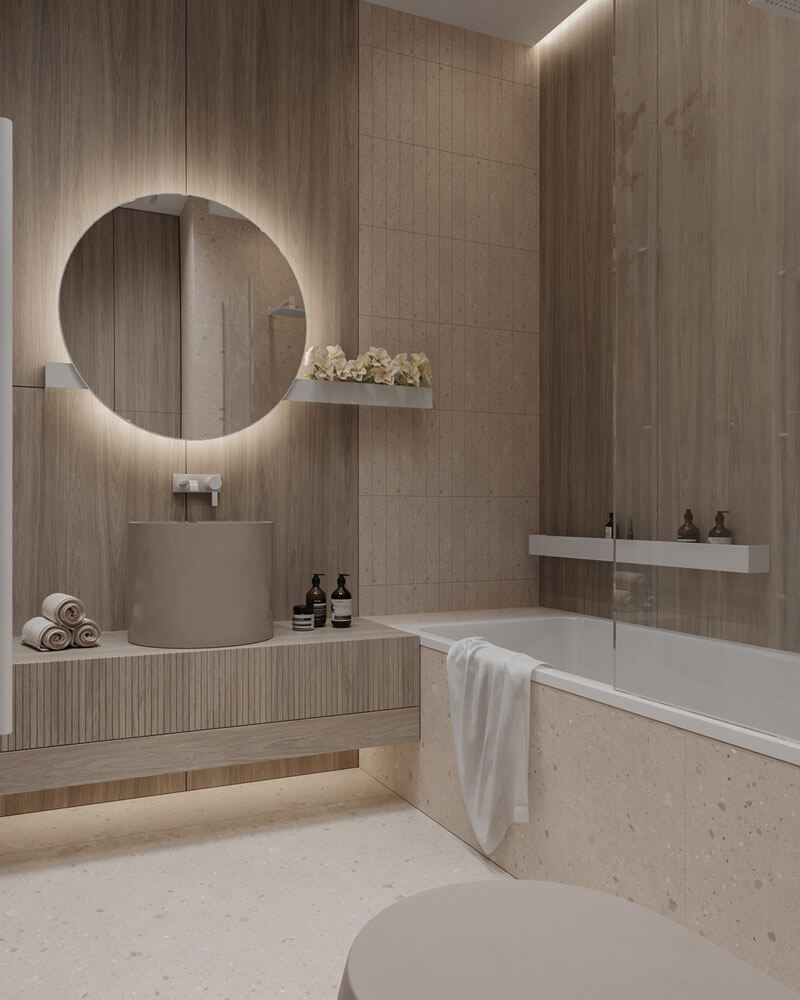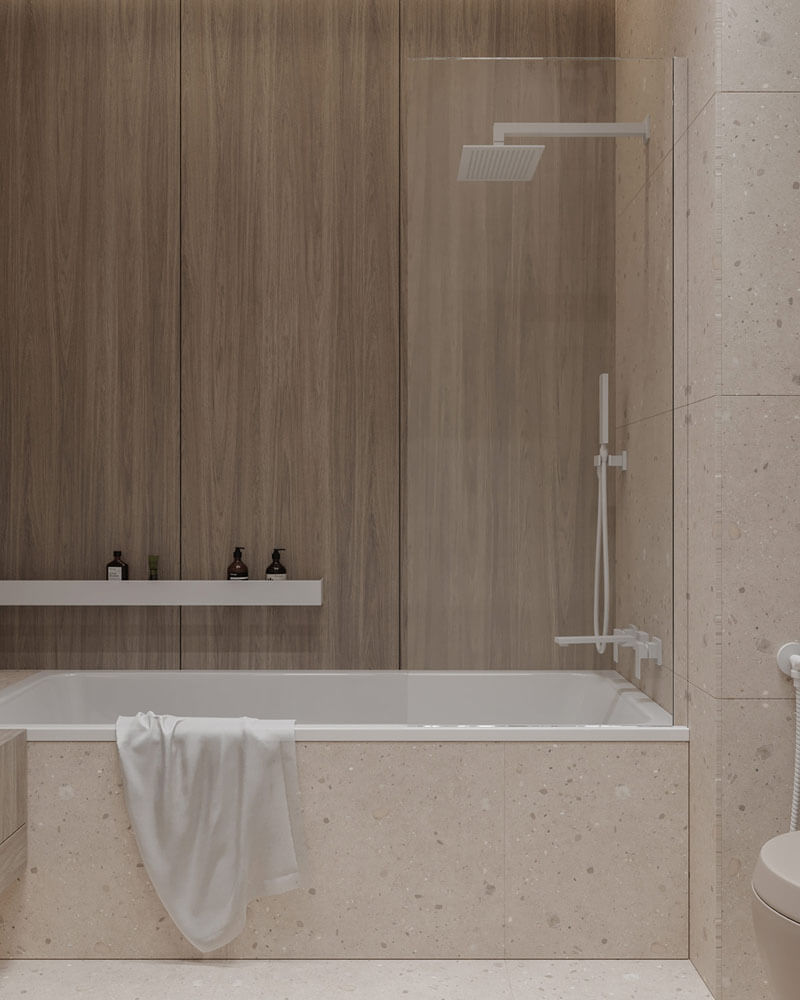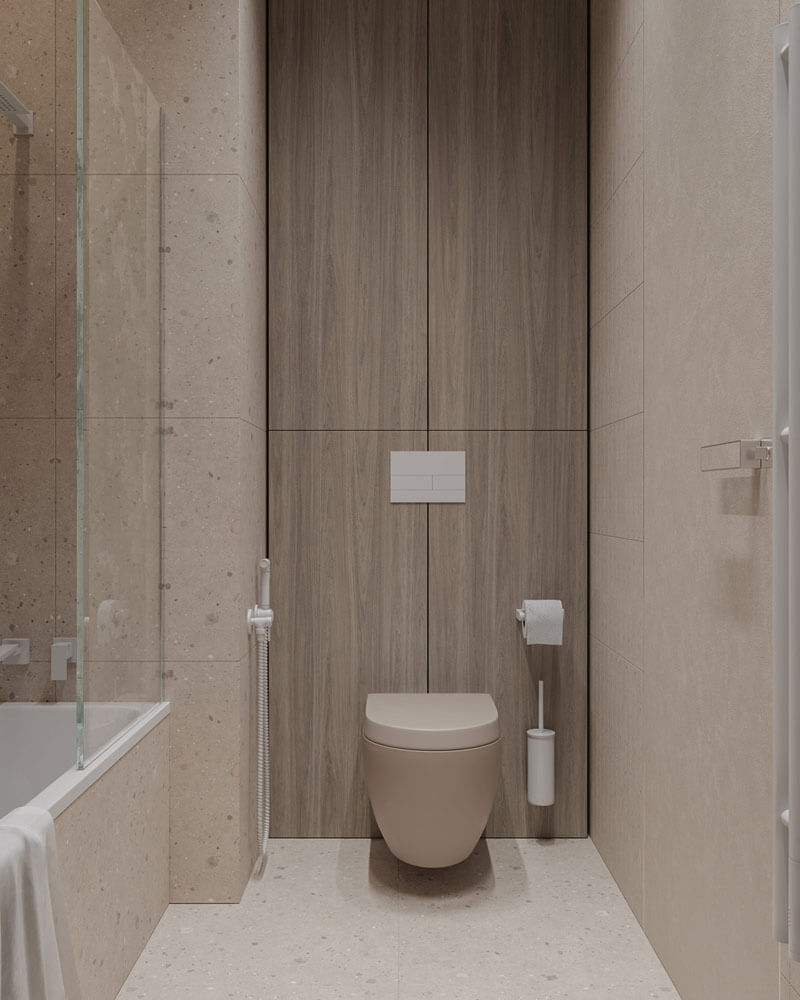 h/t: home-designing