Probably the biggest dream of every homeowner is to have a home that looks like it came straight out of an interior design magazine. That's why many people decide to engage in home improvement projects to transform their interior and give it a high-end look.
A room that individuals often neglect when it comes to designing a lavish home is the bathroom. The truth is this part of the house is considered everyone's go-to destination to unwind and escape the day which is why it is the perfect place where you can add a touch of richness.
Generally speaking, a luxury modern bathroom can be created in any home simply through careful planning. Depending on what your tastes are, you have plenty of options to choose from to design the oasis you have always wanted.
From adding decorative ornaments to replacing the windows, here is a brief guide on how you can give your existing bathroom a modern look.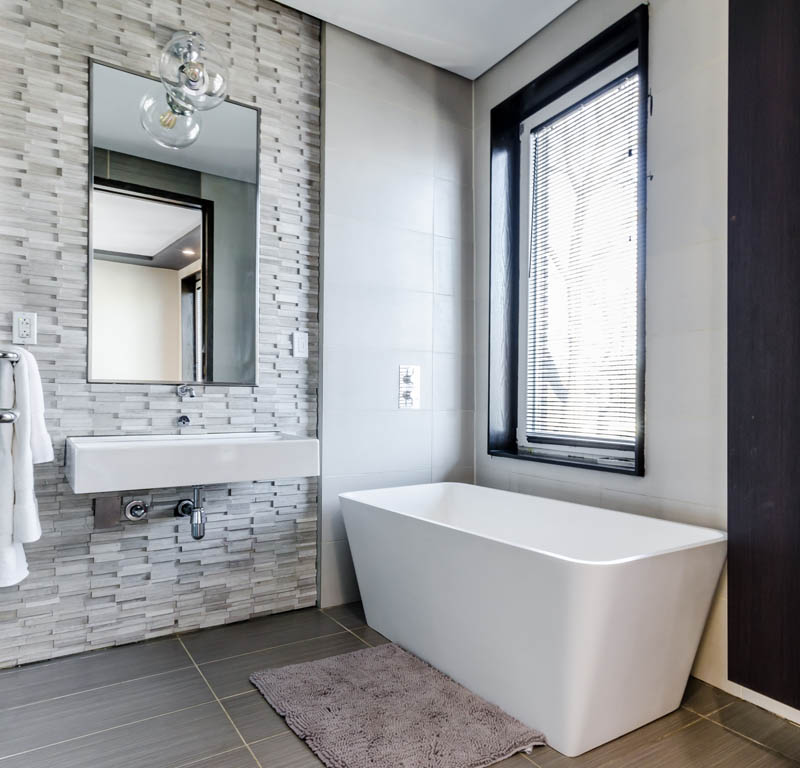 Photo by Chastity Cortijo from Unsplash
Install new windows
Windows play an important role in your bathroom design. Choosing the right style can easily enhance the aesthetic appeal of the place while serving a functional purpose.
For example, shutter windows are a very popular choice as they are elegant and can be easily adapted to your privacy requirements. You can open them to let natural light in or close them to conceal the room.
The most popular style among homeowners are the traditional hardwood shutter windows as they cope well with high humidity levels.
Before you indulge in this renovation project, be sure to look for a reputable replacement window company to tell you about the cost of their installation. In most cases, this depends on the size of the bathroom and the materials used.
Replace your bathtub
Another element you should consider when designing your luxury bathroom is your bathtub. This piece of bathroom furniture is regarded as the focal point of the place which is why you should choose a bathtub type that is sleek and stylish.
For example, the freestanding bathtub is one of the most popular choices as it is elegant and a true symbol of a high-end bathroom. Its characteristic shape offers spaciousness as it can be placed anywhere in the bathroom making the room look airy and larger than it is.
Depending on your preferences, you can look for a freestanding bathtub in any color or style you want to match the overall theme of the space. Most homeowners opt for a white one as it is classic and can be easily incorporated.
Make your vanity stand out
Besides your bathtub, another bathroom furniture piece you should consider to create a luxurious space is your vanity. Not only will a great vanity provide you with a comfortable spot for storing items, but it will also give the bathroom a more modern look and make it appear bigger.
Depending on the size of your bathroom, there are numerous vanity options you can choose from. The key is to find the one that will best fit into your overall bathroom design.
For example, if you have a small bathroom, then a square vanity is an excellent option. You can mount it onto a walled surface so it won't take loads of space in the bathroom. Opt for a vanity made out of solid plywood because it is sturdy and easily handles moisture.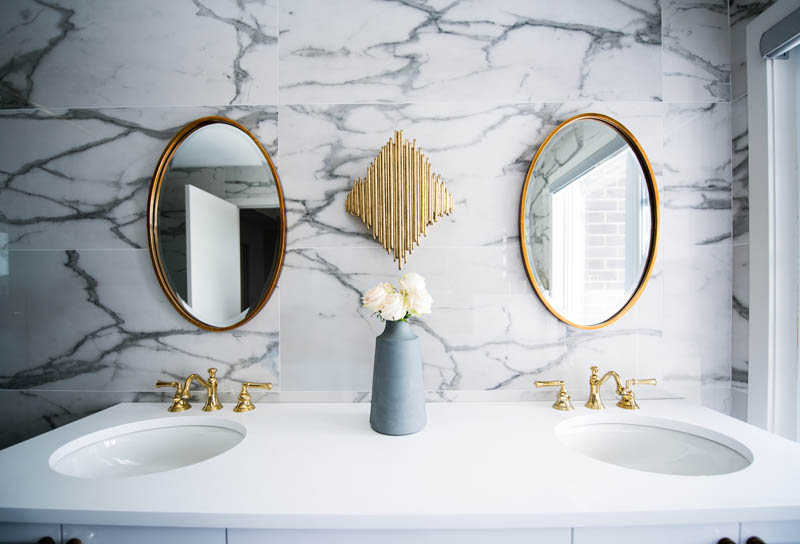 Photo by Christian Mackie from Unsplash
Upgrade your lighting
An element that can also increase the aesthetic appeal of your bathroom and make it look more luxurious is the lighting. Depending on your preferences, there are plenty of bathroom lighting fixtures available that can enhance the space and give it a spa-like vibe.
For example, glass pendant lights can be a great addition to your modern bathroom. You can place them above the bathtub and fill the space with subtle artificial light. If you want to be more luxurious with your pendants, opt for a crystal chandelier instead.
Other lighting fixtures such as sconces are also very popular as you can place them anywhere you want. Most homeowners choose to install them on both sides of their vanity to create a cozy and warm ambiance in the bathroom.
Add spa-like elements
To complete the modern look of your bathroom, you will need to add a few spa-like elements. These can be anything from relaxing aromas to other decorative bathroom ornaments that will help you create a personal retreat in your own home.
For example, houseplants and flowers can easily add life to the room while turning the space into a more tranquil setting. You can place vases with fresh blooms on your vanity cabinet or the window sills and embrace nature the right way.
Another decoration you should add to give the space a luxurious touch is a bathtub tray. While some people use it to place aromatic candles when they are having a spa day at home, others use it to put their books or glass of wine.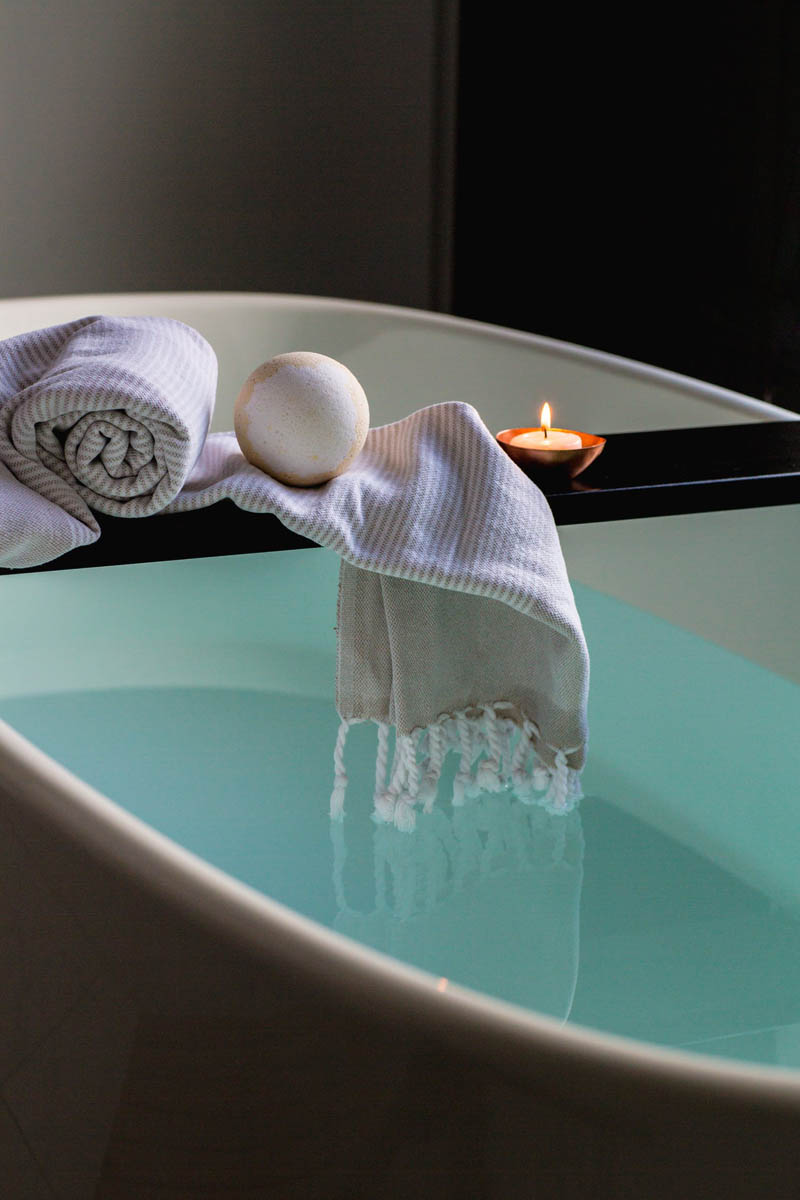 Photo by Burst from Pexels
Final thoughts
Out of all the rooms in your home, the bathroom is the best place where you can soak in and relax after long workdays. That's why many homeowners decide to redesign it and transform it into a luxurious spa-like retreat decorated with high-end materials and stylish accent details.
The key is to find elements that work cohesively with one another to deliver a beautiful, functional and lavish space.
So, for your next bathroom renovation, keep our guide nearby and create the oasis of your dreams.