There are many different ways to design your kitchen and get the best use out of it. A kitchen is an important room in any home and the heart of the entire home. A room in your home that is simply filled with beauty, comfort, and all home requirements is a room that any homeowner of a modern, sophisticated, and family home must include if they want to be proud of what they own.
A kitchen is a special room in a home, and it holds all of the different elements of all the great food that the family will eat. A good kitchen comes to life when you combine every single element into a perfect room for cooking. A kitchen also gives you a place to entertain and have great times with friends and family. To know the essential kitchen elements, you can read the article on Caesarstone by clicking on this.
The kitchen comes alive when you combine the right amount of style, function, and design. In this article, we have shared ideal Kitchen Layouts that can help to choose your size and layout of the kitchen.
Kitchen layouts
There are different types of Kitchen layouts that work on different kitchen types. We have talked about all of them in our Kitchen Wall Ideas collection. But, in this article, we would like to focus on how to choose the ideal kitchen layout for your kitchen.
There are certain aspects that a homeowner should think of when deciding on the layout of their kitchen. Whether you are thinking about a new custom kitchen or remodeling your existing kitchen, think about the following aspects: How many people will be in your family regularly?
If you live with your partner and child, you should consider what layout works best for everyone in the family.
How to plan a kitchen layout and size
A good kitchen layout can help you create a cooking space, a useful work area, a relaxing space, or a multipurpose cooking dining space. The kitchen layout will guide you to choose an essential feature over another.
Most new houses in the US have an average kitchen of 160-380 square feet. The smaller the kitchen size, the more functional space is available for you to do what you need. With proper planning, you can get the most out of the space given to you.
If you have a small kitchen due to budget constraints, you can use what you have with creative solutions. Make sure that the cabinets are deep enough and have sufficient storage. You require a table that can fit the number of seats you need. The countertop must be ample, the countertop can be a wooden or a laminate countertop, and your dishwasher, stove, and microwave should be in an ideal location for easy access. The following kitchen remodeling ideas can be used in any size kitchen.
To choose the best kitchen layout, you must first know the right concept of the kitchen. It is important to design your dream kitchen based on your daily activities and how you plan to cook and entertain guests. Let's check out the best kitchen layout to get inspired:-
U-Shaped Kitchen Layout
U Shaped is a popular kitchen layout, as it has all of the space to work with, allowing a small room to have a large kitchen. When planning a small kitchen, it's important to keep it as close as possible to the main room to give the illusion of space for your kitchen.
When considering which kitchen layout to choose for your new place, you will need to think about the house layout, the size and shape of your kitchen, and what you want from the layout.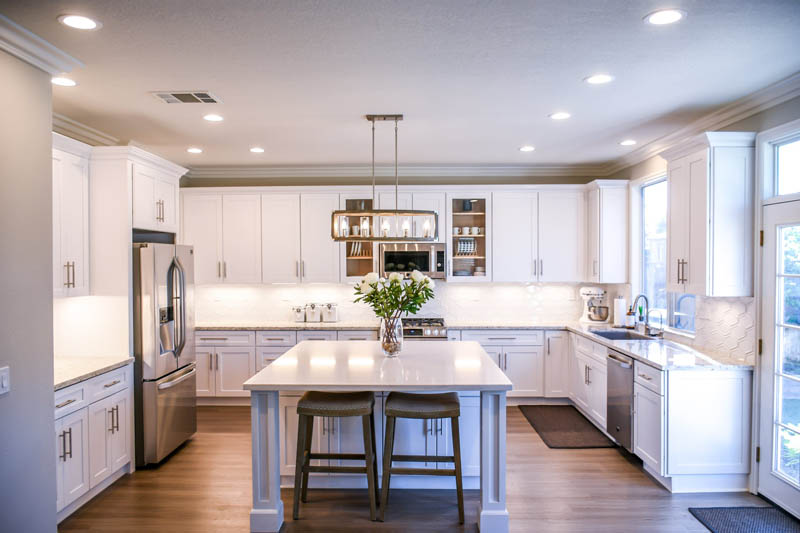 Galley Kitchen Layout
The galley kitchen is the workhorse of cooking in a home. A large and open kitchen island makes meals more efficient and allows you to cook while having multiple guests around. You can also incorporate a breakfast bar with this layout to keep food within easy reach throughout the day.
The galley kitchen layout features large cabinets and appliances alongside the kitchen island. The island doubles as a bench and a prep area, along with a built-in worktop. The island can also work as a breakfast bar and is convenient for large gatherings. The sink may also be raised to counter height for easier access.
Galley kitchens are large and airy layouts. They are often a room unto themselves where the majority of the cooking and eating takes place. Galley kitchens may not require the work triangle, but they do provide more than enough prep and storage space. They're also more open than traditional cabinets and islands, which can allow them to look more contemporary.
One-Wall Layout
While the kitchen work triangle is generally found in full-sized kitchens, a one-wall kitchen layout efficiently maximizes a corner space. A one-wall kitchen is a kitchen where the wall and an appliance or storage unit form the countertop.
If you're interested in a more efficient kitchen organization, consider this one-wall layout as it allows food prep and cooking supplies to be more readily available. The fridge and stove are both located in an ideal location.
If you enjoy cooking with friends and family, this one-wall layout is suitable. As long as you have the space, this layout could work best for you if you're looking to make some modifications and streamline your existing kitchen. It won't work well, however, if you don't have enough space in your kitchen to use this layout. If you need a new home, the one-wall layout could also be an ideal fit.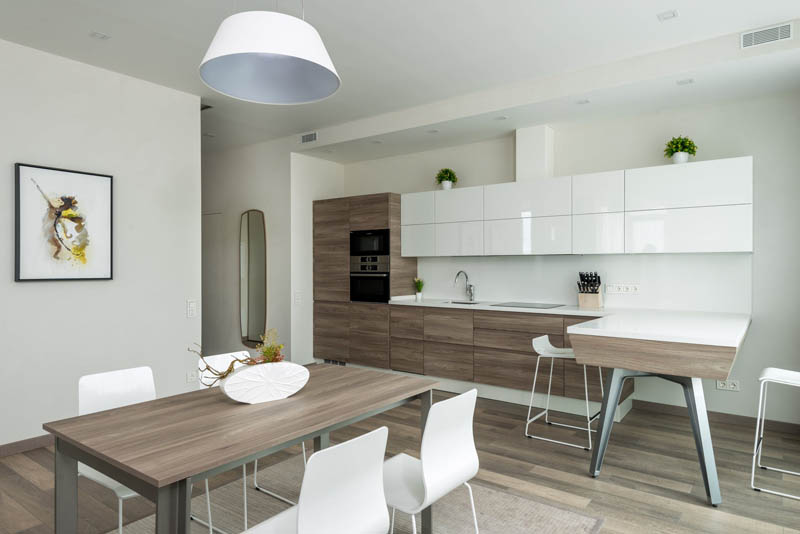 L-Shaped Kitchen Layout
A more ideal kitchen layout than the galley, the L-shaped kitchen employs more space to make food and clean dishes. There's adequate storage space in this space, and all the major appliances are within grabbing distance. To use the entire kitchen area at once, consider making the kitchen island longer than it is wide. The L-Shaped Kitchen layout maximizes space and allows you to maximize functionality.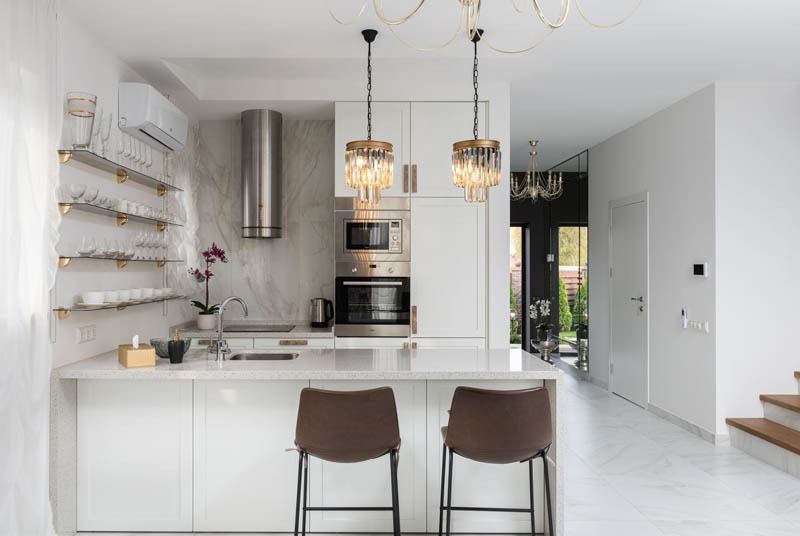 Island Kitchen Layout
An island kitchen is a kitchen space with unique functionality. Kitchen islands offer room to cook, but they don't have to be an island. The island design can work within a floor plan in any shape or size.
An island kitchen has plenty of work surfaces and open space. Island kitchens are versatile and designed for multiple users within a single space. Also known as prep islands, these work areas can allow the kitchen to function as an eating area simultaneously with being a spot for the preparation of meals.
Islands can be configured either with a work triangle in place or without. Either way, the size and placement of this kitchen feature help maximize work areas to keep cooking and preparing meals simple and convenient.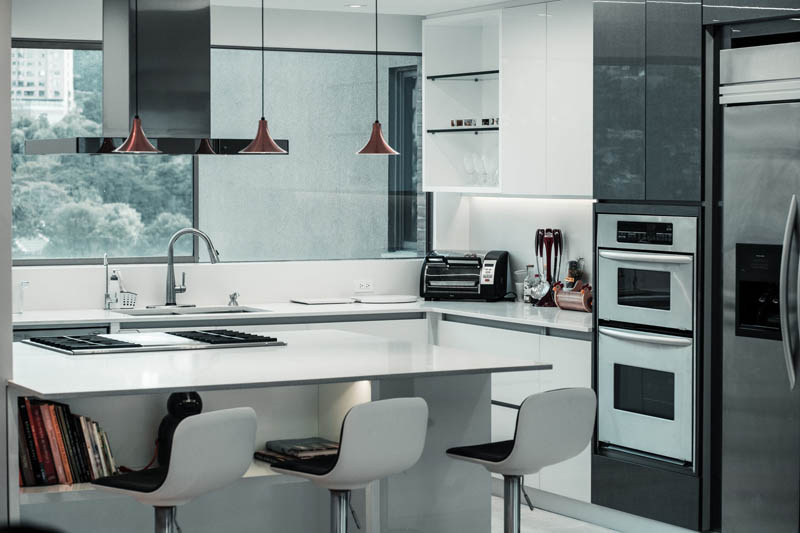 Parallel Kitchen Layout
This kitchen layout is ideal for those with odd-shaped kitchens or those who require plenty of elbow room. With this kitchen layout, you don't have to worry about crowding appliances or counter space.
Conclusion
In this article, we explored some ideal kitchen layouts that can help you choose your ideal kitchen size and layout. Each of them has distinct advantages. Hence, when making your selection, consider your kitchen layout and how it will function in all aspects.
In small kitchens, you can use the galley layout and keep the work triangle in place but also make use of other available spaces such as a breakfast bar.