Design in the 1920s was all about art deco, with glamor and sophistication at every turn. It was en-vogue to romanticize the Big City, with décor reminiscent of geometric skyscrapers and an over-abundance of shiny surfaces and opulent metals, like brass and gold. Curved lines were everywhere, from sloping walls to rounded furniture, and color palettes were largely neutral with vibrant pops of deep red, forest green, peach and powder blue.
Sound familiar? Perhaps it is the cyclical nature of fashion and design, or perhaps it is destiny, but it seems that the roaring '20s are coming back just in time. If you are eager to redefine your space for the new decade, you might think about adopting a few of the following flapper-era interior trends in your space.
Go Bold With Color
Minimalism — with its boring monochrome whites and grays — is over. Even if you are opting out of the burgeoning maximalism trend, you should feel confident going bold with color when striving toward art deco. Admittedly, art deco interiors aren't neon- or rainbow-hued; they tend to be relatively moody, almost like a noir film. However, art deco also incorporates pops of deep, rich color, like teal, forest green and wine red. Generally, jewel tones are more traditional art deco, but you can modernize it with brighter tones, like tangerine, powder pink or electric blue. You shouldn't be afraid to paint at least one wall in a bold color, and you might use accent décor like throw pillows or sculptures to bring color in elsewhere.
Invest in Artwork
It's no coincidence that "art" is the first word in this design style. Art deco interiors are filled to bursting with oversized art, from large posters and paintings to sizeable sculptures. In fact, art is so important to this style that many functional pieces of design, like lamps and chairs, mimic art themselves. Even if you don't have the budget to buy an original Tamara de Lempicka painting or a sculpture by Lee Lawrie of Rockefeller Center fame, you can buy replicas or else invest in ornate furniture that act as art pieces.
Think Geometric
Skyscrapers near-perfectly define art deco style — largely because so many of them went up during the roaring '20s and created a cycle of influence on design. Their straight lines and angles inspired so many interior designers of the era, and geometric shapes became important elements of the style.
Fortunately, there are dozens of ways to add geometry to your room without major renovations. For example, I hired interior painters near me to paint my walls teal and apply geometric-patterned wallpaper to an accent wall. The wallpaper's pattern has a golden metallic sheen, crossing two items off art deco's style checklist. Another option is to buy furniture with more geometry, like geometric-patterned fabric or lines reminiscent of skyscrapers. Plenty of minimalist and modern decorative pieces boast the geometric look, so you have plenty of options for crafting a modern art deco interior.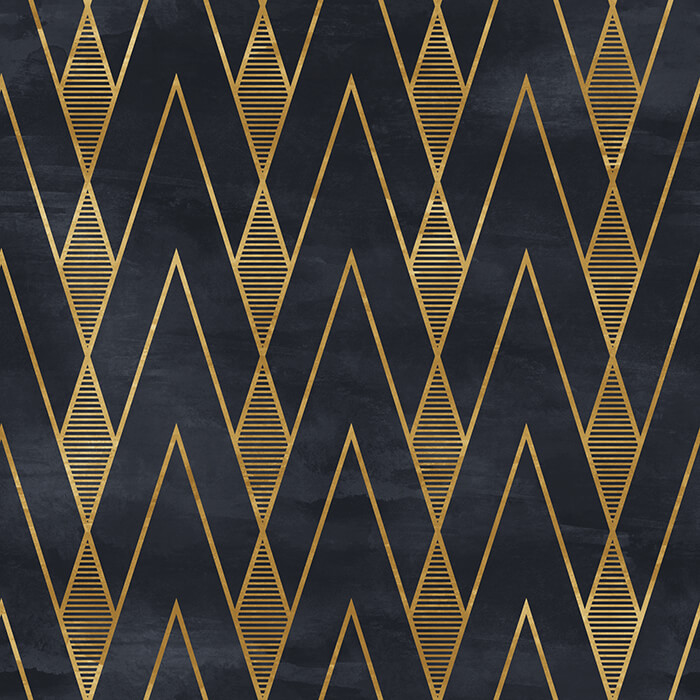 Think Grandeur
When you are trying to imagine art deco, it helps to remember Jay Gatsby. Art deco is about bringing luxury, sophistication and style into one's home — even if one doesn't have a bottomless bank account or live in a New York City penthouse. You are trying to make your space feel important and lavish, which might seem daunting given your non-lavish budget. Fortunately, you don't have to invest a fortune in art deco décor. In fact, by installing only one or two expensive-looking pieces in your room, you can create a grand vibe that suits the style.
One place worthy of investment is lighting. Electric lights were still relatively new in the 1920s, so certain styles of electric lights came to define the era. You might opt for a dazzling crystal chandelier or some other striking art deco–inspired hanging lights over the main entertaining area of your room. Even if the rest of your large pieces are economical, the lighting will draw eyes and appreciation.
Sprinkle the Exotic
Finally, in the first roaring '20s, world travel was only just becoming accessible to the average person. Before this decade, few people had the funds or leisure time to take a many-week journey across the ocean to visit Europe, Africa or Asia, but thanks to a wealth of oil-powered ships, far-distant lands became slightly closer, and their cultures began to infiltrate American style in small ways. You shouldn't be afraid to add decorative touches of cultures you admire, especially cultures in the Mid- and Far East. Small trinkets, exotic plants, textiles and other elements add some excitement to the room, and they fit perfectly with the art deco aesthetic.
The '20s are upon us again — and since you undoubtedly missed out on them the first time, you can take full advantage of the roaring excitement in this century. By styling your home in art deco, you'll not only be ahead of interior design trends, but you'll get to feel like you're living next door to the F. Scott and Zelda Fitzgerald.