Flowers are, no doubt, a perfect addition to almost all rooms in your house. They don't only add extra freshness to your living space, but they can also brighten up any dull area and bring elegance to your home. So, if you're searching for some ways to decorate your home, you can never go wrong with using flowers as your decorative elements.
From daisies that add a pop of color to tulips that aren't just ideal for an anniversary, but also symbolize a variety of meanings, you can decorate your home with different flowers in unique ways. Although fresh flowers are a great choice, quality faux flowers can give you a look that will last.
To get started, make sure to consider the following ideas: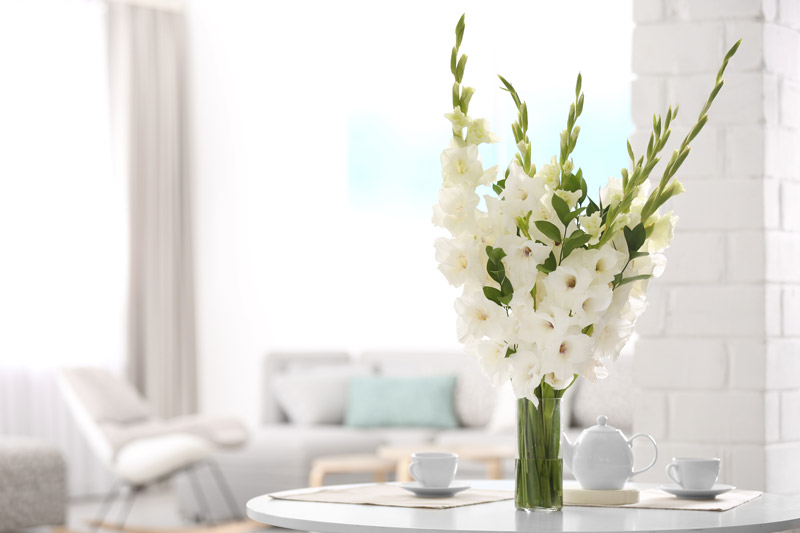 1. Learn The Art Of Flower Arrangements
To save money on various flower decorations, learn how to do flower arrangements and see the difference in bringing elegance to your house. Knowing some crucial information about flower arrangements can provide you with different benefits.
If you want to brighten your space with fresh-cut flowers, you have to prepare your preferred flowers first by getting rid of the unnecessary parts. Using clippers or sharp scissors, remove the thorns and cut the excess leaves that could get submerged in the water. Take note that submerged leaves rot easily and may damage the plan, reducing their life.
The other basics of proper flower arrangement include the following:
Extra space can be filled with tiny flowers and foliage.
Always use tape or floral foam to keep the flowers in place.
Small flowers are placed around the bigger ones.
Bigger flowers must always be at the center part.
Your flower decorations can influence the mind's emotions and perception of people looking into it via color psychology.
2. Prioritize Fragrance In Personal Areas
In bathrooms and bedrooms, where privacy and intimacy are kept, you can use some flowers in aromatherapy. Through this, you're fully using flowers not just as decorations, but also for their aroma.
If possible, use vibrant and soothing colors, including light yellow, lavender, blue, and pink. There are some aromatic plants with a mild smell, and these include mogra, lavender, and chamomile. If you like to level up the intimacy and romance with your partner, your best options are red roses.
3. Focus On Substance And Style
If you want a more traditional interior, go for denser and fuller arrangements. For more contemporary and mid-century interiors, opt for less dense and looser arrangements. Plus, never match your flower arrangements to your interior and complement them instead.
For instance, if your house is a palette of soft pinks, pick a stronger shade of pink, which attracts attention. Adding a pop of color to your serene interior or softness to vibrant spaces will surely keep the eye interested.
Ensure that your vases are watertight to avoid leakage. It's also crucial to choose flowers that don't have pollen. If they have, get rid of the pollen before it falls from the flower. This is because pollen can have a damaging impact on soft furnishings, such as carpets and fabrics.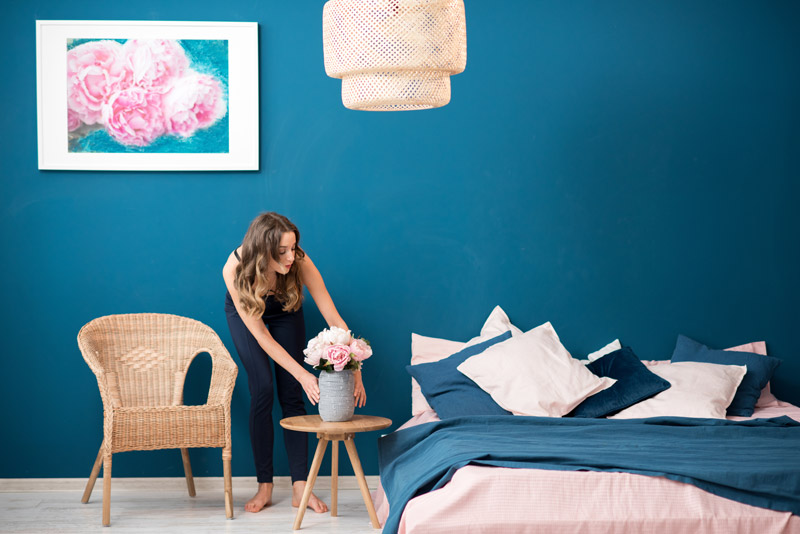 4. Be Creative
The perfect places to position flowers within your house are the spots where you'll spend most of your time and where you can enjoy them fully.
Depending on your preferences, you can place an impressive and big design on your entrance table to add impact as your guests arrive. Luxurious and low designs can be placed along with the dining table, throughout your living area, and on the bedside tables. To ensure that your flowers will last, place them in an area out of direct sunlight and with a cool atmosphere.
If you want flowers that last for a week, there are varieties that can perform better than others. Eremurus, gladioli, hydrangea, calla lilies, and molucella are some of the must-have accents you'd want to decorate in your home.
To create a chic look, use a single flower variety in every vase. If you enjoy different types of flowers, consider clustering several vases with a single flower variety to create a luxurious look.
5. Mix And Match Colors Into Flower Decorations
Warm colors, including yellow, red, and orange, are responsible for igniting and provoking feelings. These are associated with positivity, cheer, encouragement, and happiness, and reminds you of the summer season. Moreover, such colors are suitable for lifeless and dull rooms with only some decorations, improving the energy for anybody facing struggles, and boosting the sense of rapport and connection between you and your guests.
On the contrary, cool colors, including purple, green, and blue, establish tranquility and relaxation to the eye. Such are the perfect colors to look at after a tiring and long day at work. Cool colors would look great on your home's entrance and bedrooms.
Conclusion
Decorating your home using flowers reveals a lot about your personality and lifestyle. While others view flower ornaments as another kind of decoration to add life and attractiveness to a particular area, they're more than that. A flower decoration represents a combination of luxury and style that no other decorations can do.