Collecting art pieces can be one of the most rewarding things you've ever done. Aside from being a form of statement, art can serve as an investment. Yet how much you earn from it is the result of how well you can sell collected art pieces. In a nutshell, profit is based on your negotiation skills and not always on the intrinsic value of your precious collections.
The truth is, selling art pieces doesn't have to be tricky, subject to the rigors of demand. Instead, you can consult auction houses, such as Clars, to help with the sale. That way, you spend less time looking for buyers and still earn deserving profits.
How do you engage auction houses for your products? You'll find answers to that in this post, so continue reading.
What Are Auction Houses?
Auction houses work as an agency platform that facilitates the buying and selling of art pieces. They engage in several auction types, including English auction, Dutch auction, and sealed first-price auction.
Before auctioning, auction houses appraise the value of items. Afterward, they open bidding proceedings on them, low enough to attract bidders. The lower the opening bid, the more attractive your art pieces are to potential buyers. As interest piles up, the value increases to a final winning bid at which items or collections are sold.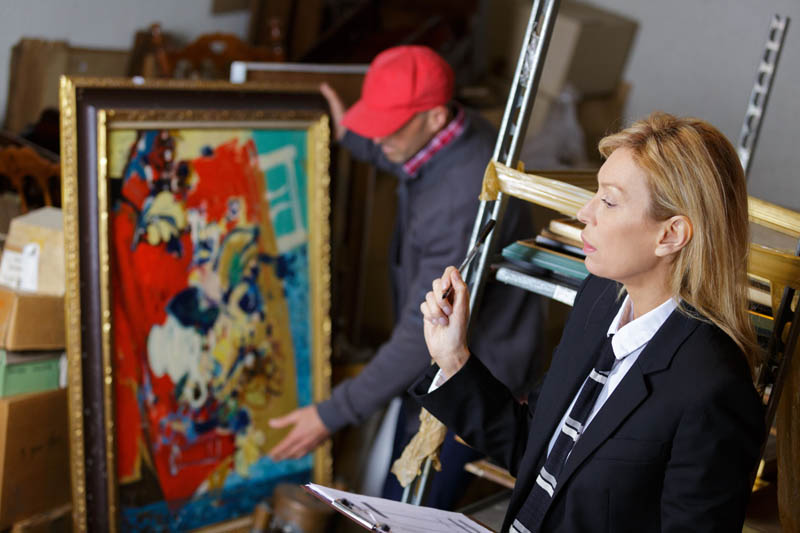 Why Should You Sell Your Art Collections Through Auction Houses?
Auction houses have proven incredibly helpful with property sales, including art collections. Some of the reasons you should consult them include:
Fair Appraisal: Auction houses will honestly appraise your art pieces before auctioning. They tell you exactly how much your collections are worth and show you proof of them.
Fair Market Price: It's easy to sell your art pieces at low prices if your negotiation skills are poor or you're ignorant of their worth. However, by consulting auction houses, you won't have to worry about that. You get the correct value for your art through open bids.
Trade Alternative: Not all art pieces command great value. Pieces without much appeal don't always attract buyers, so you may find them difficult to sell. Yet auction houses offer an alternative to selling them. Through open bids, you may find someone interested in them regardless of their worth.
Fast Sales: Some art pieces are rare while others are not. The rarer they get, the higher the demand. So, it isn't easy to get buyers for standard art collections. Unless you're selling them through auction houses, it takes some time to make a sale.
All said, selling through auction houses rewards you with the effort you invested in your art. However, before you engage with one, you need to know how to do it.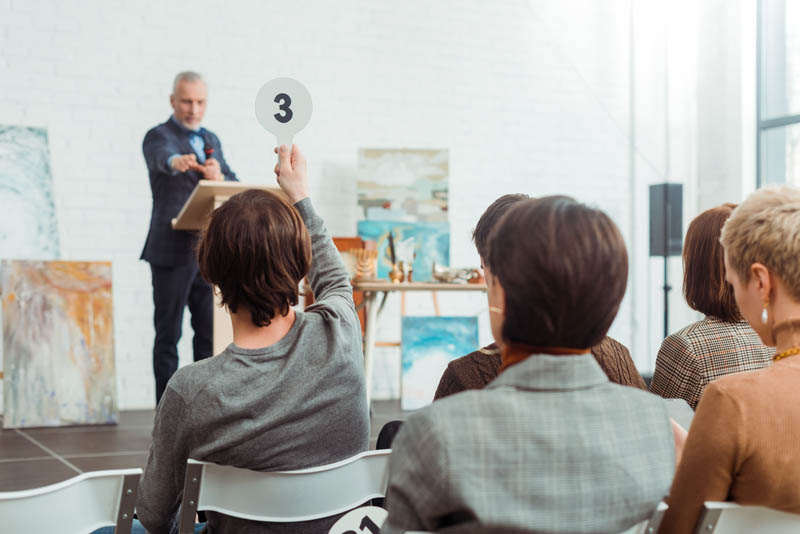 How Can You Sell Your Art Collections Through Auction Houses?
There are several things to do before you consult an auction house. Needing the help of an auctioneer for your art requires a basic understanding of the auction market. Here are some things to take note of:
Understand The Parties Involved

In typical auction houses, several parties facilitate trade. You'll often find the auctioneer, consignor, bidder, and specialists. The auctioneer is the auction MC, you're the consignor, your buyers are bidders, and specialists are those behind assessing your art. In a digital art auction, the auctioneer is the brand you're dealing with.

Understand The Terms

Digital or not, there are terms signatory to art auctions, and you should be familiar with them. Some of these terms are:
Lot: A piece of art or collections you want to sell as a unit
Appraisal: The evaluation of your art pieces by specialists to determine their value
Estimate: This is the range bidders expect your art pieces to sell.
Catalog: A list of items an auctioneer wants to auction
Reserve: This is the minimum amount you can accept as a winning bid for your art pieces during an auction.
Commission: The percentage of money auctioneers take from the sale of your art
Guarantee: An agreement between you and the auctioneer regarding the minimum price your piece should be paid, whether it sells or not
Understand The Auction Steps
There are primarily four steps to selling your art collections with the help of an auction house. In the first step, you submit an image of your art pieces, mentioning their dimensions, medium, titles, and artists. After that, you wait for a vetting committee to review the work. The vetting result would estimate your collections, which is the third step. The final step is to enter an agreement, whereby your piece is added to a catalog and auctioned for sale.
Conclusion
Your art collections can bring you excellent and quick returns if you know how to sell them right. One of the ways to sell them is through auction houses. To do that, you need to understand how art auction works, considering the terms, parties, and steps.