The two things that I see common regarding perception of futuristic technology is that products are going to be compact and well integrated. In this post, I am to present you with some Innovative Compact Design.
'One' – Folding Bicycle by Thomas Owen [link]
'One' provides a real solution to the problems involved with urban transport. With congestion rapidly clogging up the roads the need for products that can free individuals from their car are in real demand. When open, 'One' is a comfortable stylish bicycle that not only offers all the benefits of cycling (like cheap travel and exercise) but with its revolutionary power assist system the user can cruise around with ease. When folded, 'One' turns into a smooth, light and compact case free of all dirty and protruding parts. 'One' can be easily carried, stowed and stored. 'One' is truly a bike for eco and money minded individuals alike. Its stylish design strips it from the folding bike stigma and makes it a bike for the 21st century.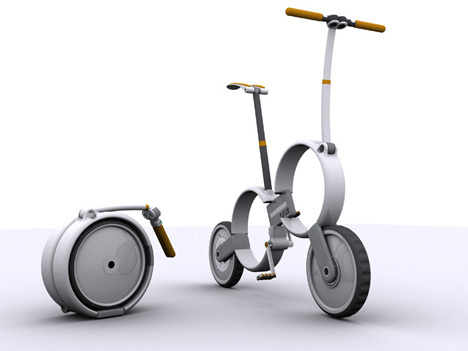 Alma Urban Cot [link]
You want to be looking at a cot that's easy to assemble, safe for use, easy to store when junior outgrows it (or when not in use), convenient height of the bed so that you don't have to bend too much. Finer details like these and more will lead you to the Alma Urban Cot, which is as dynamic as a cot can get. It's got a minimalist approach with the unique and simple patented fold and the two mattress heights. This gives it the benefit of being a bassinet or cradle with a cot/crib. It can be used by the baby for two years, after which he can graduate to the big bed.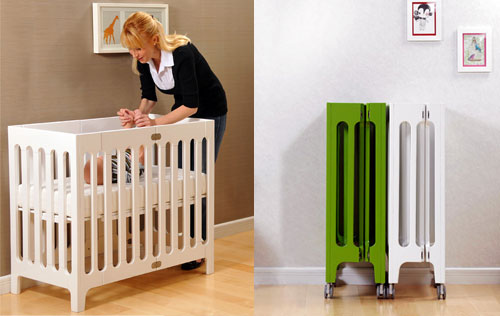 TopUp-helmet [link]
Made from textile instead of rigid materials, the "TopUp Head Protection" for cyclists and walkers is an exploration of the honeycomb pattern and device a protective gear for the head. The brief was to design a gear that was is light and compact and that could deal with minor bumps and falls. The honeycomb was an obvious choice for its impact resistance and shock absorption qualities.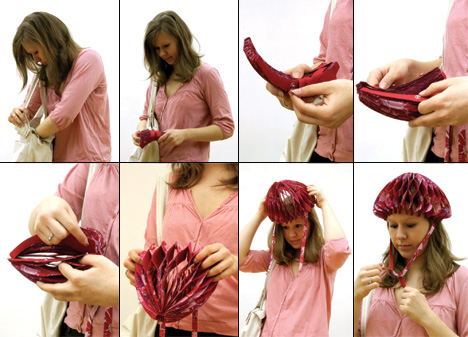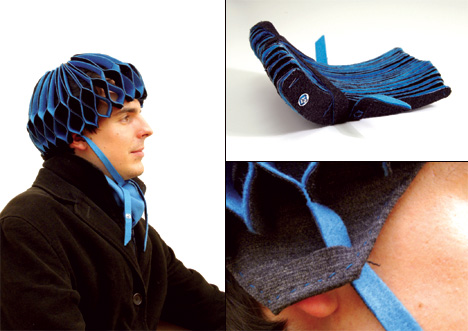 Eat, Cook and Clean Up, All At The Same Table [link]
A circular five-seater table with retractable chairs that fit flush with the frame of the table when not in use.
A part of the table used to refrigerate food and is divided into 2 separate sections with a total volume capacity of 203 liters.
At the touch of a button, the black glass top becomes transparent allowing a complete view of the fridge contents beneath it.
The food is stored in bins where it is divided into groups (dairy products, smoked meat, vegetables, fruits etc).
This is where a rotating storage compartment is located with a volume capacity of 98 liters, designed to store small groceries.
The second part of the refrigerator is integrated into the center of the table and chills your bottles.
The shelves of the bottle fridge feature punched with holes minimizing the escape of cold air when the refrigerator is lifted. This section has a volume capacity of 105 liters.
Two buttons help you to use this second fridge: One for Pulling up the fridge, the other for rotating the stand for easy selection.
Small appliances are located inside a stainless steel inter-circular compartment that is manually rotatable and can store up to 8 different electrical appliances. These appliances are easily replaceable.
The appliances integrated include a mini-dishwasher, toaster, coffee machine, boiling kettle, cold water dispenser, a freezer, mini-microwave and cutlery holder.
The top layer of the table is a touch display screen, allowing access to the internet. It displays daily press (newspaper, magazines), allows search for recipes and enables communications.
The table top display can be changed to accommodate soothing views or even fun games.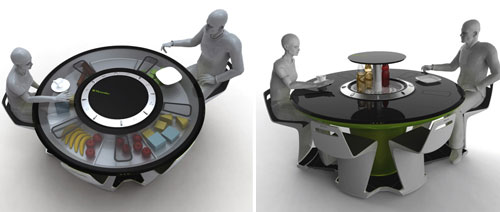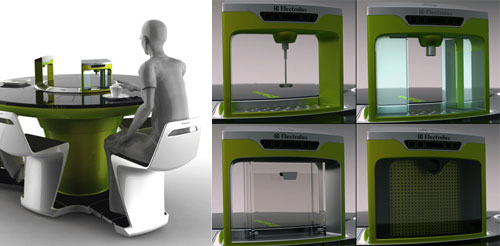 Petite Cargo Pickup Plays Transformer [link]
Here's the deal about this fantastic Cargo Pick-up concept: It features a Compact Mode, Narrow Mode (with banking corner action) and Pick-up Truck Mode. The Compact Mode sees the Pick-up section flushed to the back of the cabin. It's an ideal situation for small deliveries. The Narrow mode gives reduced width and higher maneuverability and as the name suggests, the Pick-up Truck Mode allows you to carry larger payloads.
The Clip-On composite body panels give plenty of real estate for putting up adverts, which I think is a brilliant idea. The CarGo Pod or the storage compartment when empty can be removed to further reduce the vehicle length.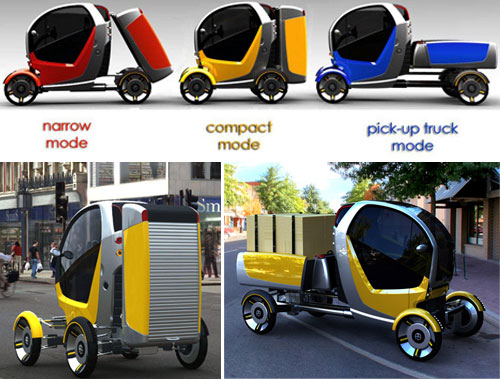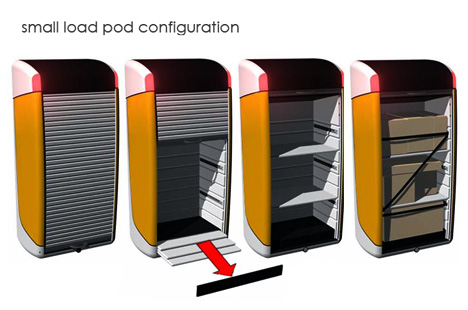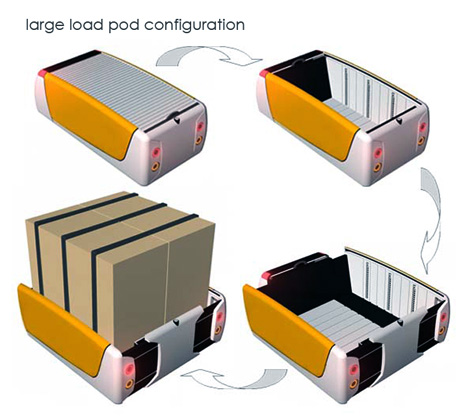 "IMO" concept coffee maker [link]
"IMO Coffee Maker" that is not just compact in size but also sleek in design. Getting a nicely brewed cup of coffee on your own is no big deal with the sophisticated IMO Coffee Maker. It has been designed to enrich the users with a unique coffee making experience. The device is able to make three sachets of coffee without making any change in the water in the reservoir. One of the most interesting features is an articulated arm that can be used in different positions to be used with containers of diverse heights.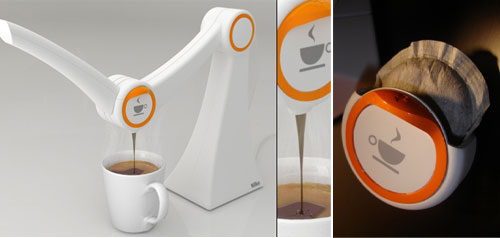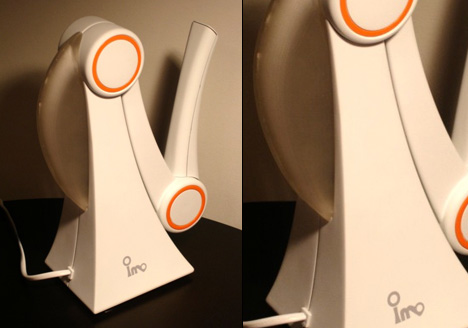 Thin Chair by Jake Phipps [link]
The design allows the ISIS chair to fold completely flat to a depth of just 3cm, in one effortless movement. The chair is made from a series of flat geometric panels that are linked together and contained within its own frame. Each panel is constructed from several high strength laminations which are designed to ensure that the chair flexes and supports the user, providing an unexpected level of comfort.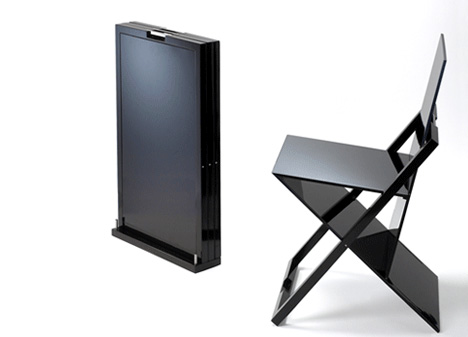 Lift – Modular Kitchen by Michel Cornu [link]
Lift is a kitchen concept that fulfils our daily needs for modular and dynamic systems. Apartments and houses are becoming smaller therefore we need to design products that are able to offer a lot and at the same time be compact. Our design features different sliding (up and down) modules containing all the necessary tools a kitchen must have. While your not working or cooking you can close the sliding units together and create different kinds of sideboards. Lift can be well positioned in a one bedroom apartment, in a studio, in a loft or in a open space kitchen / living room area.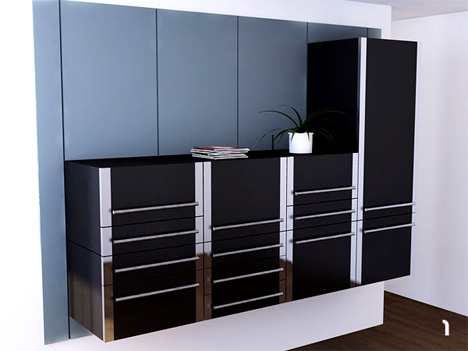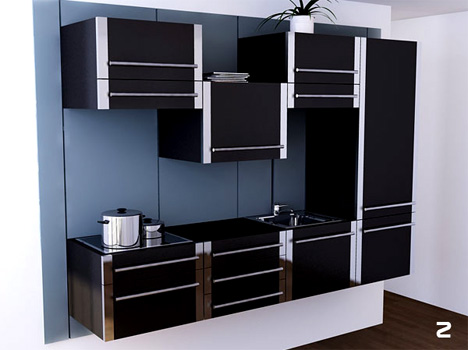 Fold-Out Bedroom Design [link]
Composed of three essential elements (Pod, Media Station and Satellite), ROOM is a room-in-a-box bedroom solution that expands and contracts as needed to conform to user requirements. Simple construction and materials make this a design-within-reach for its target demographic (primarily younger buyers) and customized materials allow people to upgrade to more elegant versions should they choose .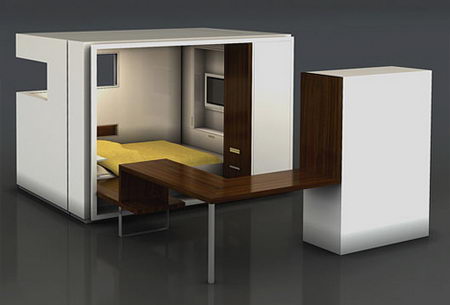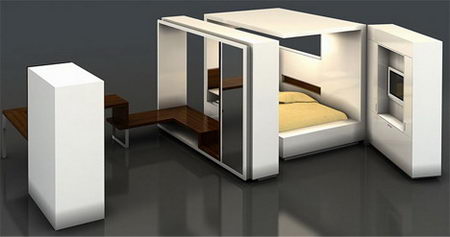 4sides4home – No Walls, Only Partitions [link]
Without compromising on privacy, the 4sides4home is an amazing interior option for those who have small apartments and even smaller families. The concept utilizes the given floor space optimally by doing away with the walls and incorporating partitions instead. Imagine a huge + (plus sign) on the floor plan where each wing is a specific room. What you design or expect from the modular room is up to you. For instance the four wings could each be a living room, a bedroom, a study and a dining room.