Table placemats are an essential part of setting a beautiful dining table. They not only protect the table from scratches and spills but also add an element of style and elegance to the dining experience. Traditional rectangular placemats have been around for a long time, but in recent years, designers have been experimenting with different shapes to bring a unique touch to the table. From leaf-shaped to heart-shaped, and from boho-styled to flower-shaped, these table placemats add a fun and stylish element to your dining table. Whether you're hosting a formal dinner party or a casual brunch with friends, a cool-shaped table placemat can set the tone for a memorable meal. In this article, we've compiled a list of ten cool-shaped table placemats that are sure to impress your guests and elevate your dining experience.
Evevda Green Leaf Shaped Vinyl Placemats
These placemats are easy to care, can be washed directly or wiped.
These placemats are made of vinyl so they are durable. They are the best protection for the dining table.
These placemats will not deform or wrinkle.
The texture of placemats are soft and the back side are flat, and these placemats can stick to the table very well.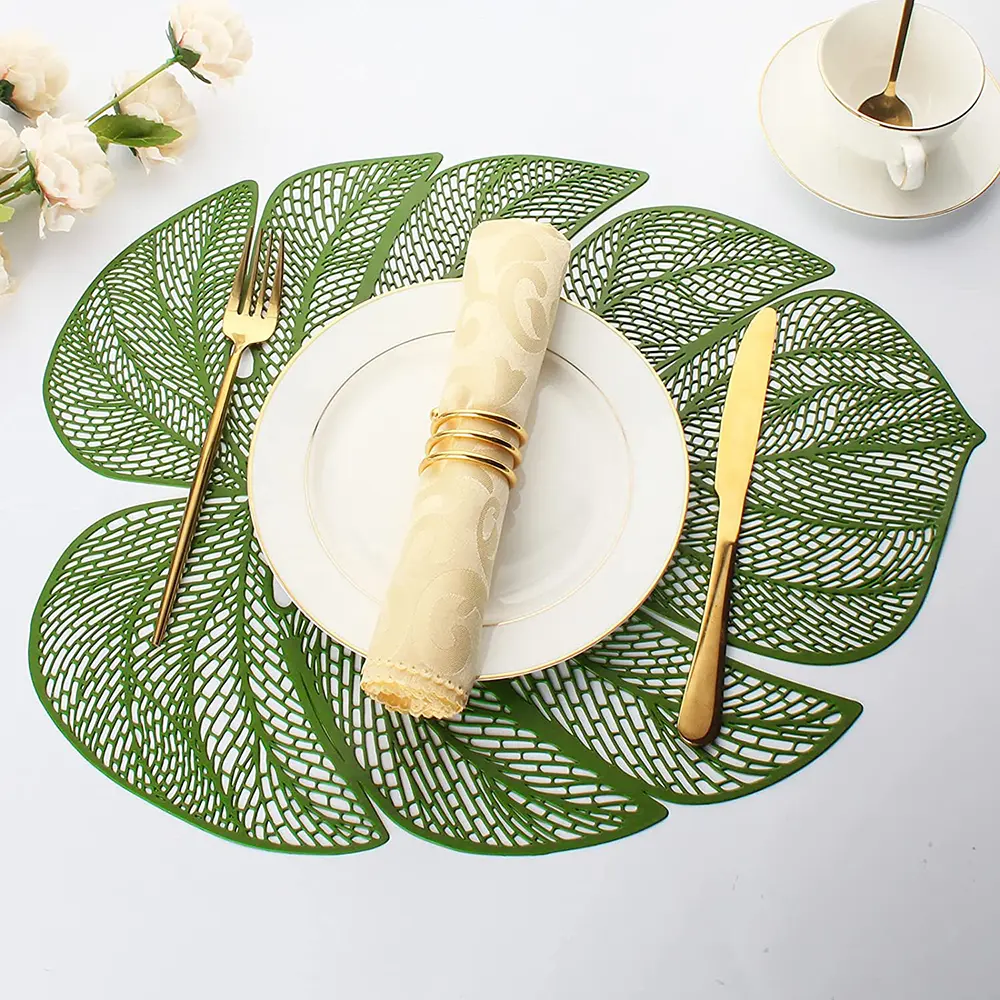 [buy on amazon]
10 Pcs Artificial Banana Leaves Placemats
100% Polyester, natural and clear veins, like real artificial banana leaves. The leaves banana surface is completely flat, and the water cup filled with water will not tilt and overflow when placed on it. Non toxic, tasteless and reusable.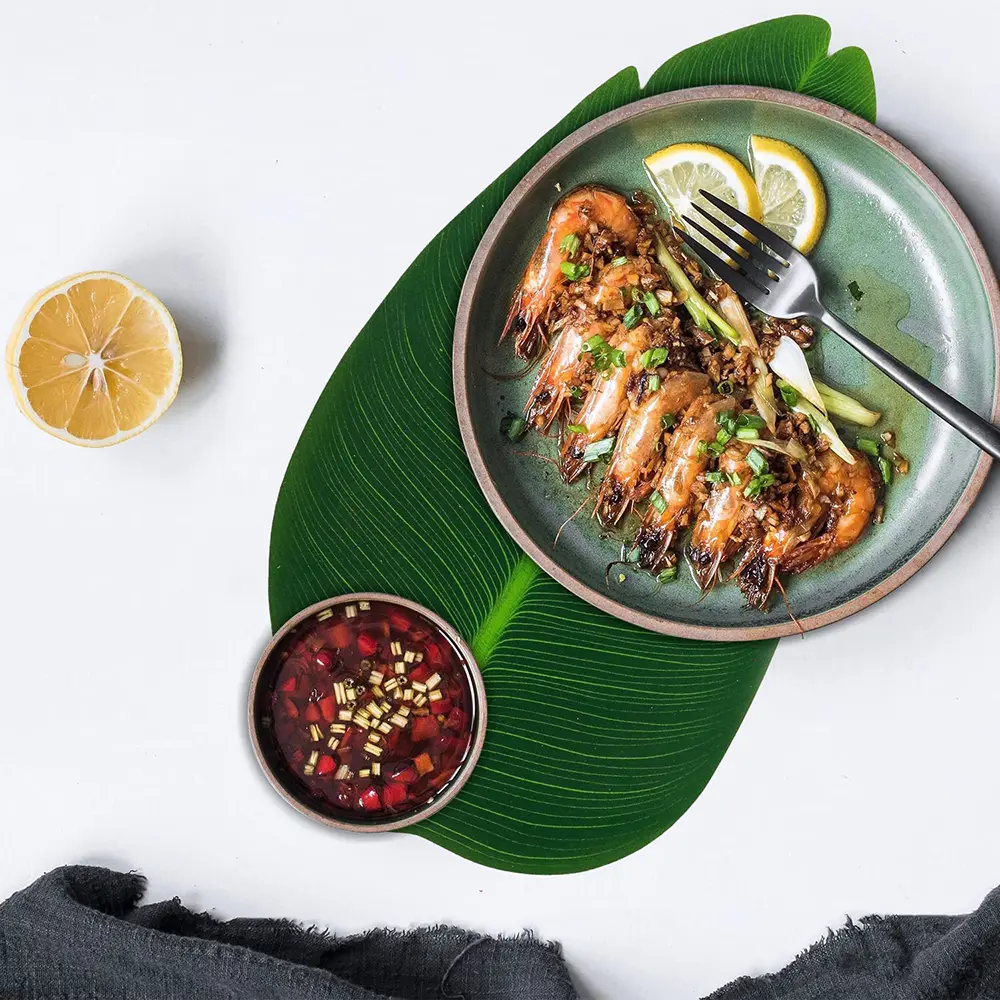 [buy on amazon]
6Pcs Monstera Leaf Placemat
Premium-quality craftsmanship, durable, paper-thin and completely flat, these monstera leaves are perfect mats for plates and tableware. With a gentle clean and wash theyre easily reusable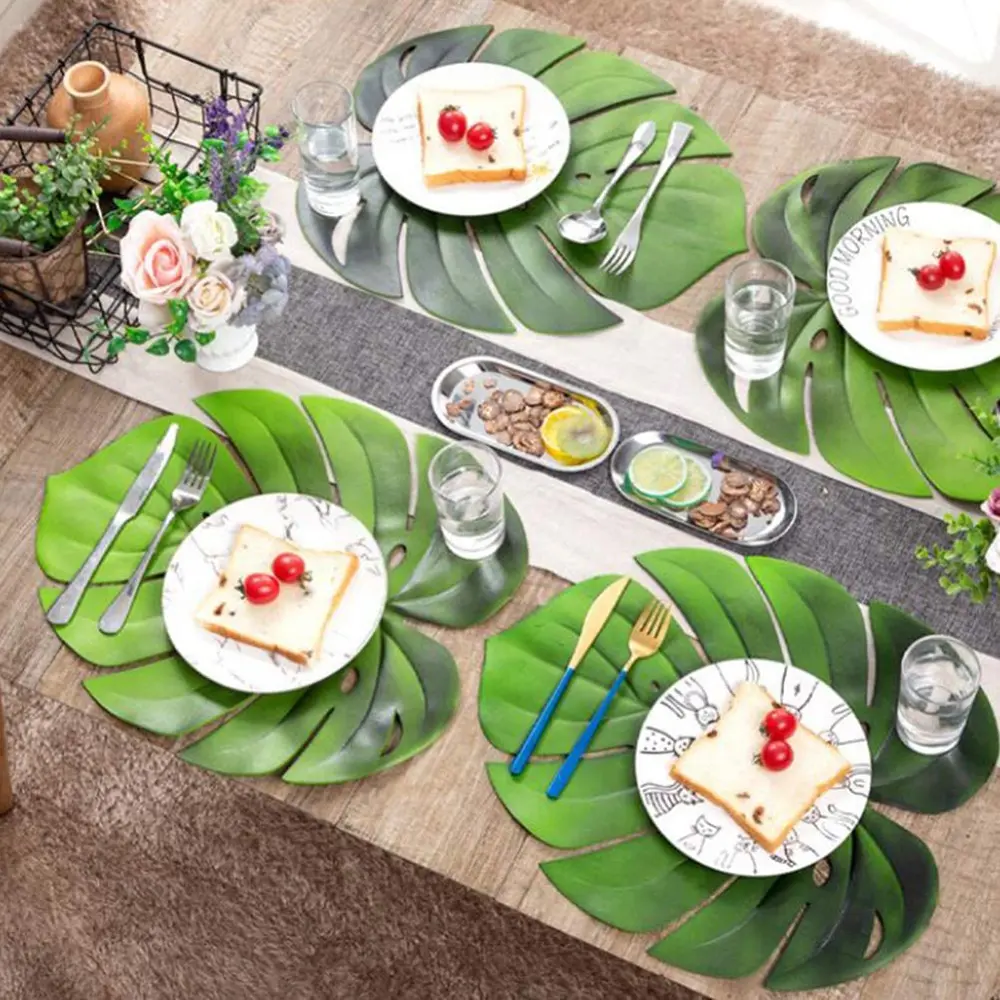 [buy on amazon]
Bercoor Wooden Slice Plastic Place Mats
Each round wood plastic placemat is approx. 15 inch in diameters. The fake wood place mats are made of quality plastic, Sturdy and can be recycled many times. Each round placemat is the pattern color of the log, which is very realistic.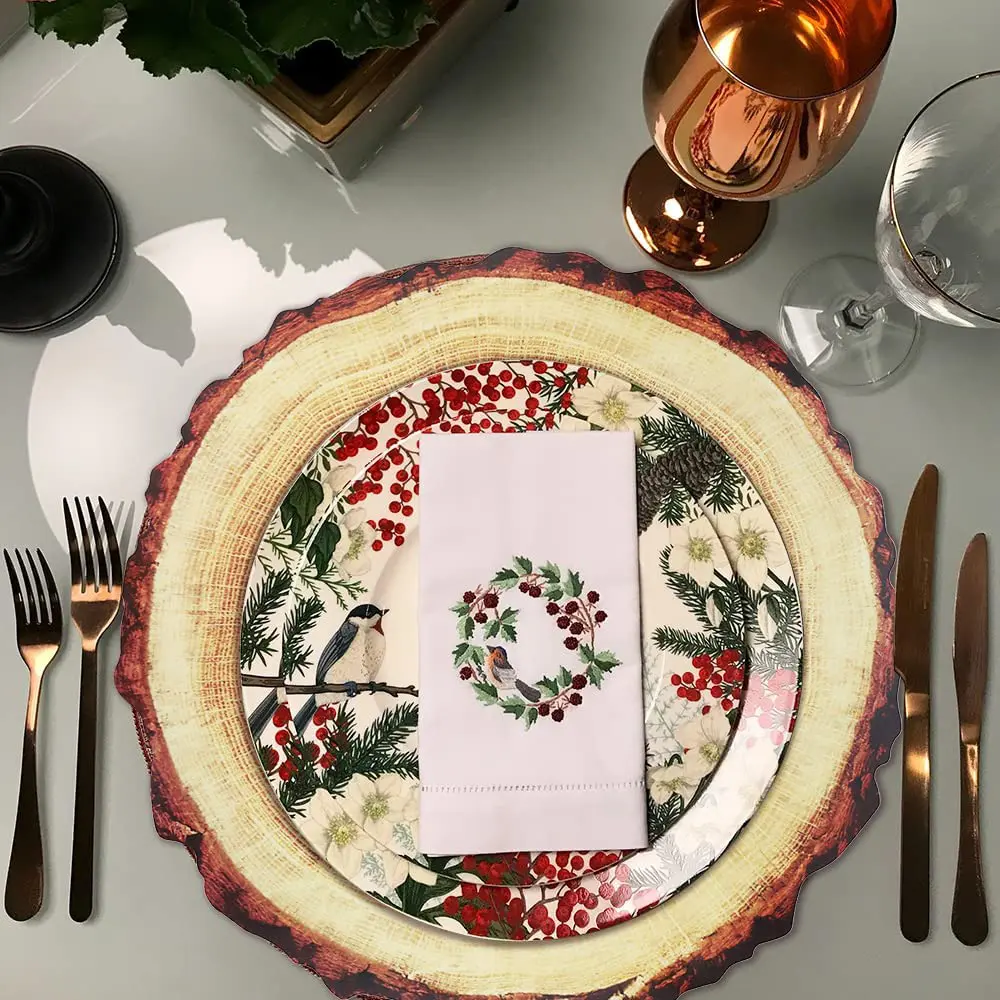 [buy on amazon]
Handmade Cotton Woven Boho Placemats
100% HANDMADE macrame placemats. From its cute tassels and farmhouse pattern, each braided piece is woven with care. Perfect cream placemats for any boho dining table. SO EASY TO WASH and made with premium durable long lasting thread. Most white fabric placemats with fringe are a hassle.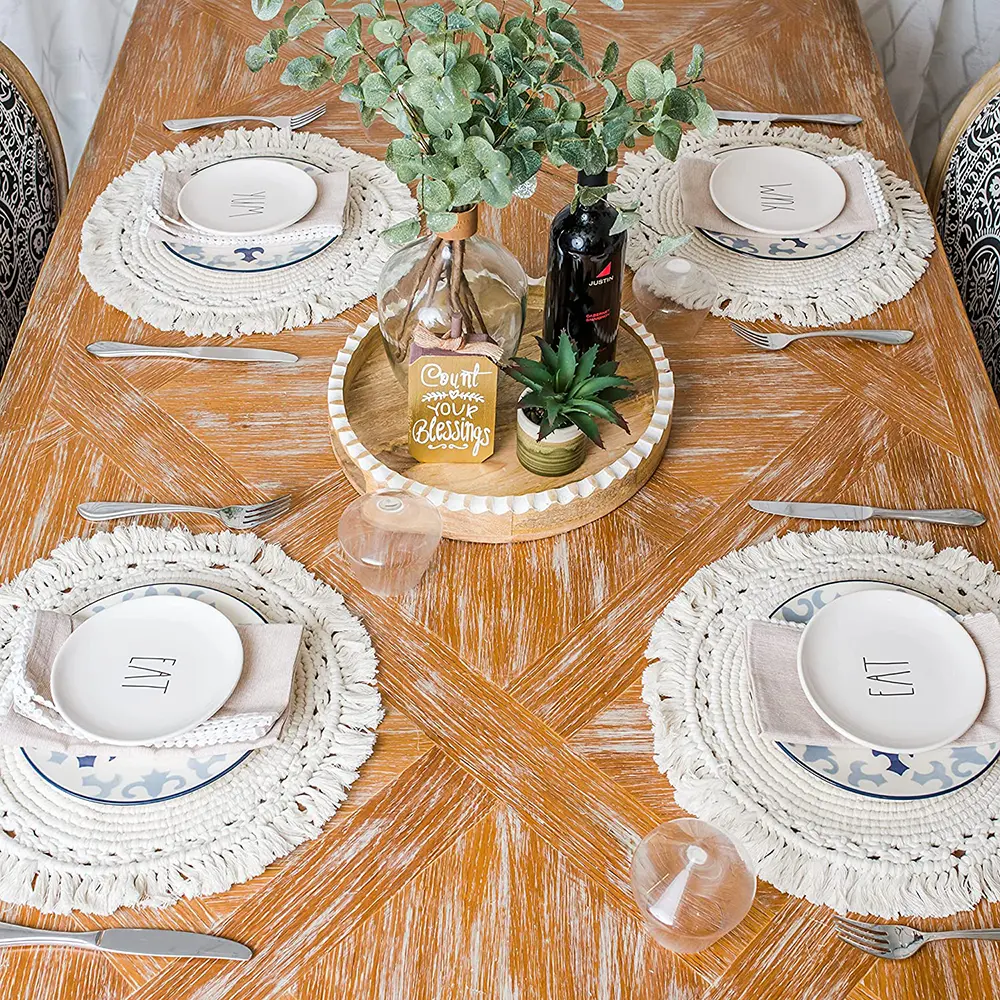 [buy on amazon]
Sieral Round Pressed Vinyl Rose Gold Placemat
These rose table placemats and coasters have hollow bronzing rose blossom patterns with smooth surfaces, giving you a nice tactile sensation and making your party more tasteful, which can make your table more lovely.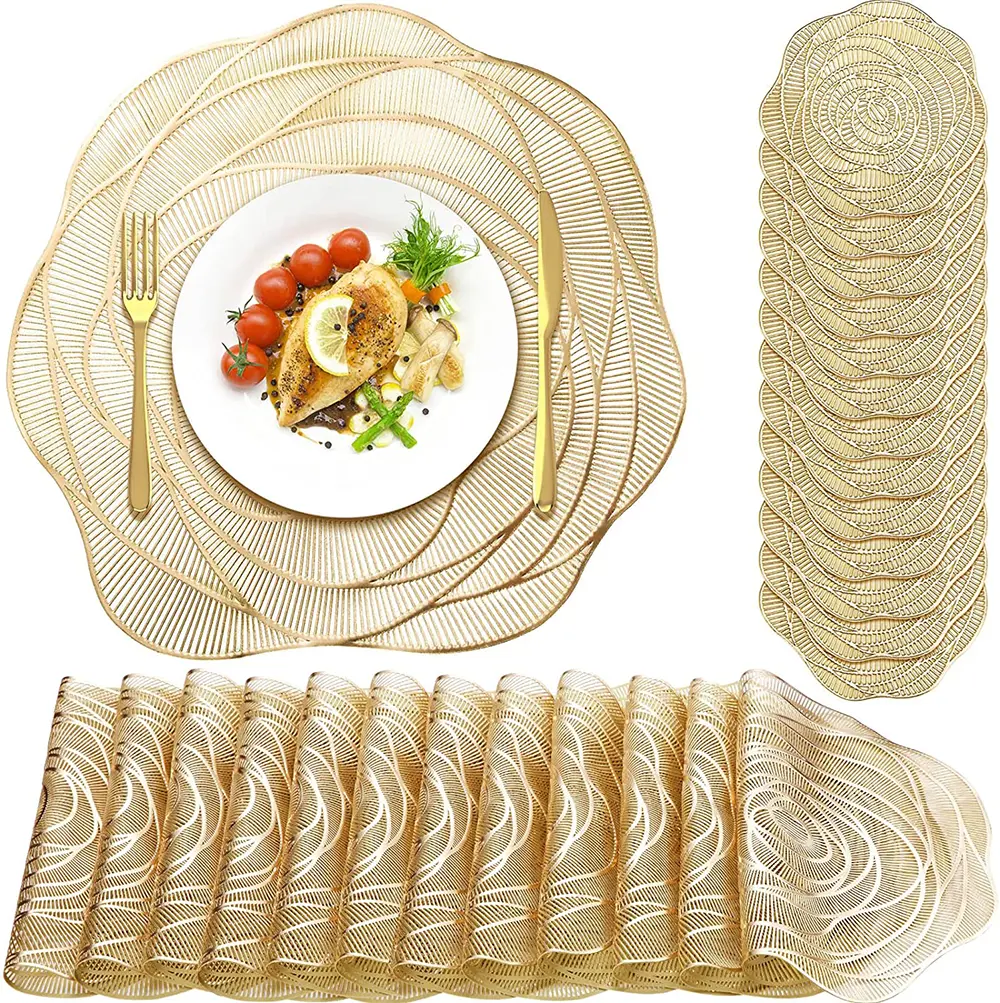 [buy on amazon]
Love Heart Placemats Set
Rose gold heart table mats with thickness provide excellent hot insulation and also protect your table from scratches. The back surface of the rose gold placemat is similar to the matte texture, which is effectively non-slip. The front of the washable placemat has metallic luster, bright and beautiful color, which adds sophistication to your table.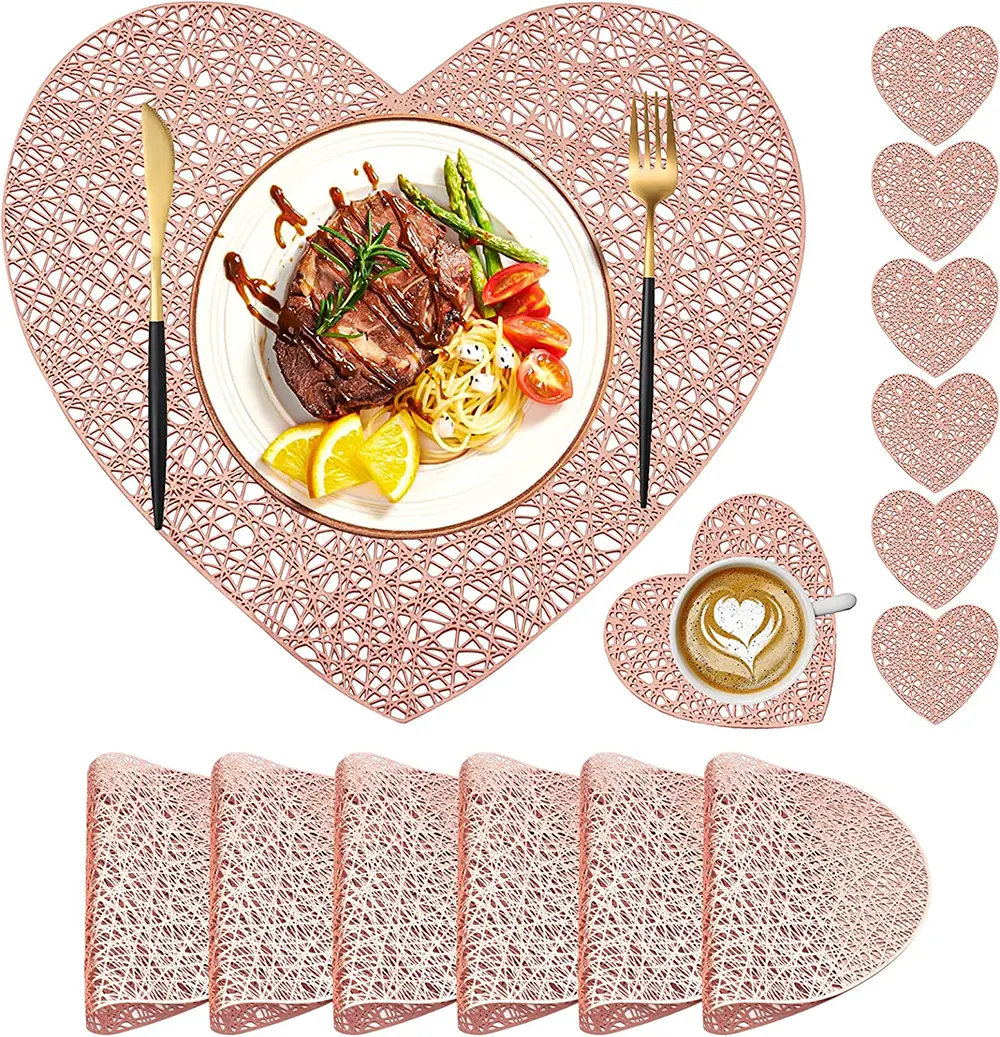 [buy on amazon]
Gold Metallic Vinyl Round Placemats
6 pieces elegant gold metallic coloured placemat in the shape of round leaf.
Protects the table top surface and reduces noise from plates and cutlery.
Add a wonderful finishing touch to your tables, or as a decorative centerpiece anywhere you like.
Measure approx. Diameter 15inch (38cm)
Made of high quality material for heavy duty. Easy care Wipe clean with a damp cloth.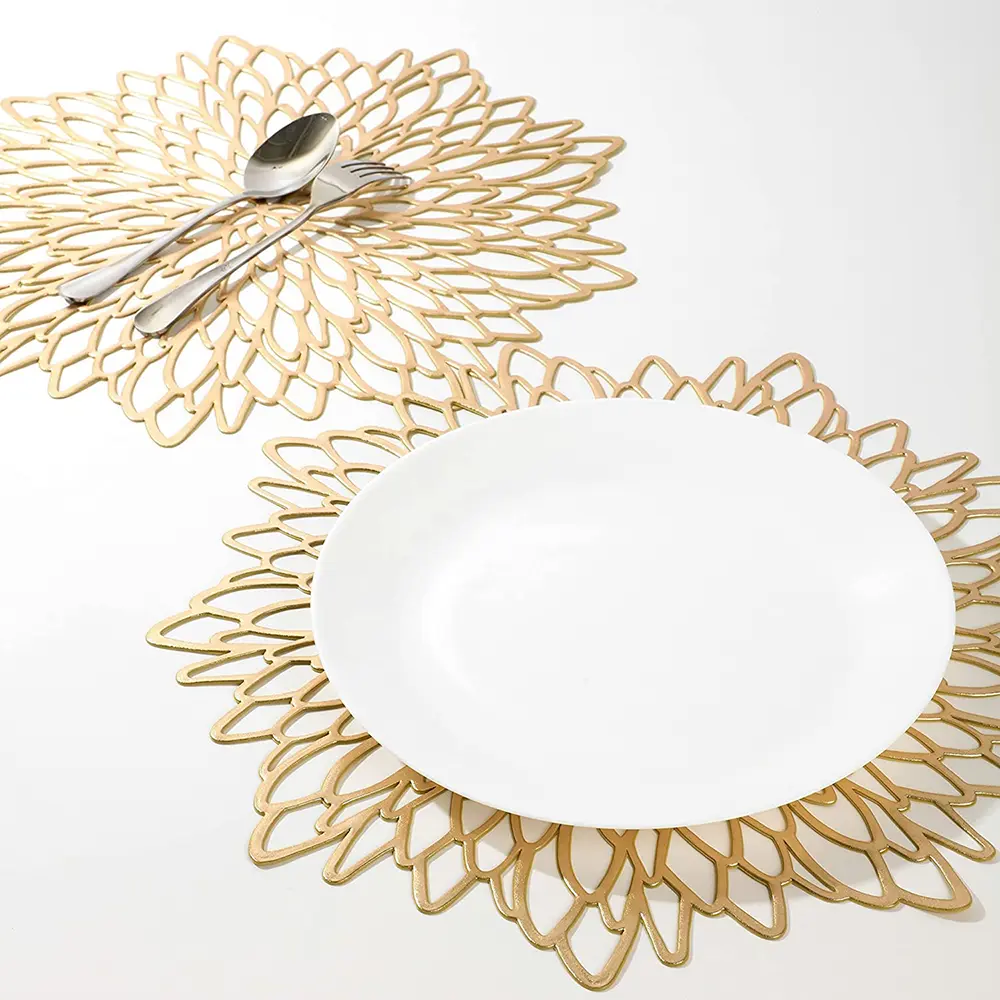 [buy on amazon]
Mesh-Patterned Woven Round Seagrass Placemats
Set 4 woven seagrass placemats are styled with black mesh-patterned, which put a rustic but classic touch to these boho placemats set. Non-slip and heat resistant, the seagrass placemats can protect and dress up your tables. They are thick enough to protect dining table surfaces from extreme temperatures and stains.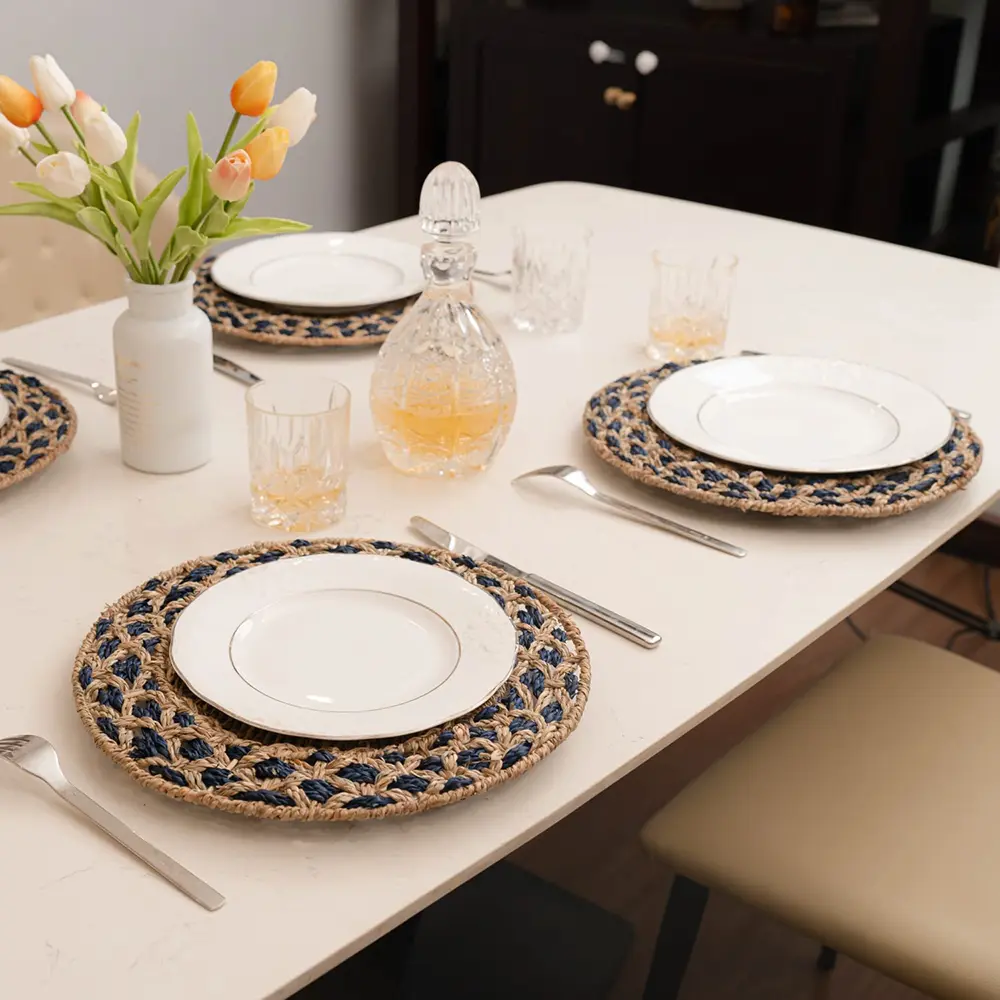 [buy on amazon]
Hibiscus Flower Place Mats
Made of vinyl materials; Size in: 18 x 17 inch/46 x 43 cm; Sold as a set of 6 placemats. Hollow out Placemats in multiple colors and designs for daily use and your dining room decorative theme. There may be a slight color difference between the actual product and the picture due to the light and angle.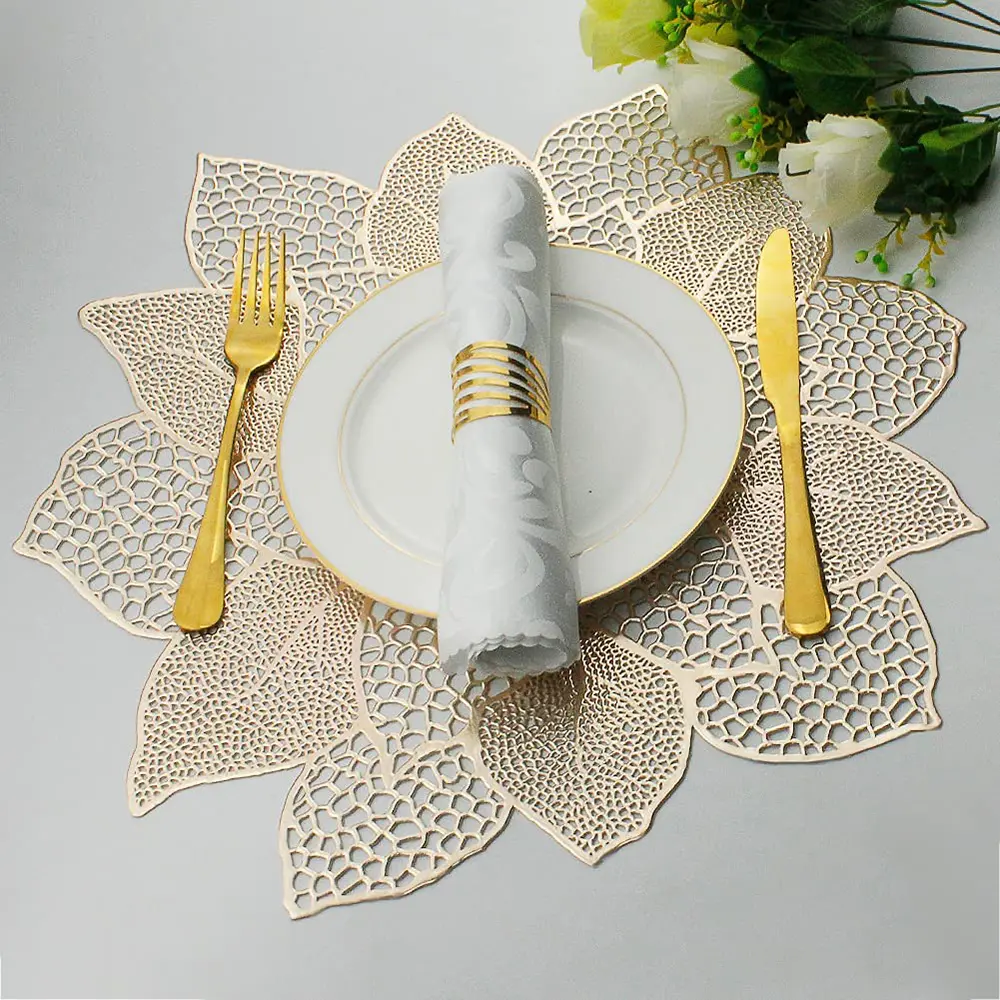 [buy on amazon]