Living in London is expensive, especially live in the the decent high street like Marylebone, besides the park and only a short walk away to the West End — the home of London's theatres. Interior designer, Daniel Hopwood dreamed of living in the middle of London since he was young and he finally achieved it, although the process is a bit long.
That was ten years ago. The flat on Marylebone street was affordable as it was still in its 1958 state — charming yet freezing — and the shower was a rubber contraption pushed over the bath taps. After Daniel bought the cheapest flat on an expensive street, he started the long renovating process. You might think it is easy for an interior designer to renovate his own home. The truth is not really. A successful project is the result of a collaboration between client and designer. But when the client and designer is the same person, you might just be blind to something. To solve the problem Daniel decided to create a brief covering how he wanted my to home to look and feel and how it should be laid out and consult with the fabulous team that he work with.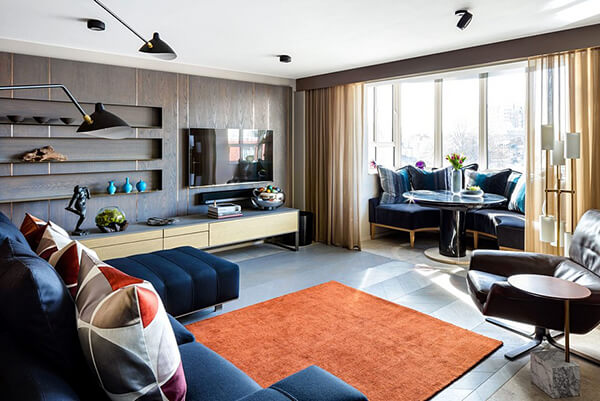 The final result is stunning. The whole place has a dark, warm atmosphere, a sort of modern gentleman's club style. Moreover, instead of common open kitchen, a sliding door is installed between living room and kitchen to create some kind of separation. The choice of color is really bold, creating perfect contrasts – light and dark, rough and smooth. Just take a look at this place, there are so many impressive details you can find there.