The kitchen is the heart of the home, but if yours doesn't quite set the pulse racing like it used to then you might be thinking about how to modernise it?
If you can afford to rip it all out and start again, great! But if your budget won't stretch that far, you'll need to know which key areas you can update to breathe new life into the space.
Here are some of our top tips to modernise your kitchen, without having to break the bank.
Paint your kitchen cupboards
Painting the walls is another good way of refreshing your kitchen, and it can also give a cleaner vibe if dirt and grime build up over time.
Similarly, updating the cupboards brings a new perspective to the eye, and you can go lighter or darker depending on what kind of statement you're looking to make. While you're updating the cupboards, why not add some soft-close hinges to add a quiet modern feel.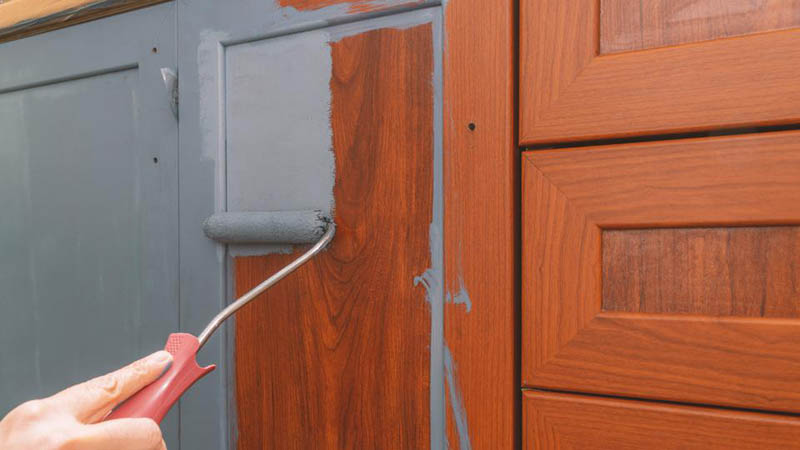 Install a new countertop
Countertops can be expensive, especially if you opt for a premium material such as granite or quartz.
Depending on what material you use, it can completely change the vibe of your kitchen. Use wood for a farmhouse kitchen, steel for industrial chic or granite for modern understatement.
Fit modern lights
Pendant lights are a great way to alter the vibe of your kitchen, especially if you can install them in tandem with an existing feature such as an island or breakfast bar.
This can create 'zones' within your kitchen to make the whole space feel bigger, with some areas set aside for food prep and others for either eating or entertaining.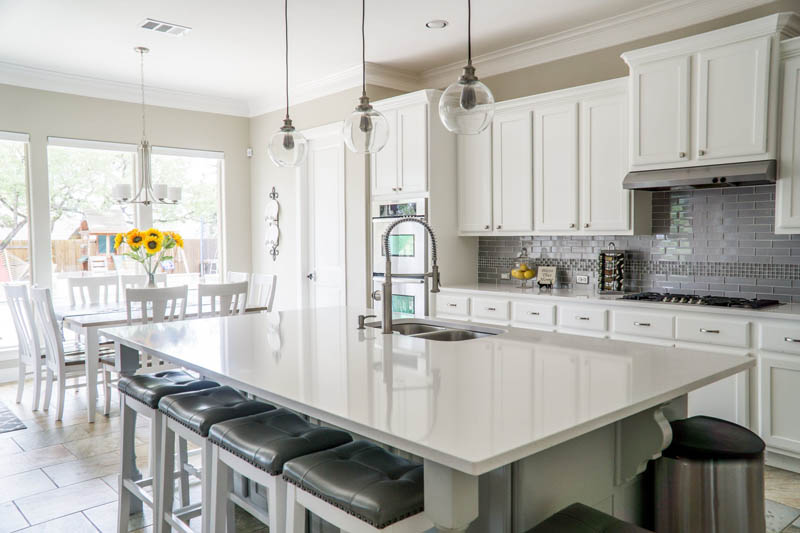 Add a feature wall
Putting a feature wall in place is a perfect way to bring a bit of your personality to the kitchen, and you have several options.
You might want to add a bold colour to contrast against your cupboards, utilise a funky wallpaper print to jazz the place up, or create a gallery wall with pictures and posters in contrasting frames to act as a conversation-starter when you have friends over!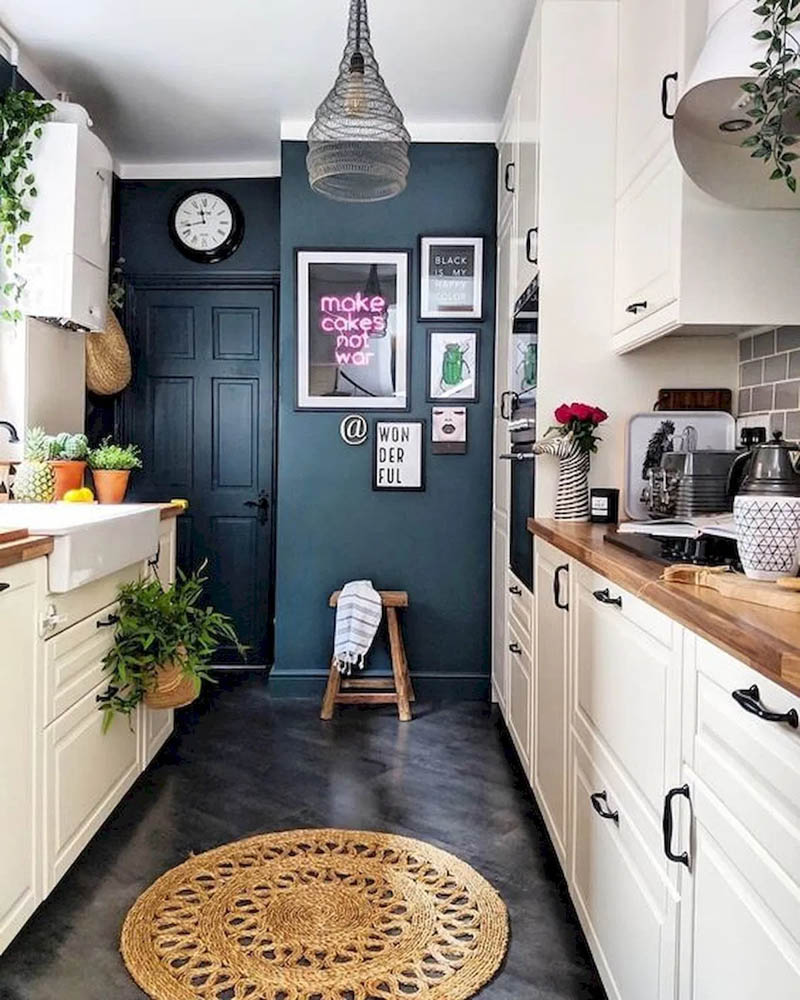 Update your kitchen floor
Kitchen floors get tired over time as they are among the surfaces that see the most traffic in your entire house.
Remember that you must match style with substance. Your floor has to look good, of course, but it must also perform well and be easy to clean as you will likely be mopping up plenty of skills over time!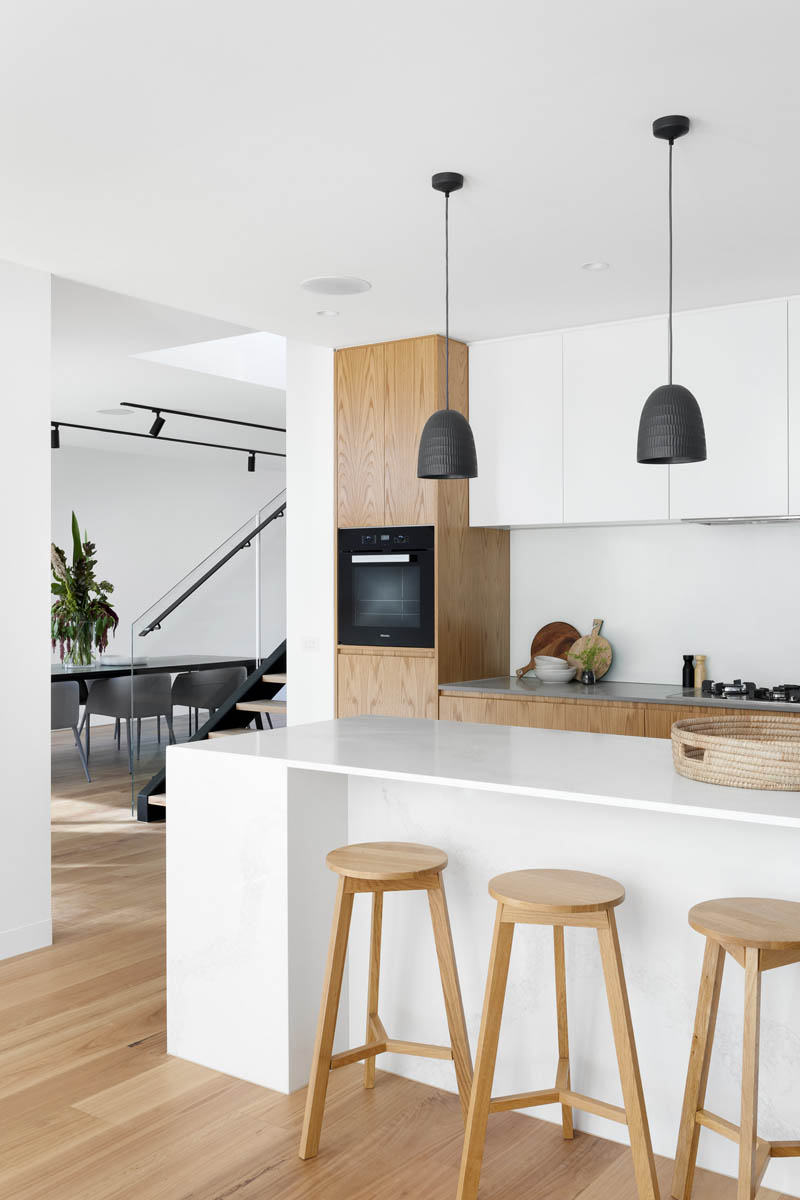 Bolster your storage
If you have spare space on your wall, add floating boxes or open shelving to show off your crockery and pots and pans.
This will add a modern professional-kitchen vibe to your own space and might even inspire you to be more adventurous with your meals!