If you're renovating professionally, then you might have the luxury of a varied arsenal of specialised tools. You might use one tool for a given task, and then another for a slightly different one.
If you're a DIYer, on the other hand, you might have to make do with a more limited range of tools. Consequently, investing in versatile tools which can attack a multitude of tasks is critical. Perhaps the most versatile of the available tools is the angle grinder.
With its interchangeable abrasive disc, an angle grinder can be adapted for a whole range of projects. You need only swap out the disc to turn the grinder from a diamond-tipped cutting instrument to a soft finishing tool.
Types of angle grinder
Angle grinders are provided by just about every major manufacturer. They come in several different categories. There are surface grinders, which are designed for work with flat surfaces. There are cylindrical grinders, which are suited to more difficult shapes like circles and ovals.
If you don't need much in the way of power, and you'd like the convenience of a cordless angle grinder, then you might opt for one. In many cases, you'll be able to use the batteries that you were using for other tools. Alternatively, you might go for a corded grinder – which will be more powerful, and probably cheaper, but you'll need to work near to an outlet.
What tasks can I use an angle grinder for?
The most obvious application for an angle grinder is grinding and polishing metal, particularly around welded edges. Keep the grinder on a low setting and it will take just a little bit off the surface, potentially producing a smoother, more attractive finish. To achieve this, you'll need variable speed – which not every grinder provides.
A more abrasive disc will allow you to cut all the way through metal. This is very convenient for plumbers and welders who need to deal with metal pipework. Cutting discs tend to be thinner, and slightly more brittle.
Angle grinders can also be used to clean rust and old paint from just about any surface, with the help of a cleaning disc. This is a nylon or silicon-based disc that will lift those imperfections away.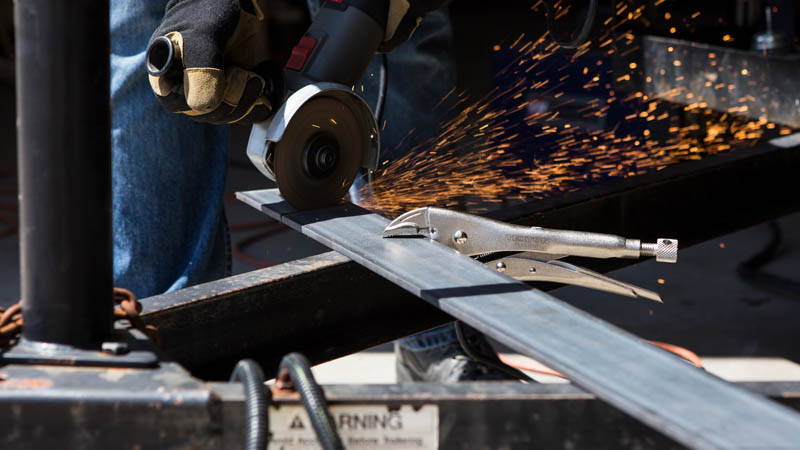 If you have other tools that you'd like to take care of, then an angle grinder makes for a great sharpening tool, too. It's not quite as precise and dedicated sharpening stone, but it'll help you to keep on top of maintenance quickly.
Finally, we should consider that an angle grinder is great for removing mortar from between bricks and tiles. They're great if the mortar needs to be refreshed – improving not only the look of a property, but its heat-retaining capabilities.