Dining outdoors is a great way to make the most of those warm summer months and can be as simple or as elaborate as you like. Living in Australia it can be hard to escape the idea of alfresco dining, but we've all been there- you want to host a delicious dinner party outside in your backyard and you just don't know where to start.
Many factors should be considered when creating the perfect alfresco area, from choosing the right furniture and creating an inviting focal point to picking the ideal spot on the property for your kitchen or bar area. Whether it's simply dining on your deck, having a full-blown bbq, or dining by night under twinkling lights, here are some ideas to help you create an amazing alfresco area.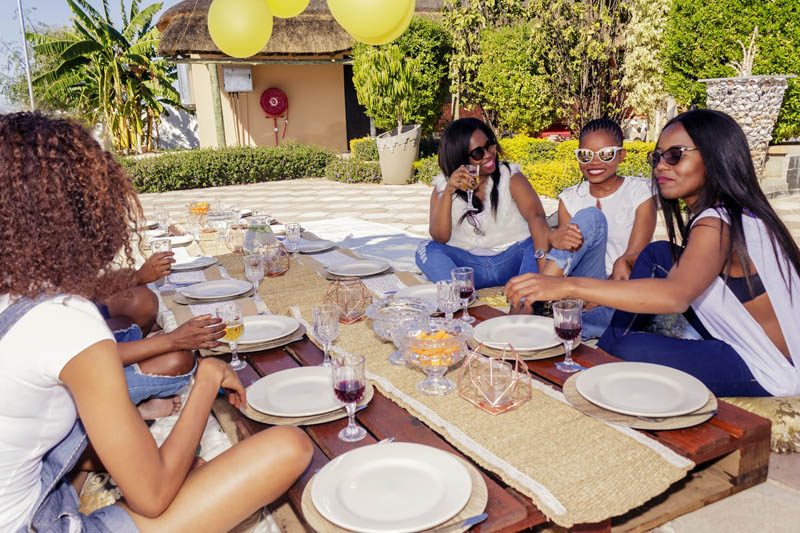 You Will Need Some Quality Awnings
Your alfresco area needs to be well protected from the elements. It may not rain every day of summer but it's good to have a contingency plan in case it does. Awnings will provide an extra layer of protection and can also function as curtains if you require them. You can cover an entire corner of your backyard or create a small area with a "mini-awning". Awnings come in all different shapes and sizes, so choose one that will suit both your needs and the aesthetic of your outdoor space. If you are not sure how to pick the best option for your backyard, consult with your local outdoor blinds and awnings company. They will measure the outdoor space for you and help you choose the perfect type of awning based on the measurements.
Create A Comfortable Seating Area
It's important to create a family and guest-friendly seating area with plenty of comfortable, functional garden furniture. Chairs and lounges should be able to accommodate the number of people you would like to seat, and they should also fit within your outdoor space. If it is on the larger side, make sure you have some stools or benches that guests can use as well as chairs at the dining table. Also, consider whether your guests will need an occasional chair for those who prefer to perch instead of sit. When choosing the right furniture for your outdoor space, consider the materials- you don't want to create an eyesore when assembling it. It's best to go with wood furniture if you are looking for something that is both functional and stylish.
Install An Outdoor Kitchen
Everyone loves to entertain outdoors, which means you should certainly consider installing an outdoor kitchen or bar. Think about it this way- if you are having a party in your backyard, will anyone be expected to use the inside of your house? Probably not. If you install an outdoor kitchen with everything you need (a sink, stovetop, and oven), guests won't have to come indoors at all. It's always best to ensure that there is enough space for everyone so don't forget to leave room for people passing by. If you're wondering where to start when creating an outdoor kitchen, think about how well it matches your existing design style- whether it's modern, rustic, or somewhere in between, ensure that it matches both functionally and aesthetically. You can check out a few kitchen designs online or consult a professional contractor if you need some inspiration.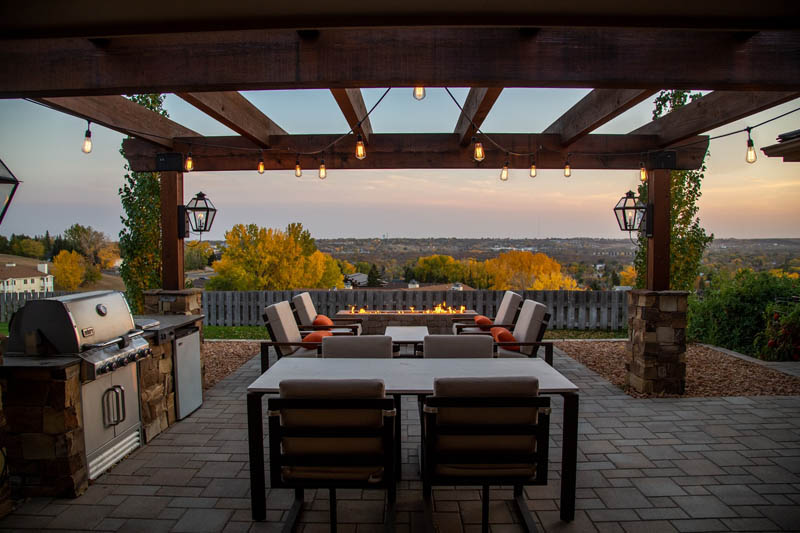 Add A Few Plants To Your Outdoor Area
One of the best ways to add a touch of style to your outdoor area is by adding some plants. It will give it a fresh, natural feel to balance out the man-made furniture and structures. Think about what kind of plant life you would like to have around your home before choosing ones that are suitable for the conditions. You should also ensure that you have enough space near an electrical socket for any lamps or decorations that need power. Growing some herbs and vegetables in an outdoor kitchen will also add a touch of rustic charm to this area. Plus, cooking with your organic veggies is always healthier than buying conventionally grown ones. Just remember- you need to keep things clean and tidy if you want your plants to last.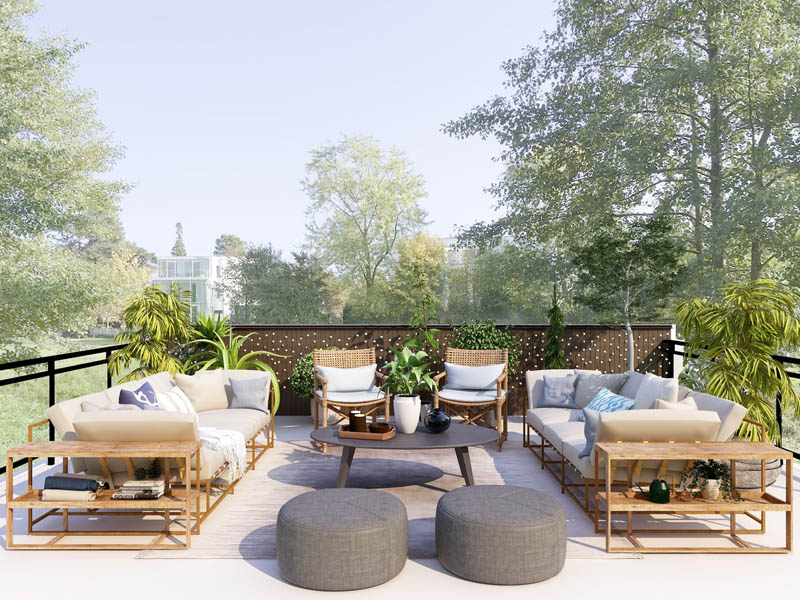 Add The Finishing Touches With Lighting
If you are opting for epicurean delights in your backyard, then it's important to consider how the area will look at night when turned into an alfresco dining space. There are many different lighting options available so take some time to think about what would work best in your space. You can opt for solar-powered garden lights or install low-voltage light fixtures that run off typical household sockets. LED string or pendant lights strung across trees or poles are also great options if you're looking for something to highlight specific areas like seating and dining spaces. Once you've chosen the perfect lighting solution, make sure everyone in your family knows where it is so they can admire your backyard when the sun goes down.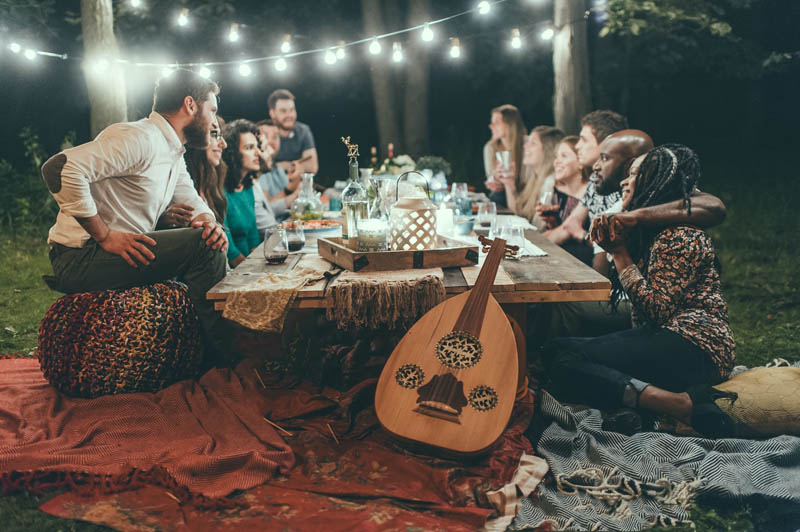 Add An Outdoor Fireplace To Complete The Setting
Nothing beats gathering around an open fire with friends and family, to say the least. It's a great way to keep people warm and entertained throughout the night. If you don't have a fireplace in your home, installing one in your backyard can be a brilliant idea to give it that little extra something. Many people only think of using their fireplaces during winter but they should also be utilized in the summertime- it's the perfect time of year for roasting marshmallows and other snacks on an open flame. Don't forget to check whether your local council has any regulations regarding outdoor fires- some aren't permitted must be confined to certain areas.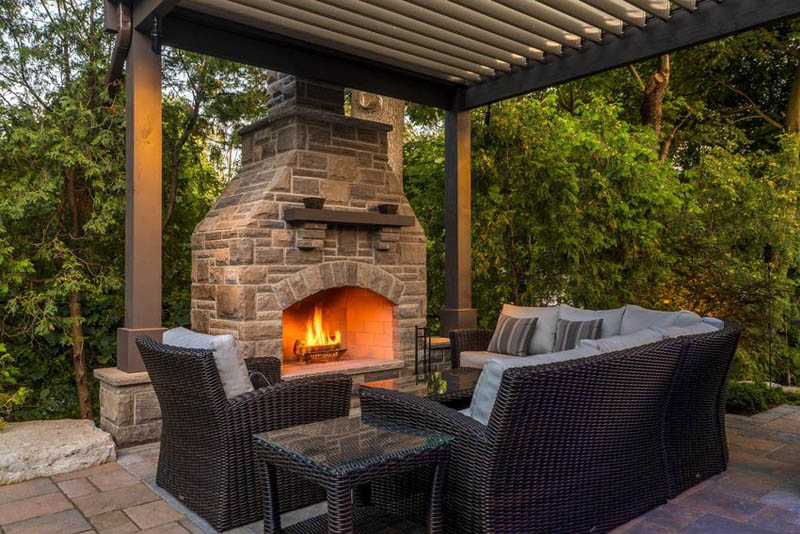 Choose A Theme For Your Backyard Space
After well and truly deciding what you want your backyard to look like, it's time to think about the overall feel of the space. Think about whether you're looking for a rustic or industrial theme, an area that is light and airy, or somewhere that is cozy and intimate. Once you have decided on your preferred style, take some time to research ways in which you can make it come alive. If you are going for a forest-inspired theme in your backyard, adding some fairy lights inside large planters can create a magical effect when guests step onto the patio at night. Outdoor movie nights under the stars might be fun for kids or adults alike if done right, so make sure you know what your preferred audience would like to see in the backyard.
Creating an awesome alfresco space in your backyard might take time and effort but the rewards are well worth it. If you keep these simple tips in mind, you should be able to create one of the most attractive areas in your home where you can relax with family and friends over good food and wine.