Food shaped products are quite popular in these days. From sushi tape, to cake candle, from pizza bed to hot dog sofa, we have been seeing various playful designs while today we will focus only on bread.
As a bread lover, I like all kinds of bread. However, before I only expect to see them on my dinning table. While now, these delicious, soft food are everywhere. You can wear them on from head to toe, rest on them or hug them. We handpicked 7 interesting bread shaped designs below. Take a look and hope you like them.
1. Simulation Bread Shape Pillow [buy here]
Made of high quality fabric filled with PP cotton, offers maximum comfort and warmth for your . Give you a different visual experience. Truly fun novelty food throw pillows!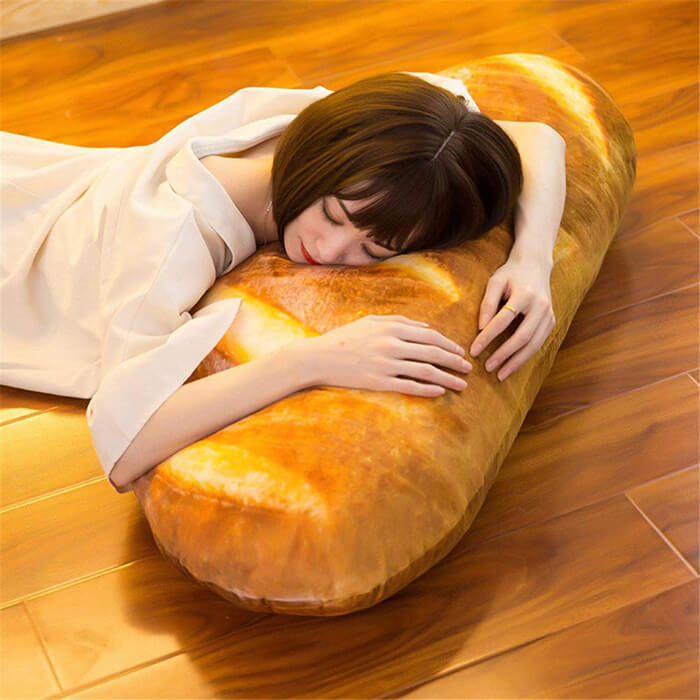 2. Pampshade: Real Bread Lamp [buy here]
Japanese artist Yukiko Morita use bread like croissants and baguettes to create real bread lamp.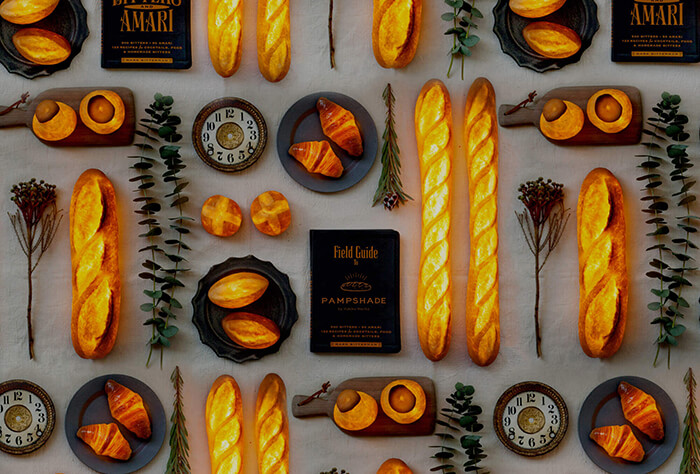 3. Toasty Handwarmers [buy here]
Whether you're typing up a memo in the office, or finishing that overdue assignment in class; typing can be a chilly business. But you don't have to be a survivalist to realise that there's a simple and convenient way to warm our hands, and its right under our noses. Toast. Warm, toasty, toast. It's the perfect size to cover your hands and easy to strap on without affecting your ability to type.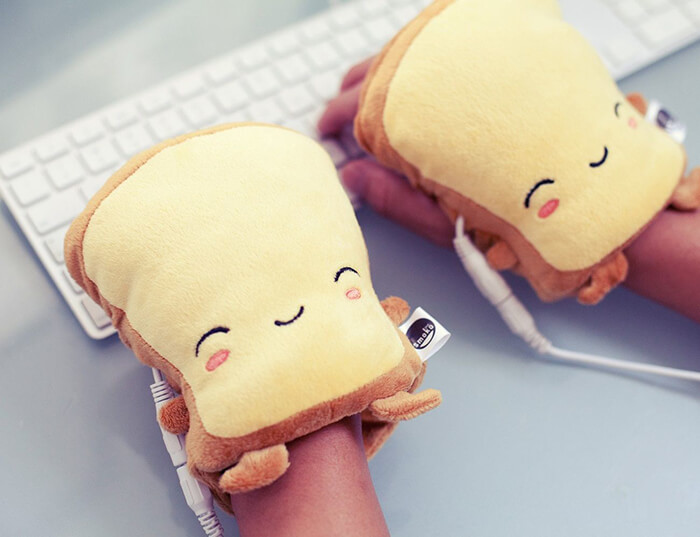 4. Bread Slippers [buy here]
Slip those knackered extremities into these soft baguettes. Or are they loaves? Either way, we can't get enough of these buttery-soft slippers. Expertly cushioned, the podiatric bakers behind these certainly knew what they were doing.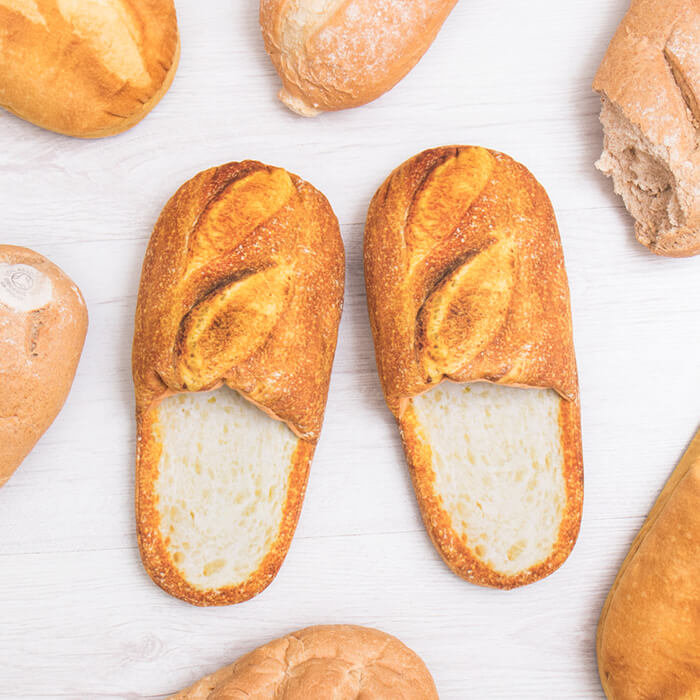 5. Sliced Bread Earmuffs [buy here]
Sliced Bread Earmuffs
A pair of plush earmuffs that are the best thing since sliced bread
Custom-dyed plush bread slices with expressive embroidered faces: one winky grin and one shocked surprise
Certifiably gluten-free
One size fits most adult human heads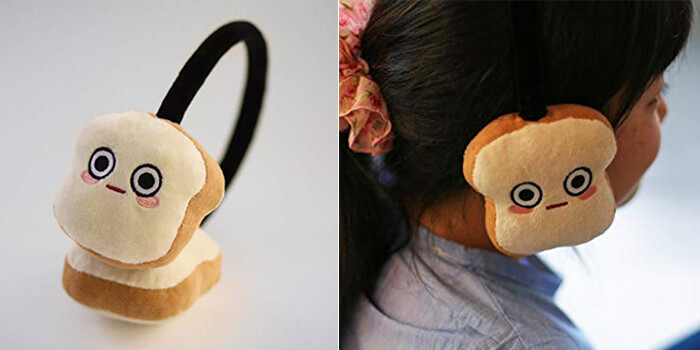 6. Bread Shape Memory Foam Keyboard Wrist Rest Pad [buy here]
Made of comfortable memory foam,supply lightweight,comfortable,durable and ergonomic touch,soft slow bounces back and not easy to out of shape and ideal for longer hours of use. Wrist support keeps the wrist in natural position,rest your elbows on a cushion instead of the desk,reduce press,avoid carpal tunnel and median nerve compression,healthy and comfortable.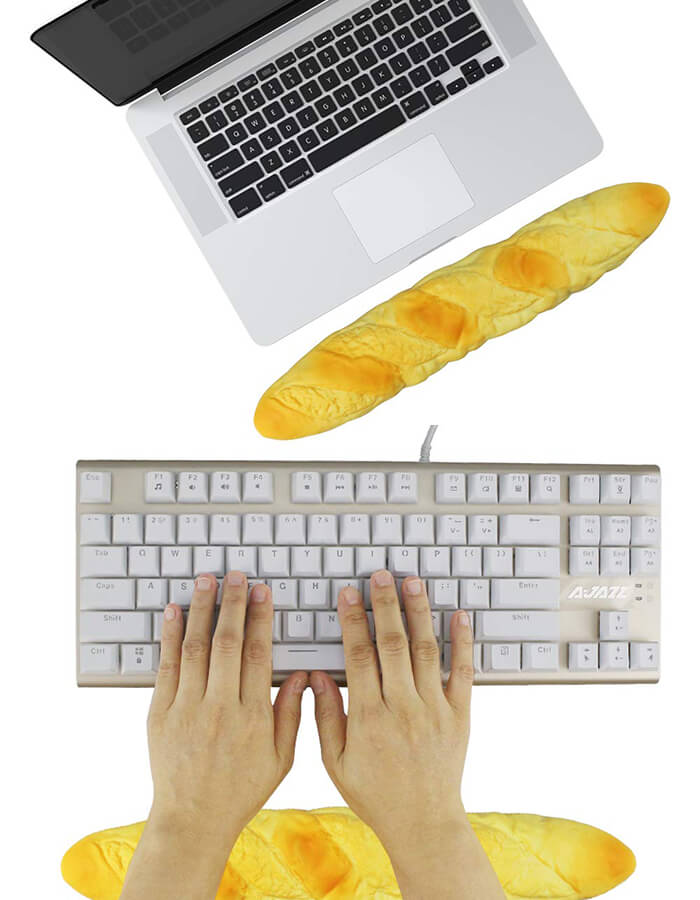 7. Toast Sliced Bread Pillow [buy here]
Material: Plush and PP cotton Size: 40*40cm
The Toast Sliced Bread plush cushion is made of thick plush which is extremely soft and comfortable.
Nice decoration in living room or kids playroom, children will like to sit on the colorful cute sun flower soft cushion, enjoy reading or play toys.