Visualisor: Iryna Borysenko
Photographer: Trush Design
Earthy grey stone elements, black marble, and deep natural wood tone combine to present this sophisticated home interior with a dash of panache. This striking 800 square metre private house in Tallinn, Estonia, is a unique space with fresh, modern styling and strong character.
A double-height living room makes a striking statement at the heart of the home with a fabulous stone fireplace, a towering bookcase design, and a wraparound glass mezzanine. As we enter the living room, it's the ceiling-mounted fireplace that makes the first impression. The enormous fluted chimney is suspended above a unique stone hearth where open flames leap at one end. A glass mezzanine landing wraps the top of the double-height living room, achieving open connection between both levels of the home. An attention grabbing modern staircase design climbs between the floors on illuminated wood and marble base treads and suspended concrete uppers.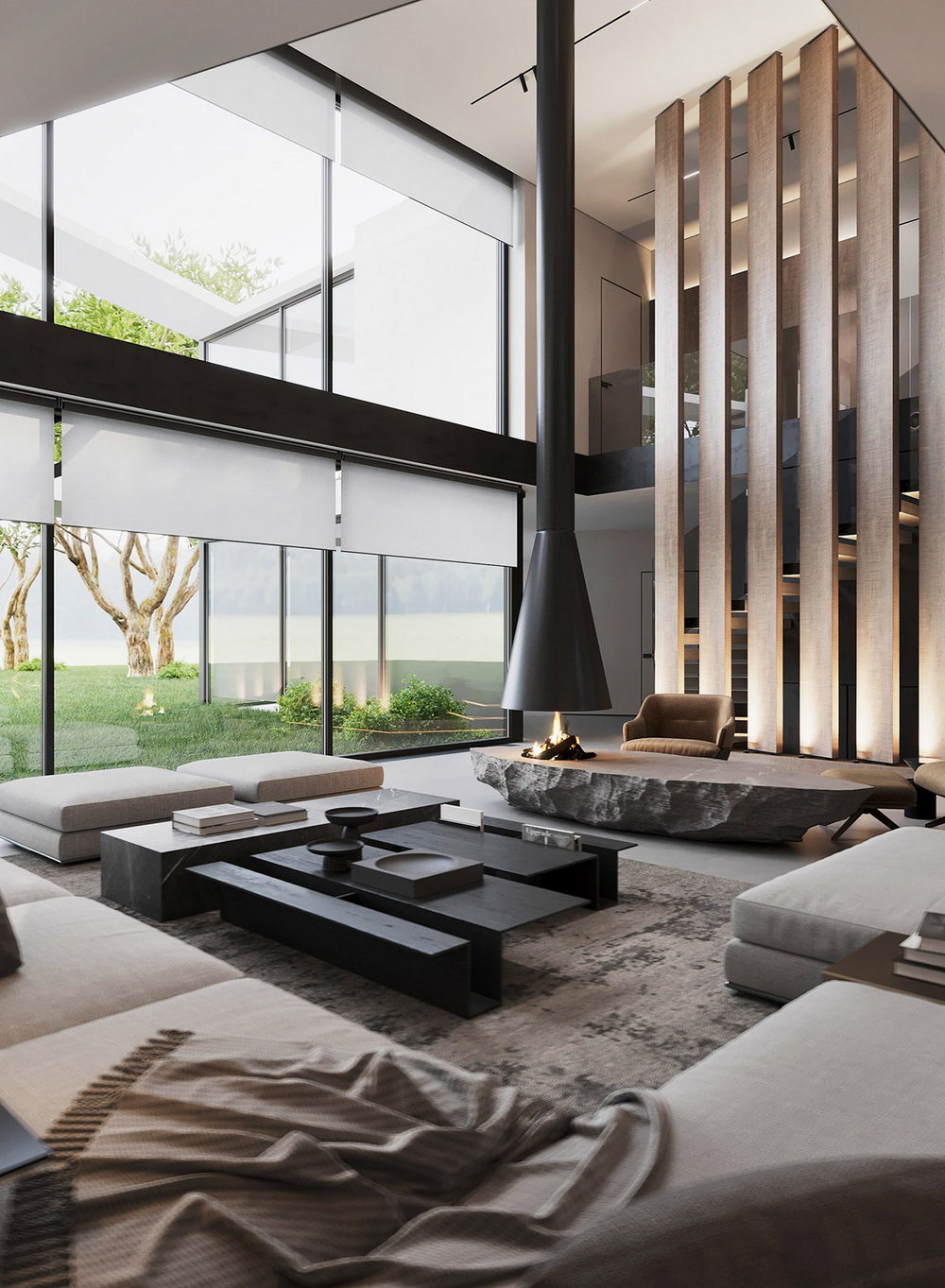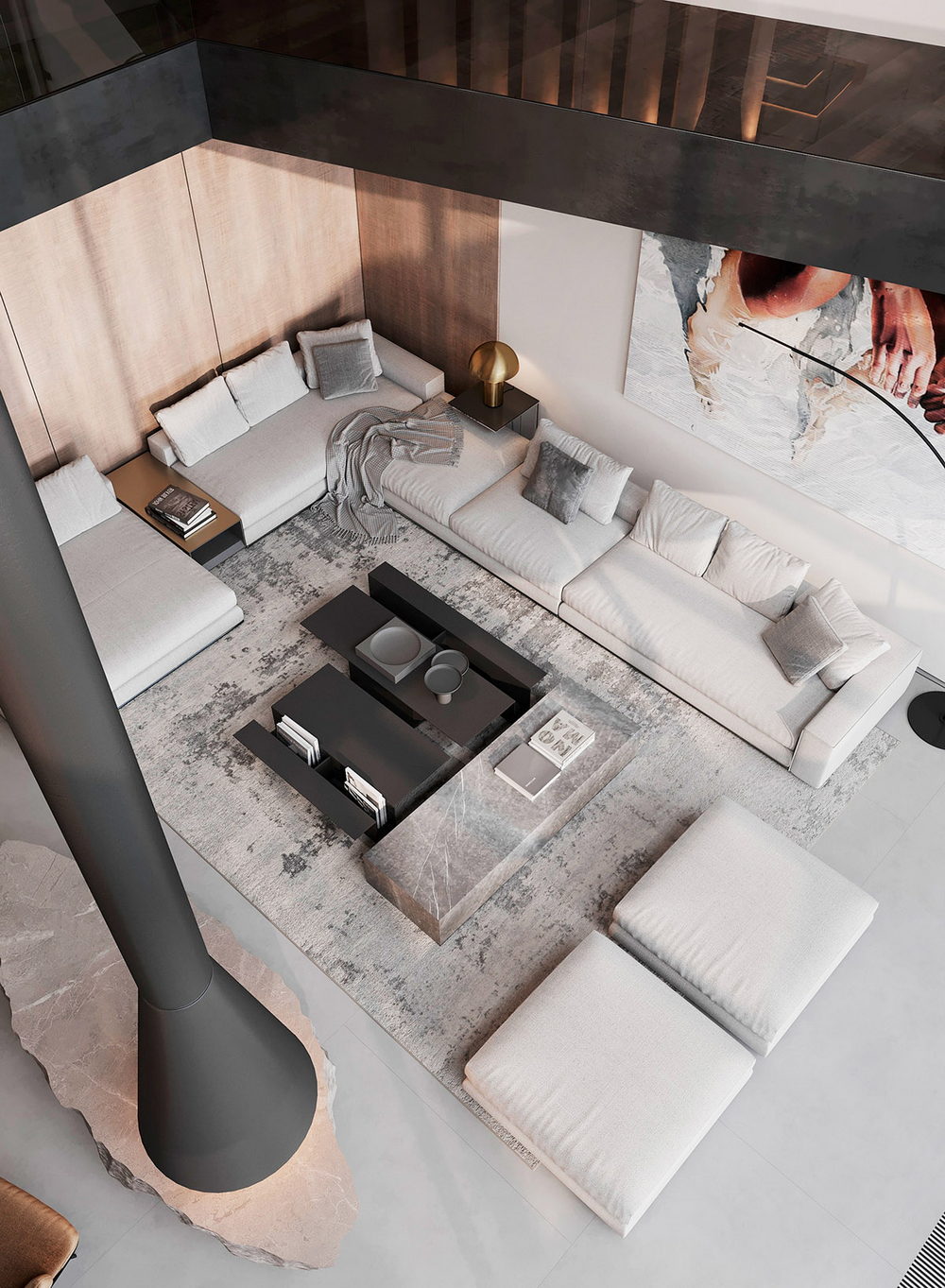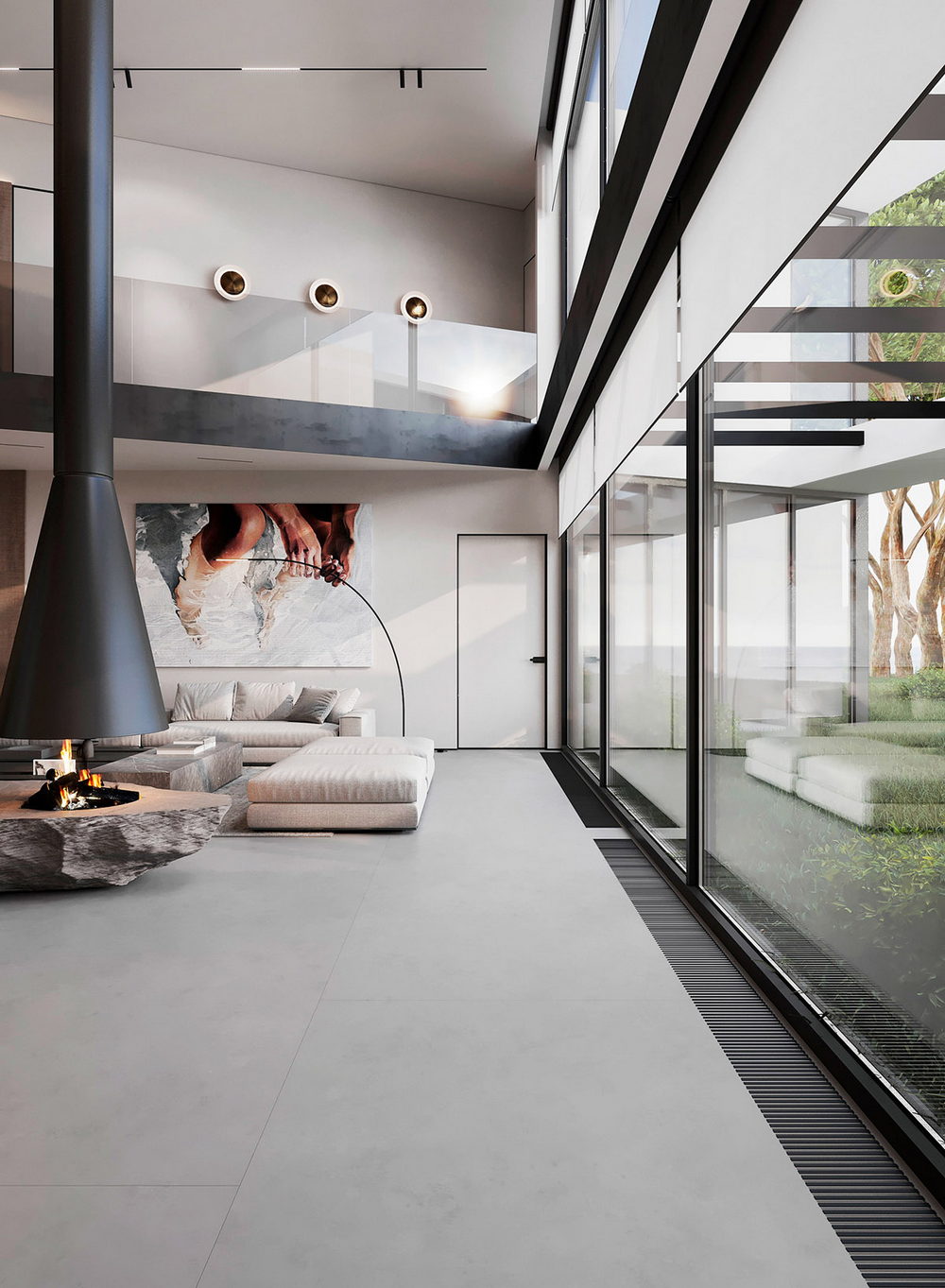 Living room
A spectacular, towering bookcase design calls further attention to the vertical plane of the double height living room. The bookcase stacks volumes from the floor of the lounge to the ceiling of the mezzanine. A mature bonsai tree stands in front, lit warmly in the glow of LED uplights. Two modern lounge chairs and a matching footstool gather at the opposite side of the fireplace in a cosy conversational arrangement. Their close proximity to the bookcase also makes this a welcoming reading nook by the fireside.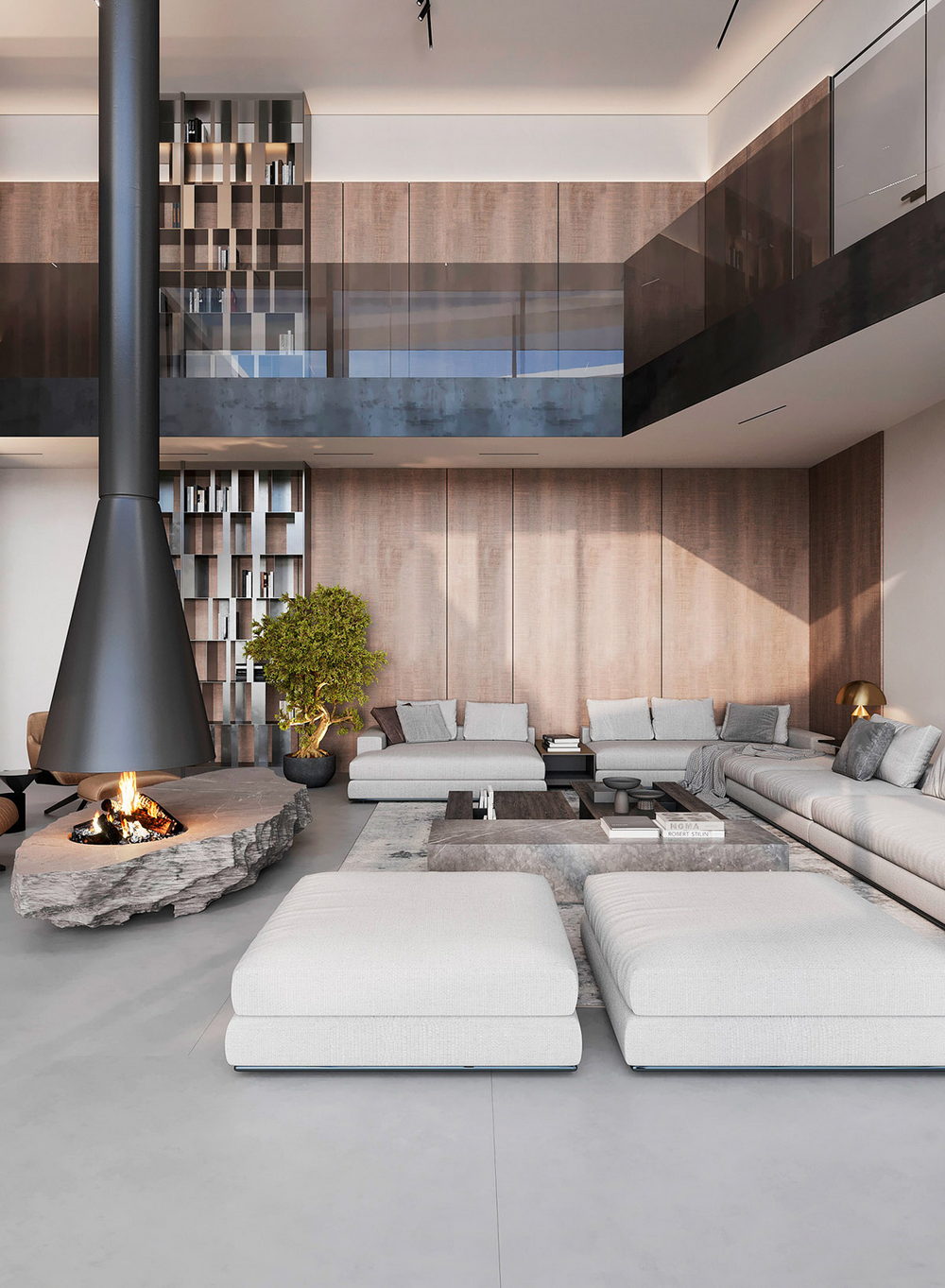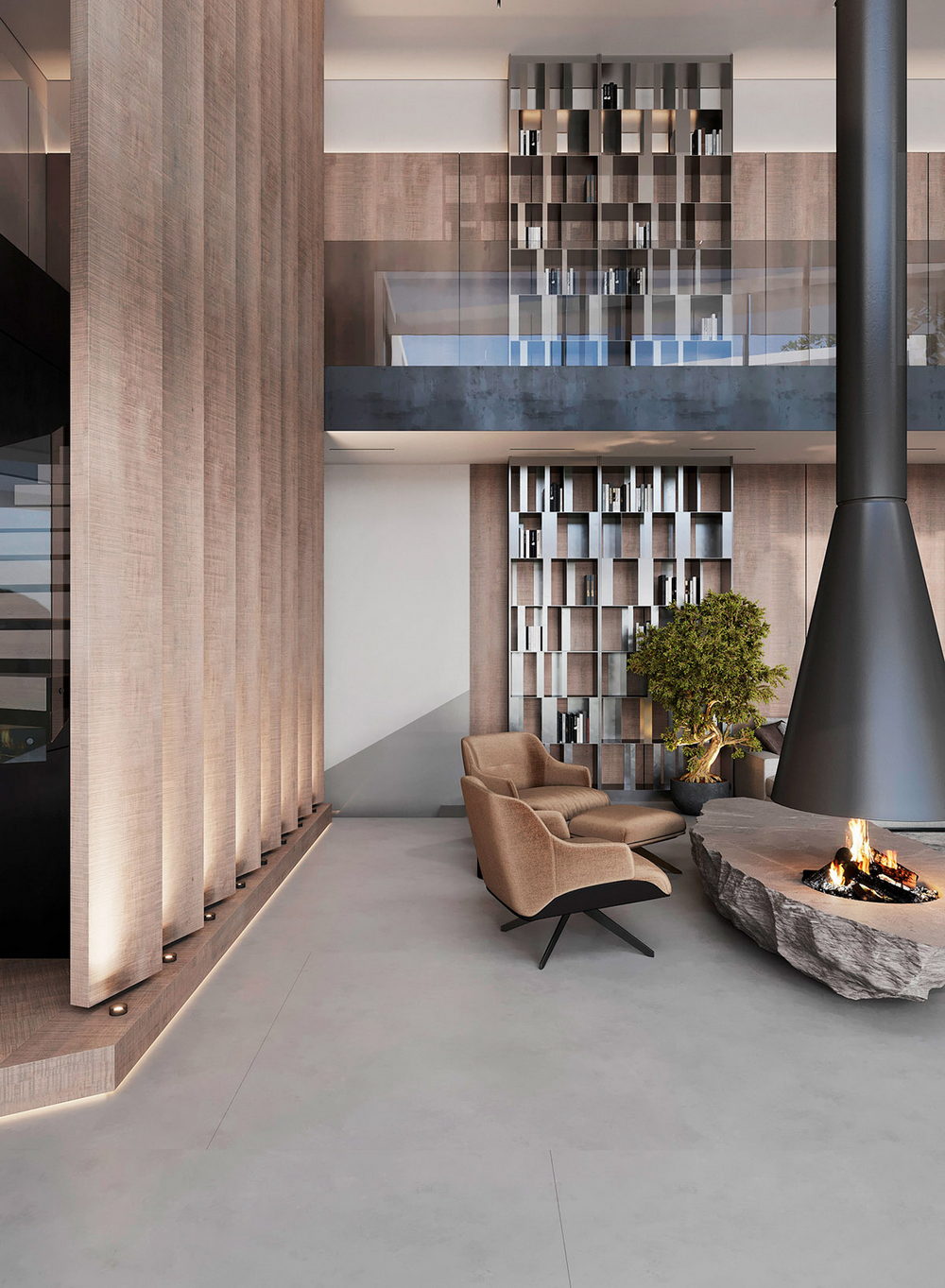 Dining Room and Kitchen
The formal dining area accommodates up to ten guests at a large wooden dining table. A trio of spectacular dining room pendant lights make a sculptural impact above the modern dining set. Green views lay out a stunning dual aspect panorama. Modern track lights thread even illumination through the neighbouring kitchen area, where an impactful kitchen island divides the layout. A bank of appliance housing units, open shelving towers, and wine storage racks build a wall of warm wood tone. Glossy black integrated appliances make dark contrast. Wooden kitchen bar stools contrast beautifully with the monolithic grey stone kitchen island.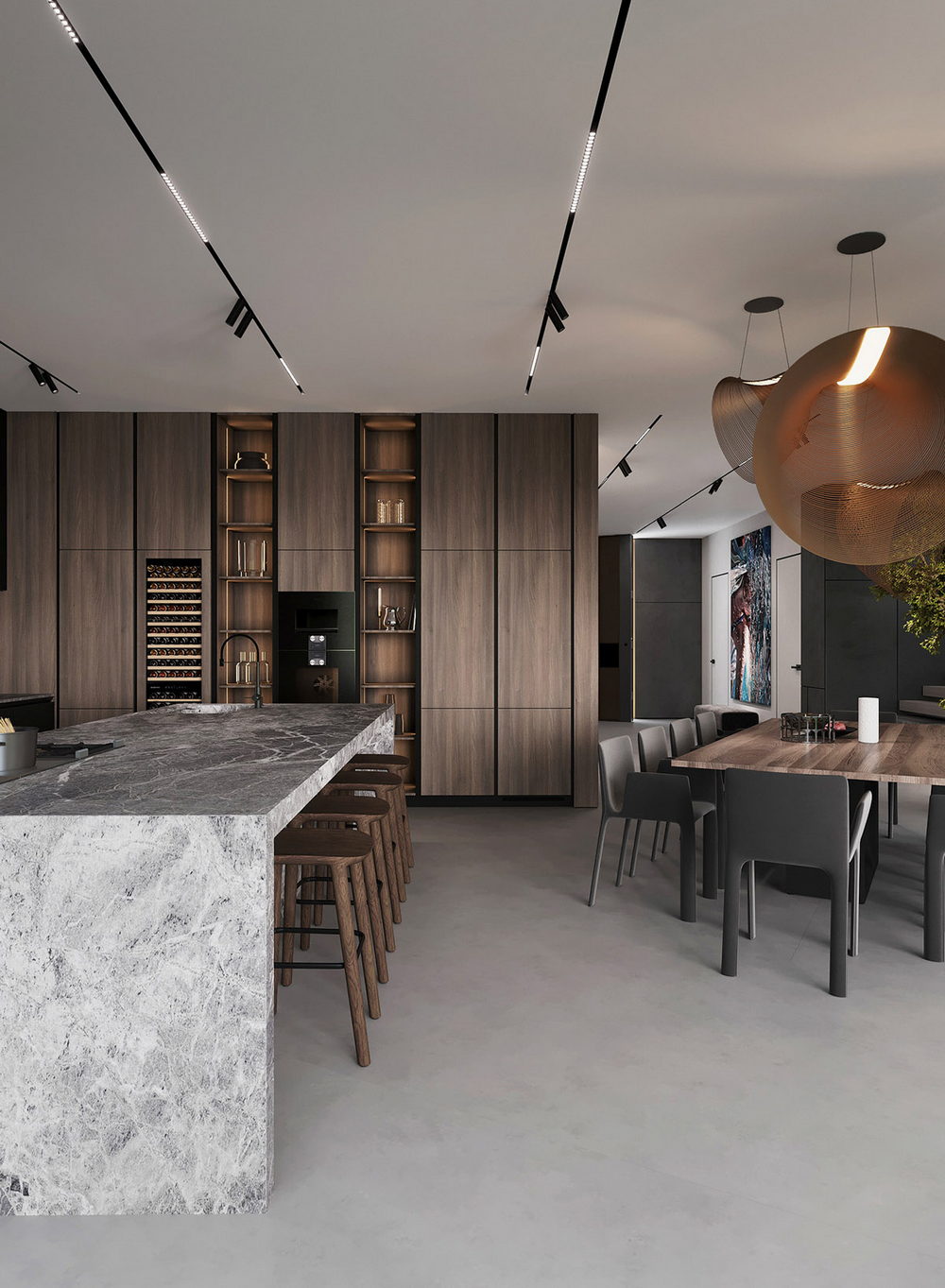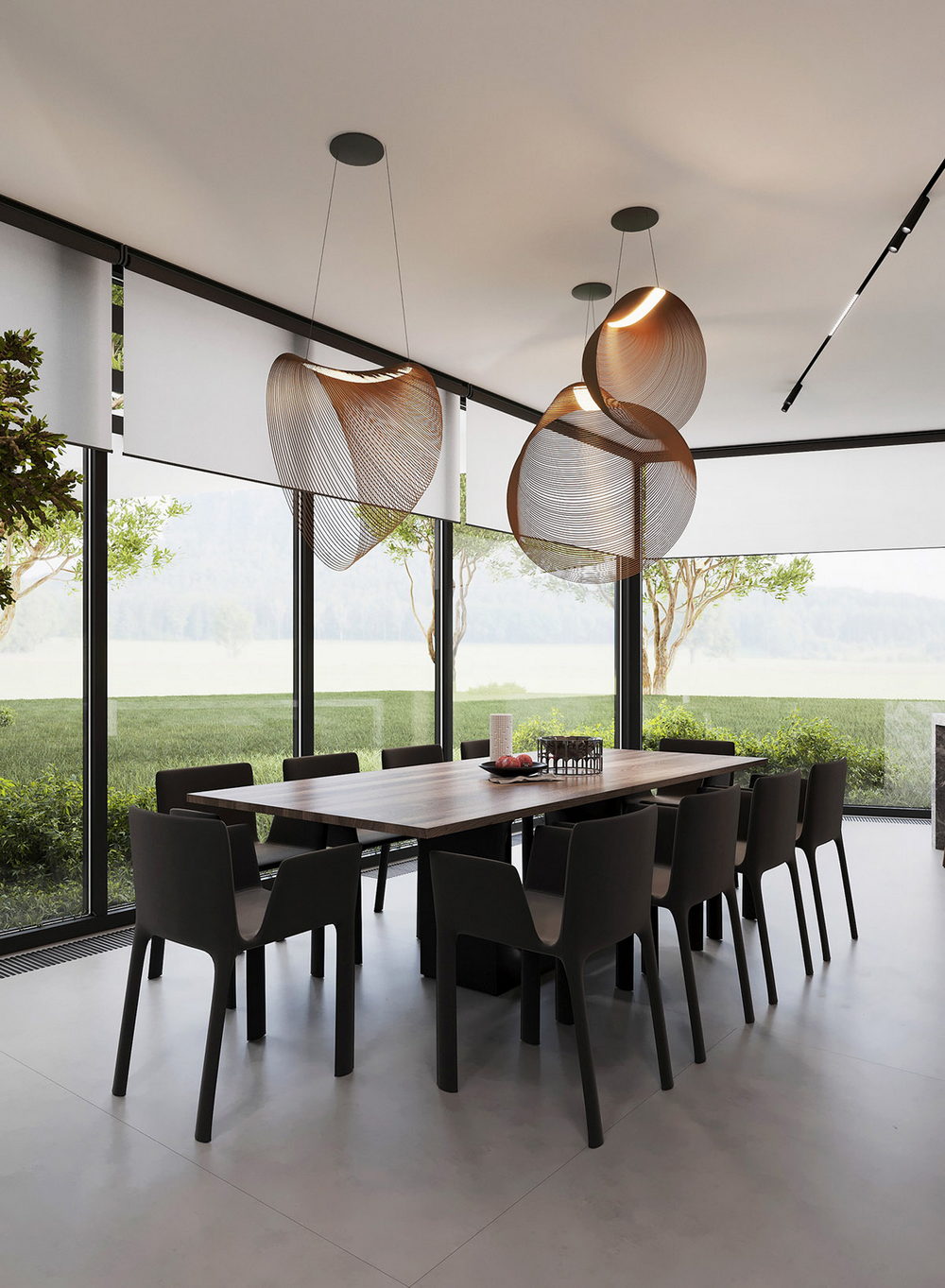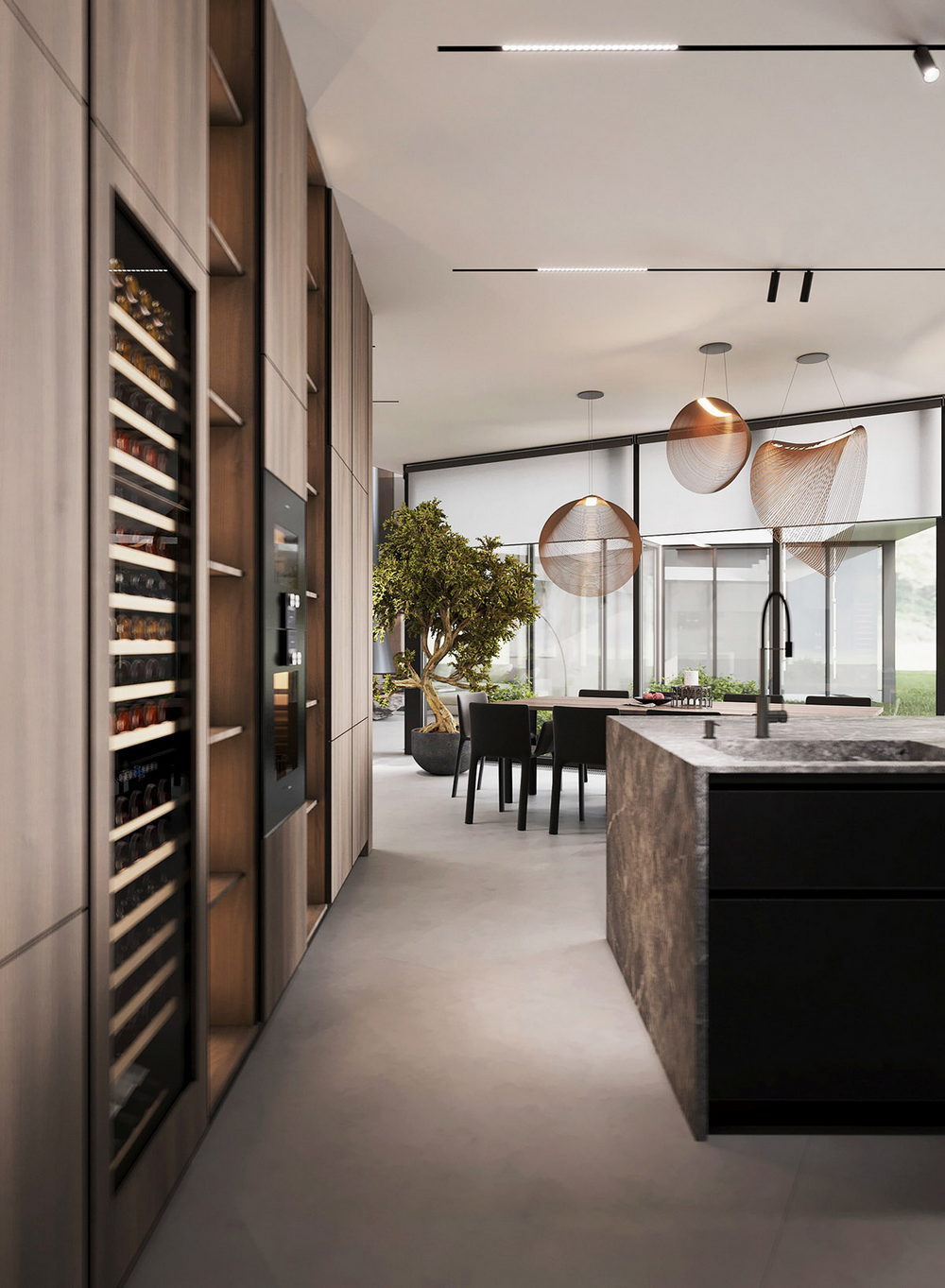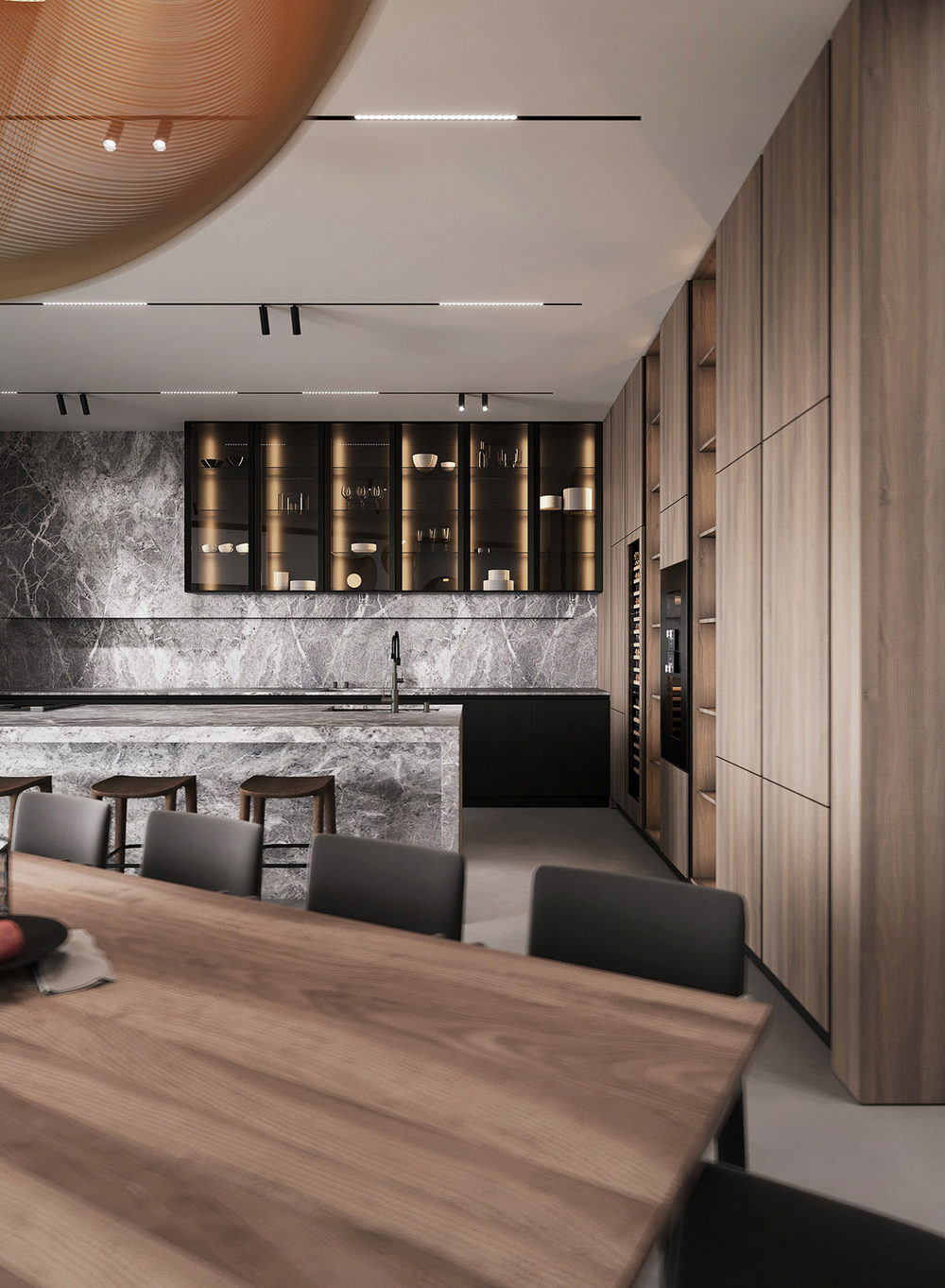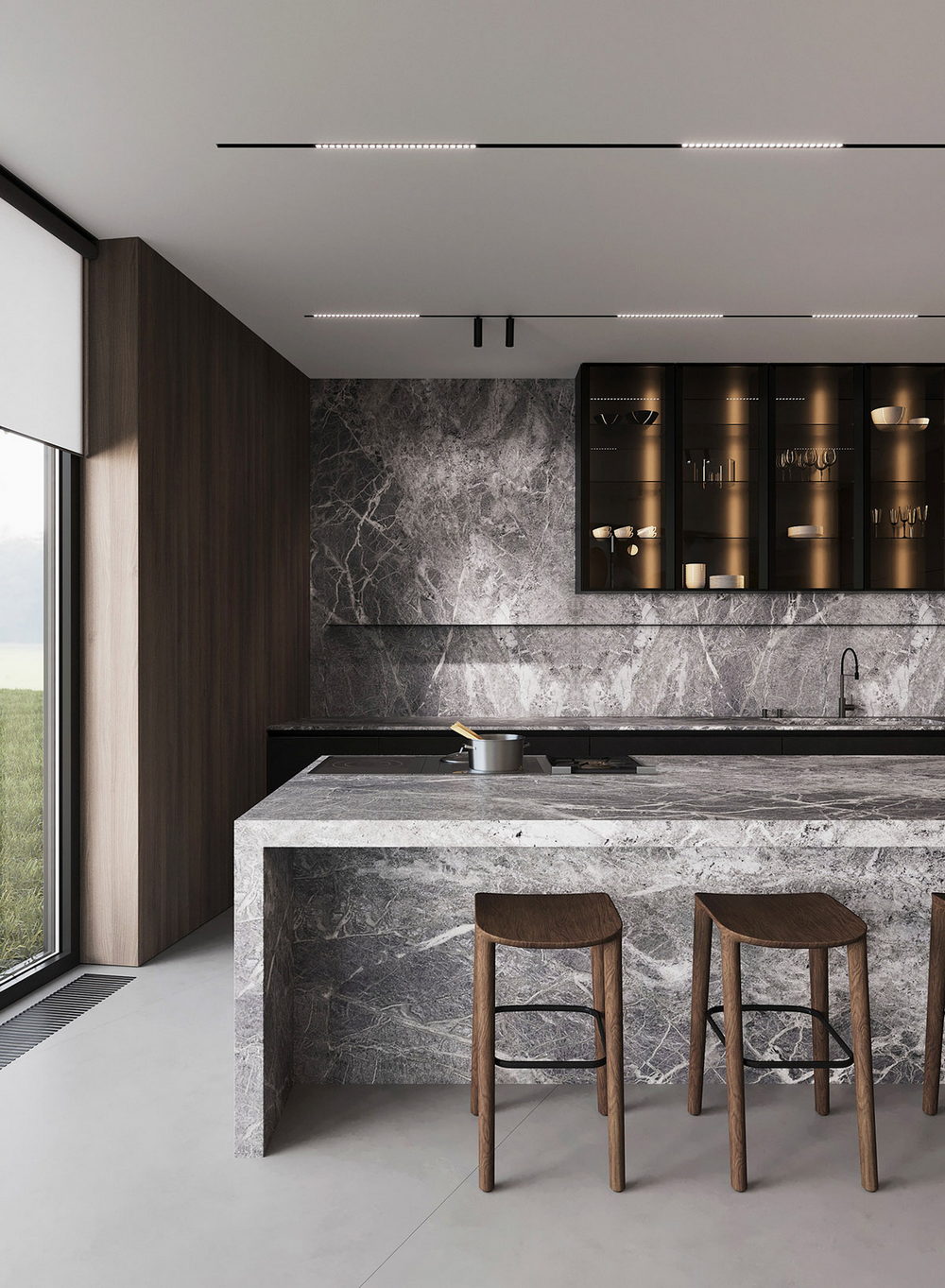 Master Bedroom
Upstairs in the master bedroom, a grey upholstered bed is wrapped by a custom-built, winged headboard design. A pair of bedroom chairs and a small glass side table have been arranged by the windows as a place to enjoy morning coffee together, or to read a book in solitude. Vertical linear wall lights brightly illuminate this relaxation area at night.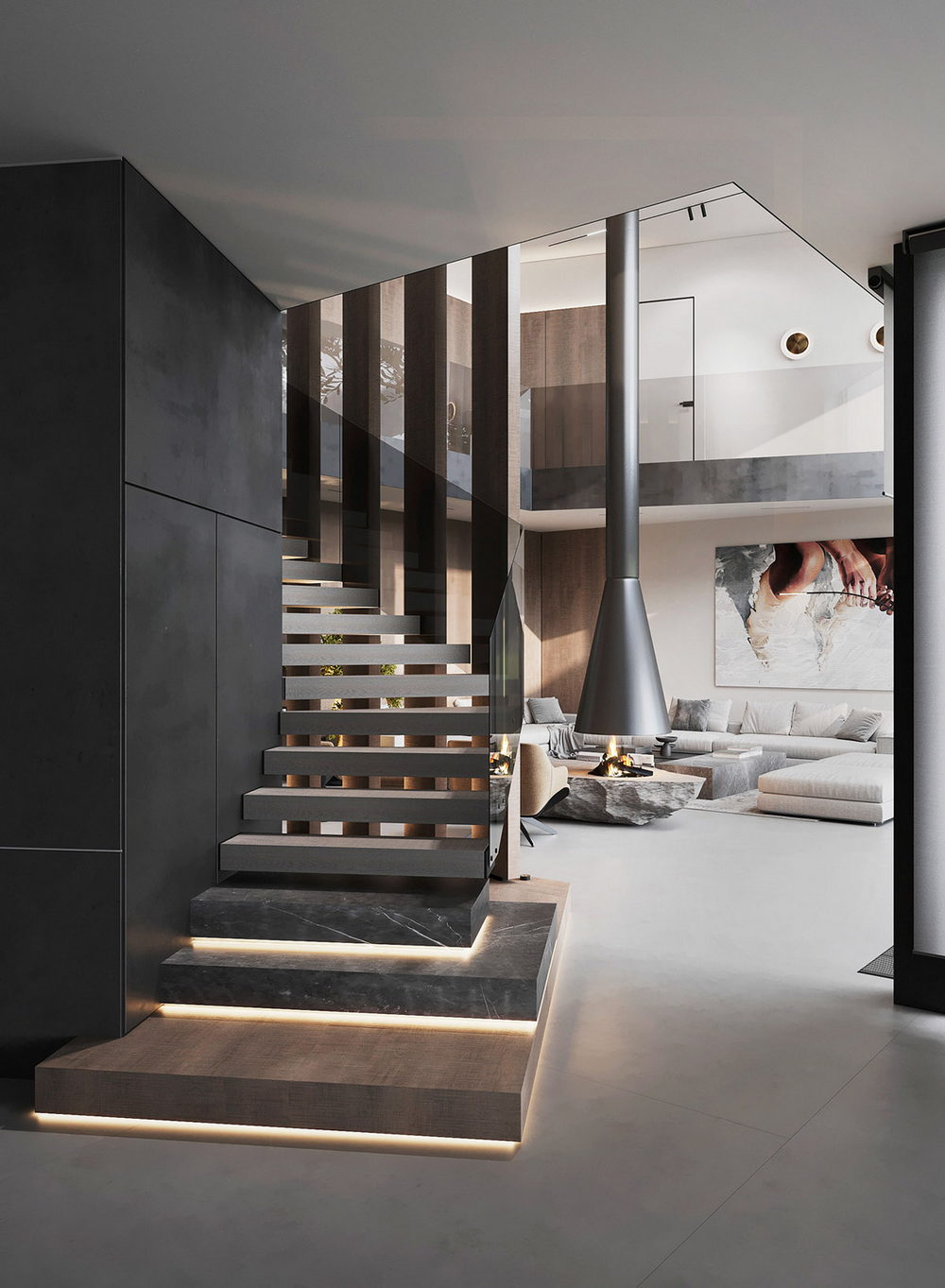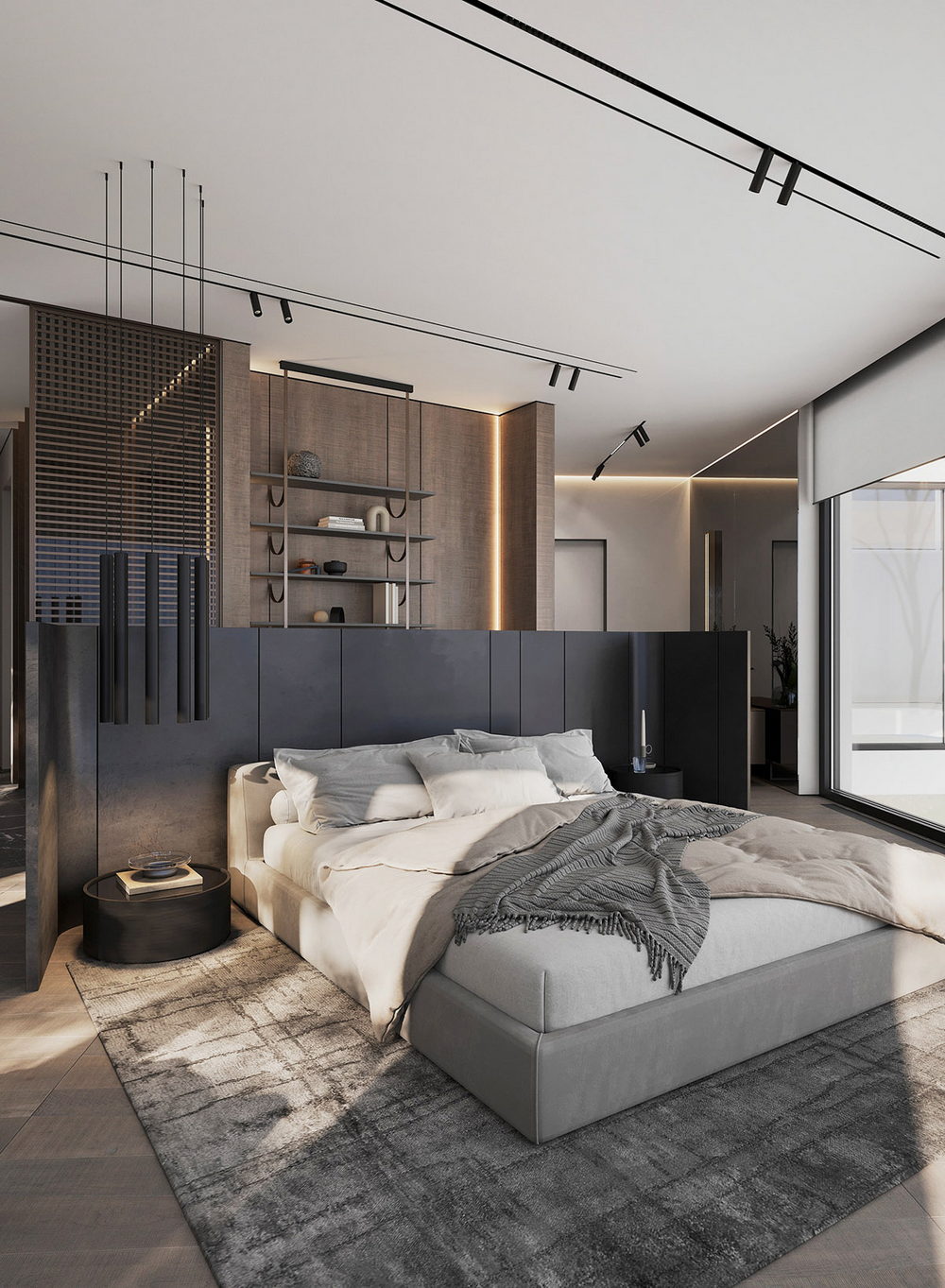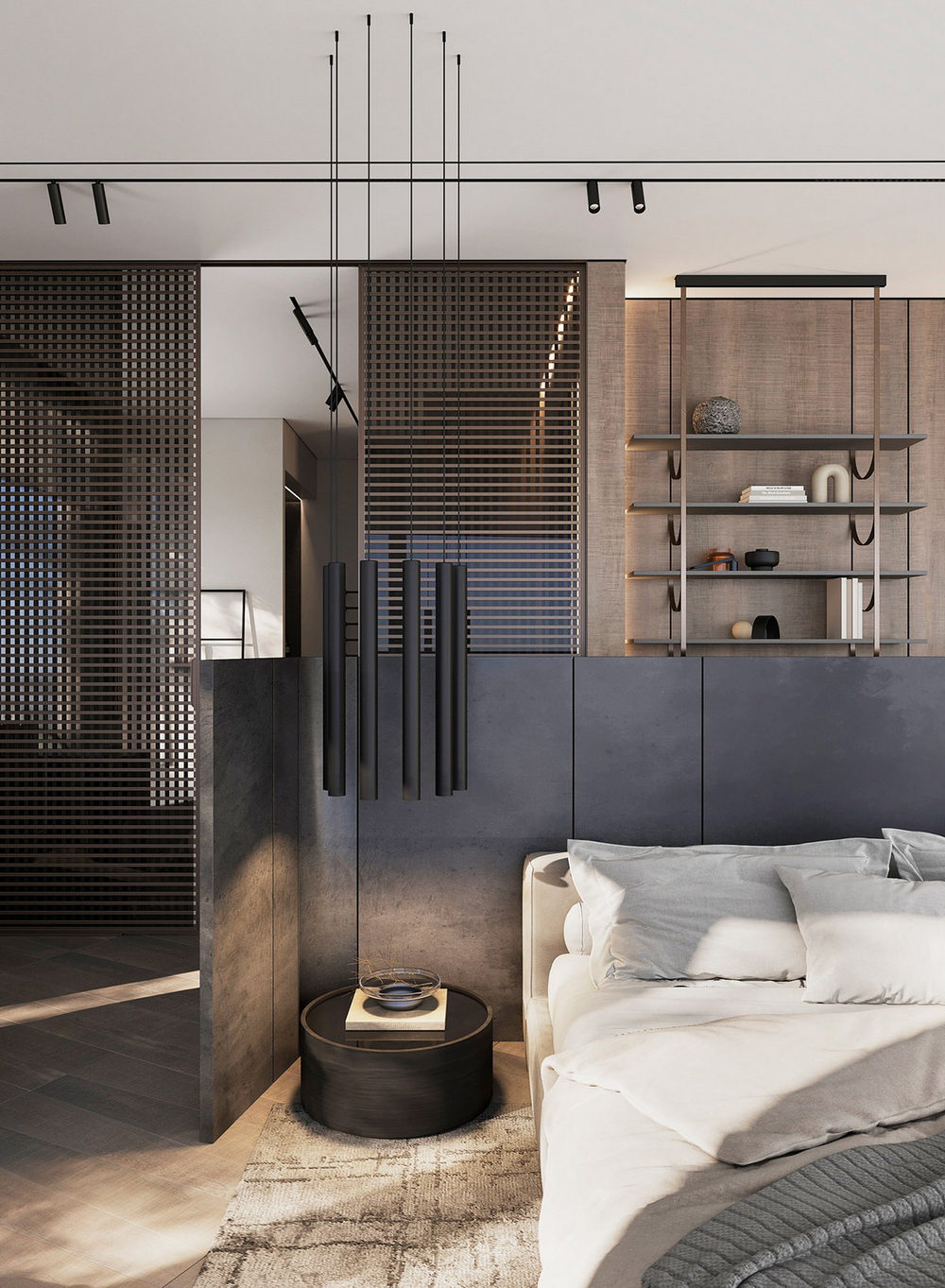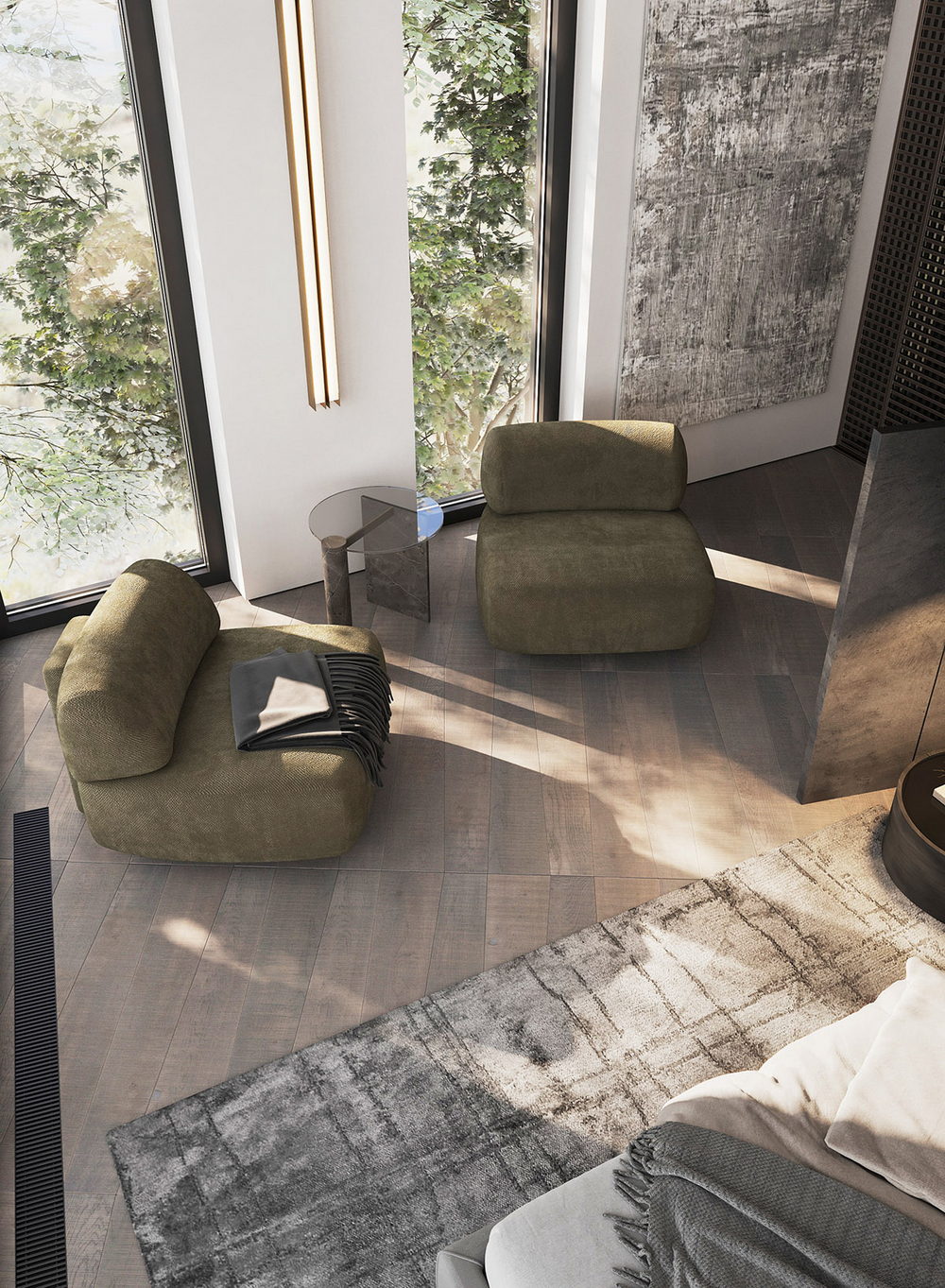 Behind the winged headboard design, a small home workspace tucks into a cosy nook. Unique wall shelves decorate the space above it with practical storage. The entryway into the ensuite bathroom is framed by black, sliding muxarabi screens.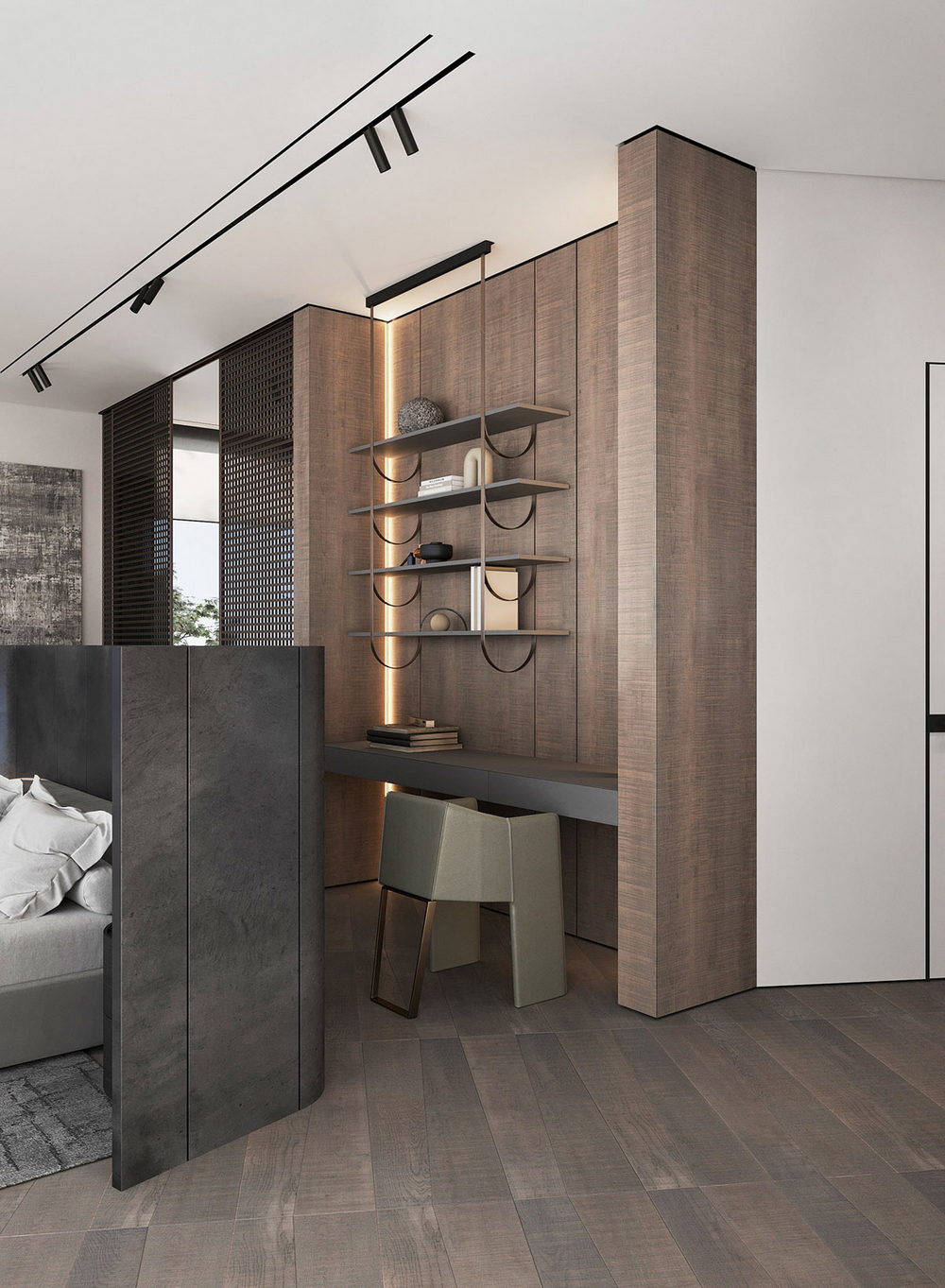 Ensuite Bathroom
The ensuite bathroom is a luxurious space with a huge floor-to-ceiling picture window. A treetop view grants the room with a sense of peace and tranquillity. A unique bathtub is set in front of the serene view, as the ideal spot in which to let troubles float away. A modern towel rail is set up at the foot of the bathtub, with hooks for a toiletries tray and a small mirror. Black marble flooring with a striking white vein pulls the monochrome bathroom scheme together. Opposite the bathtub, a fluted marble feature wall draws attention to the modern bathroom vanity area. Open shelving units provide an abundance of bathroom storage for clean towels and toiletry supplies. Marble cladding is applied behind a wall hung toilet and matching bidet too.