Wedding planning can be a challenging task for anyone, but planning a simple wedding ceremony is one way to make it a little easier. Many couples all over the globe are moving away from the traditional large wedding gathering and instead opting for smaller, more intimate affairs, and the results have been magical. Smaller weddings allow you more cherished time with each of your guests, creating unforgettable wedding experiences.
So, if you want a relatively stress-free wedding, we recommend using the kid-friendly version of our favorite acronym, K.I.S.S.— or "Keep it simple, sister!" To help you ease on through, we've put together this step-by-step guide to planning a simple wedding ceremony….
Guide To Planning A Simple Wedding Ceremony
A simple wedding ceremony demands its own format and atmosphere. With guest lists being downsized, we'll see more guest-centered elements. In addition, more couples want to turn their wedding into an experience rather than just an event. As a result, the popularity of "small toasts" is expected to soar. Instead of a formal reception, the speeches will be more casual, reflecting the easy and relaxed atmosphere of a modest, simple supper or "dinner with best friends." Here are some steps to keep you on track when planning your simple wedding ceremony.
1. Determine Your Wedding Budget
Yes, we know! Talking about money can always be a complex subject, but trust us, it's an absolute necessity to get it out of the way at the beginning of your wedding planning stages. Every decision you make will impact your budget, so you need to know what it is upfront.
You wouldn't want to fall in love with a wedding venue that costs more than your budget, right? So sit down and talk to all the people contributing to the budget so you can have a plan. There will be hundreds, maybe even thousands, of decisions to make while planning your simple wedding ceremony, and most of them will impact the budget.
2. Decide Your Wedding Theme And Color Palette
Smaller weddings give you more control over the event's overall aesthetic, including how your guests are involved. Couples are creating beautiful wedding themes and color palettes for their decor and fashion. We're seeing a switch from the traditional to the decor, and bridal parties create the color palette, now the guests are getting involved. What?
In today's times, the wedding guests' attire is becoming part of the décor, delving further into the notion of hosting a one-of-a-kind wedding. In addition, couples are connecting with guests to coordinate color palettes and style on the wedding day, making the entire event a 'photoshoot.' Modern weddings are making a statement with style, and we love it.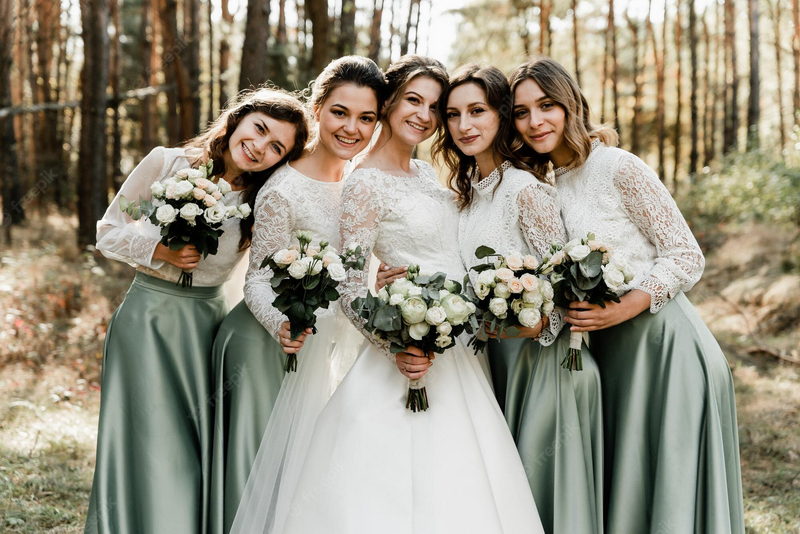 3. Big Wedding or Small? Create Your Guest List
Whether you choose to have a large wedding or a small one, creating your guest list is a crucial task. And while it may be challenging to decide who gets an invite and who doesn't, around here, we like to say…'make your guest list, the A-list.' A smaller guest list is better for your budget and sometimes your sanity. Even if it's impossible to reduce your list to 20 guests, reducing it from 200 to 100 will help you go from overwhelmed to manageable. More often than not, a simple wedding ceremony requires less effort—and it comes with a priceless bonus: more face time with the cozier group of wedding guests you invited!
4. Find A Venue That Fits Your Theme and Budget
Unsurprisingly, the most significant portion of your wedding money will be spent on the most expensive item, usually the venue. According to research done by The Knot, couples typically spend roughly 30% of their overall spending on their wedding location. So, you must find a wedding venue that not only fits your theme, style, and personality but also doesn't blow your budget.
5. Create A Wedding Website
One of the best creations in the modern wedding arena is having a wedding website. What a beautiful way to share your love story with your closest friends and family, all the details of the wedding and any pre or post-wedding events, specific requirements for dress code, your wedding hashtag, and more. Here are some ways you can use your wedding website.
6. Love Story
Sure! Your family, friends, and associates may know you're in love, but they probably don't know all the intimate details. So use your wedding website to share how you met, some of the quirky things that may have happened, your favorite things, the proposal, and more. Trust us: they'll love it!
7. Wedding Details
One of the most significant ways a wedding website can make planning your simple wedding ceremony a breeze is by having all of the details of your event in one place. These include the date, time, location, dress attire, and more.
8. To Track RSVPS
Having a wedding website allows you to easily track and receive your RSVPs and receive information regarding special culinary restrictions that your guests may have.
9. Wedding Hashtag
Most weddings today aren't complete without a wedding hashtag. And once you create it, you'll want to share it everywhere you can. Front and center on your wedding website homepage is the best place to share your wedding hashtag!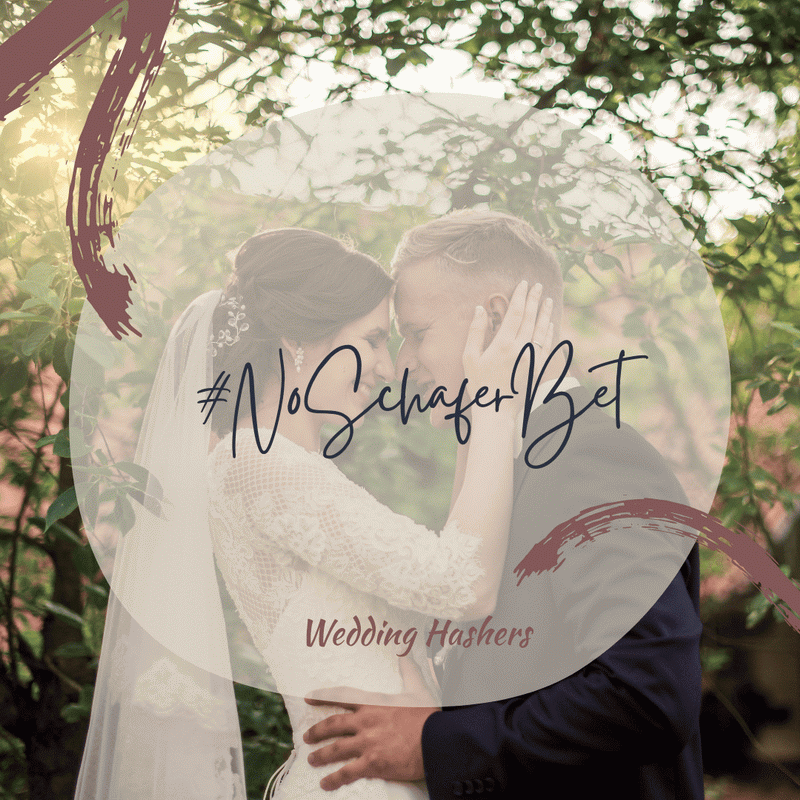 10. Send Save-The-Dates
The next step for planning a simple wedding ceremony is to find save-the-date cards that match your theme and color palette. Many websites allow you to shop from the comfort of your own home, or you can find a local wedding stationer to create custom save-the-dates for you. Just remember to mail them out four to six months before the wedding day. This gives guests plenty of time to make arrangements to attend your wedding.
11. Purchase Your Dress and Wedding Band
Shopping for your wedding gown and bands are the most exciting part of planning a simple wedding ceremony. But, with thousands of designs to choose from, it might take some time. As a general rule of thumb, you should begin to shop for your wedding dress approximately one year before the wedding. This is because most wedding gowns have to be ordered, which can take up to six months. Then, once your dress arrives, you'll need several weeks to get it altered to fit you perfectly.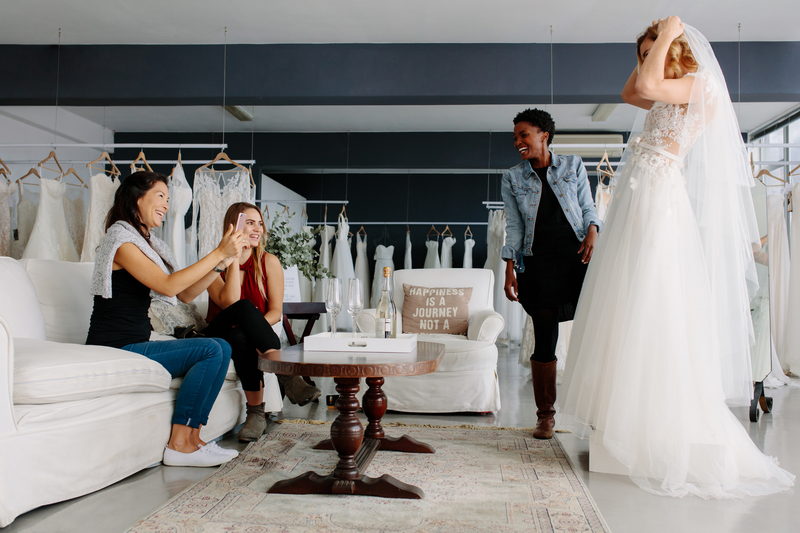 Enjoy the experience, it's a lot of fun, and you'll create beautiful memories with your closest family and friends.
12. Get A Marriage License
This is an absolute necessity. You cannot have a legally binding marriage without a marriage license. There's actually two steps to this process – you'll need a license and a marriage certificate. What makes a marriage license different from a marriage certificate? The first step is to get a marriage license, which is essentially an application to marry. It's a process where you meet with a court-appointed official to present your identification, proof of any divorces, and declare your legal ability to marry.
You'll receive a marriage certificate once you've completed the marriage license, had your simple wedding ceremony, had it signed by you and your witnesses, and your officiant has returned it to the county court.
13. Get Married!
Now that you've done all the previous steps, you're ready to get married. So, now the important things are to remember to not stress about the small stuff, make a checklist of everything you need to take with you to the wedding, create an emergency kit (things like bandaids, safety pins, etc.), relax and enjoy the time you're going to spend with your family and closest friends.
Your wedding experience will fly by in a blink of an eye. So make sure that you remember to slow down and absorb every emotion, all the laughs, and memories.
Simple Wedding Ceremony: Frequently Asked Questions
What Should Be Included In A Short Wedding Ceremony?
A short wedding ceremony's basics are essentially the same as a traditional wedding. Here is the order of the wedding ceremony.
The Processional
First and foremost, there is the processional. This is the time for members of your immediate family and wedding party to make their way down the aisle and take their seats on each side of the altar. The bride's mother leads the procession, followed by the groom, best man, paired-up wedding party, flower girl, and ring bearer. Finally, the bride is escorted by her father, who "gives her away" to the groom at the end of the ceremony.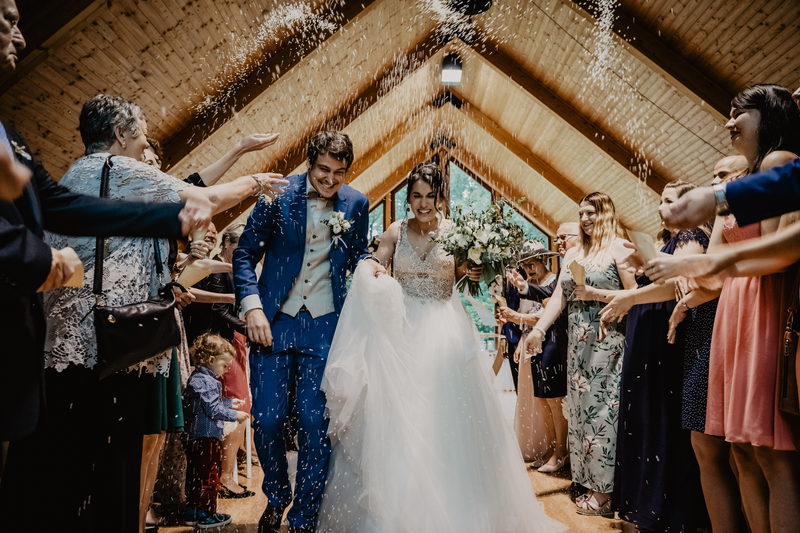 Words of Welcome & Introduction
The officiant will deliver a few words of greeting after everyone has arrived. The officiant will next provide an introduction and some marriage advice. This might be a quick summary of your love story, a remark about what marriage means to you, or a comment about the upcoming ceremony and what it represents.
Readings
If your ceremony includes any kind of readings, readers will be brought forward to say a few words. You might have your officiant introduce each reader and reading, or you could just let things flow naturally between readers.
Officiant Addresses Couple
This is when the officiant speaks to you, as the couple, about the duties of marriage and the importance of the wedding vows you're about to make.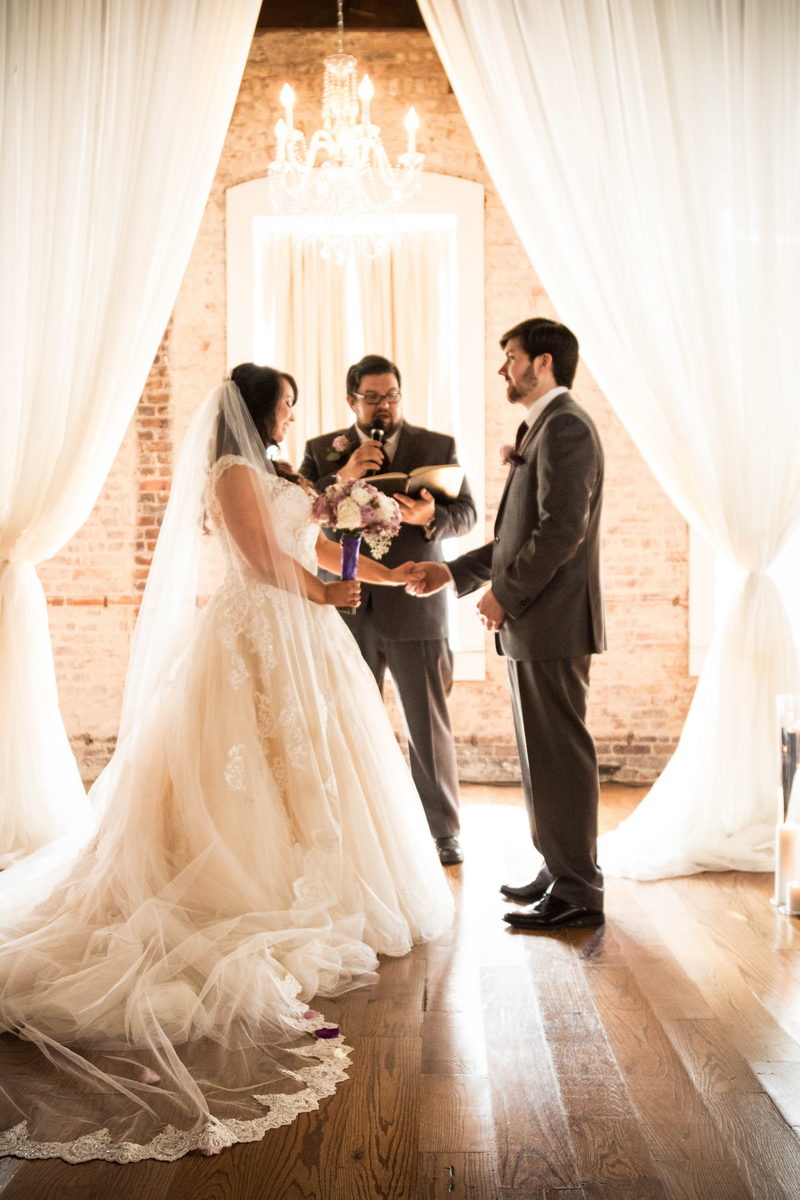 Exchange Vows
Following the sharing of the readings, the two of you will take turns pronouncing your vows. This is generally the most emotional part of the ceremony.
Ring Exchange
Now, it's time to exchange rings as a symbol of your commitment to each other.
The Kiss
Now comes the exciting part! After exchanging vows and rings, the big kiss seals your marriage. You're officially married!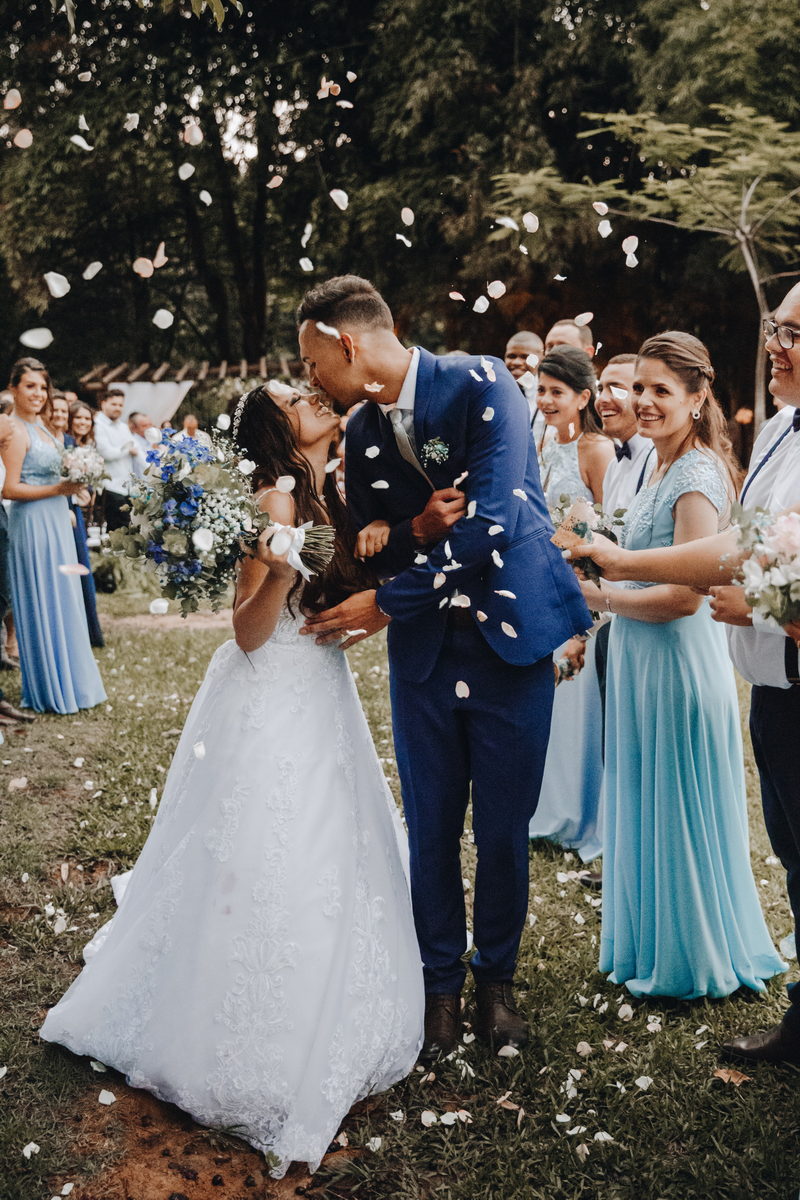 Pronouncement
After the kiss, the officiant will introduce a married couple for the first time.
How Long Should Our Vows Be?
The average wedding vows should last anywhere from 45 seconds to 2 minutes. Traditional vows between your priest, pastor, or other wedding officiants usually last no more than 2 minutes, although it can be longer if you have a more religious service or write your own vows.
Can A Wedding Ceremony Be 5 Mins?
The average wedding ceremony typically averages 20 to 30 minutes, which is plenty of time to cover the essentials (words of welcome, readings, your vows, the ring exchange, and the final pronouncement). Although, we did read online that the average length of a wedding ceremony in Las Vegas is 7 – 10 minutes, so if you really want a 5-minute ceremony, it can probably be done.
Easy Breezy Wedding Planning
Planning a simple wedding ceremony still takes a lot of thought and decision-making. But with this step-by-step planning guide, you should be able to breeze through it. Just remember to not take everything so seriously, don't sweat the small stuff, understand that there may be some bumps in the road, and you may have to change some of the details along the way. But, when the result is a magical day filled with love, laughter, joy, and unforgettable memories, you've achieved your dream wedding.