Author: Mark Drushchenko
Trust and the understanding of the work style, desire to get creative remaking of your idea is the basis of a successful tattoo. That's what Mark Drushchenko (instagram) thinks. We talked with Mark about his style, how he started to work and what makes his work really unique and inimitable.
Tell us something about yourself and your background.
Hello, I'm Mark Drushchenko, I'm 27 and I've been tattooing for the last 5 years. I lived and grew up in a small Siberian town. I've liked drawing since childhood and could spend hours doing this. My parents noticed my enthusiasm quite early so at a young age I went to an artist school and eventually it brought me to making tattoos.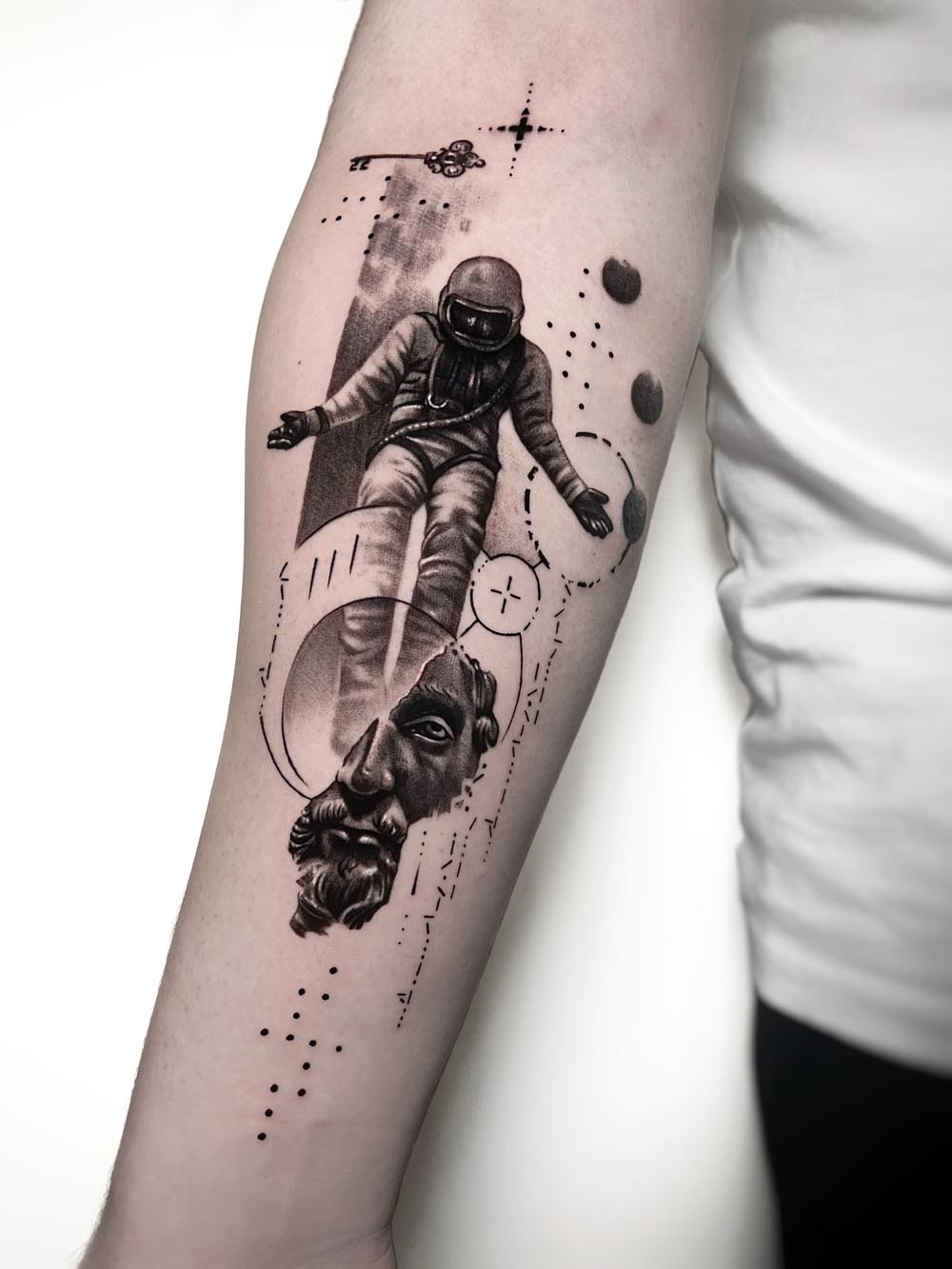 How did you find your style and when did you start sticking to it? How would you define your style?
At the outset of my career I tried different styles – made traditional tattoos, graphic, sketch, for a while I worked in realism. But I'd been having a gut feeling to make interesting and creative projects so I didn't really like working in realism in terms of technique: a minimum of freedom, a minimum of emotional engagement, I took it as just copying somebody's picture to a body. I'd always been drawing surrealist plots, occasionally even with geometry details. Actually I did what I liked, I was really good at making drawings of this kind, they looked fascinating and I enjoyed the process. About since 2019 I've started to focus on creating my drawings and ideas in tattoos more and more, developing my style. Now I've naturally come to this awareness, form and expression. It's complicated to give a name to the work style because it combines a lot, I think it's surrealism and abstraction in total.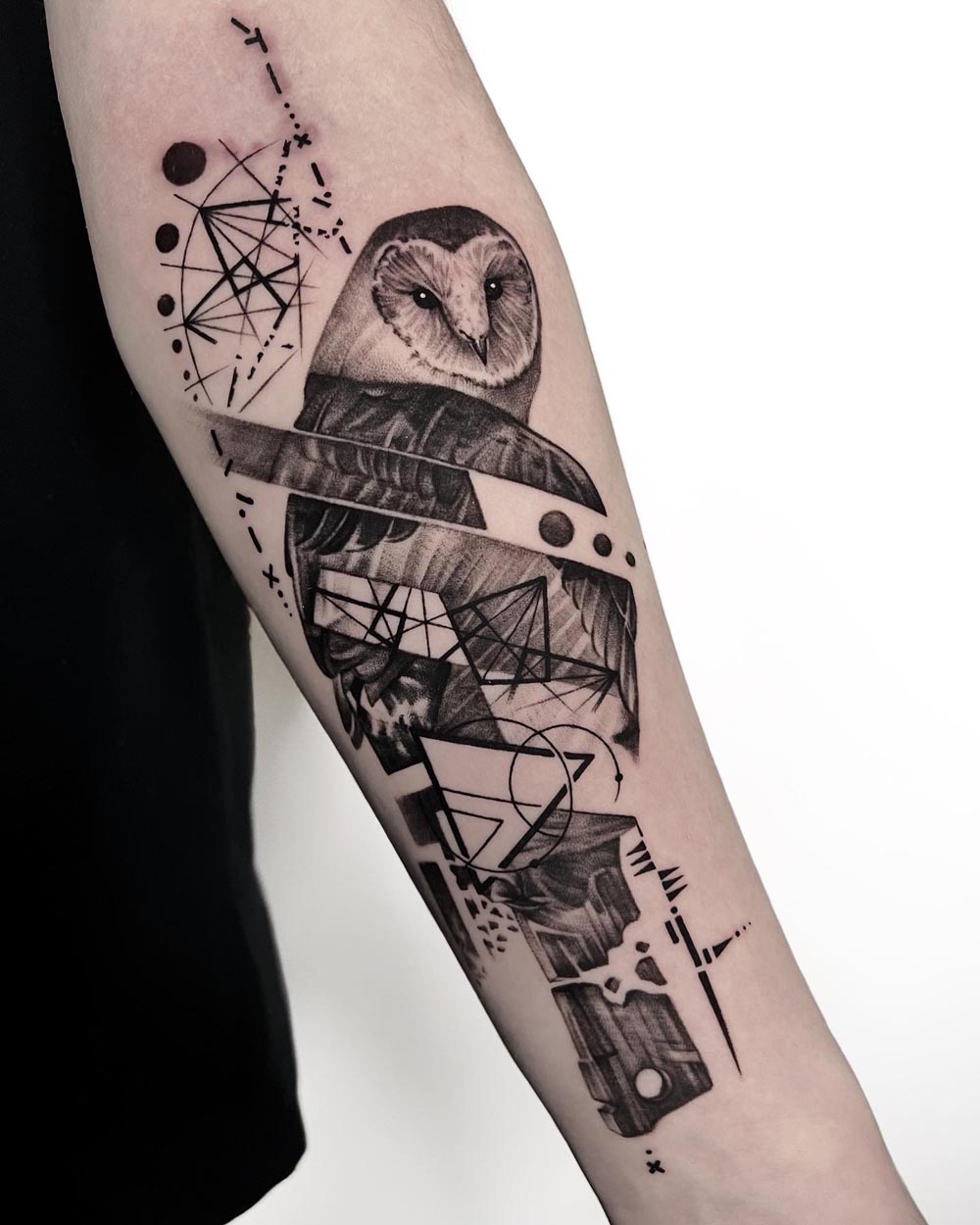 You really know how to incorporate humans' emotions into art and it doesn't look boring or "already seen" It seems like each piece has a special storyline. Very interesting and symbolic. How are you creating your designs?
Yes, including emotions and meaning into a tattoo is a part of my creative task for each new project and that's what I like. For me, making a design isn't just a selection of photos, first of all it's a creative and intellectual process. Each new work is always a new storyline, new motive and meaning so I can't give a priority to one thing. I can say that it's more pleasant with positive meaning and my favorite tattoo is each next one.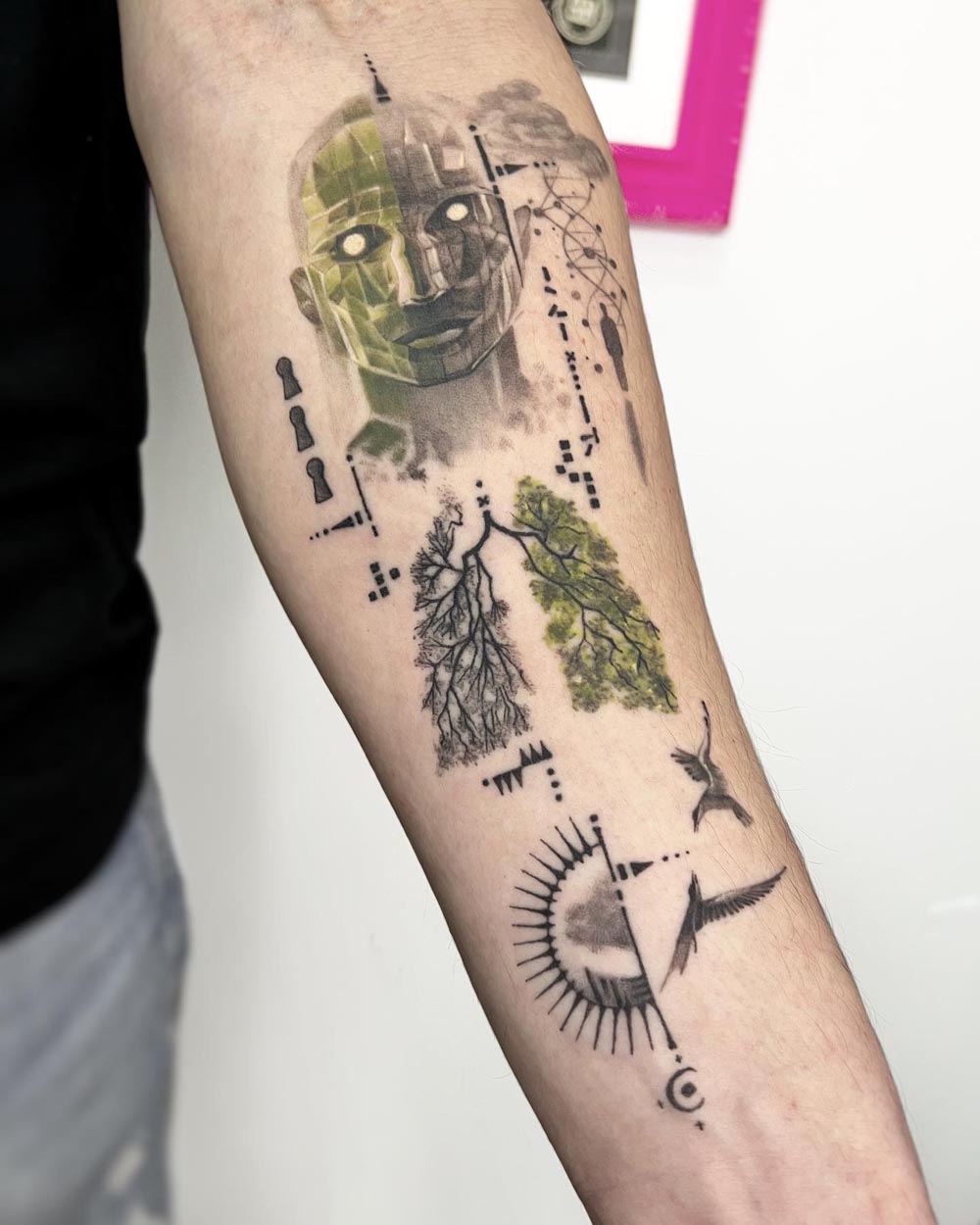 What is the best source of inspiration for your work?
I believe the best source of inspiration is art. Reading literature, visiting exhibitions, museums and watching other tattoo artists' works, you expand your worldview and you expand your horizons for the creation of something new.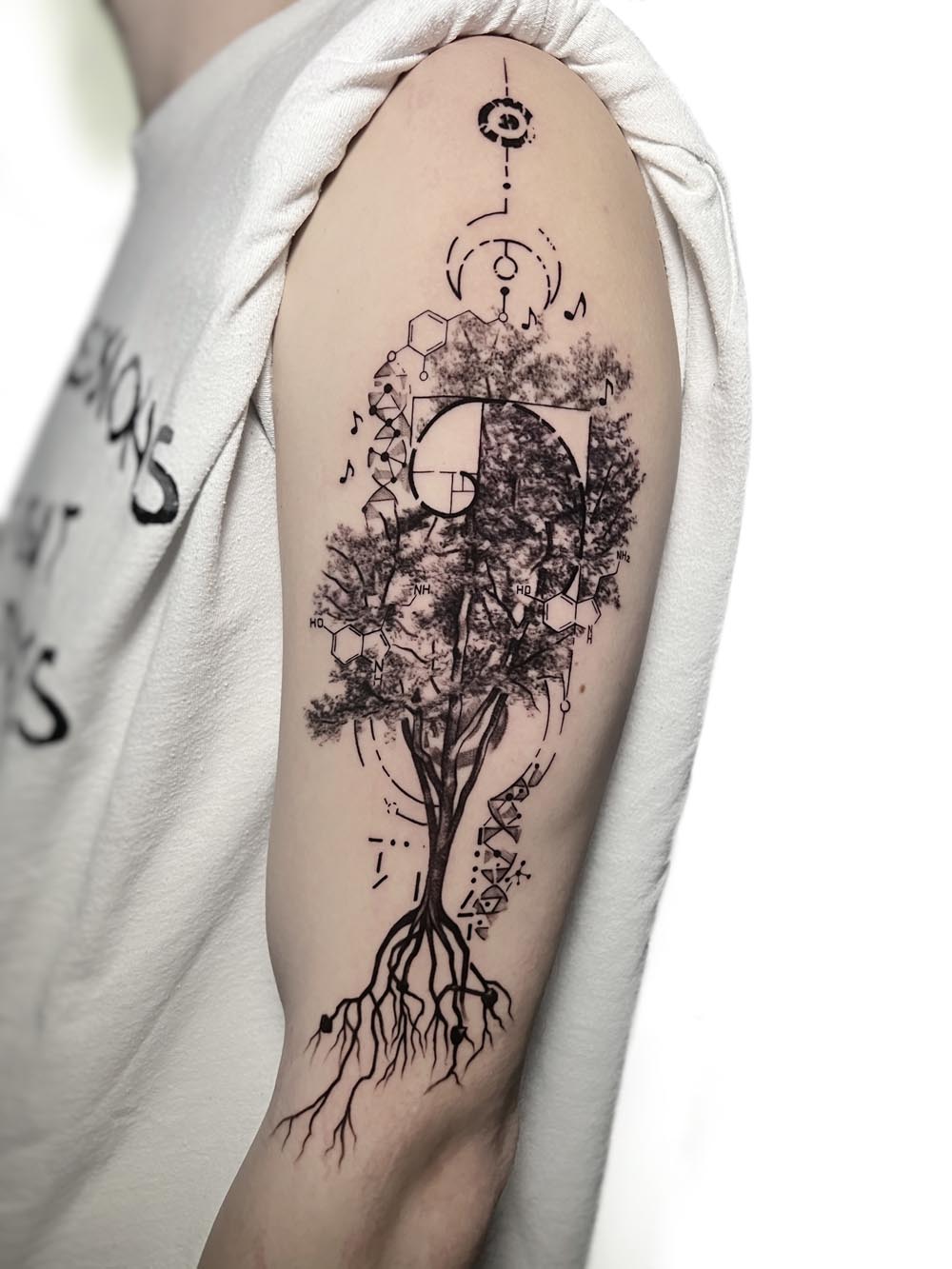 Is it important for you to be an artist in your work and create a plot but not only transfer a concept on a body?
Yes, as for me it's crucial to be an artist. Creative approach is much more important when I'm able to make an experiment with a composition, this work mustn't be boring after a while. Although when I see a tattoo that was well made, for example, a portrait, I'm always amazed. It's really cool, just not my thing.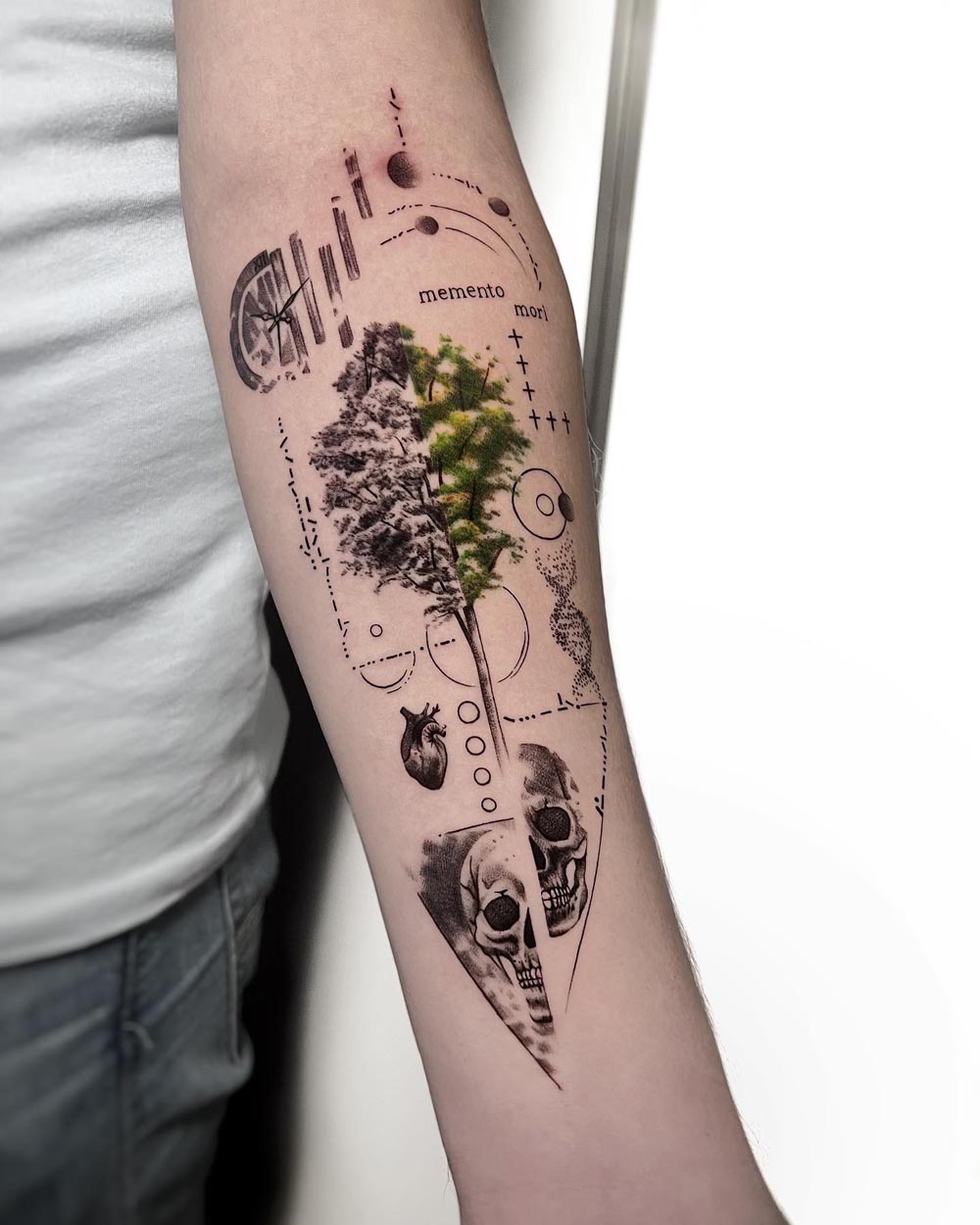 You make unique projects, your approach is really creative and we're interested if you think a tattoo may be a kind of art?
Thanks for giving a high opinion of my art, I really do my best. As the question, I believe it must be delivered to the audience that is interested in art. Tattoo has been a part of human culture from long ago and the answer to the question "Tattoo – is it an art or it isn't?" lies in the boundary of trade and art. In our interests, to overcome this boundary and that's why we should bring something special into sketches to get not just copying of a picture or a stock picture on a skin but an original and interesting project.