These "ice eggs" are not something created in digital editing software but by our mother nature. It is actually a type of grotesque oval ice formations created by a rare coincidence of factors.
Below photos of "eggs" were captured by Oulu resident and amateur photographer Risto Mattila during a stroll on the nearby beach Marjaniemi (northern Finland) in Ostrobothnia. According to Mattila, although he has been living near the sea for nearly 25 years, that is his first time encountered this 30-metre assemblage of oval egg-shaped ice floes. Lukily, Mattila had a camera with him when he and his wife saw this remarkable natural phenomenon.
Ice specialist Jouni Vainio of the Finnish Meteorological Institute explained that while indeed rare, the "ice eggs" have a perfectly scientific explanation. To appear, they require a seldom seen combination of near-freezing air and water conditions. The "eggs" are formed around a tiny particle revolving in the frigid ebb and flow, such as a snowflake, a small stone or even a bit of flotsam, with ice slowly growing around it and getting polished by the back-and-forth movement of the water. The right amount of wind is key.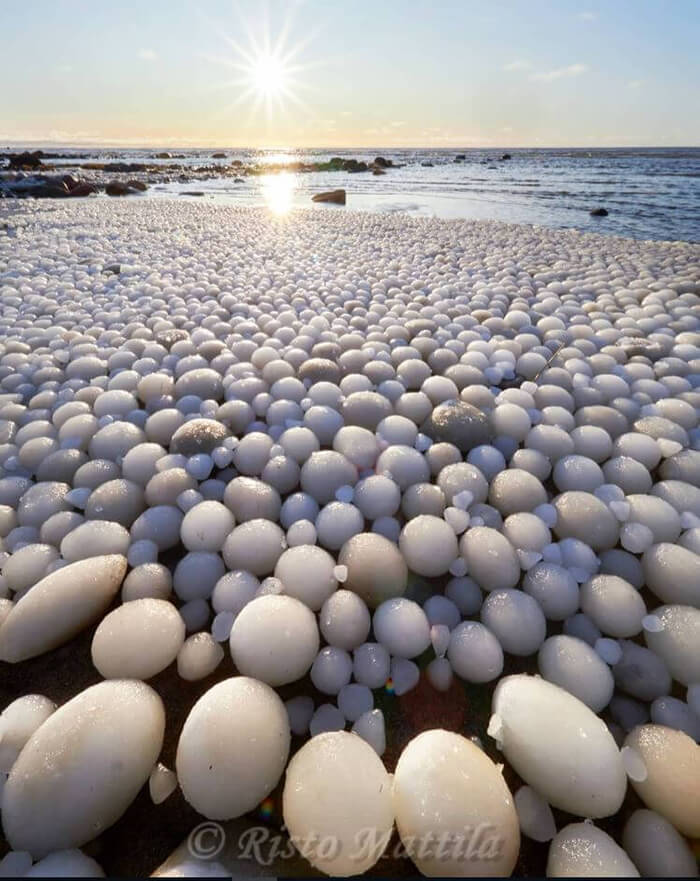 However, the "eggs" will only appear for a short period of time, hence, it is very lucky that Mattila can witness it. So jealous! I wish I can see it one day! But for now, I can only browser Instagram and find more of such unbelievable "eggs" from the other lucky people like Mattila.