Are you looking to invest in modular classrooms? Prefabricated school buildings are gaining momentum in Australia.
Gone are the days when prefabricated constructions were considered low-cost, unattractive, and far from weather-resistant. Today, modular constructions are utilising cutting-edge techniques to build highly desirable, sturdy, and customisable constructions.
As educational needs keep expanding, modular schools are the perfect solution to the growing demand for new schools.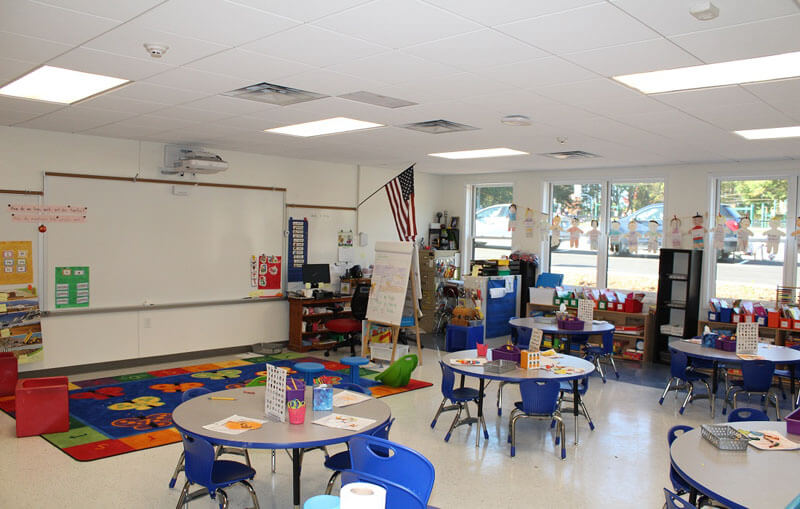 What Are Modular Constructions?
A modular construction or prefabricated building, commonly known as a prefab, is a process in which buildings are constructed off-site. Factory-made components or units are made at a manufacturing site then transported to the construction site and assembled there.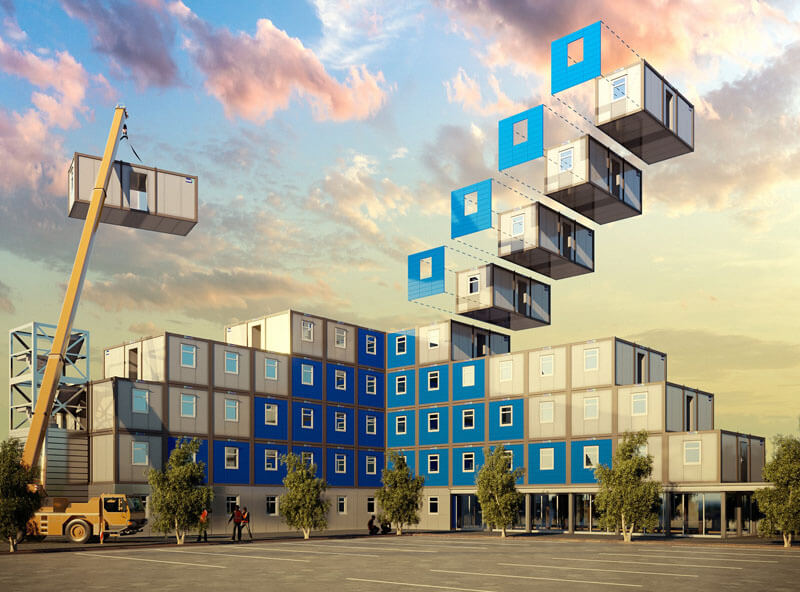 There are two types of modular constructions:
Permanent Modular Constructions: Modules or kits with all the pieces like floors and walls pre-cut are transported to the site and assembled on a permanent foundation.
Relocatable Buildings: Partially or fully assembled modules are transported to the site and then secured together and installed on a non-permanent foundation.
Relocatable buildings are built for reuse and can be repurposed several times and transferred to different construction sites. They are easily transported and relocated. The cost of reconfiguring them is low, making them highly suited for schools, sales centers, medical clinics, or any application where the relocatable building can meet a temporary need. The enormous flexibility they offer makes them the ideal choice where there is a need for speedy construction, temporary space, and the ability to relocate.
Benefits of Prefabricated School Buildings
Now more than ever, the education sector is faced with an ever-increasing demand for schools due to the spiralling number of students. Aging older-style schools also need to be replaced with new schools configured to meet the latest educational trends.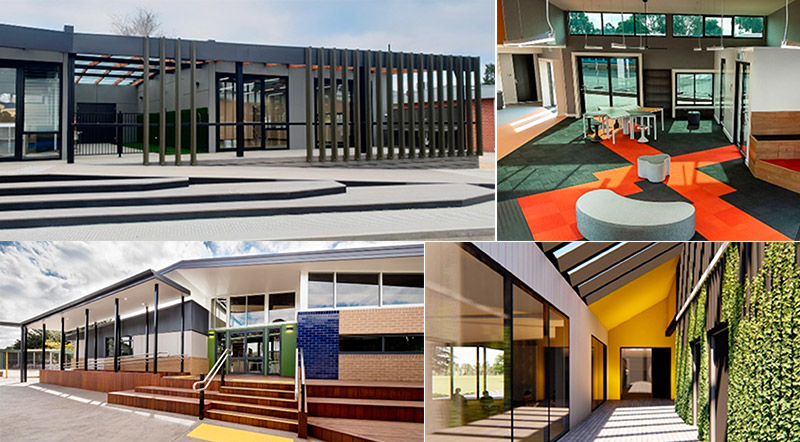 Conventional construction methods are inefficient, costly, and time-consuming. The prohibitive cost of production and replacing and upgrading schools has led many to opt for modular schools. Many companies have been at the forefront in delivering innovative prefabricated schools and have constructed several modular classrooms for universities and other educational institutions across Australia.
Here's why prefabricated school buildings are the all-round solution to the ever-increasing need for high-quality classrooms and safe learning environments:
1. Resistance to Weather
Modular schools are constructed using a performance-based design that ensures they can resist wind, fire, and earthquakes. Laboratory tests and full-scale tests are conducted on components such as walls, roofs, ceilings, and connections.
For example, double-layered walls and floor ceilings provide significant airborne and impact sound resistance, and detailing requirements can withstand earthquakes.
2. Cost Efficiency
A modular school construction eliminates contract problems, delays, or controversies regarding the use of funds. Several private schools have opted for modular classroom construction and attest that construction was completed on time and within budget.
In modular constructions, building materials are used more economically. For example, most materials are recycled, and inventory is more controlled.
The ability to disassemble the buildings and relocate the modules or refurbish for new use eliminates the need for a new building. This saves on the raw materials and workforce required to create a new building to meet a new need.
3. Timely Completion
Completion and readiness is a crucial advantage of modular buildings. In conventional constructions, the building team follows a sequential order—the carpenters come in first, followed by the electricians, the plumbers and HVAC technicians. They're then followed by drywallers, painters, tile installers, decorators, and so on.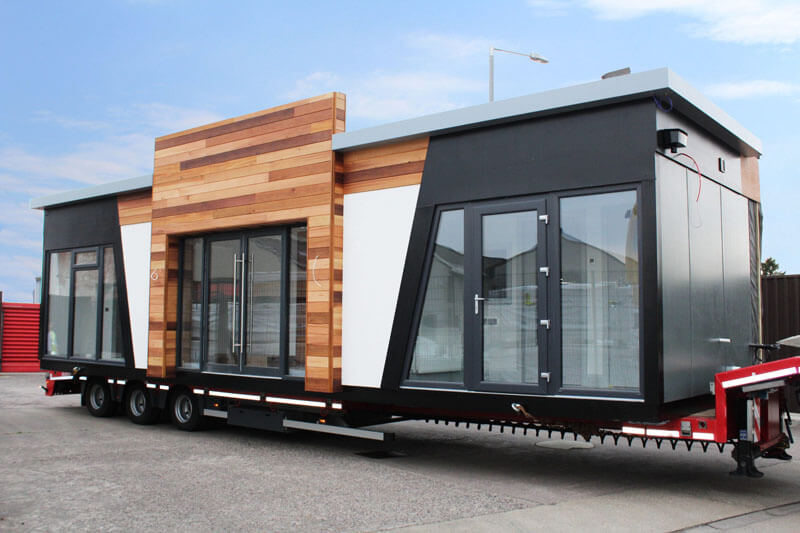 With modular constructions, the entire building team works together in the factory. When the preassembled parts are combined, the building is 90% complete—the electric, plumbing, drywall, and paint jobs are done.
Also, the building of modules and site foundation work can take place simultaneously. Thus, the various activities that have to occur—demolition, site preparation, delivery, and installation – all of which have to fit in a narrow time frame of a school term, can be completed much sooner.
Further, modular constructions eliminate any delays caused by unfavourable weather.
4. Site Safety
In a conventional school construction site, despite efforts to adhere to safety measures, there are safety concerns around the numerous construction activities and the delivery and storage of building materials. There's also a lot of noise and dust, which can disrupt the students' learning.
Modular construction companies eliminate such issues because 90% of the construction takes place off-site. Site disruption and vehicular traffic are reduced, and overall safety and security are improved. For a learning environment, this is a big plus.
5. Better Working Environment
For the building technicians working at the factory, modular constructions offer a better working environment. They build the modules in a controlled setting, so even if they are building a module for the 40th floor, they're on the ground floor, eliminating the risk of falls and injuries.
Also, with the COVID-19 pandemic, managing and controlling a factory setting with social distancing and an increased number of shifts is much easier than a stick-built job site.
6. Better Facilities
Modular constructions incorporate modern trends of design and construction sophistication that rival conventional developments. Lessons learned from constructing fabricated houses, and commercial buildings are being incorporated into modular school constructions, resulting in the limitless design and finish options that can be customised to suit all modern learning requirements.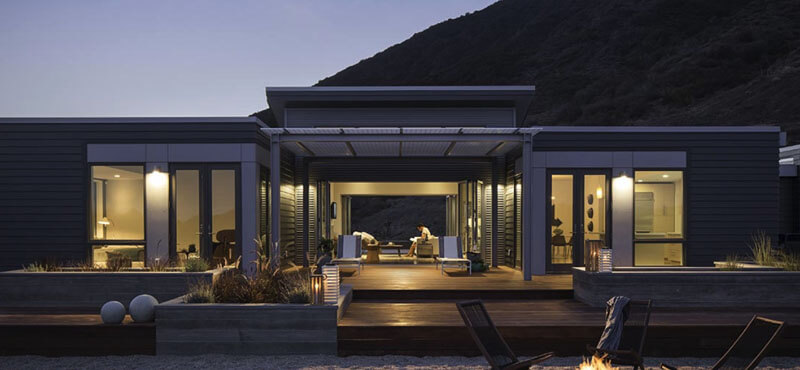 Modular buildings factor in thermal performance, acoustic performance, and indoor environment quality, and the result is high-quality learning spaces.
What's more, such high-quality classrooms can be made available to areas where skilled labour for stick-built site construction is limited, or costs are too high. The modules are built at the factory and transported to whatever site location.
7. Environmental-Friendly
In modular constructions, the amount of construction waste is significantly reduced. Surplus materials don't end up in the landfill as it does with stick-built constructions.
Modular constructions are also achieving a whopping 90% local content, and more research is being done to explore opportunities to incorporate more sustainable designs. They consider the local climate and integrate passive design principles to reduce the need to rely on supplementary heating and cooling for indoor temperature control.
This approach not only lowers ongoing operational costs but is also a more sustainable solution. It's for this reason sustainability enthusiasts are turning to modular constructions.
Contact the Modular Construction Experts
Modular classrooms are the solution to Australia's growing learning needs. Many construction companies are experienced in constructing modular classrooms and learning facilities that are safe and stimulating while encouraging students' innovation and collaboration.