Whether you intend to pop the biggest question of your life soon, or whether you are hopeful of becoming a bride-to-be, you are probably giving engagement rings some serious consideration. A breathtaking engagement ring is the key to the most romantic proposals, so it's something you really want to get right.
Are you intrigued by a ring builder tool that you've seen online? Are you hoping to create a unique, personalized ring? Do you have an idea in mind that you'd like to make a reality? Then this may be the perfect solution.
Here we explain how ring builder tools work. We teach you how to recognize an excellent site to use and give you some insider tips on how to make the most of the experience.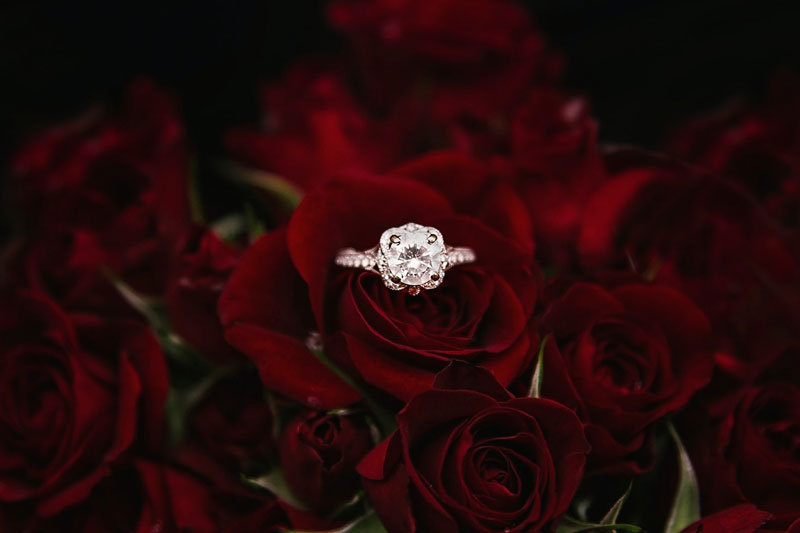 How can I design a ring using an online tool?
Designing your own ring might sound very daunting, but an online tool will do a lot of the work for you. It's really very simple. You will just need to pick out some key elements of the ring and your chosen jeweler will put them together for you.
The first step varies but you will probably be given one of two elements to choose first. You'll either need to pick out a ring setting or the central stone. After these two key features are finalized, you can move onto the finer details. We'll explain all the steps below.
1. Choose the ring setting.
You might start by browsing through a range of ring settings. A ring setting refers to the overall shape or style of a band that will hold a diamond or group of diamonds in place.
There are so many beautiful options available. You might choose something classic and iconic like a stunning single diamond in a solitaire setting with a simple gold band. Some brides prefer a more contemporary style so you might choose a cluster of diamonds sitting on a twisted or curved band. These are just two examples; you'll find the range of possibilities mesmerizing.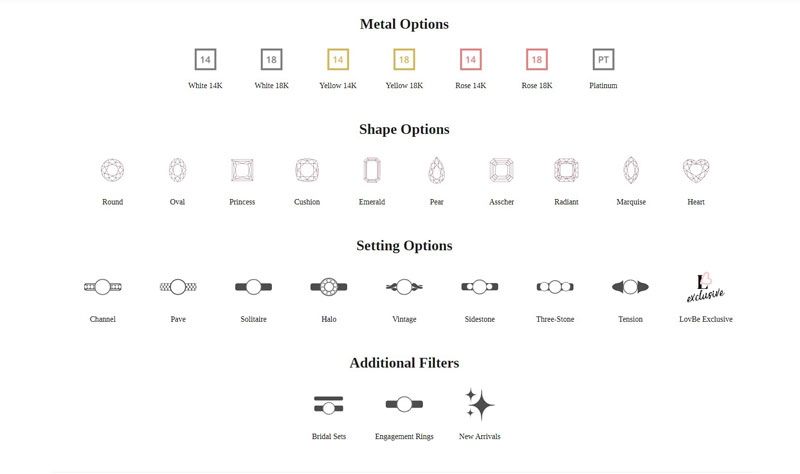 2. Pick out an exquisite stone.
A good retailer will offer many hundreds of stones to choose from, so when you reach this step, you'll need to narrow down your choices to a particular shape of diamond.
There are some superlative options for the centerpiece of an engagement ring. Princess-cut diamonds are a classic choice because their cut makes them particularly sparkly. Cushion diamonds are loved for the way they look larger than they actually are, meaning they are a wise alternative if you have a tighter budget.
Some brides-to-be and their partners prefer to choose a central stone in a more unusual shape. You may be able to choose from pear and oval-shaped diamonds or even heart shapes.
Lots of couples make a modern, sustainable and economic choice and opt for lab-grown diamonds.
These stones are just as beautiful as their mined counterparts and can be found in the same range of shapes. Lab-grown diamonds are created by replicating the same conditions, such as high pressures and temperatures present when diamonds are formed under natural conditions underground.
However, in a lab setting, the process is sped up from several million years to just a few months.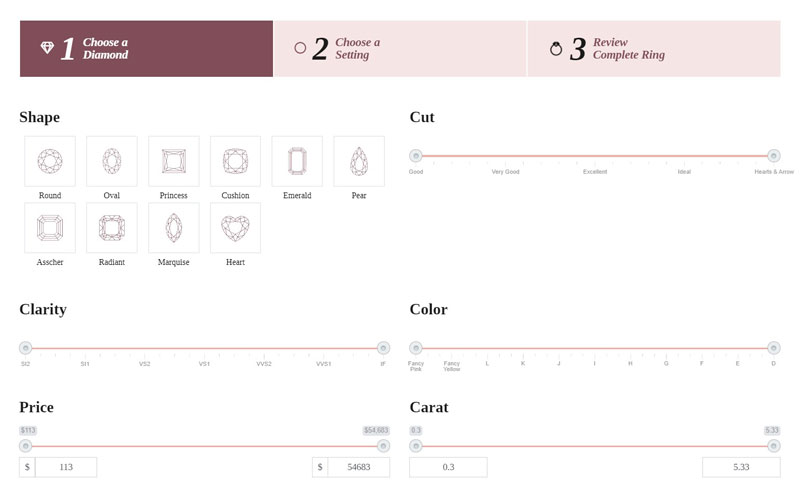 3. Select a metal for the band.
The final highly significant decision is to decide whether to opt for a gold band or other precious metal. Gold is always a great option and can be white, yellow or rose in color. Platinum is also a popular choice.
Once you've followed these 3 steps, you should be able to get a 360-degree view of your design. This will give you the chance to be sure and happy with your choices and redesign any elements as you see fit.
Once you are completely satisfied with the design, you can order the ring and see it in reality in just a few short weeks.
What are the advantages of using a ring builder tool?
When you create a ring using your own ideas and imagination, you are doing something very special and personal. You can also enjoy the feeling that you have a totally bespoke and exceptional engagement ring.
An online ring builder tool is a great way to do this on a budget; you can avoid the fees that usually come with hiring a professional designer.
What features should I look for in a ring builder tool?
You'll soon see that there are multiple options online, but taking the time to select the best possible ring builder tool will mean you get the most from your experience.
Here is a quick guide to the optimal features to look out for:
Some tools give you a choice whether to start with the ring or the setting. This means you can start with the feature most important to you.
Look for a sophisticated range of filters. For example, when selecting a diamond, you should be able to filter by clarity, color, carat and price, as well as shape.
Is the tool easy to use? You should be able to grasp how it works and how to use all its features in minutes.
Finally, be sure to choose a tool that offers you plenty of options for stones and settings so you have more chance of creating the most perfect ring.
A 360-degree preview feature is the best way to be sure of all the choices you've made.
Some tools offer customers the chance to create bridal sets comprising an engagement ring and wedding ring.
Cherish the experience
Enjoy the experience. Although it may feel a little nerve-wracking, designing your own engagement ring is a once-in-a-lifetime opportunity. Take your time and enjoy exploring all the irresistible options.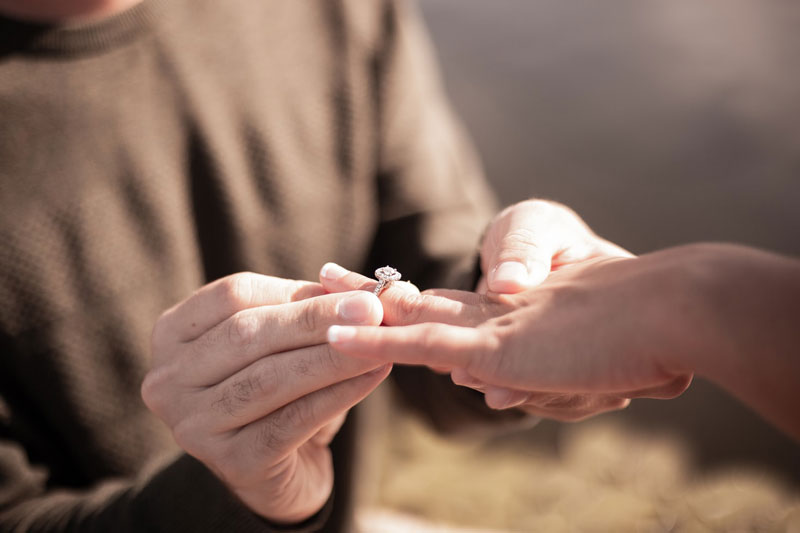 To have a very elegant diamond ring on a tighter budget, consider lab-grown diamonds.
They offer brilliance and rare beauty alongside value. It is actually impossible to tell the difference between a lab-grown diamond and a mined diamond without very specialist equipment. This is why these diamonds are a very popular alternative, not just for engagement rings; lab grown diamond earrings, studs, bracelets and pendants all make wonderful gifts, too.
Creating a unique engagement ring is easier than you might think, so go for it!
With all the choices of stunning diamonds in gorgeous settings, you are guaranteed to create an exquisite engagement ring that symbolizes forever.