A party will not be complete without the eye-catching design that fits the theme, and the delicious food that the hosts prepare. However, no matter how many attendees there are, arranging a party is tedious but rewarding. Most of the time, people try to find the best ways to lessen the task or at least make the burden easier.
One of the most common solutions is getting plastic cutlery. Aside from being a more sanitary option (since it is mostly disposable), hosts only need to provide a separate plastic bag to segregate it from the rest of the non-plastic waste. But these days, people are into green living or keeping rubbish at a minimum. So, how does plastic cutlery help in this new advocacy?
What Is the Relation Between Plastic Cutlery and Green Living?
Since global warming is getting worse, more people are switching to the "zero waste" lifestyle or green living. Other than minimizing waste and keeping wastes in jars, it also involves turning to stuff those that decompose faster, and frankly, anything that does not include plastic.
However, a lot of people still use plastic cutlery such as disposable straws, forks, cups, plates, fork, and spoons. There are two reasons behind it: one, it is easily accessible; the second is that it is cheaper than most alternatives — still, no need to feel too guilty using it.
Aside from disposing of each piece of plastic cutlery properly, reuse it. Not as an eating utensil once again, so why not repurpose it? Here are a few ideas.
How Can You Reuse Plastic Cutlery in the Garden?
There are thousands or even millions of ways to recycle used plastic cutlery. Some of which involve making gardening more comfortable, or prettier. Here are some examples.
Use them as a plant labeler. Usually, these plastic utensils come in either white or black. For the light-colored ones, write the names of the seed on it and stick it in the soil. Alternatively, print a picture on a paper and stick it in between the prongs of the fork to use as a label.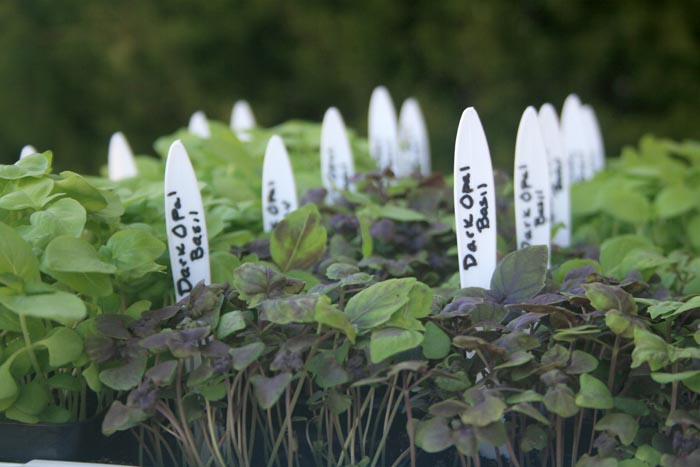 Keep pests out of the pots. Cut the ends of the fork with the prongs, and stick it on the soils in a row. Doing so would create a "spiked fence" to keep pests such as squirrels out of the plants in no time.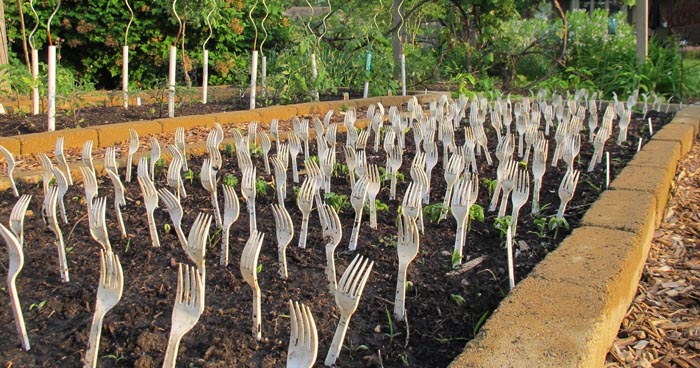 Is there a Way to Reuse It inside the House?
One of the most popular ways to reuse plastic cutlery is to use it as decorations inside the house. While it might seem like a time-consuming task, it can make the home prettier and more welcoming, all while saving the earth, one spoon at a time.
Make a mirror handle. First, gather as many used plastic spoons as possible and clean them. Then, cut the curved part into the same size. If preferred, paint it into another color with spray paint. The next and final step would be gluing the spoon into layers all around the mirror.
Hit two birds with one stone and turn it into a flower vase. First, get a disposable bottle. Then, cut the used and cleaned plastic cutlery (preferably a spoon) into the same size. The last step is to glue it onto the bottle in layers, starting from the bottom.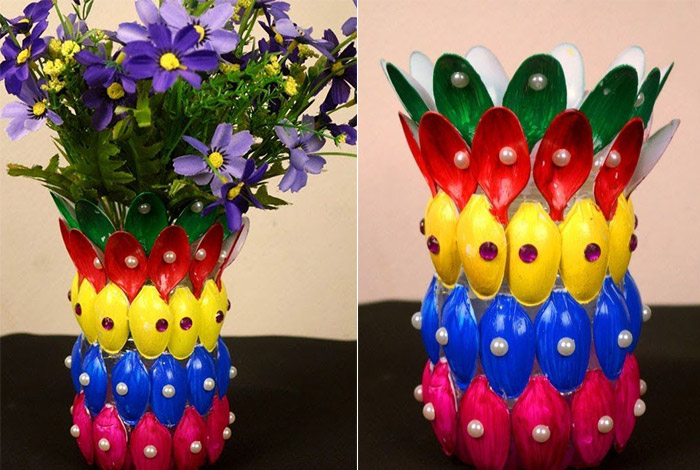 view video tutorial on Youtube
While some people would feel guilty using disposable plastic cutlery, there are still some ways to lessen the guilt. Find creative or purposeful methods to reuse each one and save the Earth one plastic spoon at a time.