Inspired by "The Seven Deadly Sins", internationally acclaimed jewelry designer, Stephen Webster has created exquisite fine jewelry collection named right after it. Each of the seven beautifully hand-crafted cocktail rings and pendants portrays one of the oldest and darkest Christian teachings, The Seven Deadly Sins. Using a selection of exotic gemstones including Tanzanite, Peridot, Fire Opal, Aquamarine, Amethyst, Red Garnet and Diamonds, "The Seven Deadly Sins" are a whimsical depiction of the ancient vices: Pride, Greed, Envy, Wrath, Lust, Gluttony and Sloth.
Describing his magnificent, fabulously decadent collection, Webster Said: "In the context of the 21st Century, the seven deadly sins may not be admirable but are no longer considered punishable by death. And whilst everyone knows what each of the sins represent, not everyone knows the individual punishments administered in hell by the old devil himself or that each sin is characterized by a luminous color. The time felt right to revisit the original sins; but this time with the addition of seven defining pieces of jewelry."
LUST – A desire that burns, inciting desperate hands to grasp gratuitously. 18ct White Gold Ring, pave set with White Diamonds and Tanzanite.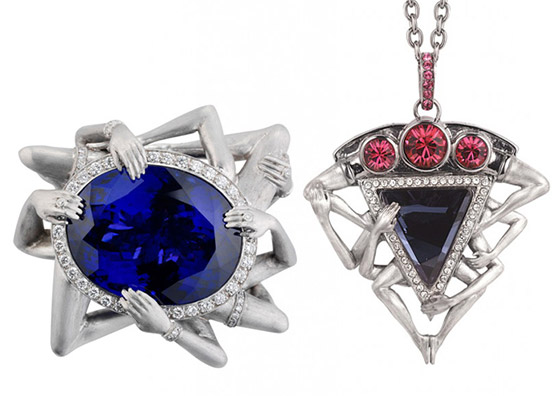 Continue reading