Wind chimes have been around for thousands of years. In China, Japan, and India, wind bells help to attract positive energy and suppress ill luck. The gentle tinkling sound that emanates from it helps this energy to linger on and meander gently in your space thereby attracting prosperity.
Today, wind chimes are used around the world for many reasons. Some are still protective in function, while others serve as memorials to the dearly departed. The chimes can be made of wood, metal, ceramic, glass, or other materials. The possibilities for shapes and colors are near infinite.
Nowadays, wind chimes are often hung on a balcony, porch, or a wire stand in the garden. The best wind chimes are part artwork and part percussive instrument, but they don't all sound alike. Their melodies can be tranquil and calm, or playful and lively. Either way, wind chimes add a mood-lifting touch to a patio, garden, balcony, or porch.
If you are looking for some unique wind chimes for your outdoor space, take a look at some handpicked designs by our editor. All of them are available on Etsy. While it is easy just to purchase one, you can also get some inspiration from below collection and make your own.
Glass Wind Chime Multicolours Leaves Windchime
These magical, handmade glass wind chimes look fabulous and make a gentle tinkling noise as they move in the breeze. Completely hand carved by talented artisans on the island of Bali using recycled glass, they are also 100% Fair Trade.
Height 40cm width 26cm
Height 15.74″ width 10.23″
Made from frosted glass, cord and wood, multicolours.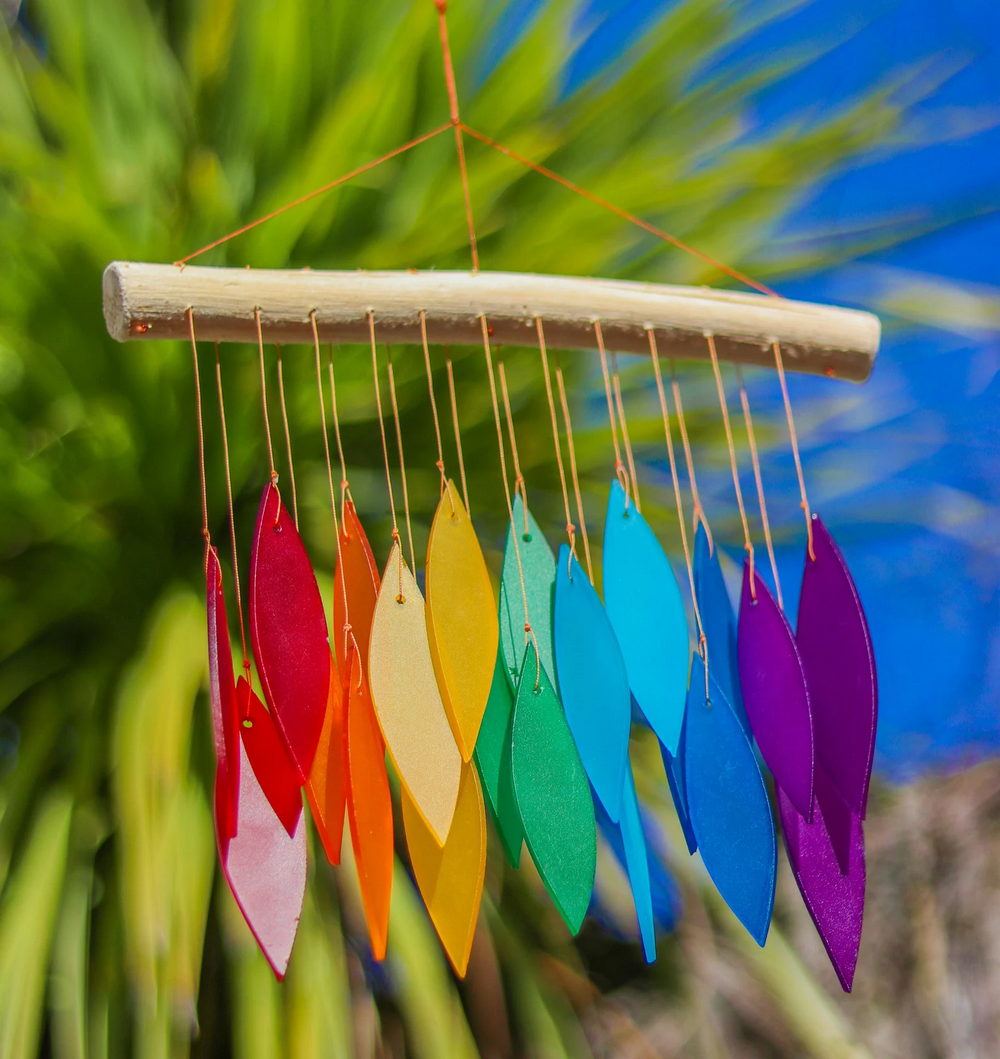 [buy on Etsy]
Serene ceramic wind chime organic
Each gorgeous moon bell is hand crafted and fired twice, once as a bisque firing to drive out moisture from the clay and a second high firing which ensures these chimes can withstand the elements if you choose to hang them outside. Left in their natural buff colored stoneware and unglazed, they make a beautiful deep ringing sound.
The 2-3 foot long strand consists of 8 bells in three approximate sizes; 3, 5″ bells, 3, 4″ bells and 2, 3″ bells.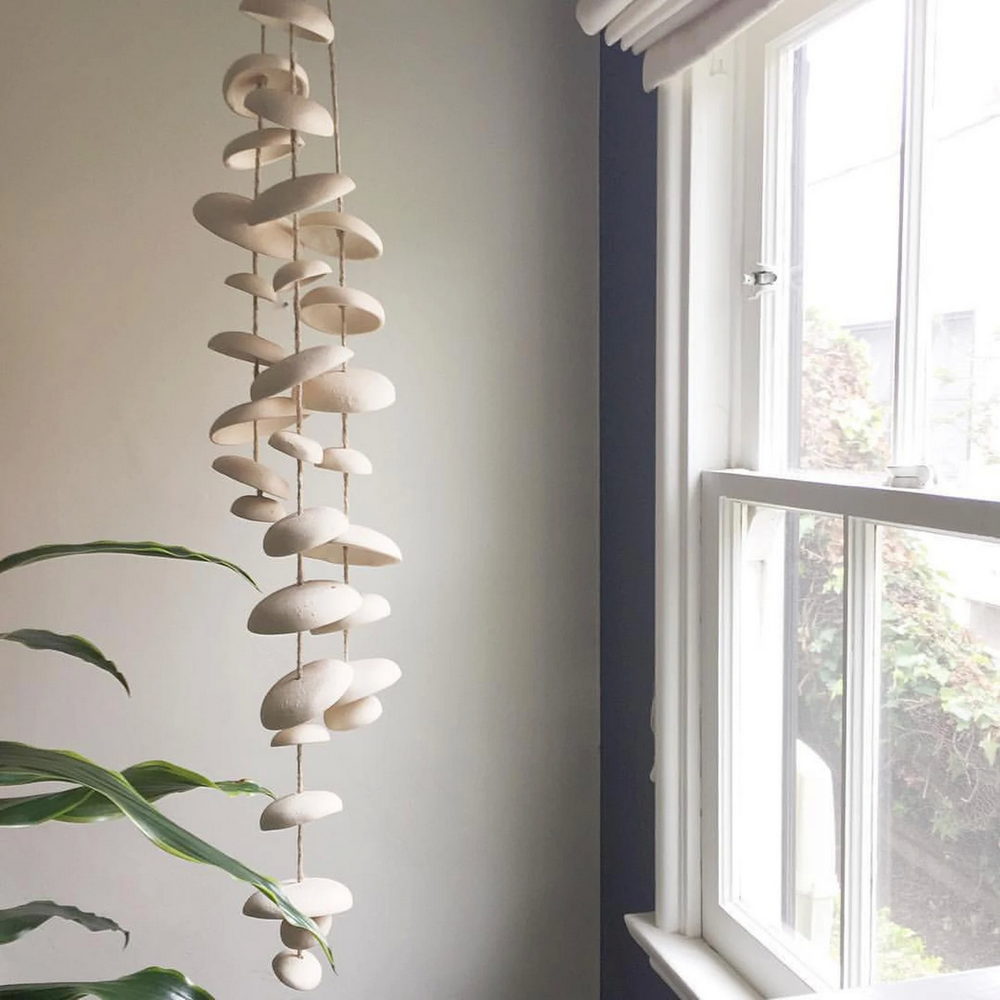 [buy on Etsy]
Turquoise Sea Glass Wind Chime
This is a unique wind chime that we made with turquoise stained glass tied onto a small wooden log. It evokes a lush tropical feel with the driftwood type log and blue turquoise finish.
It hangs on a string without a hook for easy placement.
This gives off a unique sound compared to more traditional wind chimes.
Approx. 17"L x 8"W x 1"H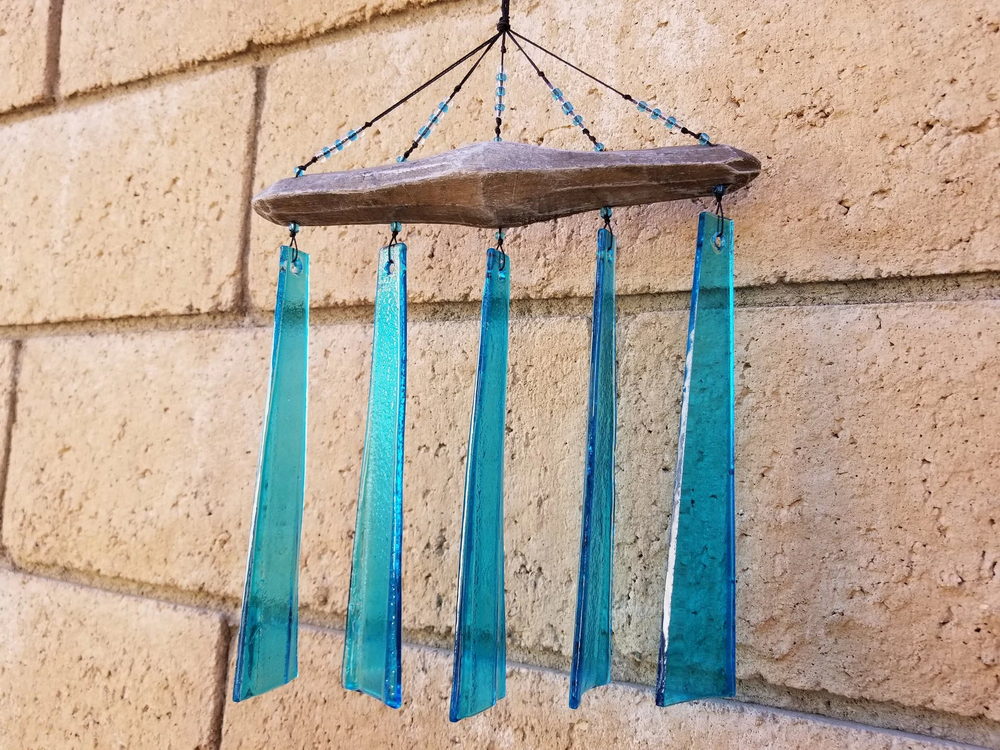 [buy on Etsy]
Silverware Man Fishing Spoon Fish Wind Chime
Windchime features a delightfully charming spoon man or fork woman fishing atop a natural driftwood dingy. Playfully swimming beneath is a school of silver-plated spoon fish. Chime produces a very gentle soothing sound in the breeze.
Approx. 12″ x 16-20″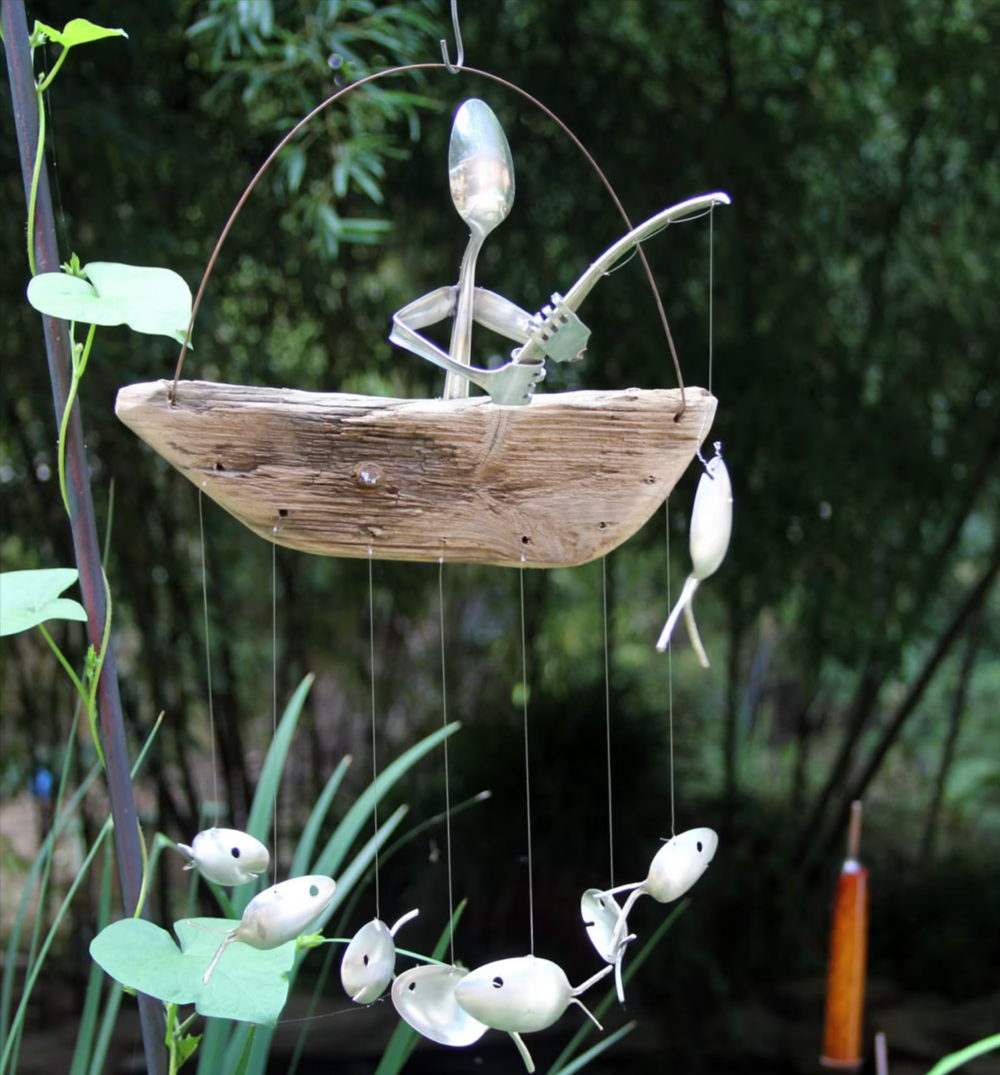 [buy on Etsy]
Glass Wind Chimes Made From Pyramid Shaped Bottles
These adorable 178ml Glass Pyramid Wind Chimes are the perfect addition to any back yard or patio. These cute wind chimes have a precision sound and a variety of colors from lovely fall colors like orange, red, and vintage green to loud summer colors like aqua blue, pink, and purples as bright as the flowers in the garden you'll hang them in!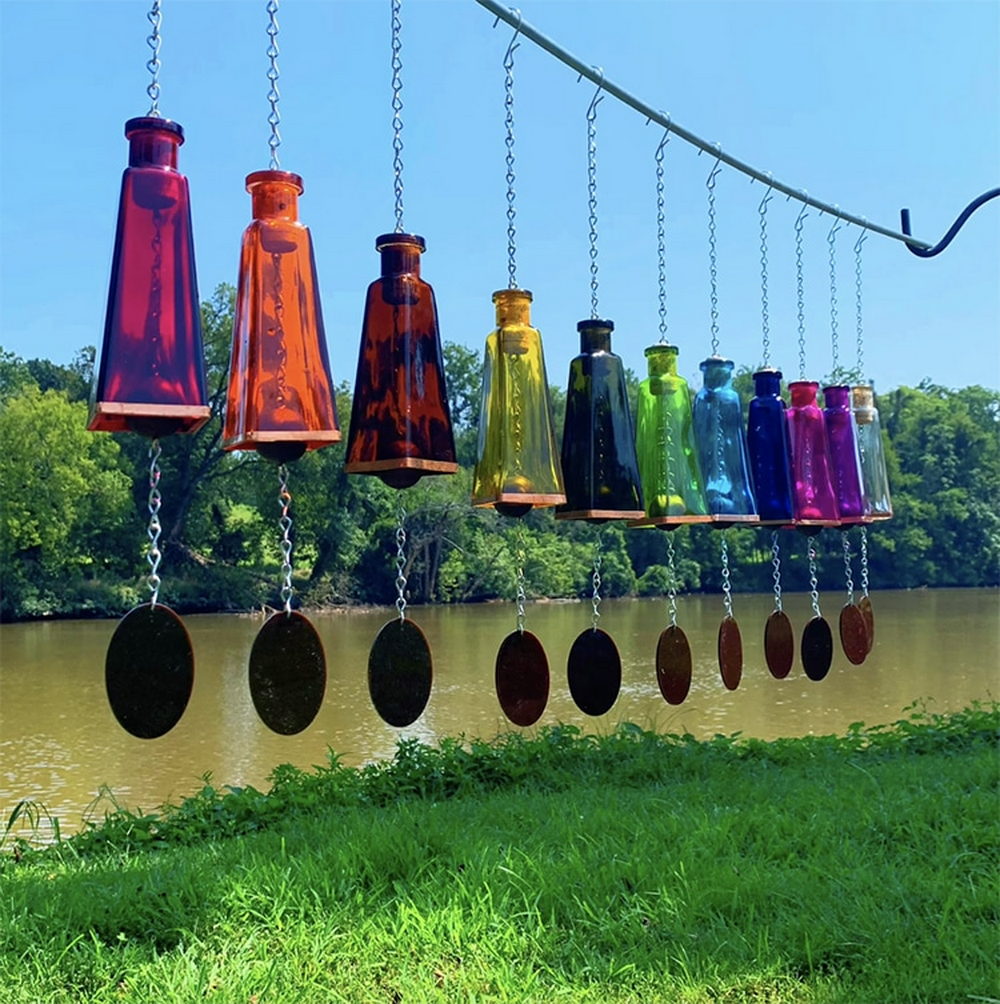 [buy on Etsy]
Wind Chime Driftwood Beach Stone Copper Chimes
A Pacific driftwood and beach stones wind chime- naturally beautiful.
This wind chime measures 46 inches long from the top of the copper hanger to the bottom of the polished copper windsail. The beach stone and driftwood section measures 22 inches wide.
The stones and driftwood are drilled through and strung on a strong copper wire. The stones are smooth, rounded. The driftwood is Pacific Coast rugged.
The 5 handcrafted copper chimes have a beautiful antique finish- a reactive, not paint: this finish will not peel or flake. The beach stone clapper produces sweet sound against the 5 copper chimes. The chimes measure from 17 – 13 inches long.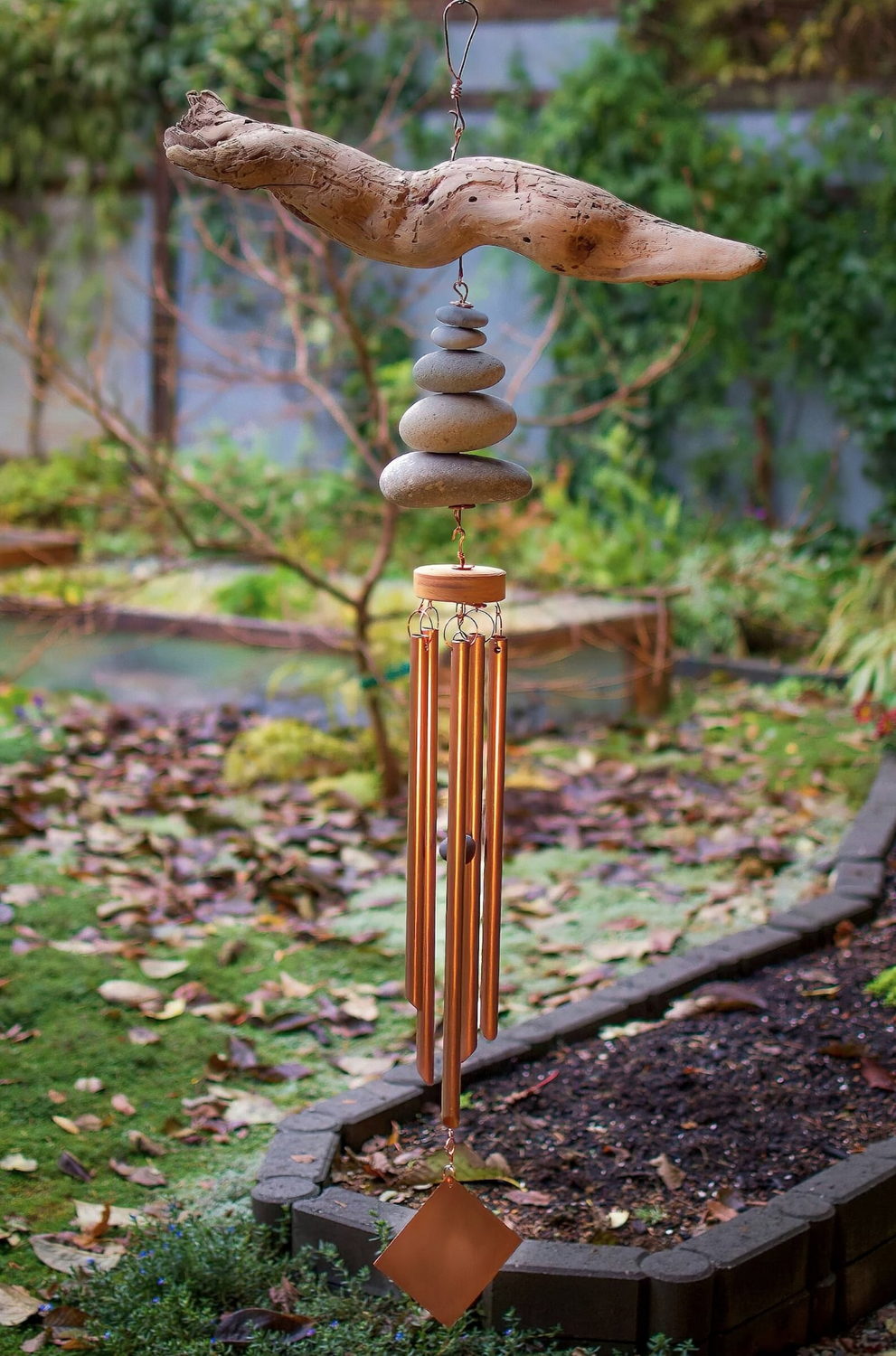 [buy on Etsy]
black clay- Ceramic wind chime
Hand made obsidian black bare clay wind chime. Approx 12 inches long from top bead to clapper. Conical Clay bells descend in size, include an oval flat clapper and decorated bead strung on a piece of faux leather with loop at the top ready to hang. These chimes make a great gift and look great in groups.
Approx 10-12 inches long from top bead to bottom. They look great in a group. This listing is for one vertical chime with 5-7 bells descending in size. They sound great!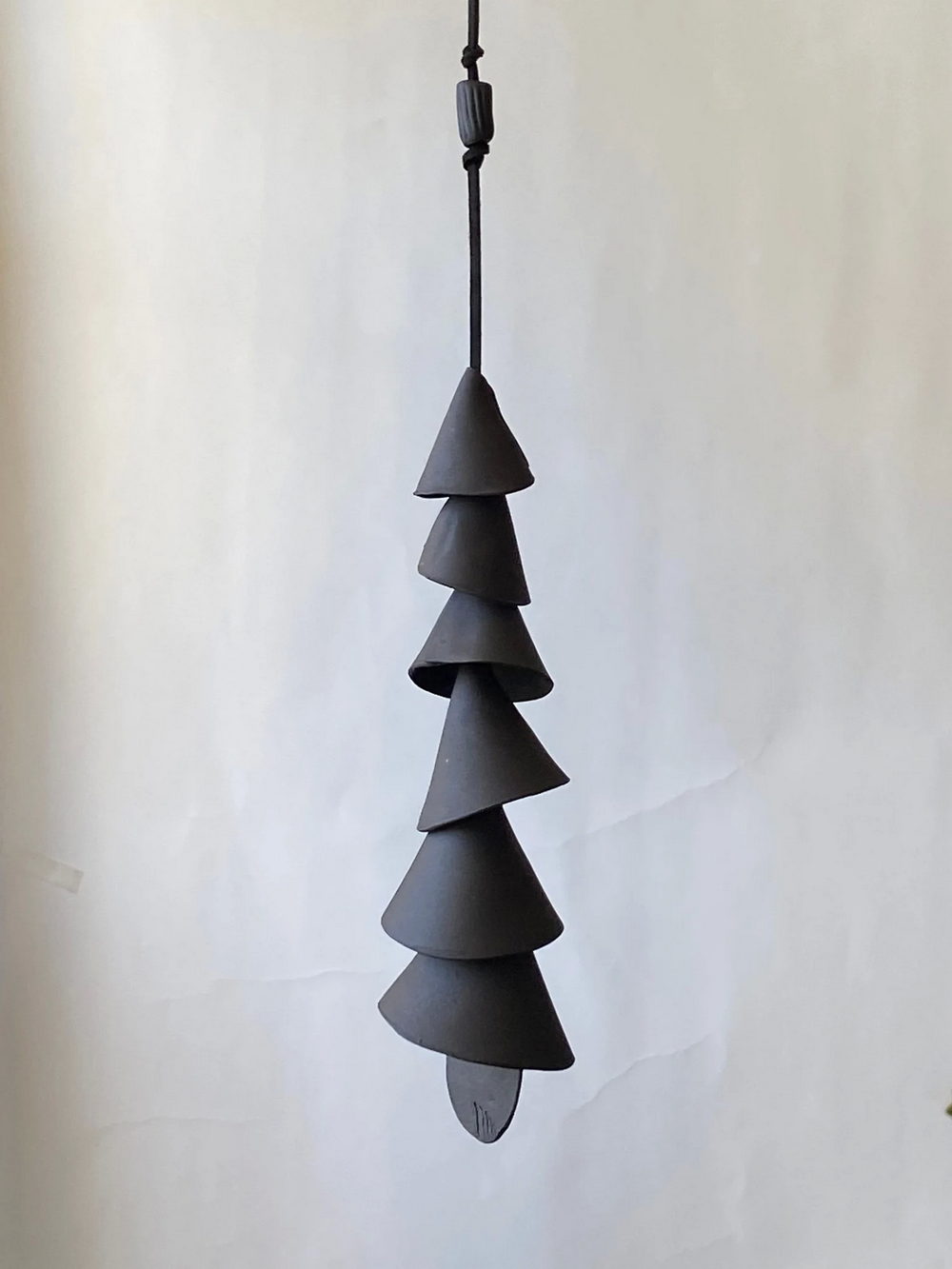 [buy on Etsy]
34 inch Metal Wind Chimes
This wind chime is made with aluminum tubes and solid hardware, which are both non-rusting metals.
All of my materials are very durable that is very strong and long lasting.
Windchime Details:
Overall Length: 34 Inches
Number of Tubes: 5
Length of longest tube: 11inch, 11inch, 12.5inch, 13.5inch, 13.5inch
Diameter of Tubes (Inches): 0.8inch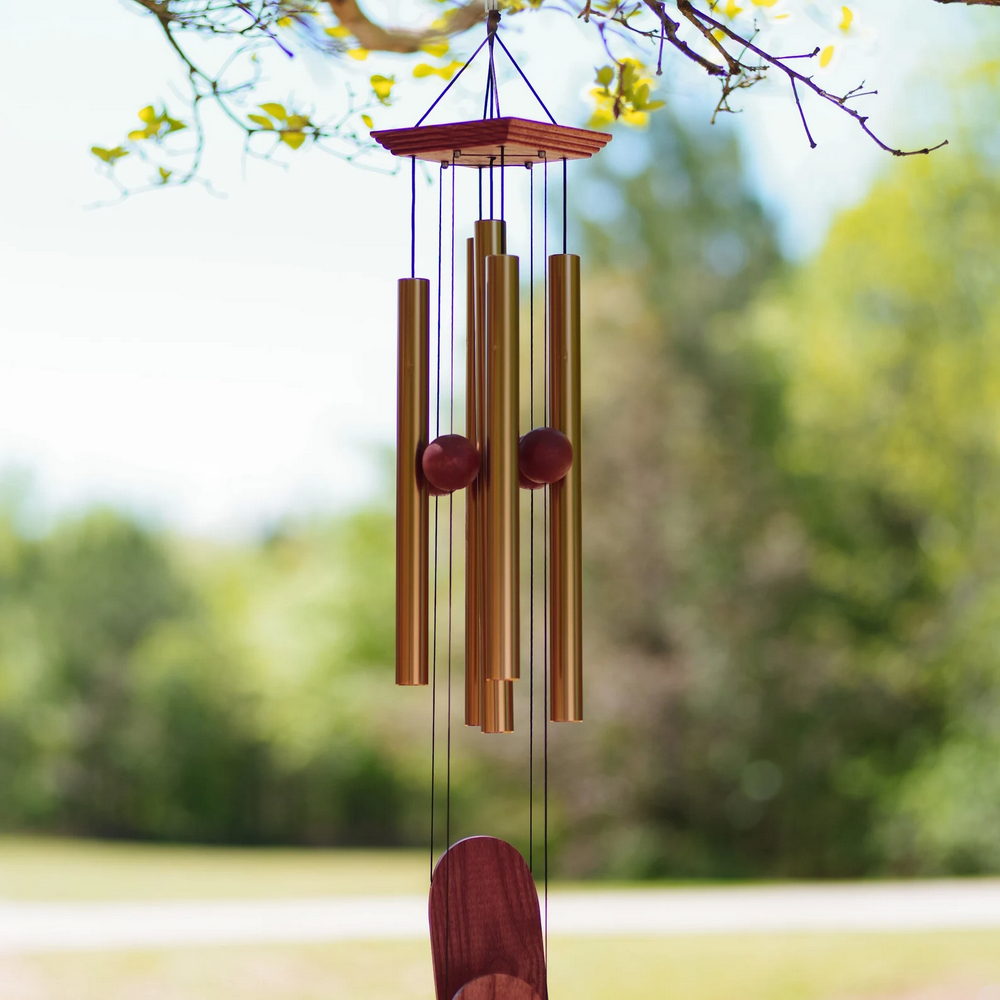 [buy on Etsy]
Seashell Wind Chime
Boho wicker and shell wind chime. This beauty is approx 16″ long. It boasts puka and clam shells. Very 70's. It does have a few shells missing. You could easily tie one to the line that is there.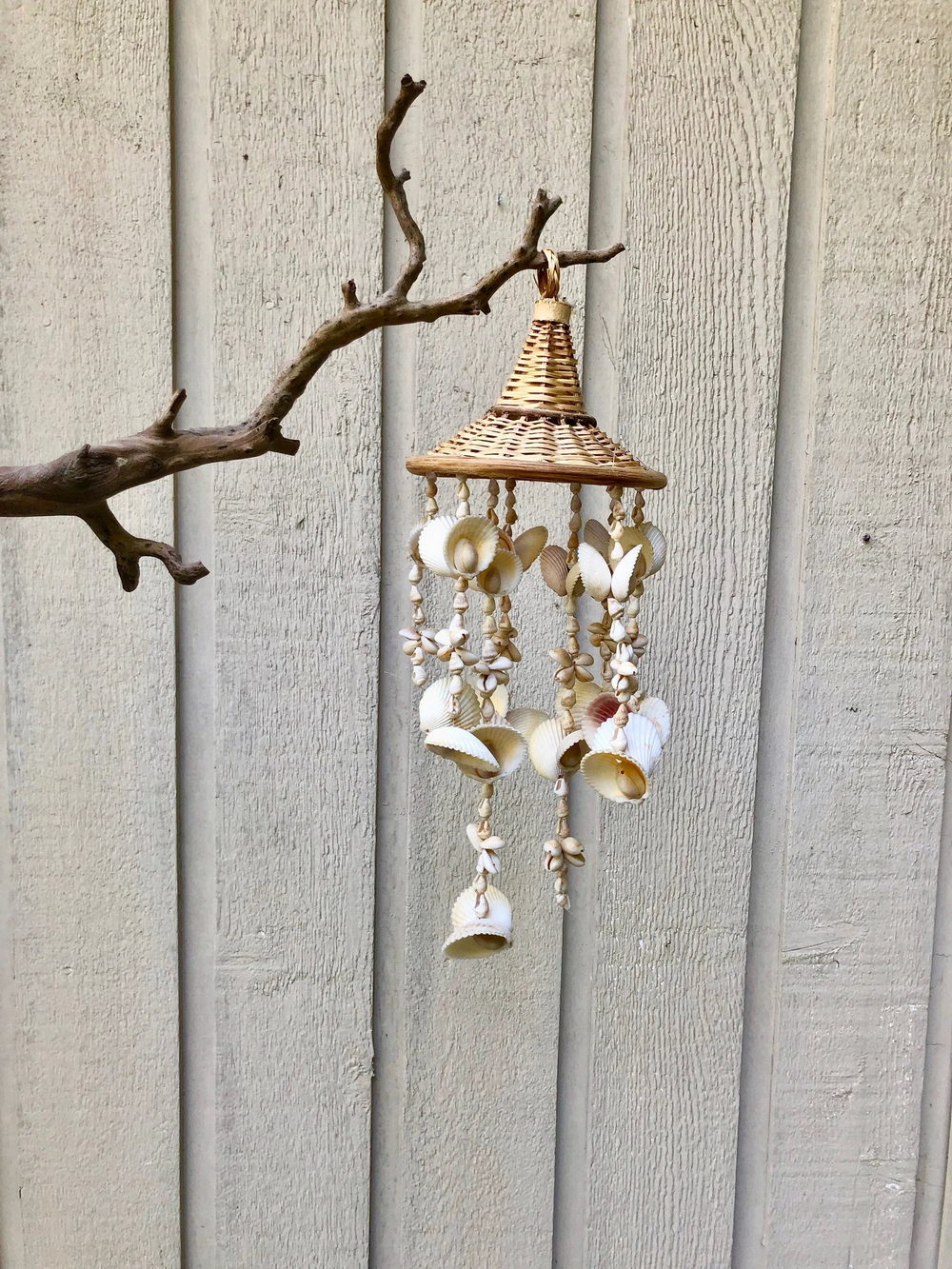 [buy on Etsy]
BLOWN glass wind chimes
TINKLY WINKLER wind chimes are made from the finest hand blown glass and are known for their bright, crisp, tinkly sound. And WOW, thanks to the magic of chemistry, Tinkly Winklers have even more of that bright tinkly sound you have come to expect. Tinkly Winklers have always sounded great, but now, the sound is truly amazing. This chime is made with our new glass, and with our variety of glass colors and the natural uniqueness of each piece of antler, no two TINKLY WINKLERS are ever alike. Look closely at each piece of antler, as many pieces are little natural works of art in themselves.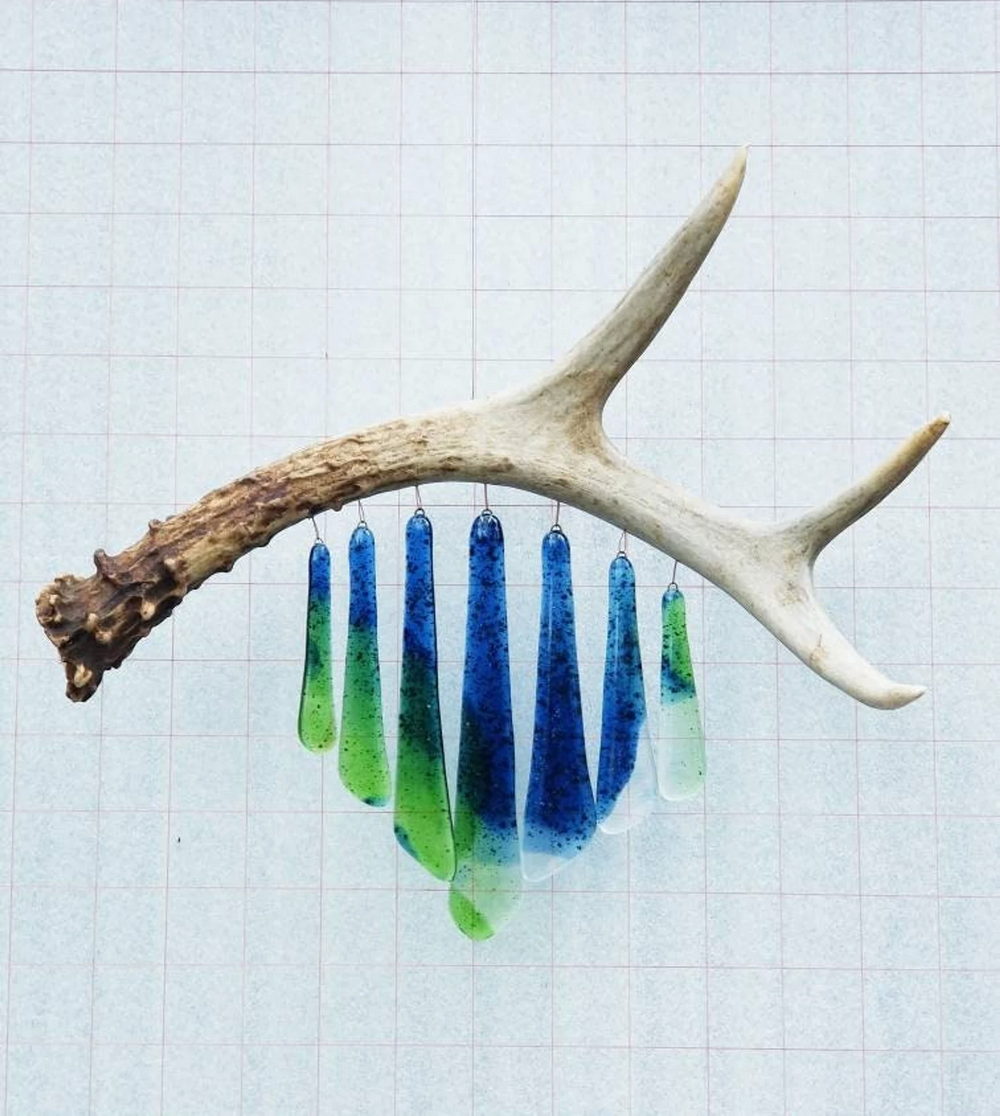 [buy on Etsy]