We got a lots of good response from last Monday's topic "10 innovative products working without electricity". Hence in today's post, we will continue our "Green" exploration and present you with more Eco and Innovative Designs. They either provide a good solution to save energy, or make a nice utilization of wind/solar power, or helps to purify polluted water, save the trees and reduce the plastic wastes. I am really glad to see more and more those Eco products.
1. SunFlowers, An Electric Garden [link]
These awesome, 12-foot-tall, sunflower-inspired solar panels are part of a permanent (and functional) art installation in Texas.
Massachusetts-based art duo Mags Harries and Lajos Heder were commissioned to design an installation, and the result was SunFlowers, a series of fifteen solar towers that look like flowers. They soak up enough sun during the day to power the on-board LEDs at night, and excess juice goes back into the grid. Everyone wins, including the environment. Suh-weet!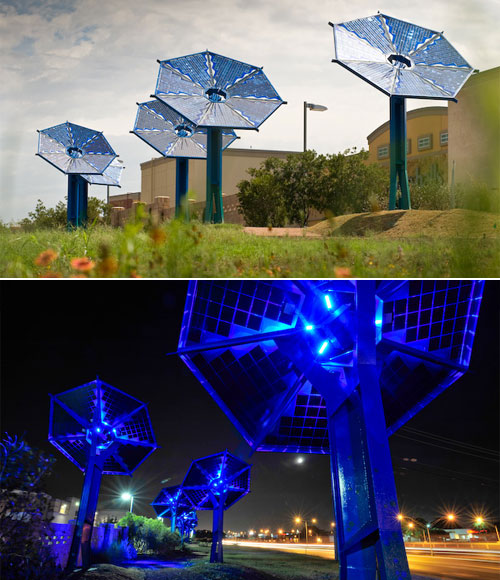 2. Better Than Bubble Wrap Says Mother Nature [link]
Plastic bubbles wraps are one of the chief sources of environmental degradation since our world revolves around the packaging and transport of goods. The Paper Wrap offers the same level of protection but at a very neutral cost to the planet. A precut symmetric pattern similar to a steel grate buffers precious goods but I see two faults. One, the flexibility of bubble wrap makes it more usable in a wide array of applications. Two, I can't pop paper wrap and everyone knows humans have an OCD fascination with popping bubbles(That is me exactly. lol).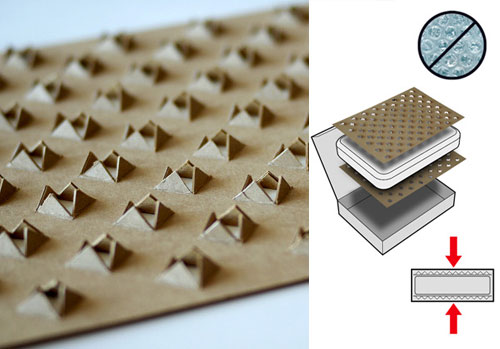 3. Chewing Gum Bottle [link]
It seems like nearly every time you chew gum, there's always nowhere to put it after you're done. This ingenious "Green Seeds" chewing gum bottle designed by Gonglue Jiang. Featuring a skirt of sticky paper at the bottom of the bottle, and a temporary storage space for used gum and you can dump it out when you find a trashcan.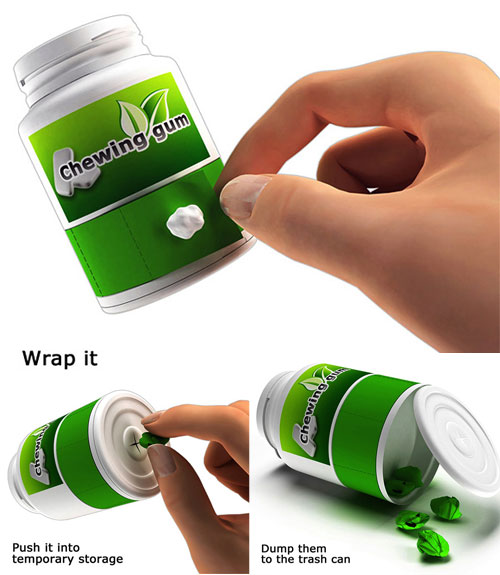 4. Memo post card pad [link]
Memo Post Card Pad. Leave messages for your family, or jot down important notes and reminders with the dry wipe ceramic memo post card pad. The memo pad has been cleverly designed in the style of a post card, and can be wall mounted or used on your desk top. Comes with dry wipe pen.
5. Green life – Boo Bag [link]
boo bag is a reusable grocery bag which is made of highly sustainable bamboo fabric. When grocery shopping, the bamboo casing works as a handle and provides comfortable grip for the user's hand.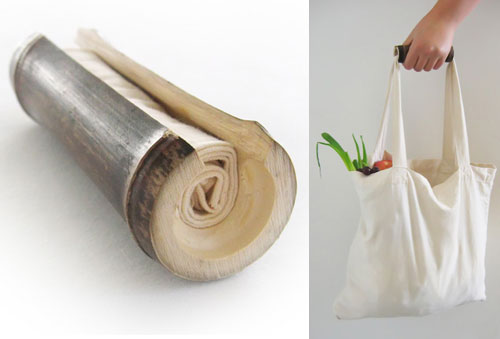 6. Turbine Light Illuminates Highways With Wind [link]
Turbine Light is another nice road lamp design like SunFlowers above. Turbine Light is a wind-powered light using the moving air from cars zipping by on the highway to generate energy that can be used to power roadside lighting. It's a controversial idea–could wind from passing cars actually provide enough power for lighting?–but one that has the potential to save lots of cash in already wind-heavy regions.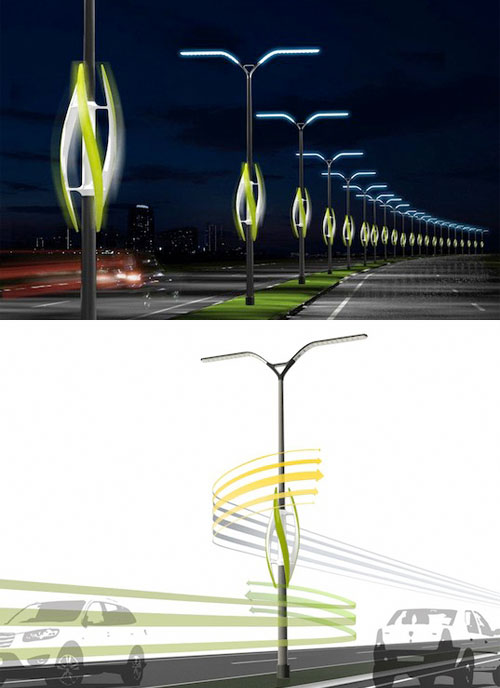 7. Happy Basin – Clean, precious water; up for slurps! [link]
We tend to associate polluted water problems with under-developed countries and rarely give a thought to how we would cope with a situation when our fully developed city comes under the siege of Mother Nature's fury! At times like this, contraptions like the Happy Basin for instant purified drinking water can come as a relief. The basin includes nano ceramic filters embedded in the holes at the bottom of the cup that help in the filtration of polluted water. You simply need to push the basin into the water body and let surface tension buoyancy take its course.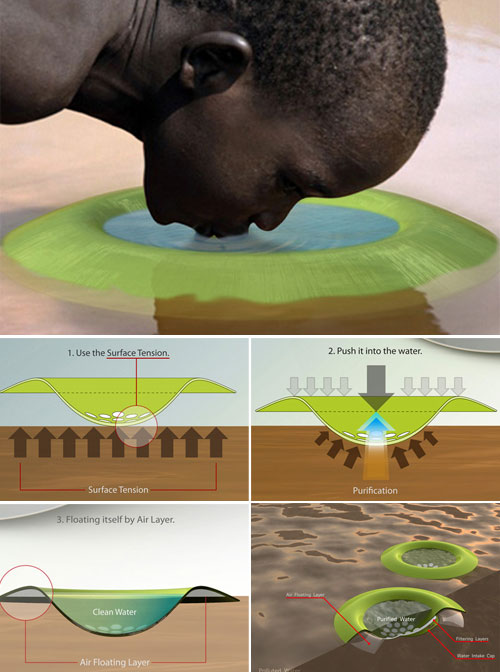 8. BUGPLUG: A Kid-Friendly Power Monitor [link]
"BugPlug" is a simple energy saving gadget which prevents unnecessary (and often accidental) energy consumption. The device has a built-in motion sensor, turning off all connected devices (through powerstrips) when it detects no motion. (Time periods can be easily adjusted from 0 to 6 minutes.)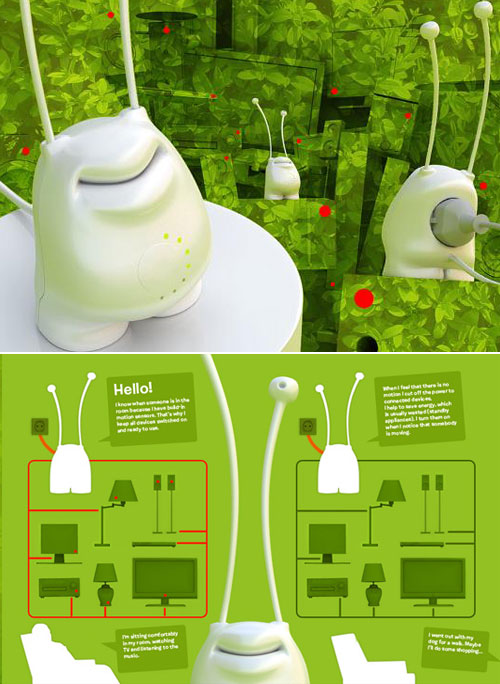 9. Cute lanterns are pencil sharpeners [link]
These cool lanterns are more than just cute. These Eco Twinkle lights are actual pencil sharpeners. Well you don't have to sharpen a pencil. You can just crank it!
Apparently, pencil sharpeners and human powered generators have the same mechanical twist structures. The designer has combined the two inventions to make a dual function.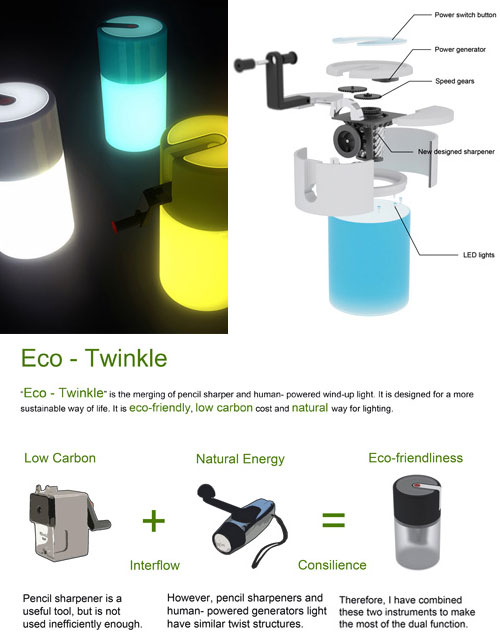 10. Wasara Paper Tableware – Earth to Earth [link]
Eco-friendly and carries the stylish Japanese Concept, the Wasara Paper Tableware is an eco-friendly and disposable table ware. Made from reed pulp, bamboo, and bagasse (sugarcane waste), the Wasara tableware is in compliment with the world's practice of reducing waste. After extracting the sugarcane juice, the bagasse is sometimes discarded. Using it in a most efficient way like the Wasara does prevents the growth of landfills and eventually helps saves the environment from harm in the future. Aside from being eco-friendly, the Wasara's designs are truly irresistible. It will surely invite everyone to live the eco-life without compromising his or her stylish way of living.