Computer Mouse may slowly be replaced by touch pads and other touch sensitive devices but there is still a huge fan following for these extremely ergonomic devices that let us use computers in the easiest manner possible. In today's post, we round up 10 Innovative and Functional Computer Mouse Designs. Some are chosen for their functionality while others for their extra ordinary designs. Hope you enjoy.
We are a participant in the Amazon Services LLC Associates Program, an affiliate advertising program designed to provide a means for us to earn fees by linking to Amazon.com and affiliated sites.
Wow-pen Traveler – Wireless Ergonomic Computer Mouse [buy on amazon]
Wireless, Optical mouse. Has laser pointer also! Works from up to 15 feet away from your computer. Comes with charger. Ergonomic design. Left & Right click and scroll buttons are right under your finger tip. Works with PC or MAC. USB 2.0 RECHARGEABLE! On/off switch at the bottom. compatible with Mac's and PC's. Very cool mouse- it has everything you would need!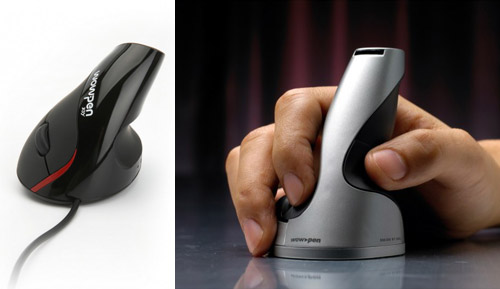 Belkin Washable Mouse [buy on amazon]
A 1200 dpi optical engine offers precision on many household surfaces. View larger.
This is where the Belkin F5L007-SCROLL Washable Mouse comes in. With all the functionality and performance you'd expect of your mouse–including optical technology and a versatile one-touch scroll pad–this one-of-a-kind mouse can be washed with warm soap and water, ensuring that you can stay comfortable and sanitary while you work or play.
800 DPI USB Optical Skype / VoIP phone Mouse with Speaker + Handsfree Headset
[
buy on amazon
]
This unique computer / laptop mouse can be used as an internet phone with hands free, crystal clear quality sound Hi-Fi speaker function (48 KHz sampling rate). It also includes an acoustically isolated earpiece and microphone to protect your privacy and eliminate echo. This 800 DPI optical USB computer skype mouse can be used as a mouse / phone / speaker phone all in one compact little package. The USB cable is 6 feet long and gives you plenty of room to move about.
This device supports 12 VoIP services including: Seamlessly integrated with Skype, VoipButser, VoipStunt, VoIPCheap, VoipDiscount, SparVoip, Internetcalls, poivY, WebCallDirect, VoipCheapCom, FreeCall, NetAppel and MTalk. The LCD screen allows you to see the contact list, Call list, Call history and also the Caller ID. There is a fully functional numberic keypad that allows you to make call with ease. There are also various chord music ring tones that cater to different tastes.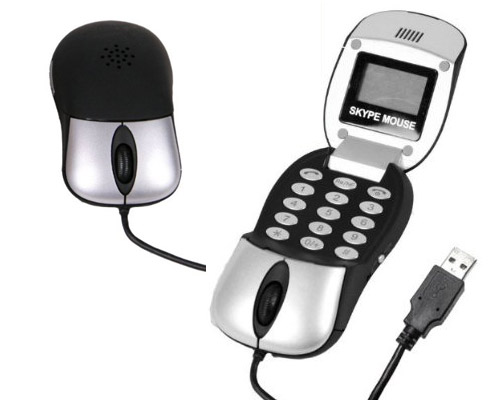 Trypticon Transforming Laser Mouse
[
buy on amazon
]
Transforming Laser Mouse – Trypticon, it is a 800 dpi three button laser mouse and can be turned into a Trypticon transformer.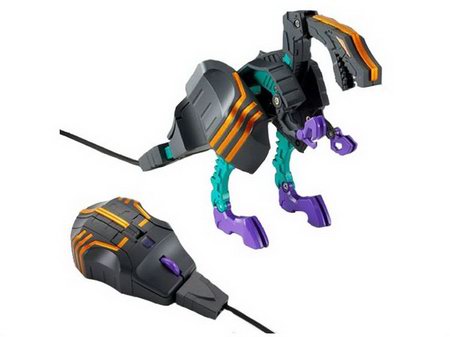 Razer Naga MMOG Laser Gaming Mouse
[
buy on amazon
]
The Razer Naga is the ultimate Massively Multiplayer Online Gaming mouse that shifts the balance between keyboard and mouse by putting an unprecedented number of in-game commands in one place. A multi-button thumb grid and Razer's MMO game interface add-on combine to place every command in the palms of your hands. The Naga's ergonomic form factor maximizes the ease of use and lets you game in comfort for hours on end. With the Razer Naga, you will Get Imba.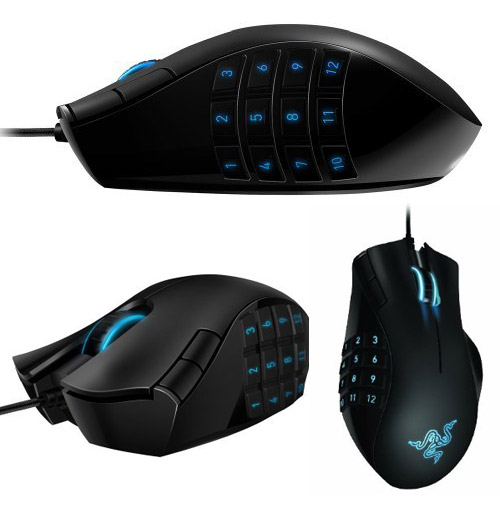 Multi-Touch Gesture Touchpad USB Mouse with Keypad
[
buy on amazon
]
* With two finger: Easily Browse Function: Tapping, Magnifier, Rotate, Zoom -/+, Vertical/ Horizontal Scroll
* With three fingers: Windows Function: Tapping, Switch Window, My Computer, Page down/up
* Click and Right Click buttons with Calculator and Back functions
* Touchpad and Number pad mode switch button and LED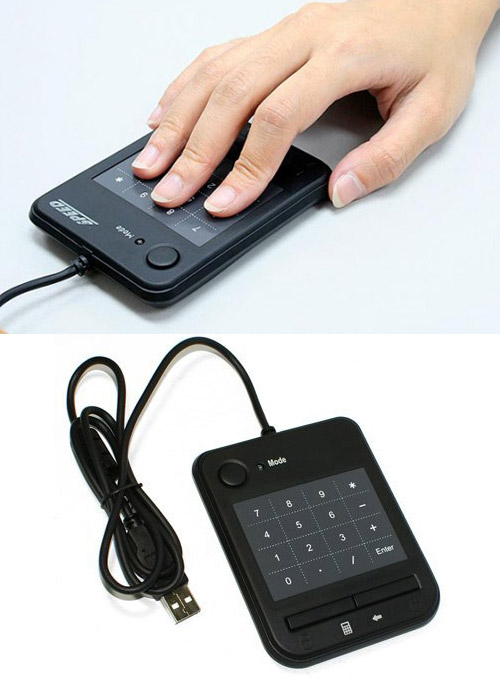 Loop Pointer In-Air Mouse
[
buy on amazon
]
By connecting your computer to your home TV, you can enjoy your choice of TV shows, movies and more. Take advantage of top sites like Hulu, Amazon Video on Demand, YouTube and Netflix. Or play your own videos and music using iTunes, Media Center or other applications. But don't leave a keyboard on your coffee table, or drag a mouse across your couch cushions! Use the Hillcrest Labs Loop pointer, the in-air mouse replacement. With just simple wrist movements, control the computer's cursor from your favorite easy chair across the room. And the award winning ergonomic design looks great in any setting. The Loop pointer is the motion-sensing mouse that moves your cursor with a wave of the wrist. The distinctive design has just four buttons and a scroll wheel.
The Loop pointer is also a valuable tool for presenters and educators who use PCs and Macs connected to projectors. With the Loop pointer you can control presentations, navigate web pages and more from anywhere in the room. The Loop pointer works with computers running Windows, Mac OS or Linux.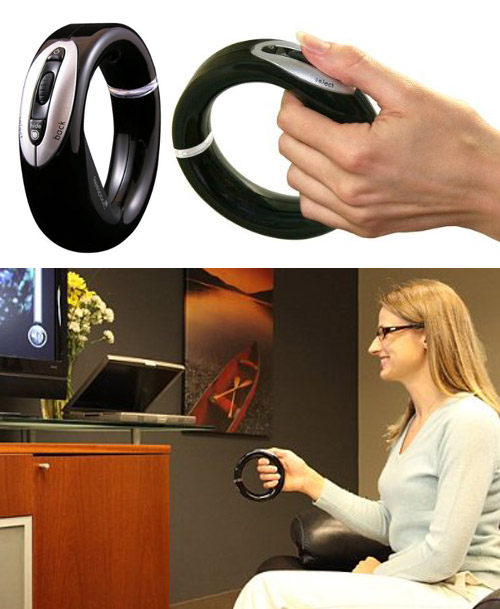 Concept Mouse For Music Lover
[
link
]
Supposing you are a music freak and hate to 'locate and hit the specific keys on the music player' and just wished that something directly should control the player with instant connectivity, then this one is for YOU. This mouse have as many as 8 keys dedicated to music functions apart from featuring 3 regular keys ubiquitous on every mouse. A must have for members of music bands for they know how much time they spend on their PC table working around music apps to take the precision to highest level.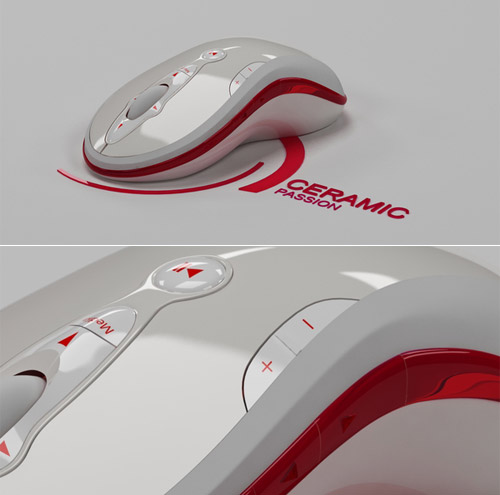 WeraMouse
The WeraMouse V2 (aka the Ergotouch Mouse) is just a little smaller than a conventional mouse, but you don't put it on your desktop . Instead, you hold the WeraMouse in your hand and operate your computer wirelessly from up to 25 feet away. Technically, it's not a mouse at all – it's a trackball with a scroll wheel and a pistol-grip button.
Battery life for the WeraMouse is rated at up to 28 hours on a single charge, and when it's not in use, there's a charging dock that'll juice the WeraMouse back up in about 90 minutes.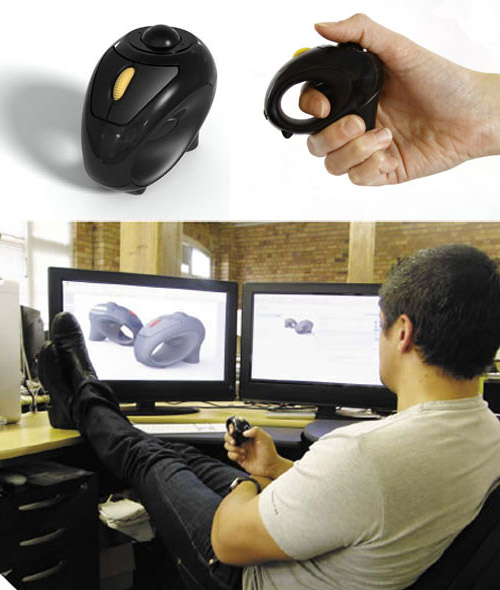 Apple Magic Mouse
[
buy on amazon
]
With Magic Mouse, Apple has brought Multi-Touch technology to the desktop mouse, giving you a new and more intuitive way to interact with your computer. Just as with iPhone, iPod touch, and MacBook Pro, the Bluetooth Magic Mouse adds gestures and swipes to the usual clicks to bring more functionality and help you get more done with less effort.
Beautiful Design with Seamless Multi-Touch Surface
Laser-Tracking Engine
Wireless Convenience with Easy Bluetooth Setup
Make One Great Gesture After Another