Halloween is finally here. Although there are many people don't celebrate that holiday, it won't prevent us enjoying some super cool Halloween house decorations idea from people who are extremely seriously about that.
Unlike some waving ghost inflatables or carved pumpkins, there are some full spooky lawn and house setups. These residentials are not playing around. They are seriously thinking about how to make their house outstand mostly in the neighborhood.
There are one thing worth mentioning is those are not fully DIY projects. You do need to put your efforts to set things up, but you can get many of the ready-to-use materials from store. So there is no need to worry about we are not creative enough like these experts. Get some inspirations and check the things used in the setup. And maybe next year, your house will be the star in your neighborhood.
And the good part is, after Halloween, most of these Halloween house decorations are on sale. So it is a good time to plan ahead and stock goodies.
Grave yard
Lights and piles of leaves play important roles here. With the lighting point at the RIP tombstones, the spooky feeling is there already.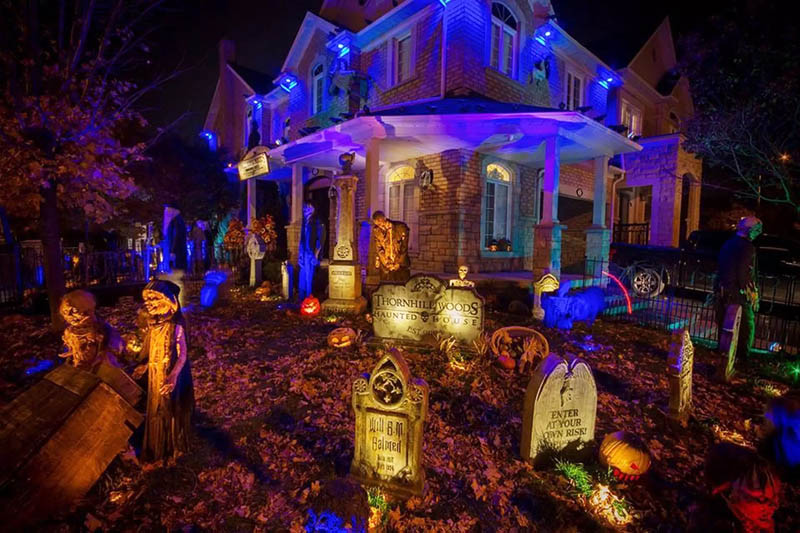 Skelton party
Skull, skeleton and trash bags, doesn't looks like that complicated right? However, when you put them together around table, a spooky skeleton party is ready. Oh, with some fancy Halloween themed drinkware, these skeletons will enjoy the party for sure.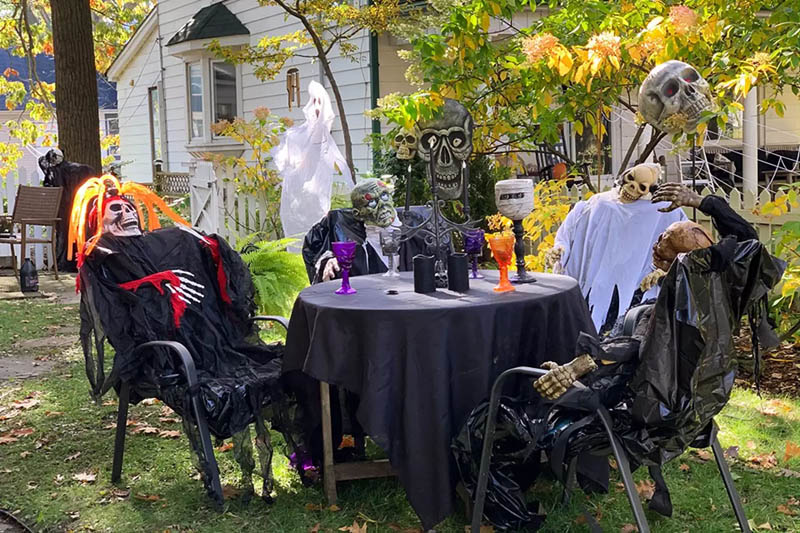 Giant skeleton and massive glowing spider web
When something go extremes, you don't need to have too many details and they are already impressive. Highly recommend the glowing spider web. It looks awesome at night.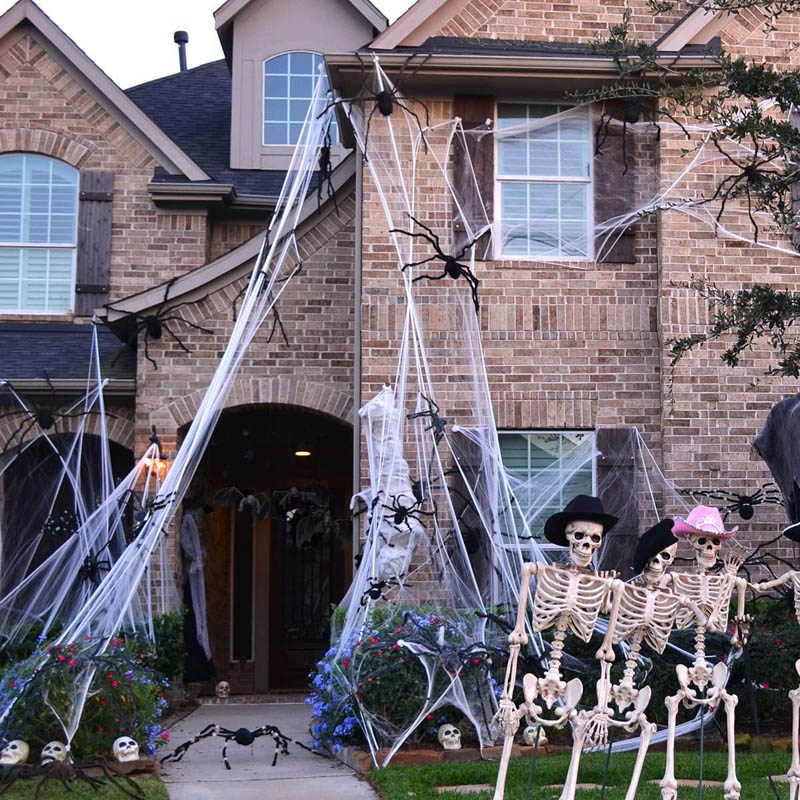 Something is popping out from the roof!
You need to get a bit creative with the giant eyeball. Disguise it and make it look like emerging from your house will create the perfect illusion. Of course, the window boards is a good idea to decorate your window. And personally, I think it works better than the window stick.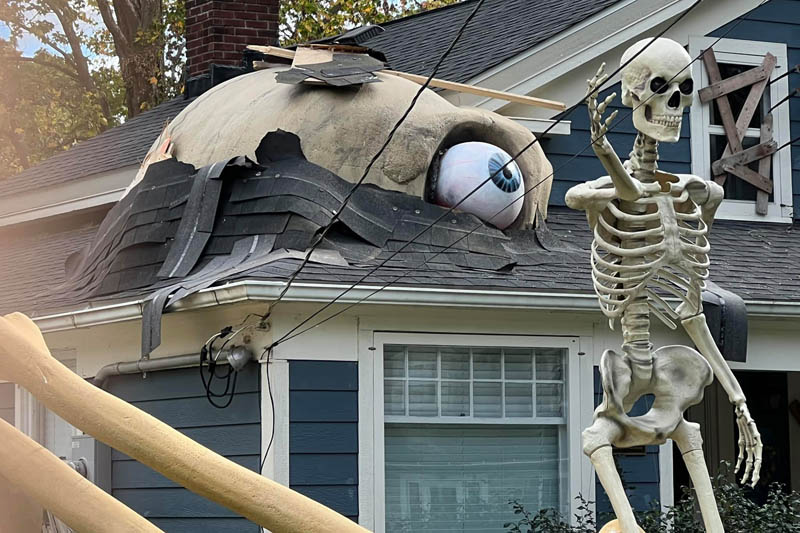 However, I have no idea where the giant eyeballs coming from. But according to article, Alan Perkins spent hundreds of hours building the decoration for his home in Olmsted Falls, Ohio
The Skelton needs to help stop COVID now
Nothing really special about this. But I really like the idea to give a face mask to the skelton to align with this pandemic days.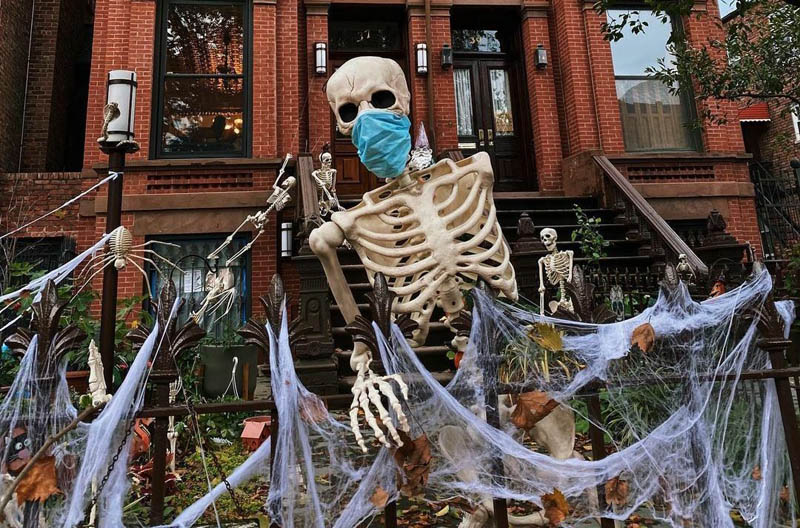 Seriously, Dress up skeleton looks even creepy
These bony creatures do look scary. However, you will find if you give something for them to wear, you will give even stunning result. Just imagine these creepy cloth waving in the air…
Zombie groundbreaker is here
What is better than the RIP Tombstones in your yard? That is tombstones with zombie groundbreaker. If you can set up some lighting around that, it will be even impressive.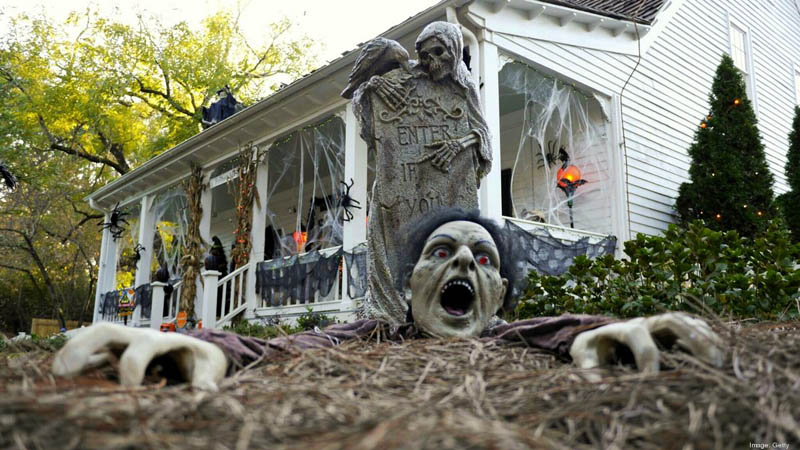 Skeleton Animal is a thing
A giant skeleton is great. But if you can set up some skeleton animals with it, you might achieve some unexpected result.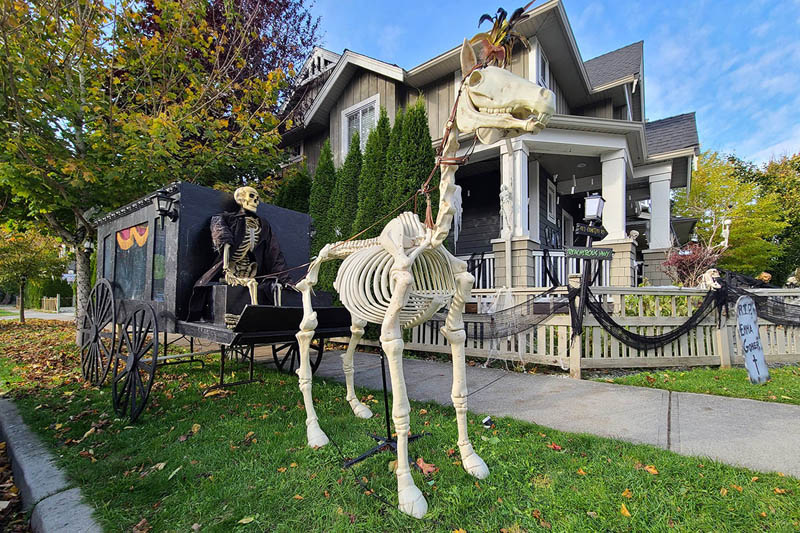 And of course, SPIDER
No matter how I don't like spider personally, I have to admit this is a perfect Halloween creatures, especially the spider comes in giant size.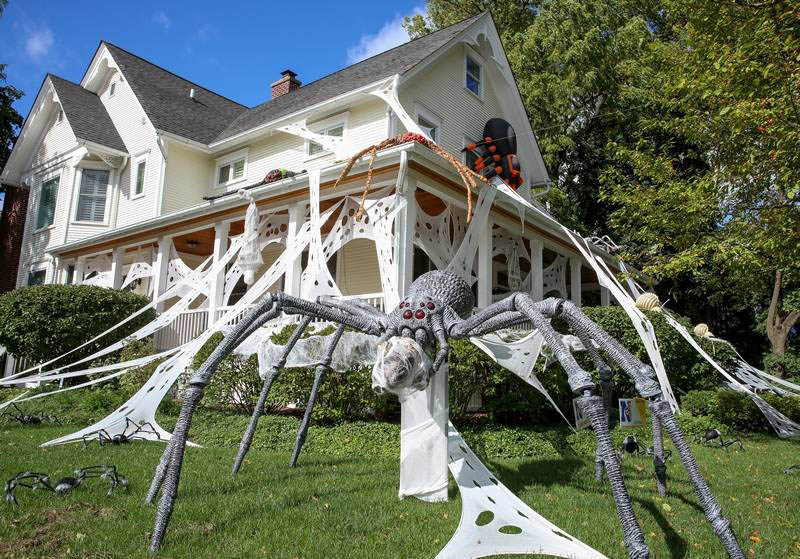 Last but not least, Pumpkin, witch and scarecrow
No one should left over pumpkin in Halloween. Not matter it is a real or fake flashing one. And they can play with other elements, like acting as someone's head. With the creepy smile and flashing red eyes. Oh, my, it will scare anyone/anything away. Of course, we shouldn't forget about the witch and scarecrow.